Farmhouse living rooms are all about comfort, warmth, and charm. They're relaxed spaces where you can kick your feet up and enjoy some downtime with friends and family. In fact, they're so casual that they can seem a little overwhelming if you're not sure where to start when decorating them.
If you're looking to turn your living room into a farmhouse-style space, here are some ideas to get you started:
1. Build a fire place (or use an electric one)
2. Add some greenery to make the space feel more homey
3. Hang vintage artwork on your walls
4. Install hardwood floors, or use rugs in earth tones
5. Bring in lots of natural light by installing big windows, or adding lamps with shades that let sunlight shine through them.
"A picture is worth a thousand words" they say, and that's especially true when it comes to decorating a living room. If you're not sure what kind of furniture will look good in your space, or where to start when it comes to furnishing it, take some inspiration from these gorgeous rooms. They'll help you get started on creating an amazing farmhouse-style living room of your own.
We've rounded up our favorite farmhouse living room ideas so that you can get started on building your own dream space.
1. All White Farmhouse Living Room Idea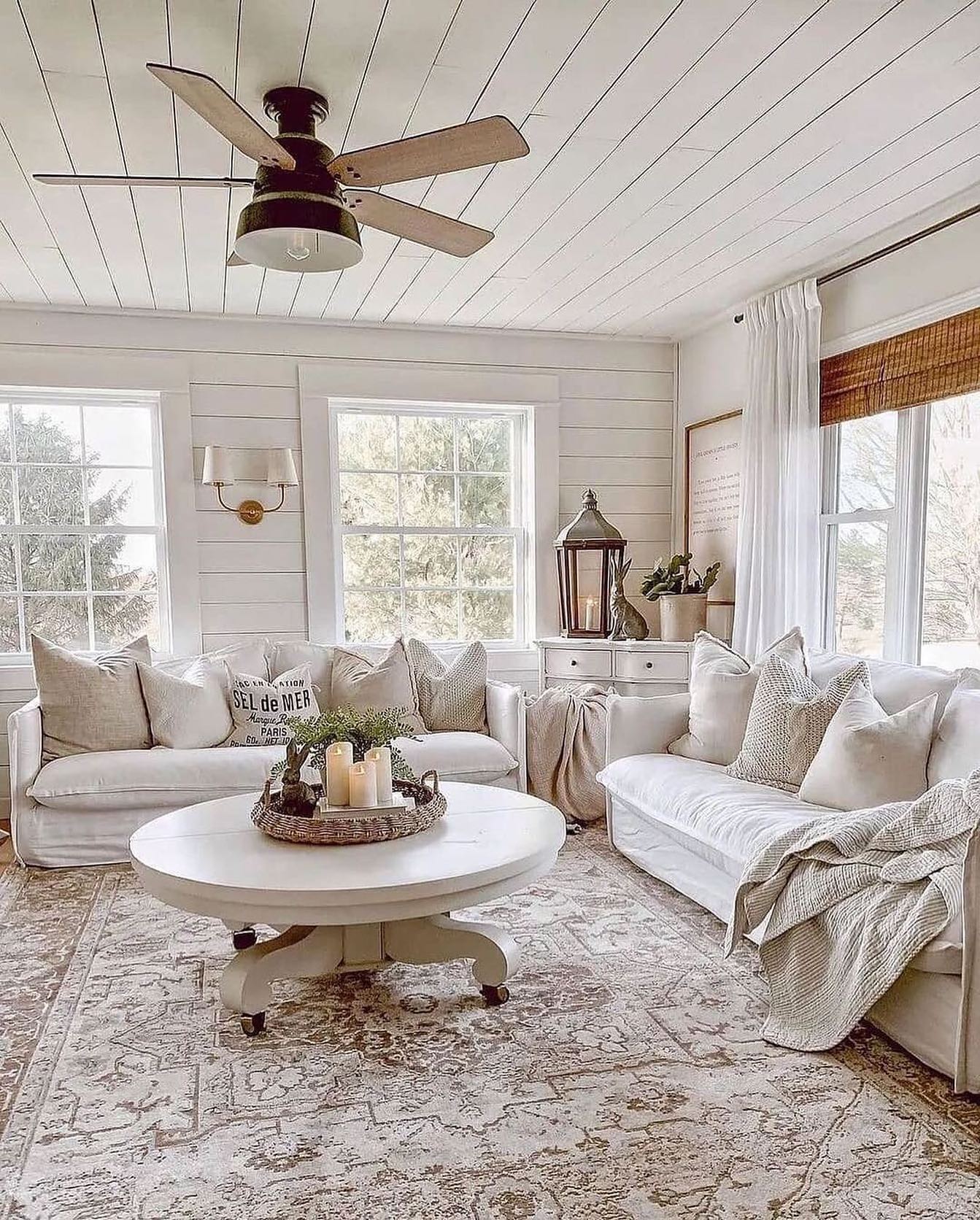 This room screams farmhouse vibes! The ceiling, the fan, the color pattern – all of it. If you want to give this design a go and you're into lighter colors combos this cream shade range will suit you. Opt for big curtains as well as to round up the look.
2. Brown And White Farmhouse Living Room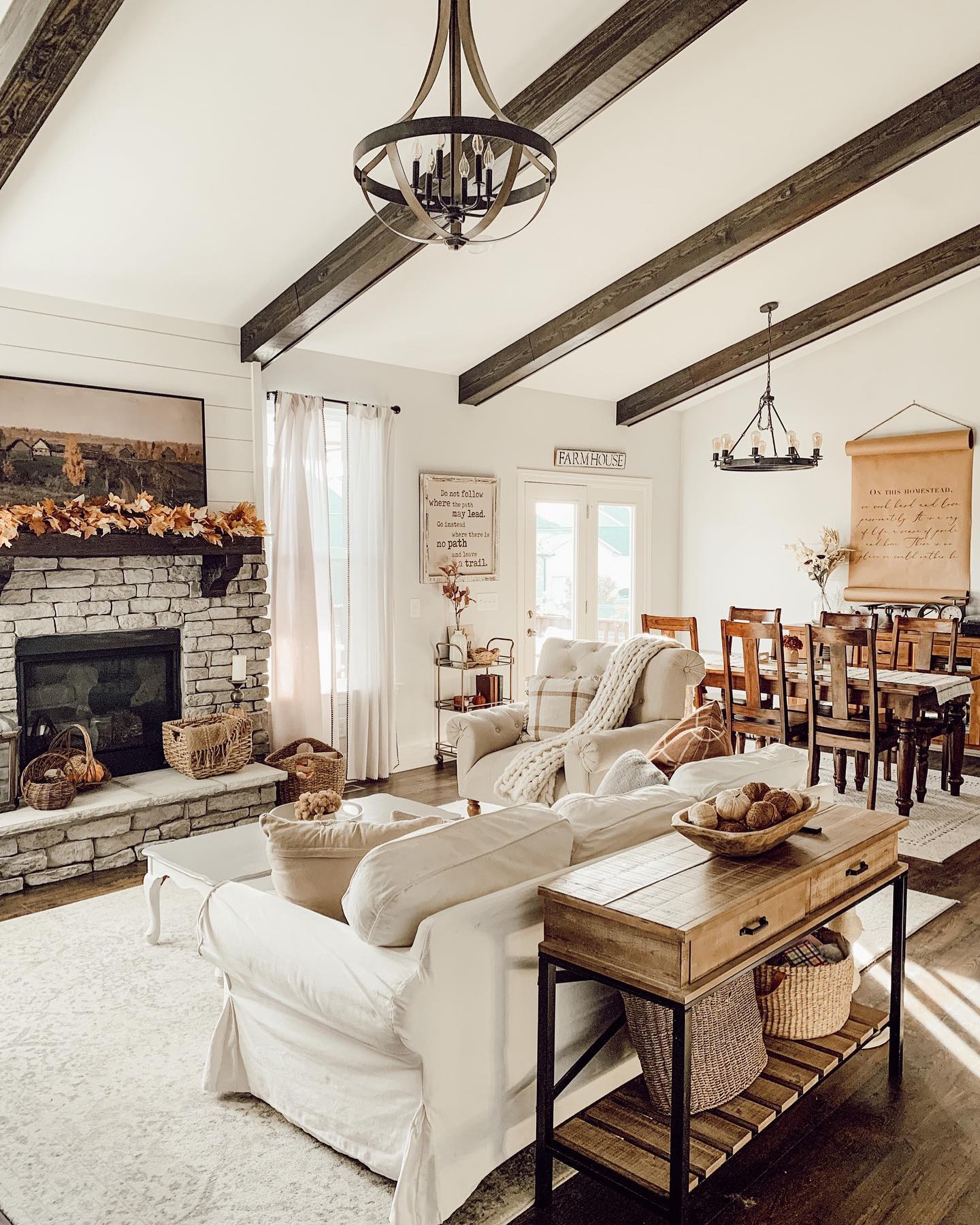 A farmhouse living room that is paired with your dining area can be done in a ton of different ways. If you're lucky enough to have this much open space why not utilize it the best you can? In the end, these low-drop ceilings and a stylish chandelier will look truly extravagant and bold.
3. White & Orange Living Room Farmhouse Style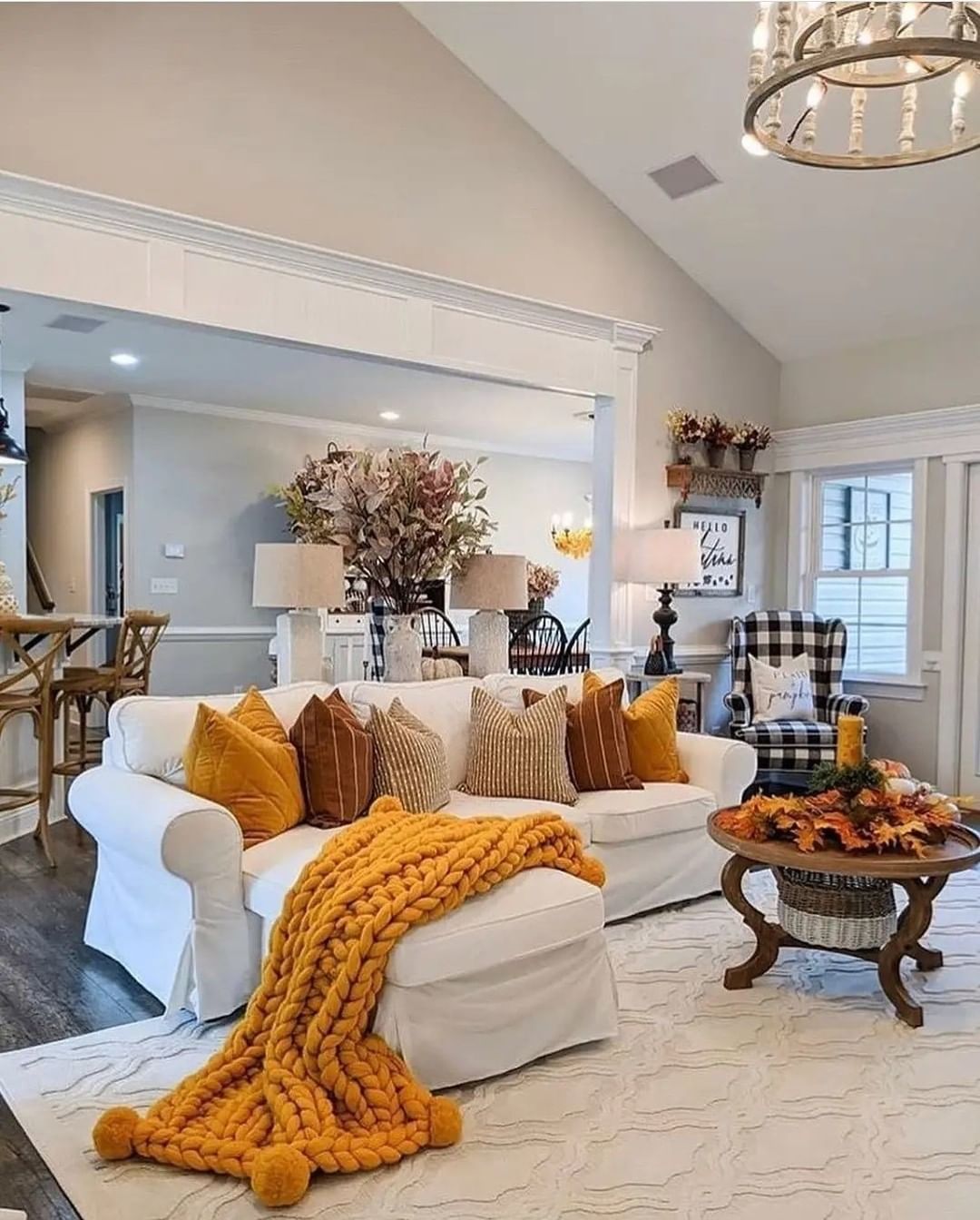 Farmhouse type such as this one looks so cute and cozy thanks to all of its accessories. Throw on cushions, pillows, covers, and some fake flowers to get this pumpkin orange dream! In most cases, this type of design will work best for Halloween or the holiday season.
4. Farmhouse Style Living Room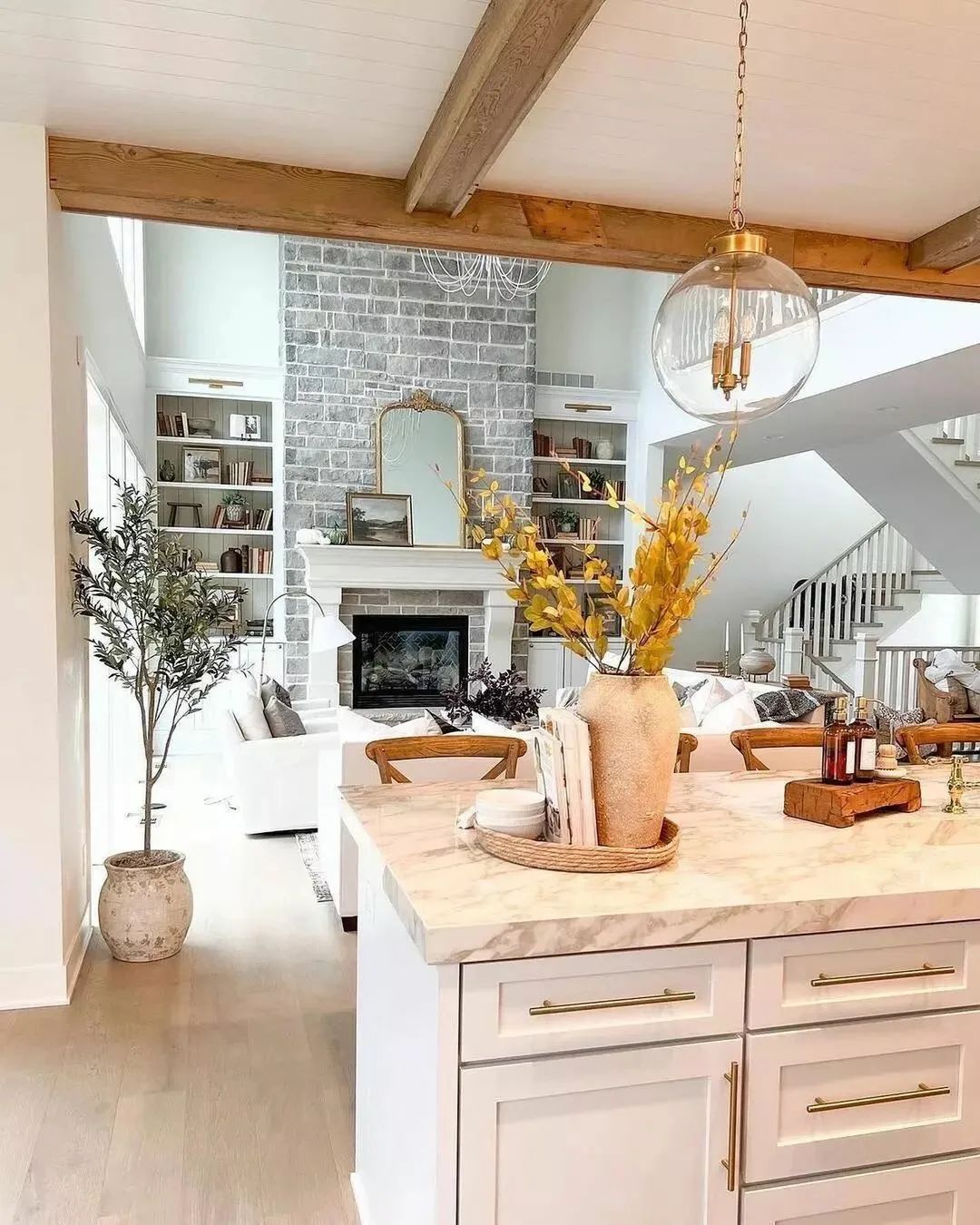 An open concept and combo of your living room and dining area will look so sophisticated. If you're a true country and farmboy or farm girl lover this will speak to you on so many different levels. Those who enjoy glamour, marble, and stylish walls or patterns will fall in love with this vibe.
5. White Elegant Living Room Farmhouse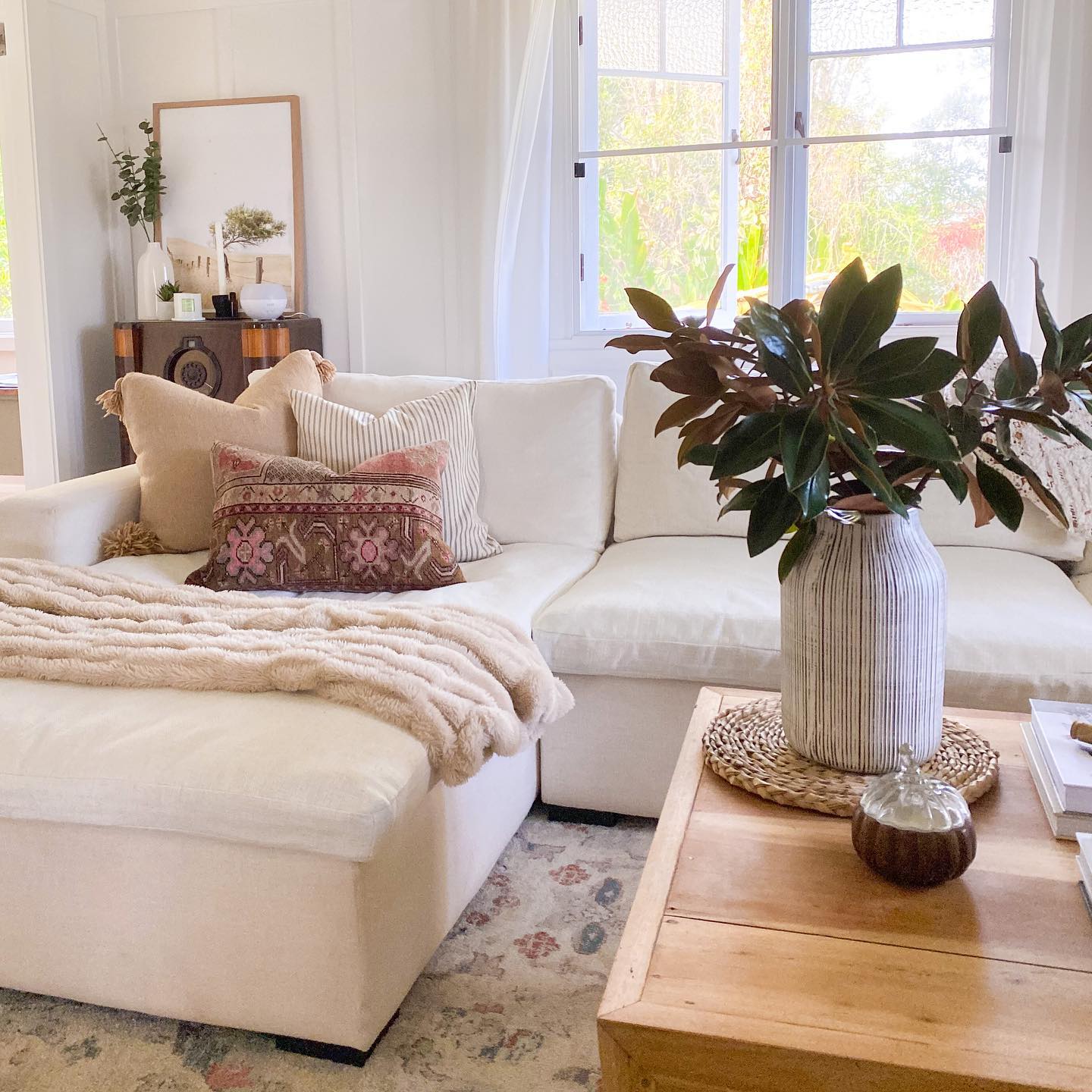 Throw on your favorite blanket on top when trying to achieve this stylish room. If you love elegance and white elements this will suit you. Round up the look with some chic flowers to give it that realistic and cozy feel. Embrace the full farmhouse fantasy and give it a go with big windows and stylish curtains to make your living room appealing.
6. Cozy Grey Farmhouse Living Room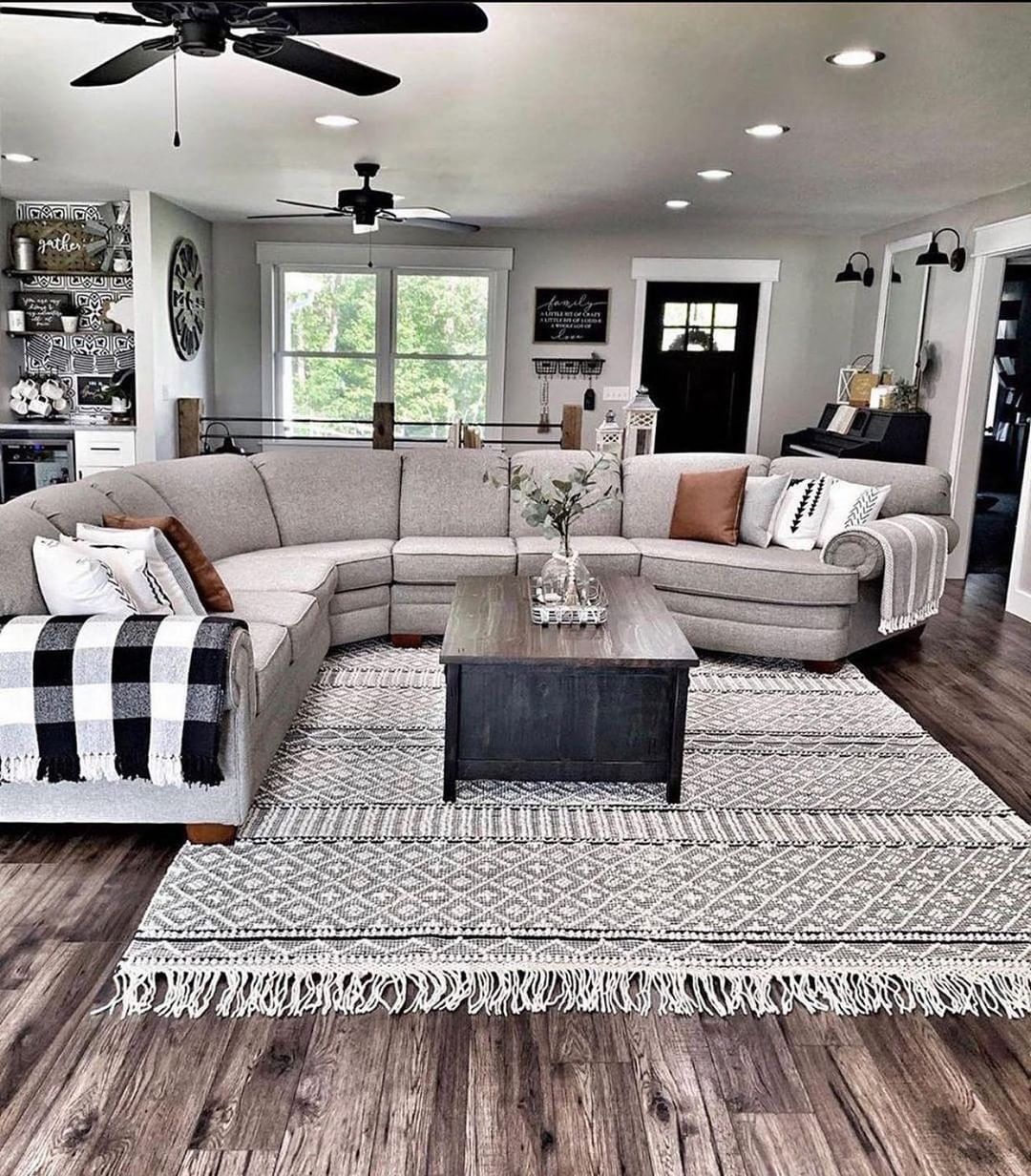 Big, cozy, and chic, this living room is for those who love nude or grey tones and elements. If you're into stylish looks and low ceilings, this is it! Don't forget a giant fan and place it on top of your ceiling. Stick to this monochrome vibe and black and grey elements if you're all about practicality.
7. Cheerful Colorful Farmhouse Living Room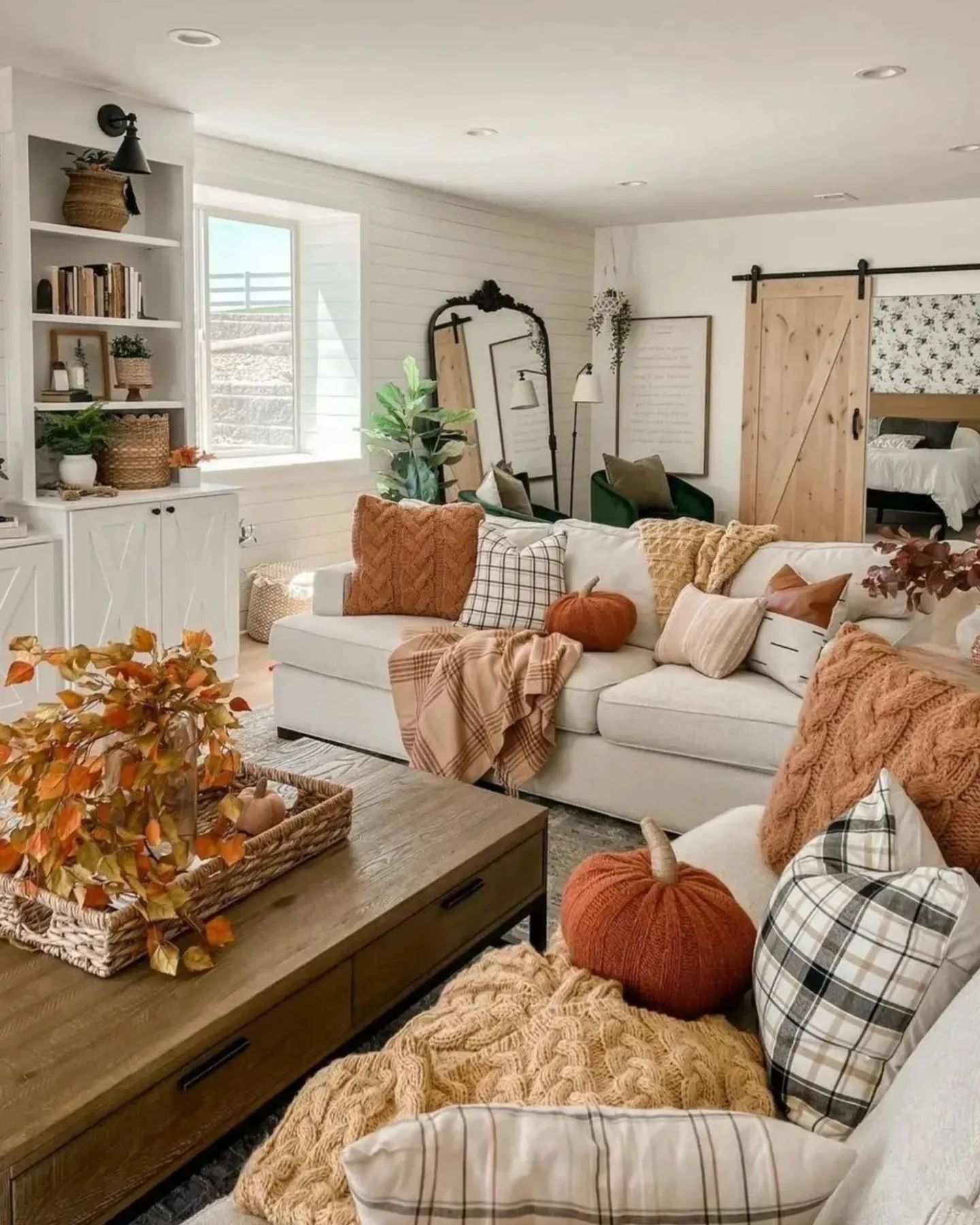 The Halloween season is almost here, which means that it is time to embrace all of your favorite spooky elements and accessories! Do you enjoy switching up your looks and styling your living room with the appropriate accessories? If so, go for white, brown, nude, and orange color shades! This combo will make your room very cozy and definitely farmhouse-like.
8. Traditional Farmhouse Living Room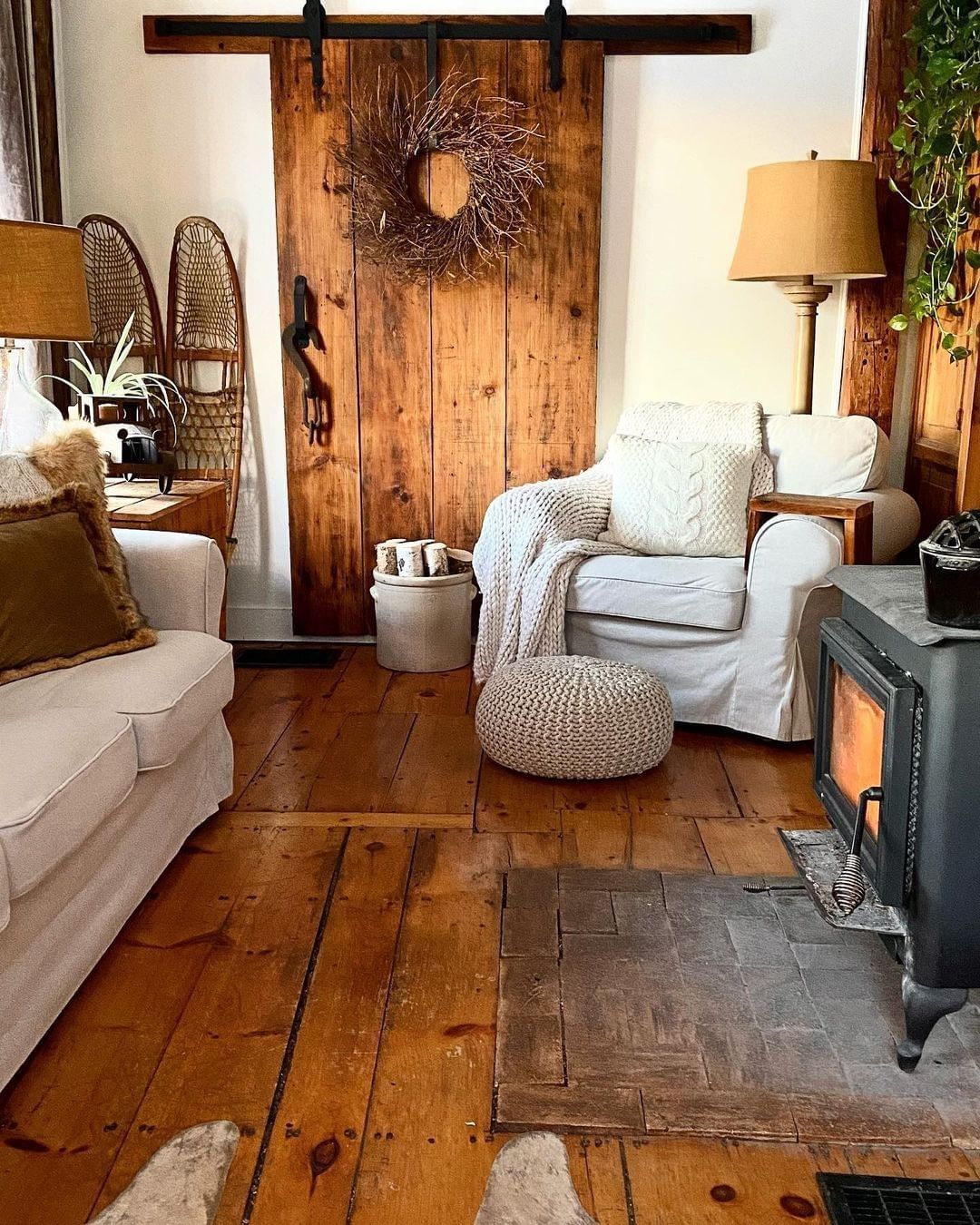 White accessories on top of brown floors will look very professional and elegant, as well as polished. If you're someone who enjoys lighter shades and darker wood floors this entire vibe is for you! Don't forget a stylish lamp, fireplace, and some wall accessories to transform the look.
9. Fall Inspired Living Room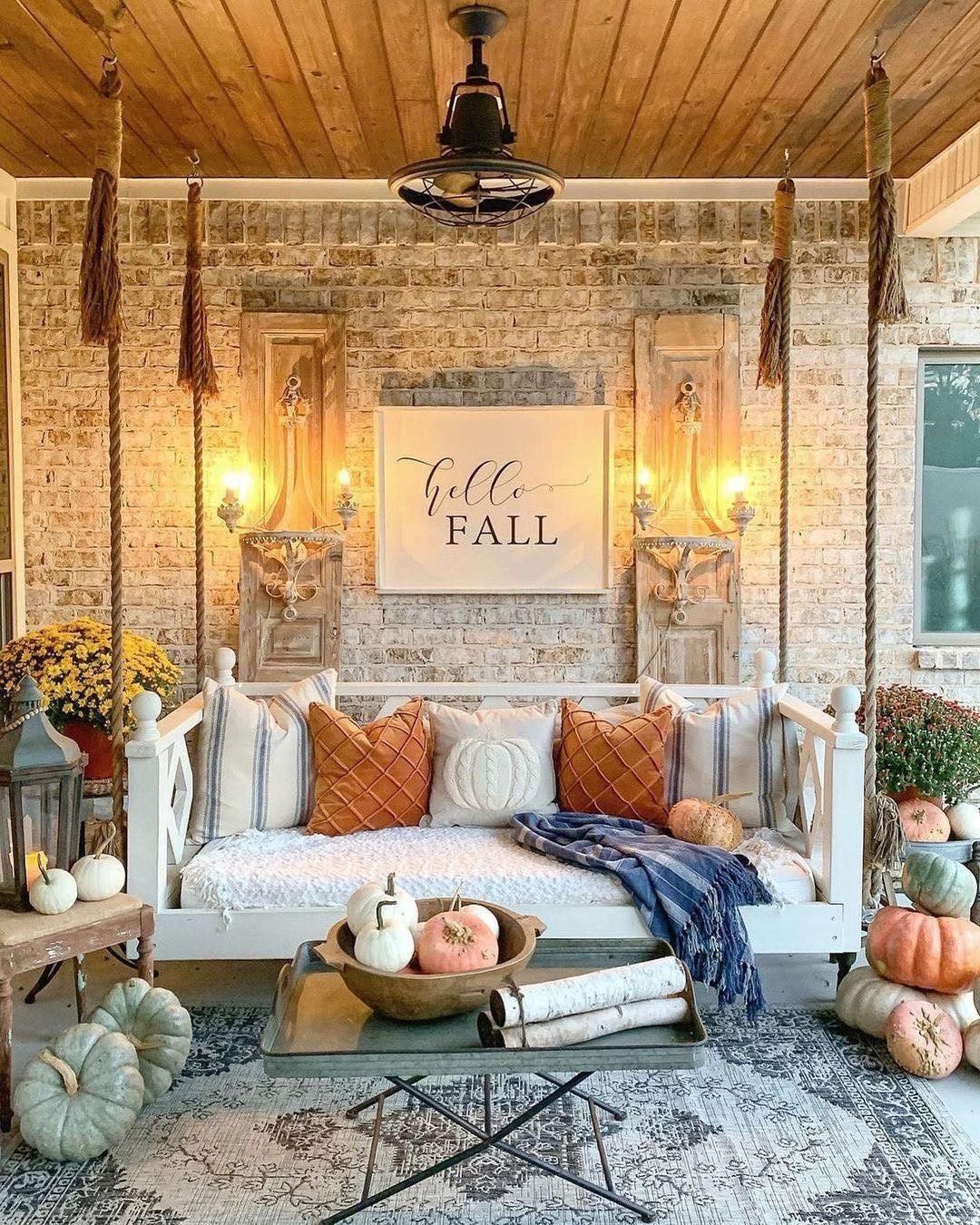 If you're ready to embrace the fall season and you're all about traditional Halloween or October decorations, this will suit you. Nothing screams "farmhouse" as much as giant cushions, brown wood ceilings, and real or fake pumpkins do! If you are looking for that cozy style and you want people to envy your style, this is a full strike.
10. Cool Grey Farmhouse Living Room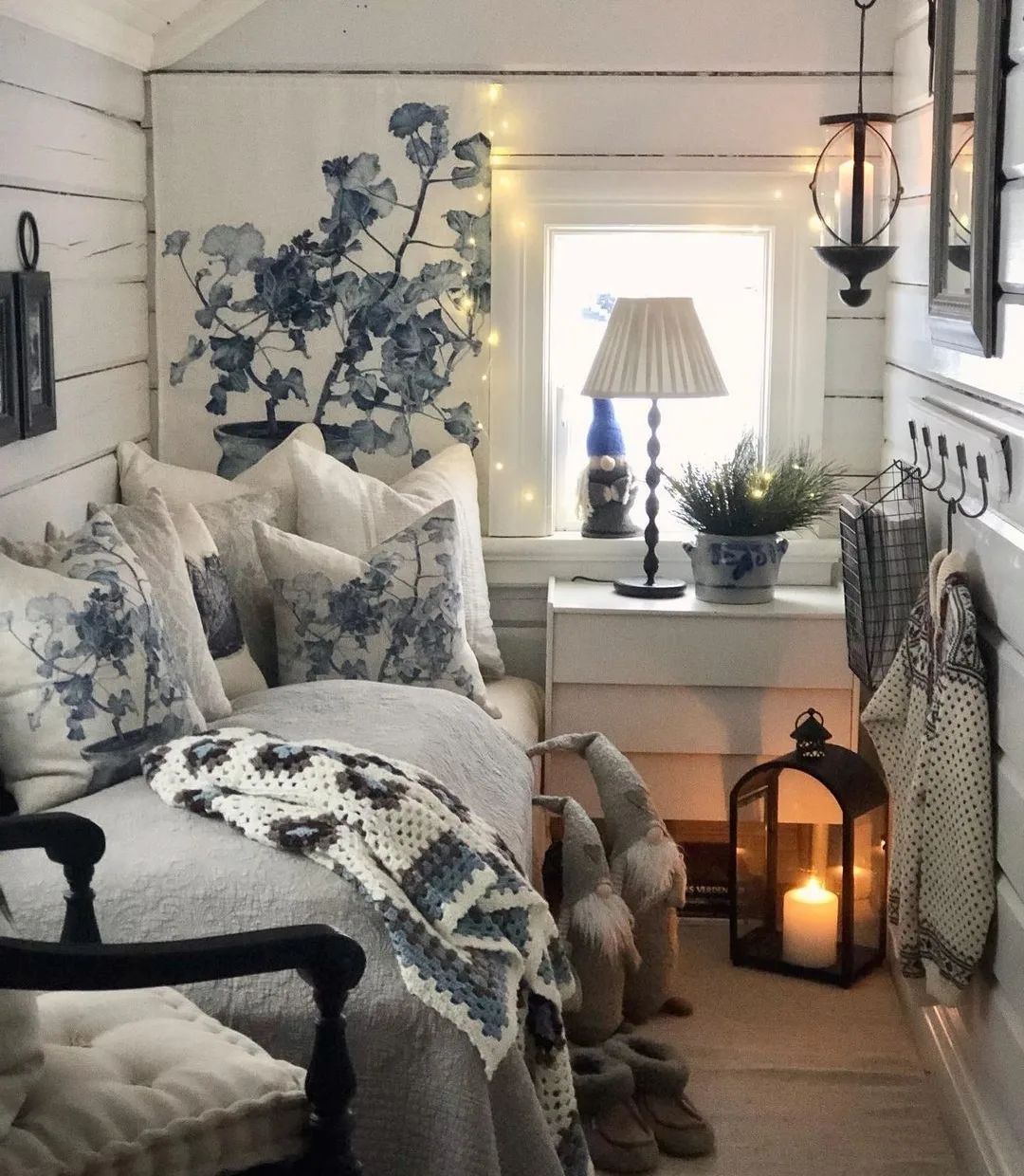 If you're working with a small or limited space, consider this living room. It is stylish and utilized in the best way + the color combo is so calming and unique. Most people who like monochrome looks will enjoy this cozy farmhouse idea.
11. Farmhouse Living Room Nude Concept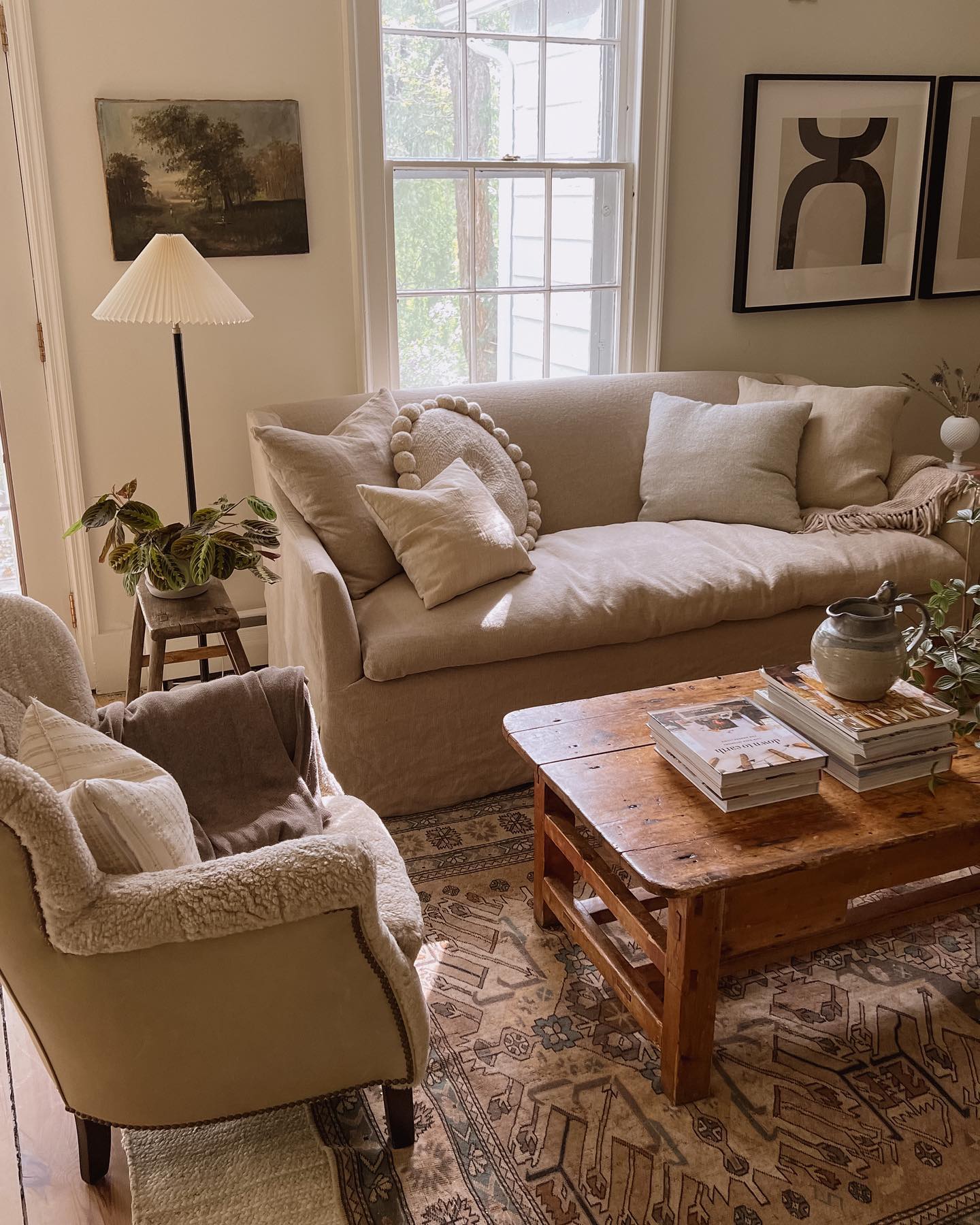 If you can keep up with tidying up your room and you prefer lighter shades, this beige concept will suit you. Your home will look very welcoming and you're going to adore this traditional farmhouse style no matter your age or the size of your living room.
12. White And Grey Farmhouse Living Room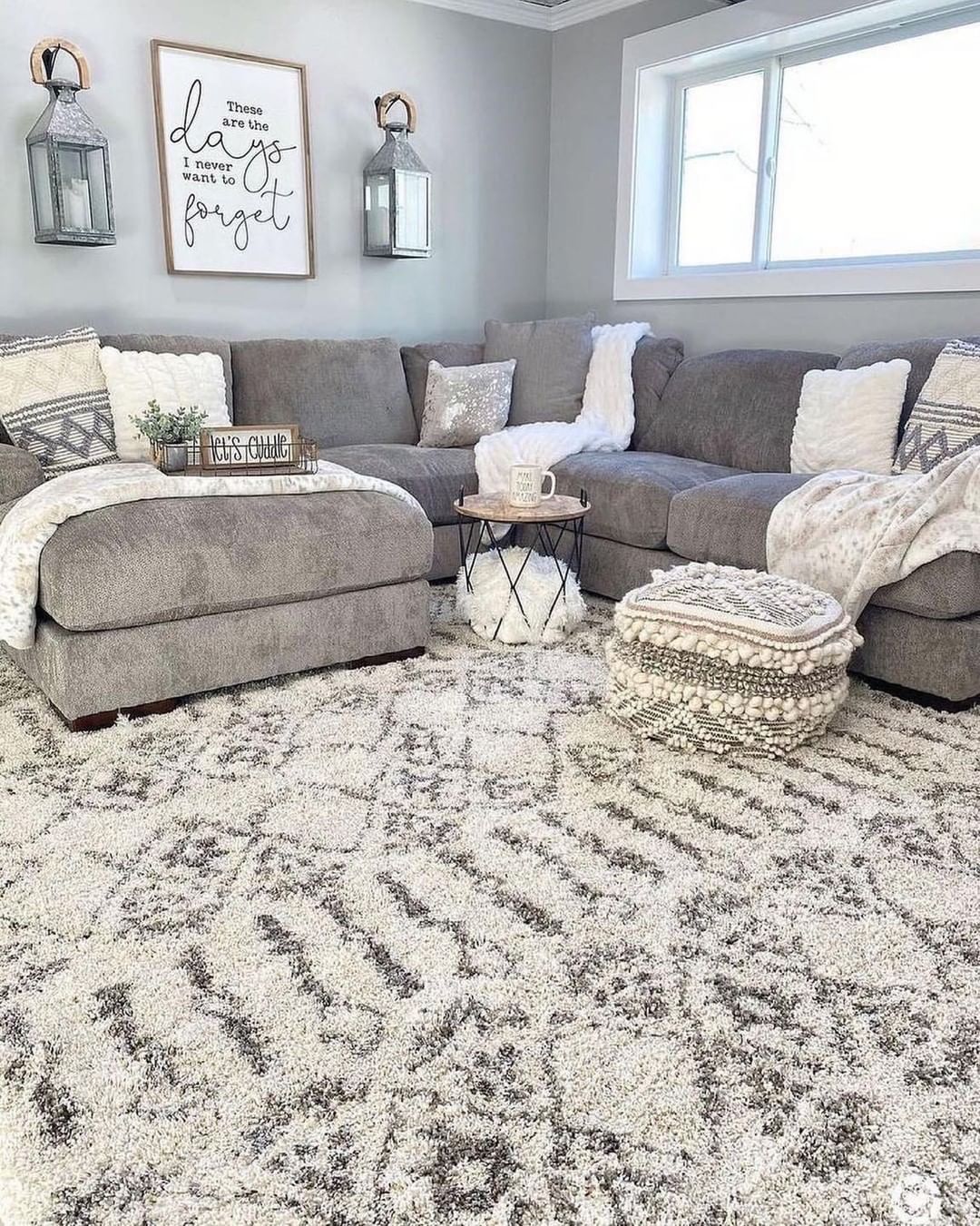 White, light grey, and grey are some gorgeous shades to do and pair together. This type of living room has some modern elements, while still having the foundation of that farmhouse look. If you are in your twenties you may enjoy this style the most.
13. Big Open Space Farmhouse Living Room
Those who are lucky enough to have a big house and an open-space concept will enjoy this look. It is very stylish and a lot of attention has been focused on its details. Stick to brown, white, and nude colors, low ceilings, and funky rugs/sofas to achieve this farmhouse approach.
14. Traditional Living Room Farmhouse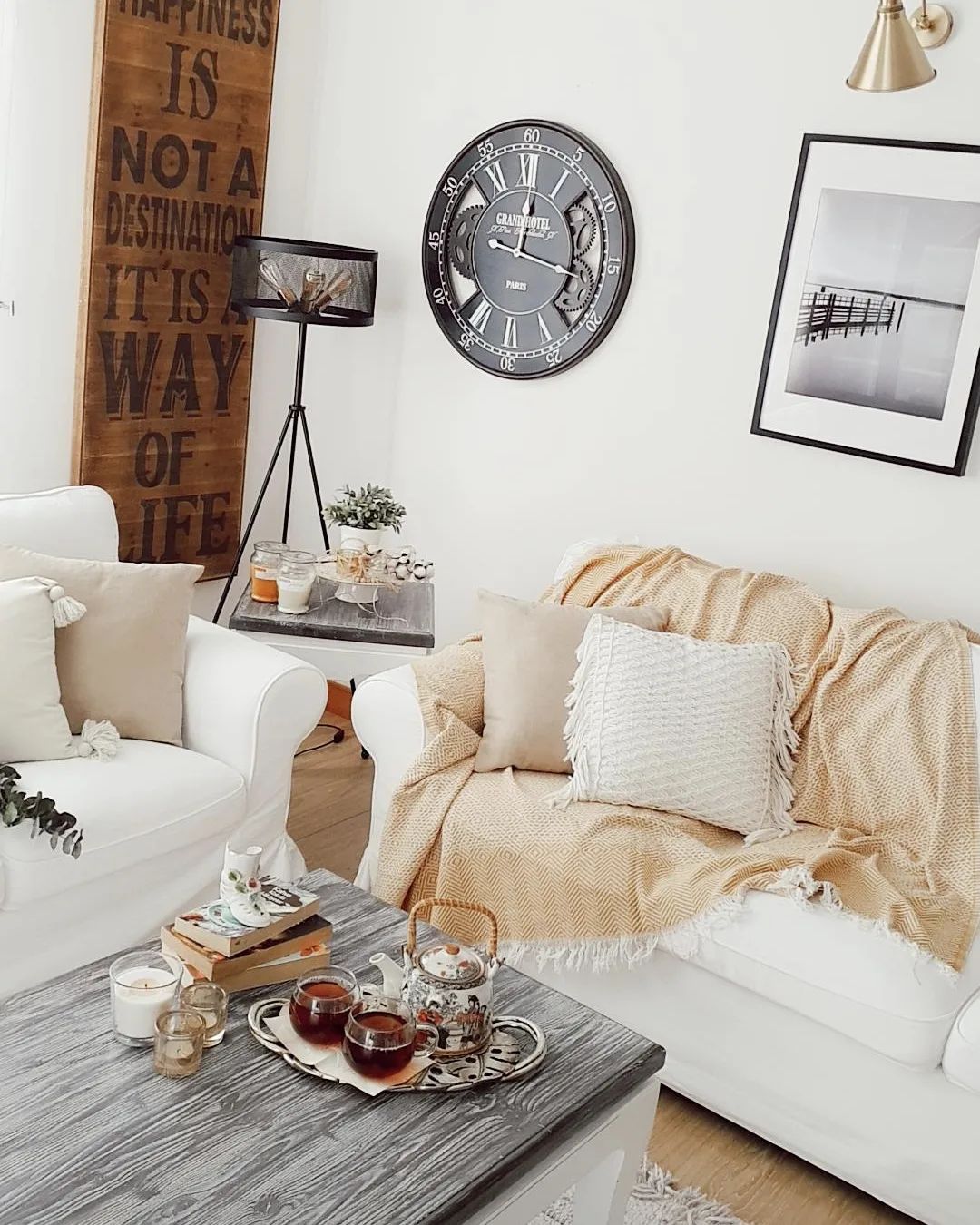 Quite traditional, wouldn't you agree? Guys and girls who love lighter shades will love this living room. Make sure to decorate it with pillows, cushions, pictures, and blankets to truly get that warm and welcoming farmhouse look. Keep a ton of sunlight in to freshen up the look some more.
15. White And Grey Farmhouse Living Room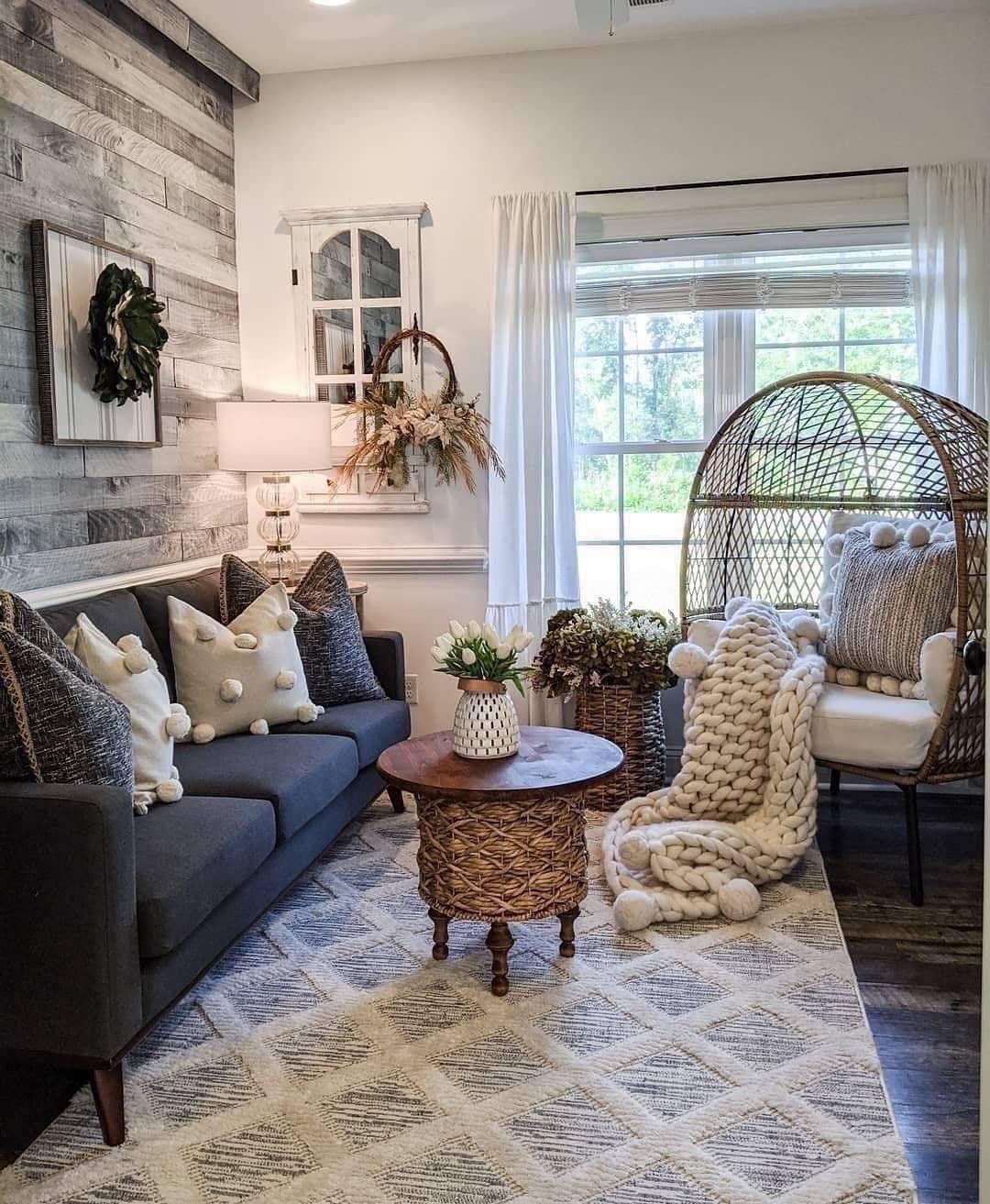 Heads up if you plan on giving this living room a go, as it can get pretty pricey to achieve this design. It is super big and bold, as well as decorated with loads of different furniture and elements. Aside from having that farmhouse look, it also has got a bohemian feel to it. Anyone who loves to explore their options often will like the final design.
16. Low Ceiling Farmhouse Living Room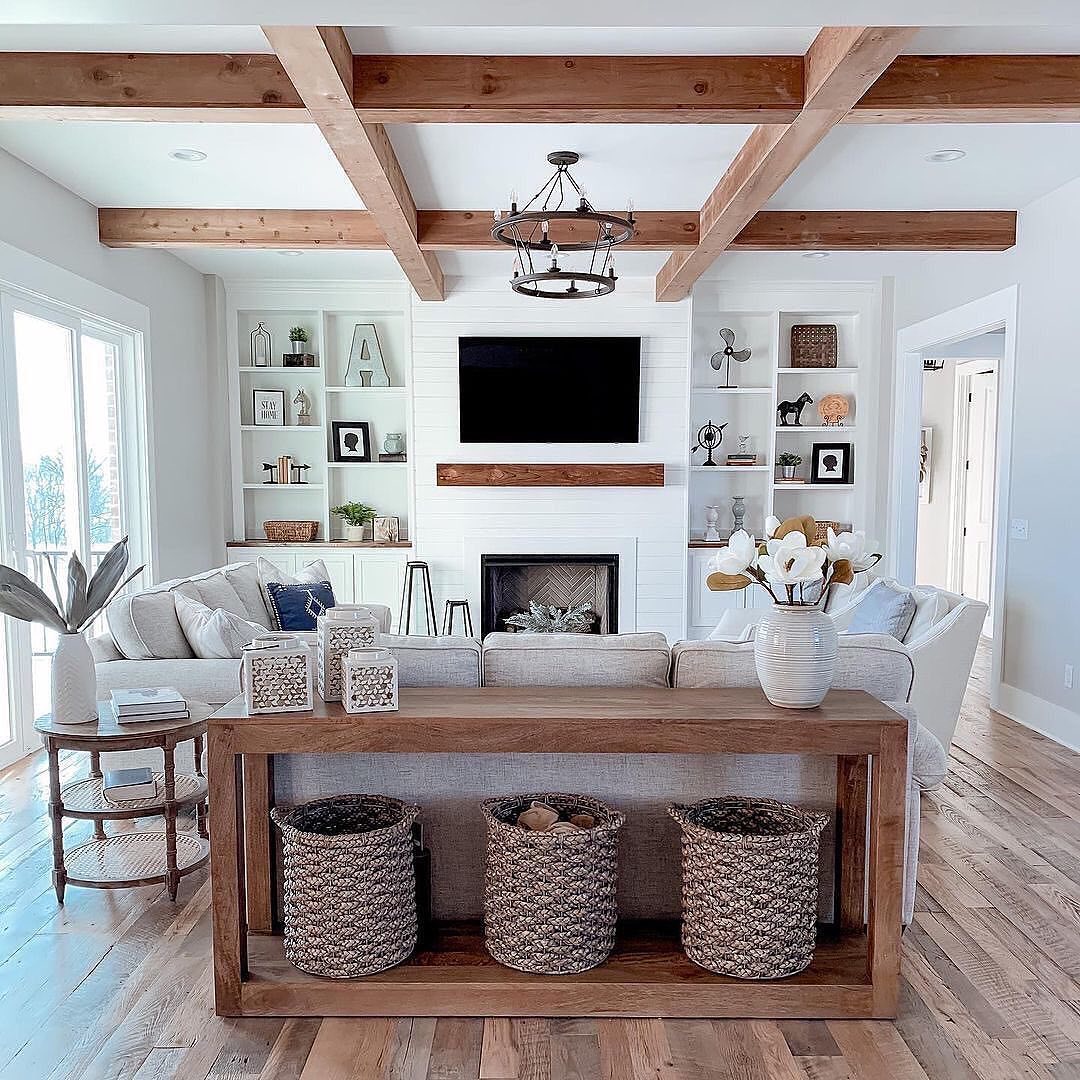 Farmhouse meets trendy and modern is what this look is all about! This living room is very stylish + it is perfect for guys and girls who live for white and open spaces. Get the cozy aesthetic with some flowers and a warm fireplace to fulfill your fantasy.
17. Living Room Beige Farmhouse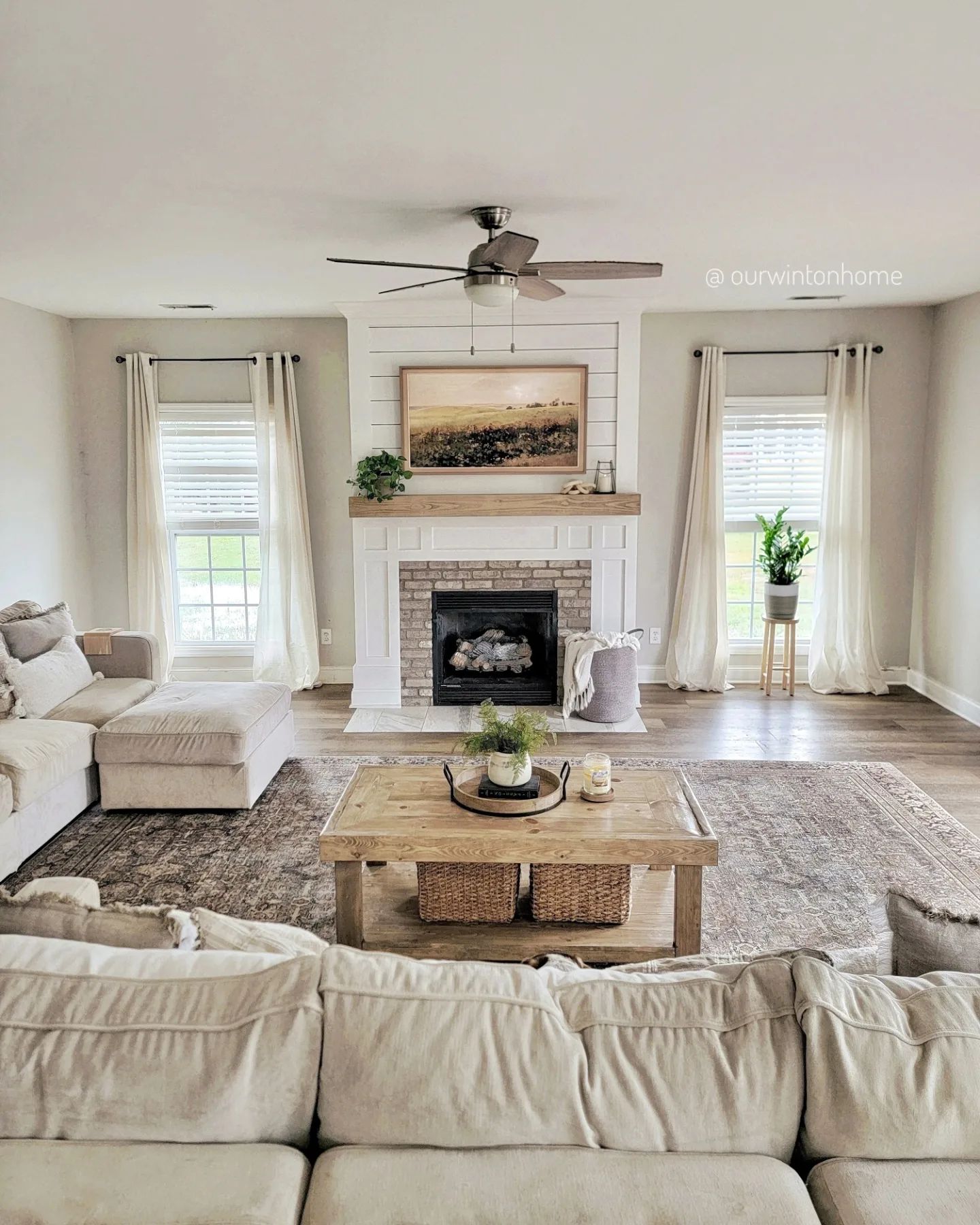 Lastly, if your living room is quite big and you are all about lighter shades, we highly recommend going beige or nude. This will make your space look even bigger + all the accessories will bring life to it. A giant fireplace in the middle will tie the whole concept together, and make your family gather around more often.
Tidy Up!
All of these farmhouse concepts and chic living rooms will leave you speechless. Which one is your ultimate style? Let us know, we can't wait to see your transformation!