There are virtually unlimited ways to express yourself, but your hair color choice is one of the most direct. Without saying a word, you can enter a room and make a statement. Whether bold or demure, your hair color can help you to express who you are and how you want to be seen in the world. The following are some hair color ideas for changing up your look and style:
Medium Brown 
This hair color has an "everyday" feel and works with just about any fashion look. From long to cropped short to medium length, this hair color is one of the most versatile in terms of style and the personalities it fits. Overall, medium brown says you're no-nonsense, practical and reliable.
Dark Brown
Dark brown hair can be serious or alluring, depending upon the length and style. Short and cropped, it is studious, straightforward and fashionable; longer dark brown tresses can add an air of mystery and intrigue.
Black
Black is the natural hair color for a number of races including African American and Asian. However, if it isn't your natural hue, going jet black can indicate a radical style change. Against pale skin, it can bring a gothic, modern, contemporary, severe or ultra-stylish look. Against darker skin tones, it can bring exotic appeal.
Dark Blonde
Dark or dirty blonde hair conveys a carefree vibe. It says you're relaxed, earthy and natural. Looser and more laid back than medium brown, dirty blonde favors casual clothing looks like long day dresses or jeans.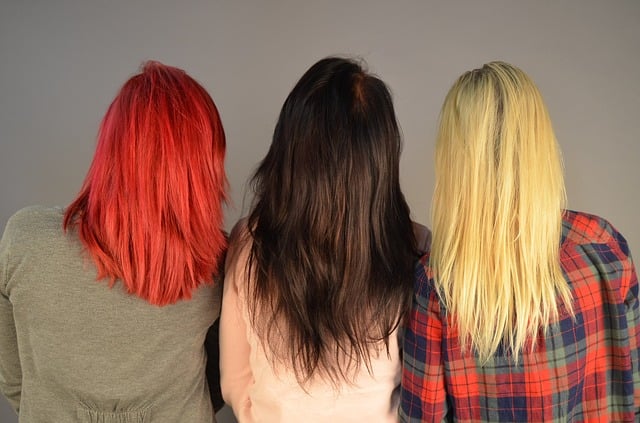 Blonde
Do blondes have more fun? Do gentlemen prefer them? Blonde-haired people do hold a certain amount of appeal, especially in cultures where there are few of them. This fair hair color conveys a sense of fun, lightheartedness and sex appeal. The lighter the shade of blonde, the more attention you're likely to get.
Red
Natural red hair is rare and sure to turn heads wherever you go. Natural redheads get attention, and dyeing your hair red can bring a "look at me" quality to your life. You will be noticed and remembered, and the color conveys a spicy, zesty and sassy energy.
Auburn
Midway between medium brown and red, auburn offers an intriguing compromise between the expected and the rare. Auburn hair brings a richness that's eye-catching, but not too over-the-top. Most any fashion look will be complemented very well by auburn locks.
Highlights
Adding lighter highlights to any hair color can convey depth, interest and complexity. It says there's more to you than meets the eye and that you have a range of diverse facets and interests.
Unexpected Colors
Unexpected hair colors taken from the rainbow are all the rage these days and can grab attention when you're out and about. Here are some of the possible meanings of brightly colored hair:
Red. You're fiery, feisty, sensual and demand to be noticed.
Orange or yellow. A cartoon-like quality can be conveyed, showing your fun and frivolous side.
Green. This is a rare choice, making it extra-impactful. It conveys that you are marching to the beat of your own drummer.
Blue. When it comes to unusual hair color, blue is often the go-to choice. It has even been spotted on celebrities like the Kardashian sisters, Katy Perry, Niki Minaj and Lady Gaga.
Purple. Purple was the go-to shade for punk rockers decades ago and it still exudes a rebellious and creative vibe today.
Your hair color says a lot about you and makes a statement without saying a word. What is your current hair color saying about you? What would you like it to say? Use these hair color tips, meanings and ideas for changing up your look in a powerful way.