The experts in the Pantone Color Institute have released their yearly decree on the color of the year. For 2019, the color 15-1645 named Living Coral has been designated as the color of the upcoming year. Drawn from the natural world, Living Coral has a subtle golden undertone below it's saturated blend of orange and pink shades. The intense yet softened coral pink shade is vibrant and stirs up imagery of tropical ocean life and hopeful growth. The color evokes the feeling of nature's fight against the damages of human endeavors. It is a cheerful color that will lend itself to almost infinite applications, whether they be cosmetic, clothing, or home decor and items.
The color of the year's name, Living Coral, does have a certain heavy handed implication to it. With the increasing frequency of coral reef death and destruction, and the results of global climate change, the color of the year draws attention to the few still living coral reefs around the planet. In an ideal application, Living Coral can serve to bring climate change and marine issues into conversations and keeps it at the forefront of the mind. Even just saying the color's name, Living Coral, draws attention to the state of coral reefs and marine life. The color encourages awareness while remaining beautiful and relatable.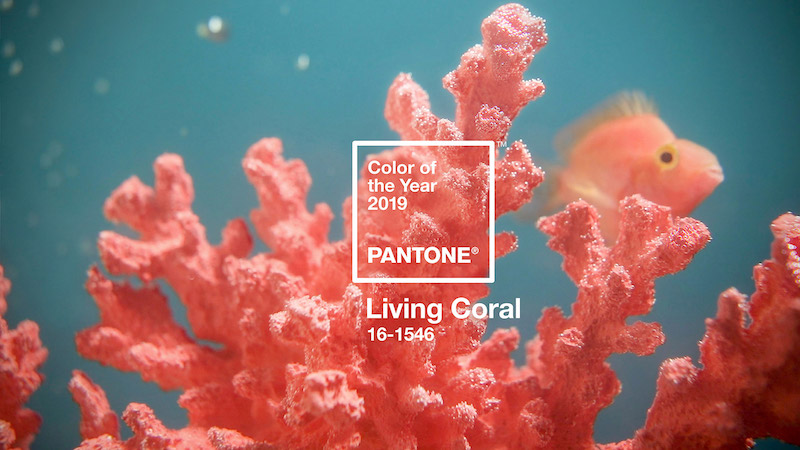 In comparison to past Pantone colors of the year, Living Coral is exceptionally energetic. Not since 2012's color of the year, Tangerine Tango, has a color of the year been so vibrant and intense. Last year's color of the year, Ultra Violet, is surprisingly softened and muted, and the color of the year from 2017, Greenery, borders on pastel. With the new 2019 addition of an intense, vivid color to the pantheon of yearly colors, Pantone has shaken off the dulled shades of years past and stepped boldly into the world of intensity. Pantone's Living Coral serves as a beautiful way to perk up our increasingly dull and dreary world and injects some much needed vitality into the recent trend of muted or pastel shades. Exciting and new, Living Coral is an environmentally conscious yet vivacious addition to the color of the year lineup.