When it comes to versatile and affordable materials for home decor, cinder blocks might not be the first thing that comes to mind. However, these humble building blocks have recently gained popularity as a unique and creative way to add a touch of industrial charm to your living space. With their sturdy construction and rugged aesthetic, cinder blocks offer endless possibilities for both indoor and outdoor decorations.
In this blog post, we will explore more than 20 innovative ways to use cinder blocks as decorative elements in your home. From sleek and modern designs to rustic and whimsical creations, you'll discover how these simple blocks can transform your space into a truly one-of-a-kind masterpiece. So, roll up your sleeves and let's dive into the world of cinder block decor!
Industrial Look Of Cinder Block Book Shelf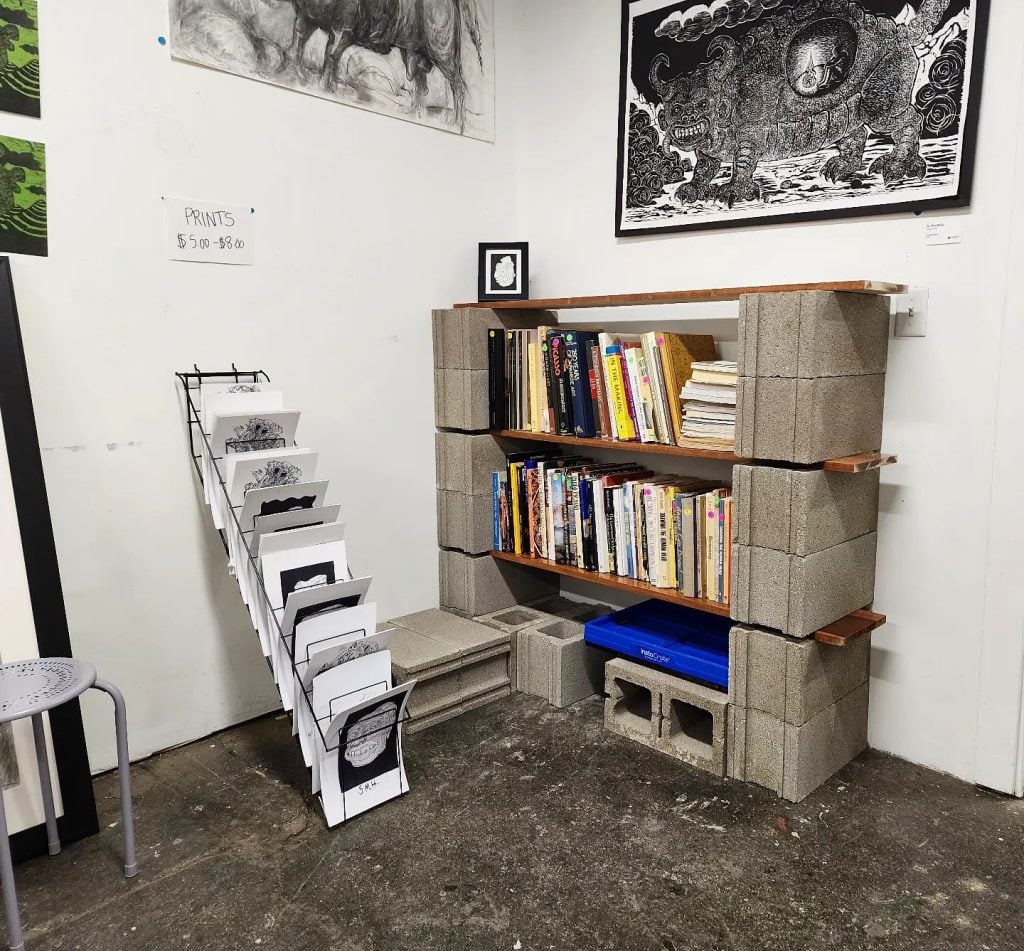 This cinderblock bookshelf combines the raw, industrial appeal of bare cinderblocks with the stylish charm of wood, representing the popular industrial chic design trend. The contrasting materials create a visually captivating piece that serves as a focal point in any room. With its durability and stability, this bookshelf offers a practical storage solution while adding a touch of urban flair to both loft-style apartments and contemporary offices.
Kaleidoscope Garden Cinderblock Flower Pot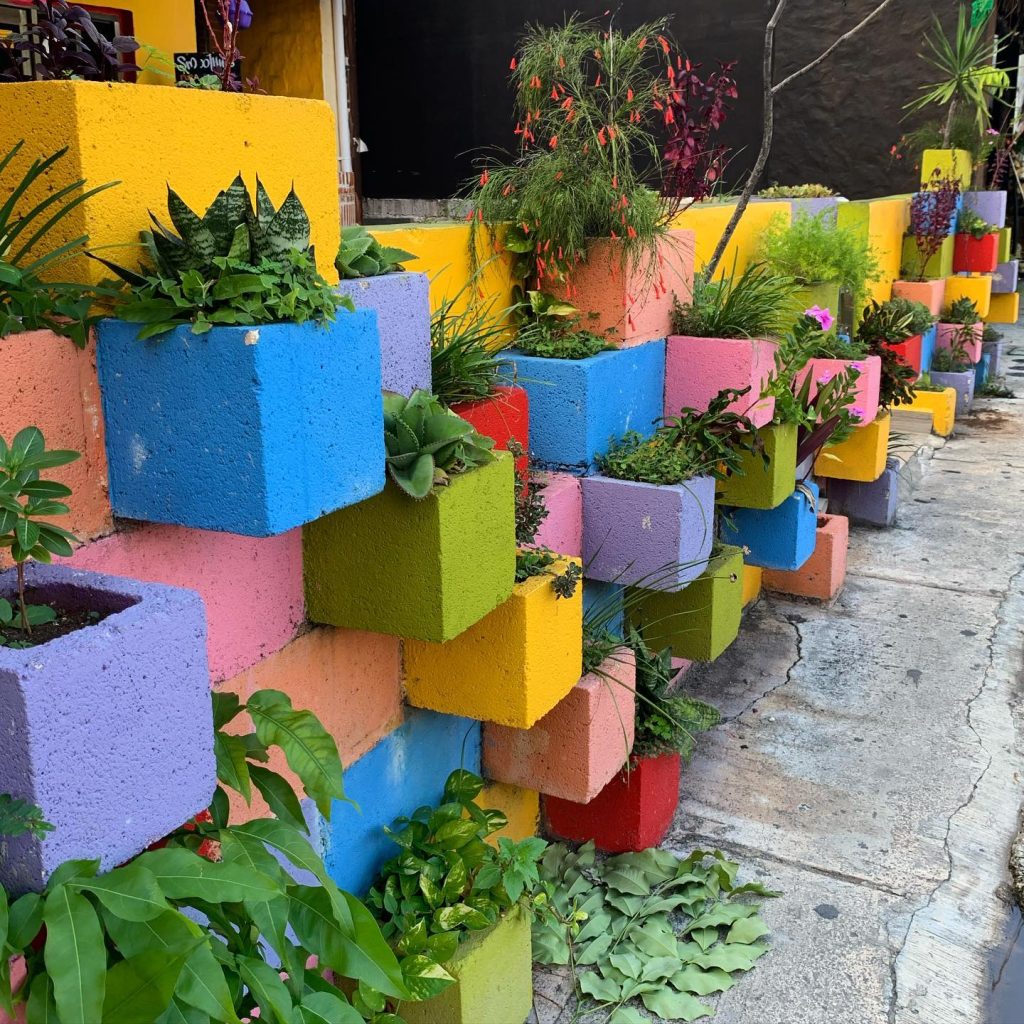 Use this colorful cinderblock flowerpot design to turn your yard into a vivacious and captivating setting. You may design a genuinely one-of-a-kind exhibit that expresses your distinctive taste with the variety of colors available. Your yard will become a living work of art thanks to these unusual flowerpots, which not only perform as useful containers but also provide a humorous and amusing touch.
Ignite Your Imagination With The Cinderblock Fireplace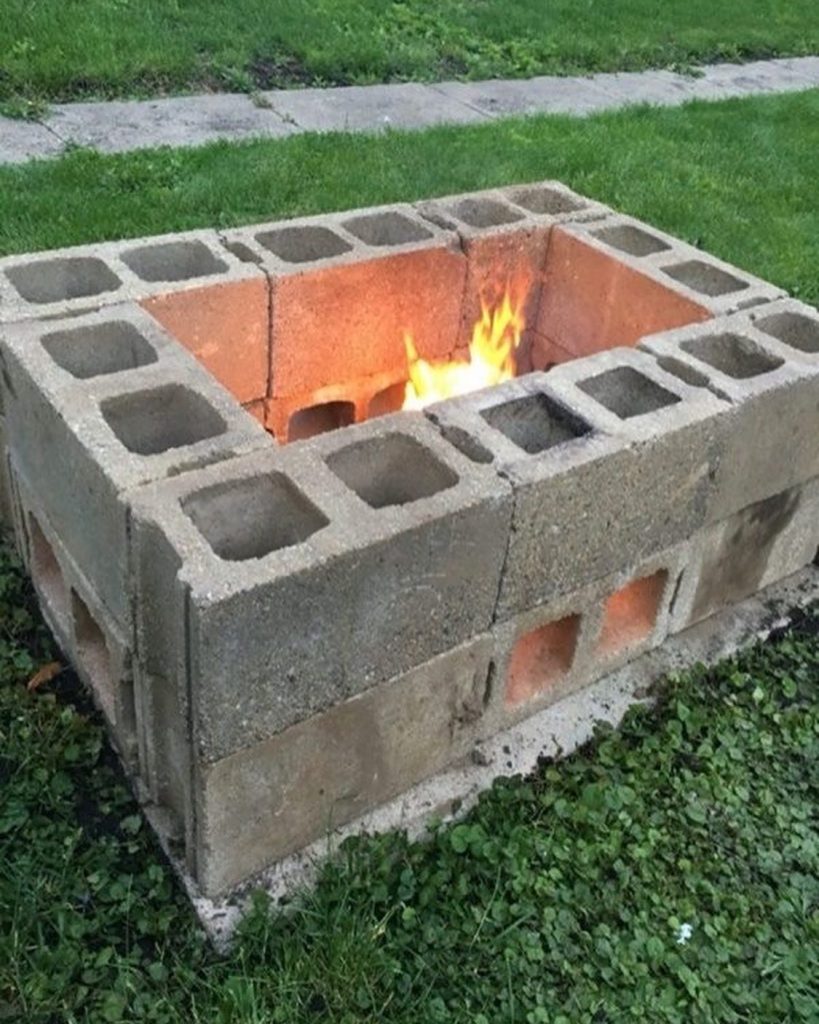 Experience the captivating Cinderblock Fireplace, a bold and contemporary design that celebrates the raw beauty of concrete. This innovative concept skillfully stacks unembellished cinderblocks to create a modern and statement-worthy fireplace for your yard. Gather around the mesmerizing flames and create lasting memories with this distinctive centerpiece that complements any outdoor setting.
DIY Cinderblock Firewood Rack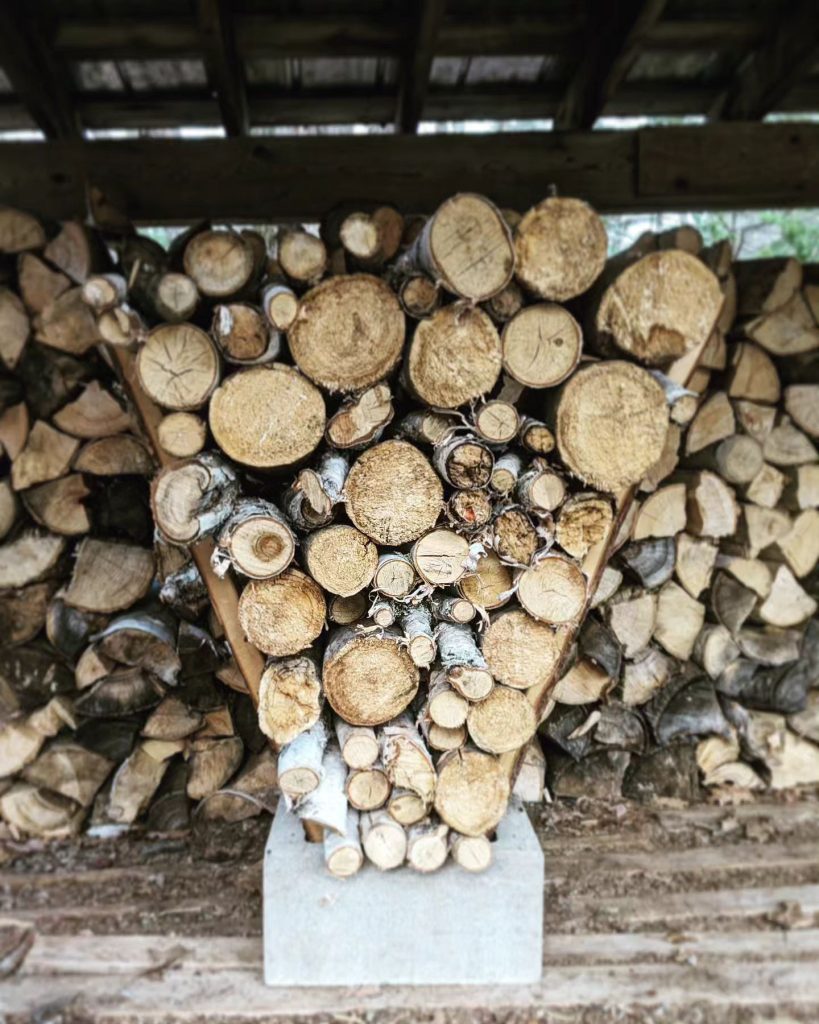 The DIY Cinderblock Firewood Rack offers an affordable and customizable solution for storing firewood. Whether arranged horizontally or vertically, bare cinderblocks can be easily configured to meet your specific space needs. With its versatility and ability to accommodate adjustments and additions, this cost-effective solution ensures your firewood remains neatly organized and easily accessible.
Minimalist Elegance Of Black Cinderblock As Table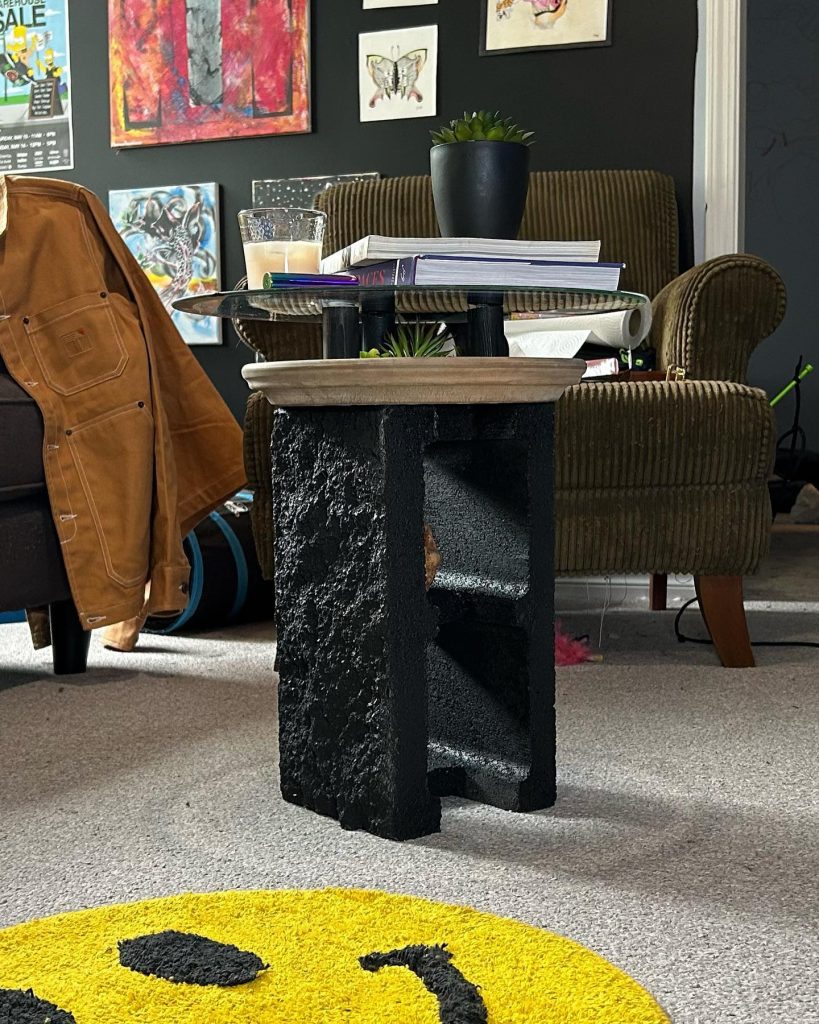 This striking piece of furniture combines minimalist elegance with industrial charm. The black cinderblock stands not only provide sturdy support for the sleek glass tabletop but also add a touch of raw texture to create a visually captivating contrast. Together, these elements create a unique and eye-catching centerpiece for any space.
Fusion of Modernity and Organic Design with the Yellow Wood Cinderblock Bench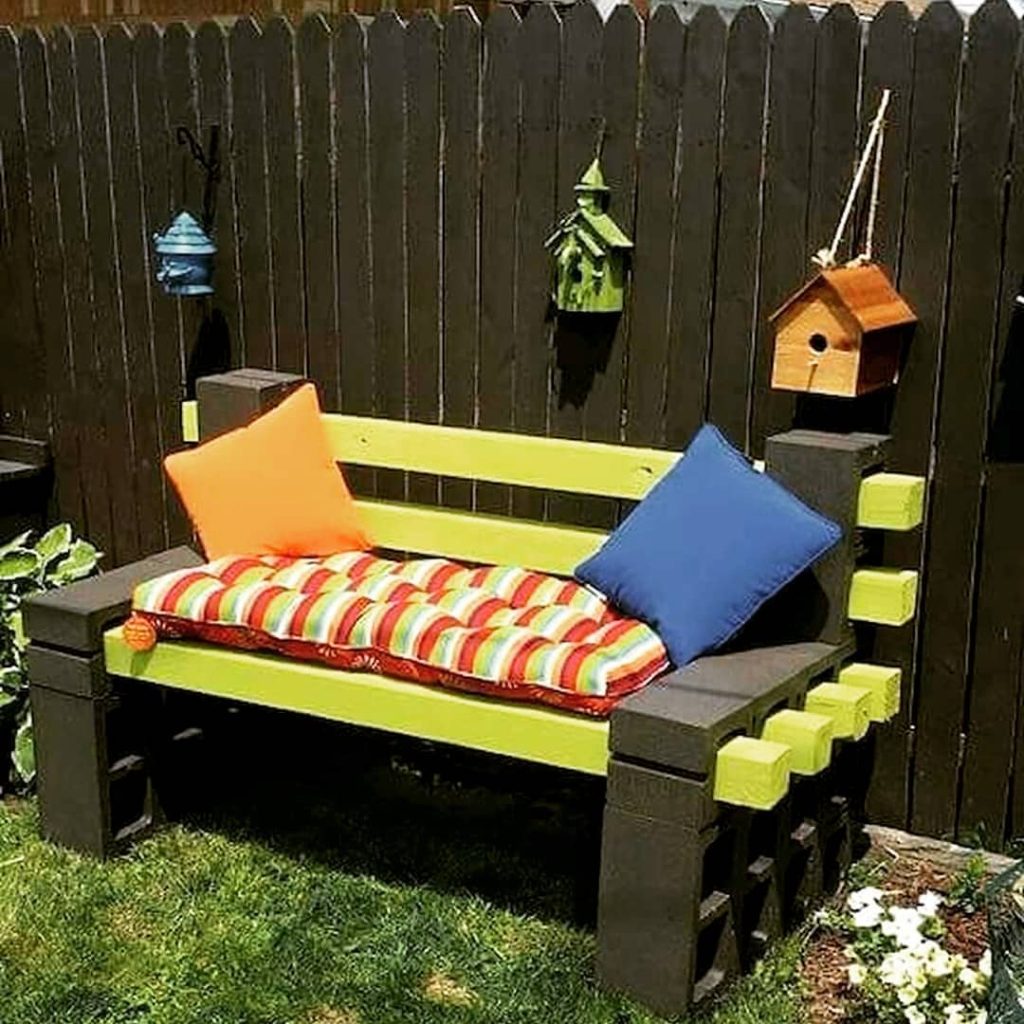 The Yellow Wood Cinderblock Bench seamlessly merges modern design with natural elements, creating a stunning furniture piece. Its vibrant yellow wooden seat is elegantly balanced on sturdy brown cinderblocks, resulting in an intriguing and contemporary visual composition. This unique bench not only offers comfortable seating but also becomes a focal point in any space, adding warmth and vitality while providing a solid and reliable base.
Black Cinderblock Bench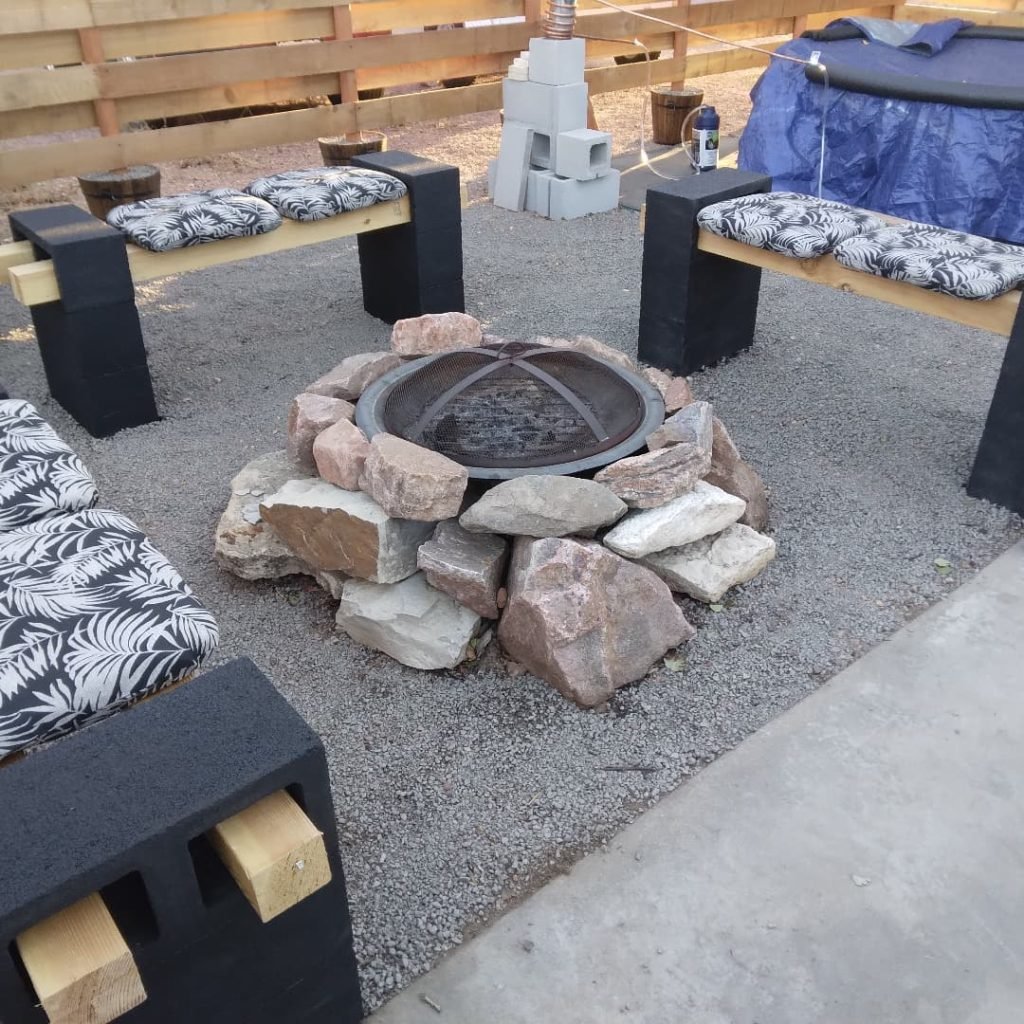 The black cinderblock bench with a central fireplace creates a captivating outdoor ambiance with its contemporary style and durability. Supported by sleek black cinderblocks, the wooden seat sections offer ample space for relaxation, while the centrally positioned fireplace becomes the focal point, radiating warmth and inviting conversations. This functional and visually striking design elevates any outdoor space, providing a cozy atmosphere that is sure to impress guests.
The Black Cinderblock and Polished Wood Bench Design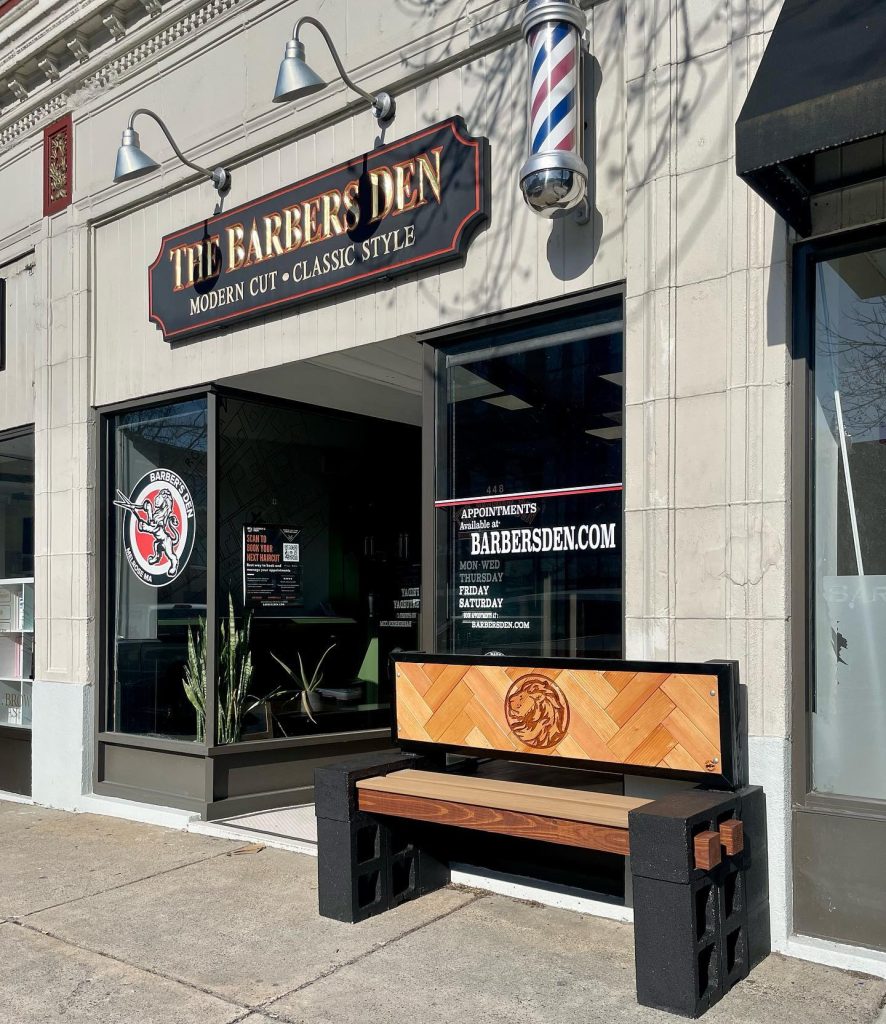 With its daring use of black cinderblocks as a solid foundation and a chic polished wood seat, this contemporary cinderblock bench design alters the conventional conception. The use of contrasting materials produces an eye-catching item that improves the barbershop's appearance and demonstrates its dedication to innovation and design. Customers may use this distinctive and fashionable bench as a seating choice, and it also acts as a welcoming focal point, luring people inside to enjoy the barbershop's contemporary take on conventional grooming.
The Cinderblock Wine Table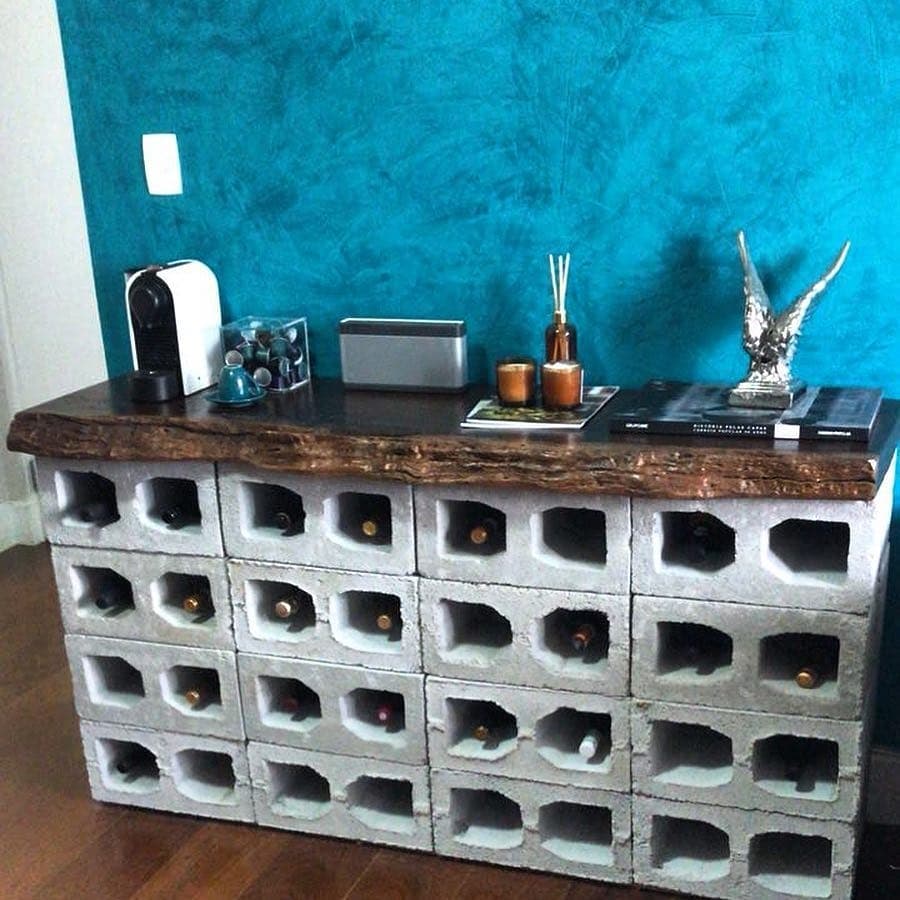 The cinderblock creation is a perfect blend of practicality and design, offering a spacious surface for gatherings and built-in wine storage. The bare cinderblocks, stacked together, form a sturdy foundation and serve as individual compartments for securely storing wine bottles. With its industrial chic appeal, this innovative table is an ideal addition to contemporary homes, urban lofts, or rustic interiors, offering both functionality and visual appeal for wine enthusiasts and those seeking a striking furniture piece.
The Cinderblock Pebble Staircase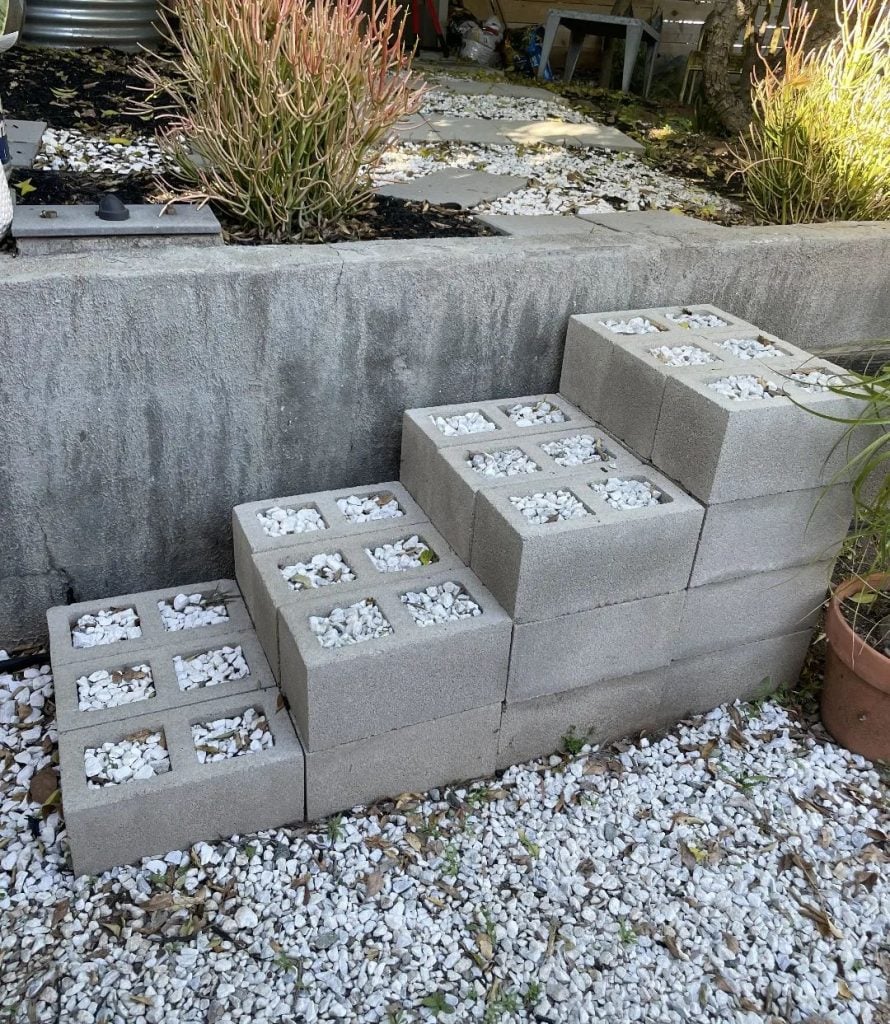 This innovative concept combines the utilitarian nature of cinderblocks with the aesthetic appeal of pebbles. A series of bare cinderblocks are stacked vertically to form a sturdy and functional staircase. However, what sets this design apart is the incorporation of pebbles within the hollow spaces of the cinderblocks. The pebbles create a visually captivating effect as they cascade down the steps, adding texture, color, and a touch of nature to an otherwise industrial material.
The Sleek Cinderblock Divider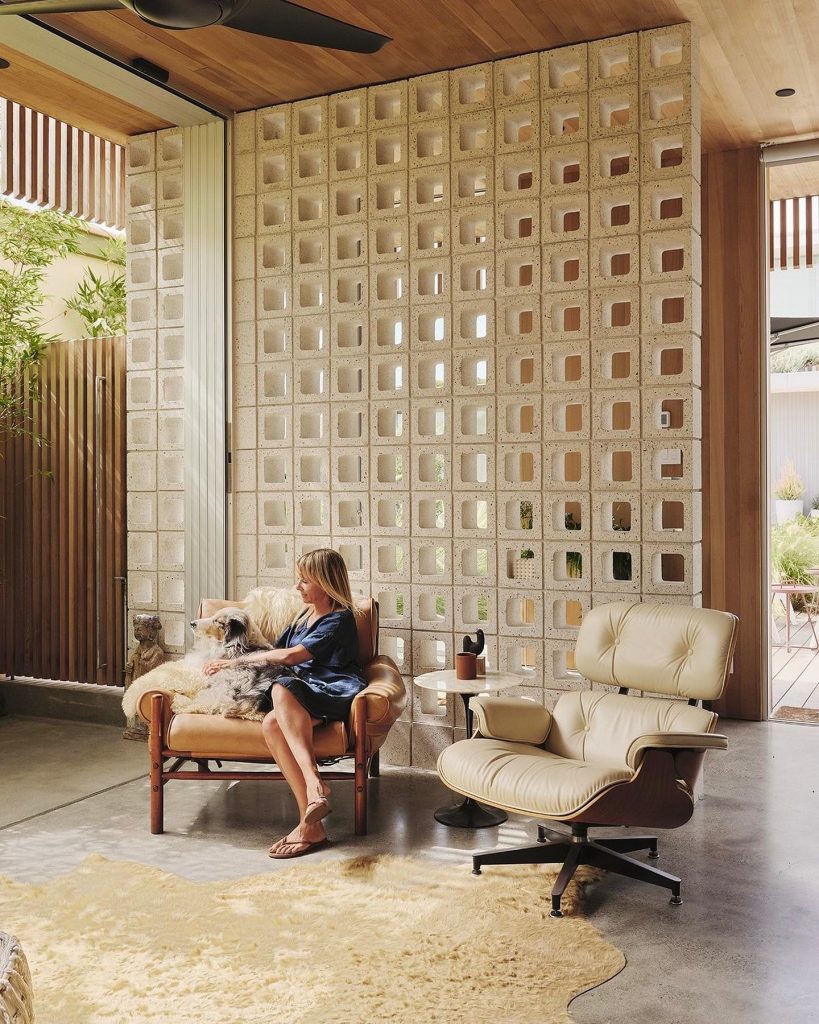 Transform your living space with this sleek and contemporary cinderblock idea that serves as a room partition. By stacking bare cinderblocks horizontally, a visually appealing see-through wall is created, allowing you to maintain an open concept while defining separate areas. The minimalist design and clean lines of the cinderblocks bring a touch of modern sophistication to your interior, adding a stylish element that complements any décor. The transparent nature of the wall ensures that natural light penetrates through, creating a bright and welcoming atmosphere.
The Urban Fusion Cinderblock Bench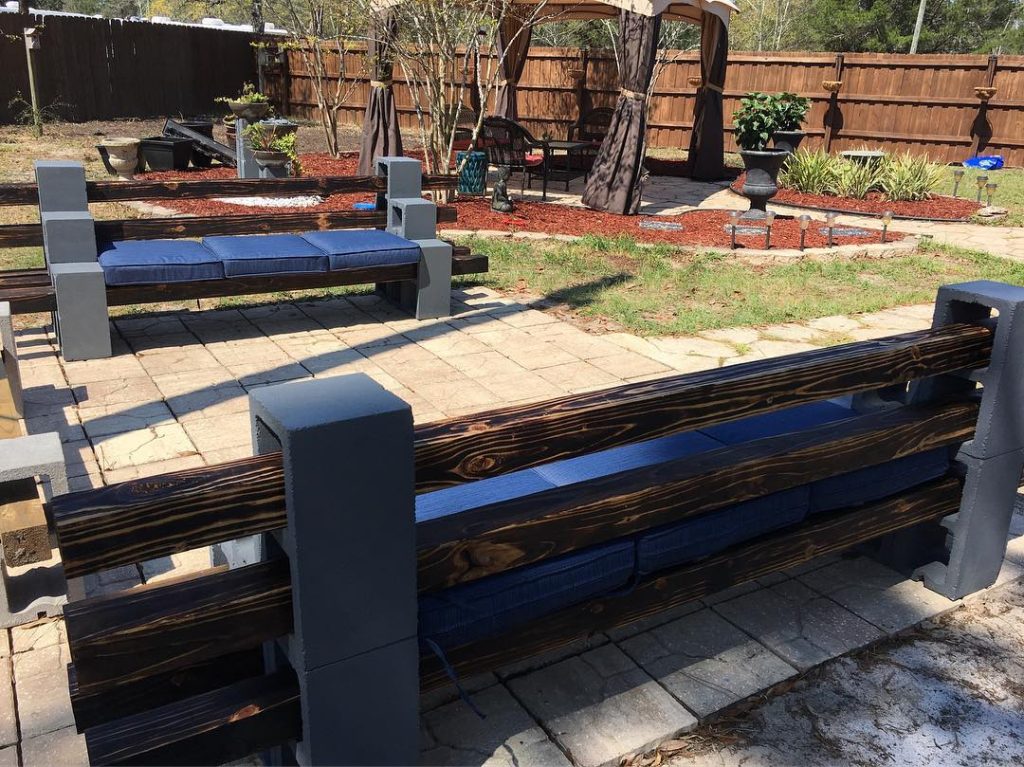 Experience the fusion of urban aesthetics with this exceptional bench. The gray cinderblocks evoke the cityscape, providing a durable industrial base, while the dark wood adds sophistication and natural beauty. The vibrant blue mattress infuses the bench with a refreshing touch of color and comfort, seamlessly combining ruggedness, refinement, and versatility for contemporary interiors and outdoor settings.
The Blossom Cinderblock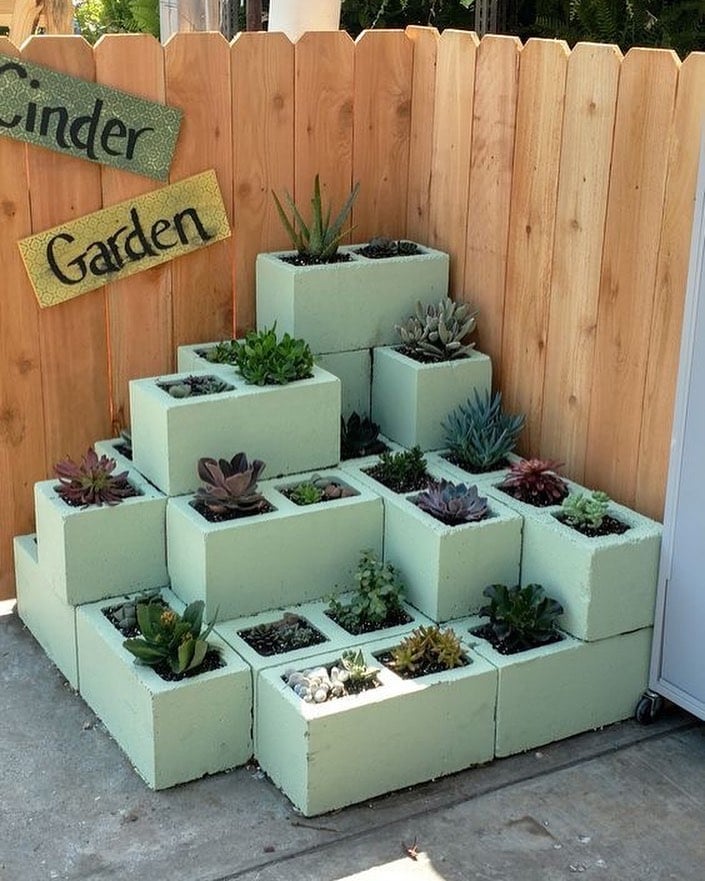 The Blossom Block is a revolutionary building material that combines nature and sustainability. With its light green cinderblocks featuring strategically positioned plant-filled holes, it seamlessly integrates greenery into urban environments. By stacking these blocks together, a beautiful fusion of plants and masonry is created, allowing for versatile applications such as fences, retaining walls, and decorative structures, providing endless opportunities to bring nature into urban landscapes.
Green Cinderblock Glass Table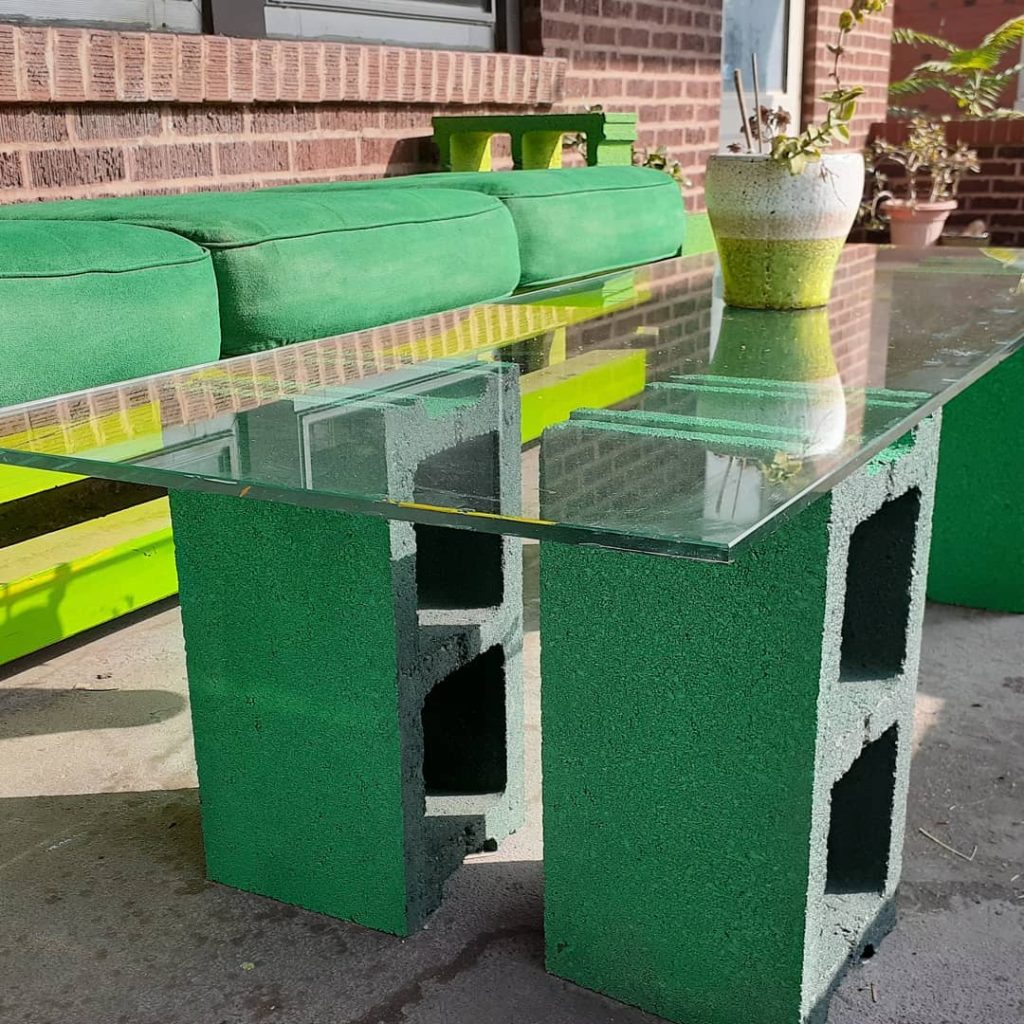 Functionality and sustainability are combined in this creative garden furniture design. The use of green cinderblocks as the legs for a glass table is the focal point of this idea. The cinderblocks' vivid green hue lends a touch of nature to the overall look and harmonizes beautifully with the surrounding garden setting. The table's stable cinderblock legs offer support, and its translucent glass top gives it a contemporary, airy appearance while letting the beauty of the garden show through. It's a wonderful and environmentally beneficial addition to any outdoor area.
Cinderblock Bedside Table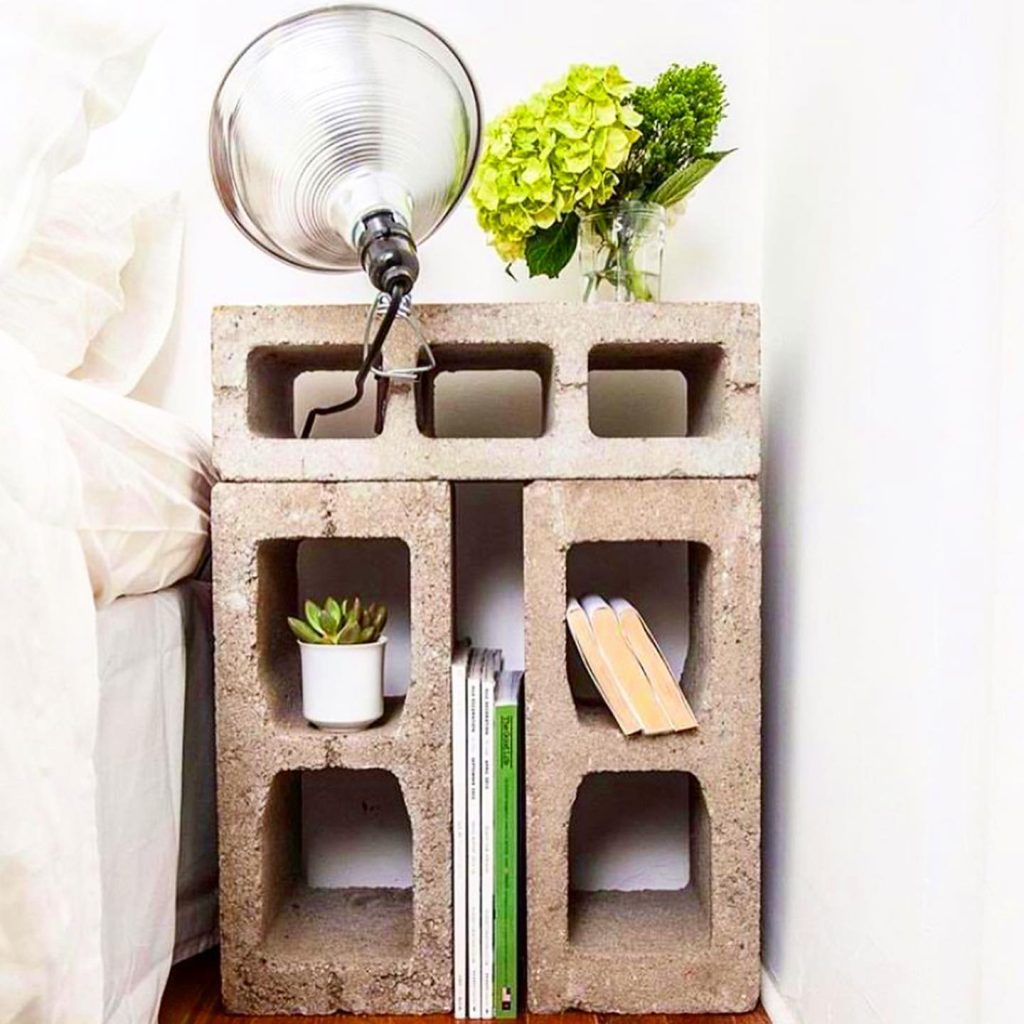 The cinderblock bedside table is a creative and versatile solution for small spaces. It consists of three bare cinderblocks stacked together to form a sturdy structure that serves as a functional and stylish addition to your bedroom. The top surface of the cinderblock arrangement provides a convenient space to place a lamp, alarm clock, or other bedside essentials. Additionally, the gaps between the blocks create compact shelves where you can store your favorite books, magazines, or other small items, effectively combining the functions of a bedside table and a bookshelf.
Cinderblock TV Rack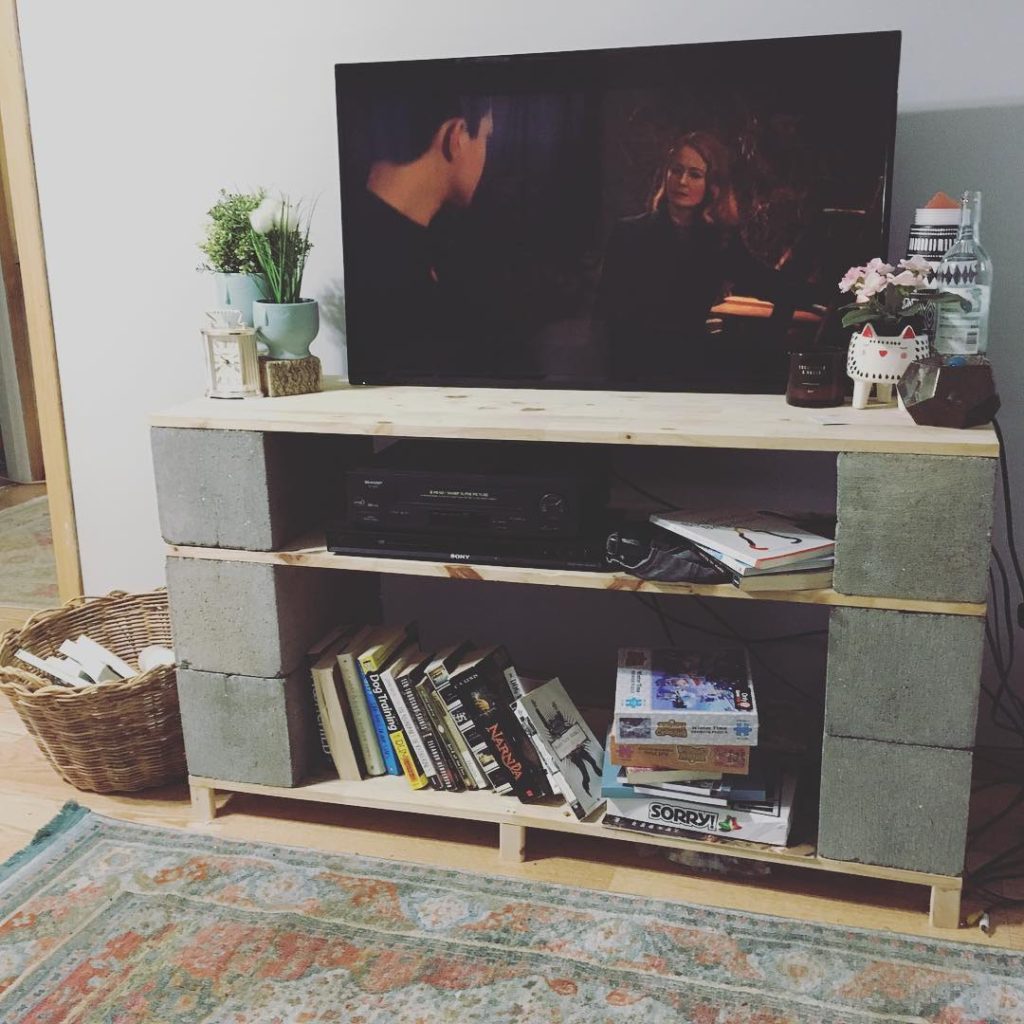 The creative cinderblock TV rack blends plywood's usefulness with bare cinderblocks' raw industrial appeal to provide a one-of-a-kind storage solution. The plywood shelves offer enough room for your television and numerous media players, while the cinderblocks act as strong support pillars. Ingenious magazine storage sections are also integrated into the design, enabling you to store your go-to books neatly arranged and within arm's reach. In addition to giving your living area a more urban feel, this cinderblock TV rack provides a practical storage option for all of your entertainment needs.
Cinderblock Office Table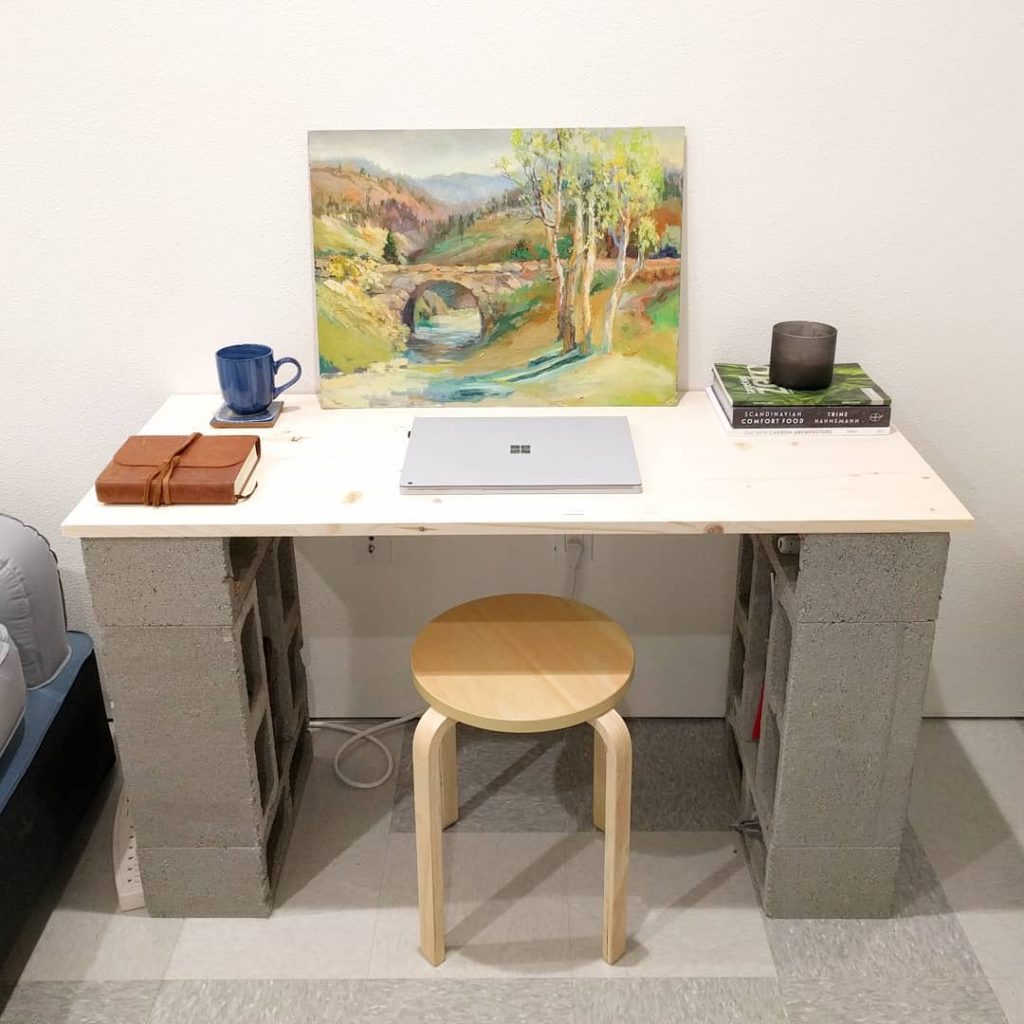 This cinderblock office table is a distinctive and understated piece of furniture made to improve your work. This table offers an eye-catching and useful workplace arrangement by fusing the bare cinderblocks' raw industrial appeal with the warmth and refinement of oakwood. While the smooth oakwood surface gives a pleasant and roomy area to work on, the cinderblocks offer a strong foundation. This table offers a flexible and motivating workspace for productivity, whether you need to use your laptop, or computer, or write in a notebook.
Cinderblock Dining Table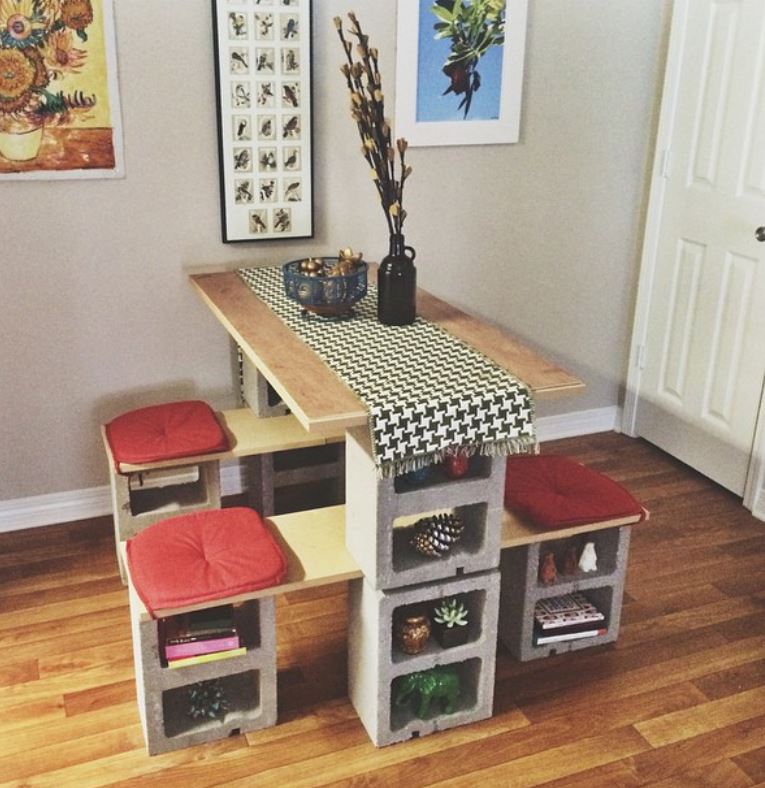 This cinderblock plywood dining table and storage provide a hint of contemporary industrial style while maximizing usefulness to your living area. The plywood tabletop radiates warmth and refinement, while the cinderblock foundation provides a distinctive and edgy accent. The cinderblocks' built-in storage spaces offer a clever way to arrange and clear debris from your eating area. This adaptable furniture item enables you to have everything you need close at hand, avoiding the need for additional storage units and conserving important space in your house, whether you're hosting a dinner party or just having a family meal.
Corner Cinderblock Garden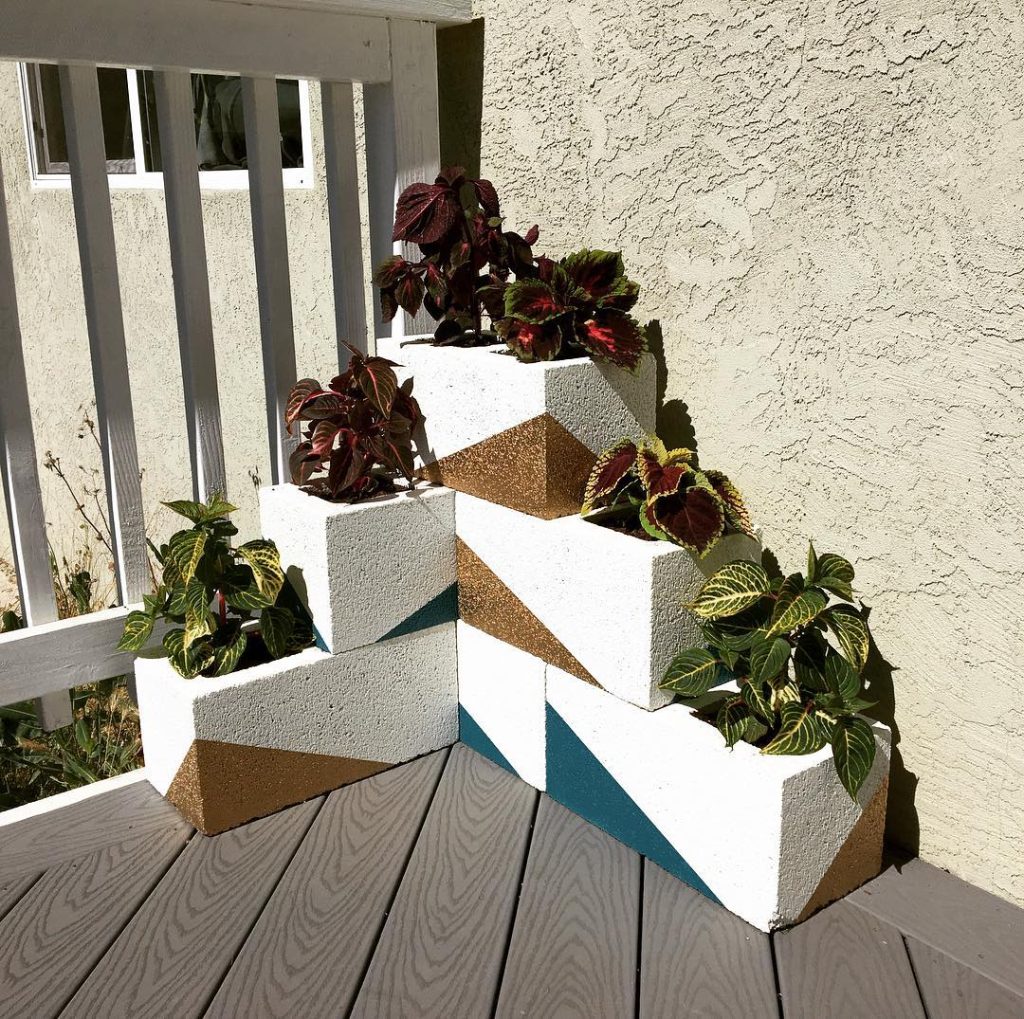 An eye-catching focal point with a distinctive design brightens the corner of a garden. It is made of white cinderblocks and has an artistic pattern of brown and blue triangles covering its surface. This creative cinderblock solution is both visually appealing and practical when carefully stacked together. Plants that have been planted with care into the hollows of each block's meticulously aligned construction provide a touch of natural beauty to the geometric marvel. The garden has a sense of originality and vitality that is enhanced by the harmonic blending of colors, forms, and plants, making it a very wonderful place to see.
Mario-themed Cinderblock Planter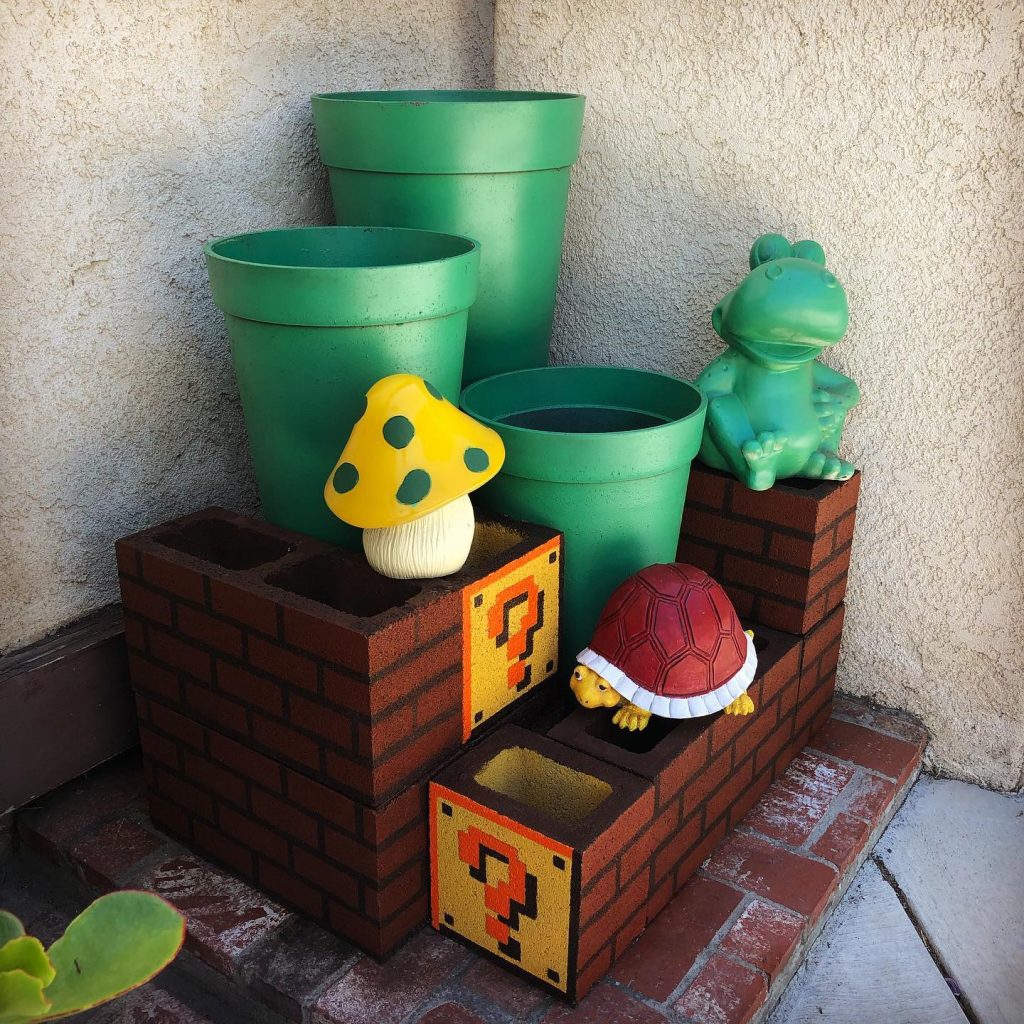 Bring a touch of nostalgia to your garden or patio with this unique cinderblock planter featuring an iconic Mario design. Each cinderblock is meticulously crafted to resemble the famous brick blocks from the beloved Super Mario games. The tops of the blocks are adorned with vibrant green pots, adding a pop of color to your outdoor space. This creative fusion of classic building material and a beloved video game character creates a conversation piece that is both functional and fun.
Artistic Corner Cinderblock Flower Pot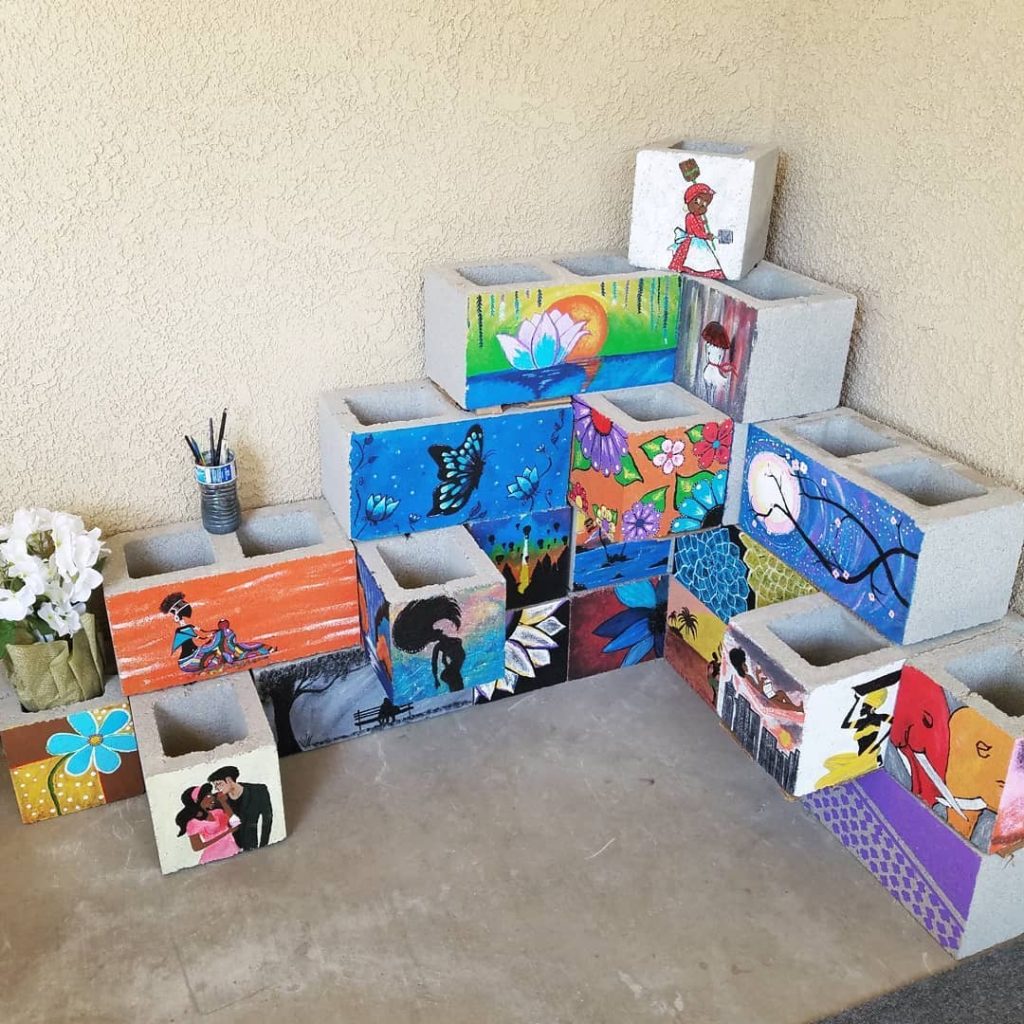 This artistic cinderblock corner flower pot is a unique and creative idea that combines the functionality of a traditional cinderblock flower pot with the beauty of art. Each cinderblock in this design is carefully hand-painted with vibrant and intricate patterns, creating a visually stunning display when stacked together. This corner flower pot not only serves as a practical solution for housing your favorite plants but also adds a touch of artistic elegance to any indoor or outdoor space.
The Cinderblock Smokehouse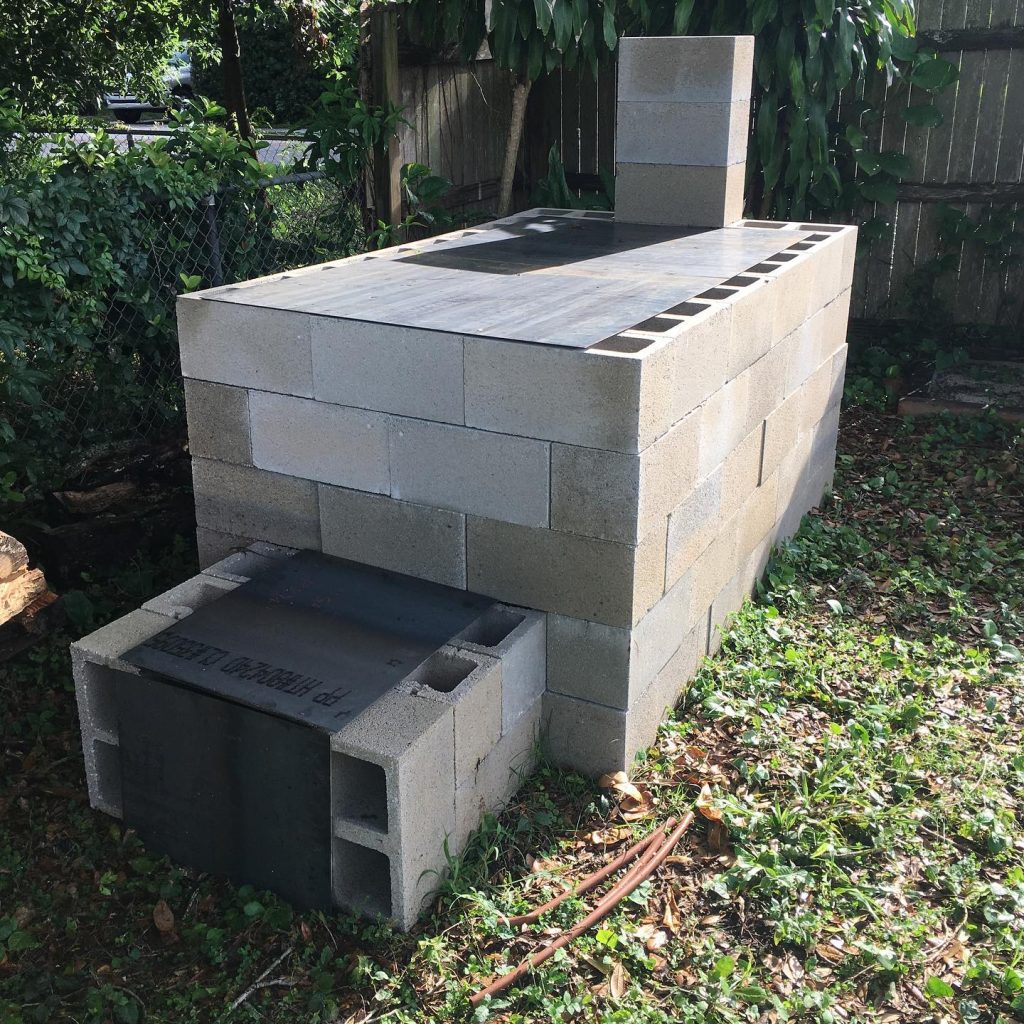 Unleash your inner pitmaster with this innovative cinderblock smoker. Crafted entirely from bare cinderblocks stacked together, this DIY project combines simplicity and functionality. Its design allows for optimal airflow control and heat retention, ensuring your meats are cooked to perfection. Whether you're a seasoned grill master or a beginner barbecue enthusiast, the Cinderblock Smokehouse provides a cost-effective and efficient way to indulge in mouthwatering smoked delicacies.
In this blog post, explore over 20 innovative ways to use cinder blocks as decoration, transforming ordinary blocks into extraordinary design elements that will make your space stand out. Let's unleash your creativity and be inspired by the endless possibilities of cinder block decor.