Dusty rose is a soft, dusty pink color. It is also referred to as dusky rose, dusty pink or dusky pink. This light grayish-red hue is a combination of pink and violet on the color wheel. Its subtle blue tones provide depth and tranquility. It pairs well with natural green shades. Colors that are related to dusty rose are pink, violet, rose red, rose quartz. The hex code for dusty rose is #DCAE96.
DUSTY ROSE
HEX: #DCAE96
RGB: (220,174,150)
CMYK: (0,21,32,14)
The history of dusty rose
The first recorded use of rose as a color name in English was in 1382.
Dusty rose is usually linked to femininity. It seems that since always pink has been associated with baby girls, while color blue has been assigned to baby boys. However, according to architectural historian Annmarie Adams, pink became the default color for girls only after World War II. It is reported by Adams that pink hadn't automatically signal femininity before the war and that, before then, it had been common for mothers to dress their boys in pink. In Nazi Germany, as stated by Adams, the Nazis forced gay men to wear large pink triangles as a mean of identification and dehumanization. Allegedly, ever since then, pink has been thought of as a color reserved for girls. Even in the 18th century, when pink first became fashionable, pink was considered a 'boys' color due to its shade of pale red, which had masculine, military undertones.
Dusty rose color has become largely popular in fashion and design over the last decade. Because of its muted shade, especially when compared to bubblegum pink which was popular during the early 2000s, some believe that dusty rose is the aftermath of the 2008 recession. Dusty rose is regarded as pink subdued by experience, or pink without the vibrancy. Others believe that the rise of minimalism in design, especially in technology, influenced the popularity of this color.
The color psychology of dusty rose
In color psychology, pink color and its various shades are linked to femininity and its corresponding gender stereotypes-weakness, shyness, and tranquility. It is generally perceived as a positive emotional color, which is associated with kindness, care, gentleness. It is also regarded as a color which represents nurturing and compassion, and it gives one feelings of understanding and acceptance. That is why many hospitals require nurses to wear pink-colored uniforms. For many people, pink gives off joyful, creative and refreshing vibe.
According to researches, certain shades of pink reduce aggression, which is why this color was used in prison cells during the 80s. To limit aggresion in inmates, prison wardens painted holding cells in prisons and jails in pink. Apparently, it led to less physical and verbal abuse among inmates. However, despite the fact that pink's calming effect has been demonstrated, researches of color psychology have found that this effect only occurs during the initial exposure to pink color. As reported, when used in prisons, inmates often become even more agitated once they become accustomed to the color.
Dusty rose, a muddy shade of pink, can be considered old-fashioned or nostalgic. Like all rose colors, it can be associated with love and romance and evoke happy feelings. That is one of the reasons why dusty rose has been a huge trend in wedding colors. Same as with color pink, it was believed that dusty rose can 'tame' aggresive behavior in people. That is why in the 80s, the University of Iowa football team painted their visitors' locker rooms pink. By trying to reduce the aggression of the opposing players, they were hoping to give their home team a psychological advantage.
By recognizing that pink color can be pretty feminist, women around the world tend to use it as a powerful, socio-political mark. According to color psychology, pink is best used as a symbol of hope, which would explain why it is a successful choice when used for breast cancer awareness.
The use of dusty rose
Dusty rose, a soft mix of pink and purple, is regarded as timeless and elegant. It pairs well with color green and its various shades. It also goes well with nude champagne, silver grey and blush pink. Unlike its flashy, brighter, and more playful counterparts, this shade has ashy undertones. Its subdued, but at the same time rich and elegant hue, makes it a popular choice for weddings. It can be used for ceremony decorations, bridesmaid dresses, wedding bouquets, and it is especially a good fit for rustic wedding decor.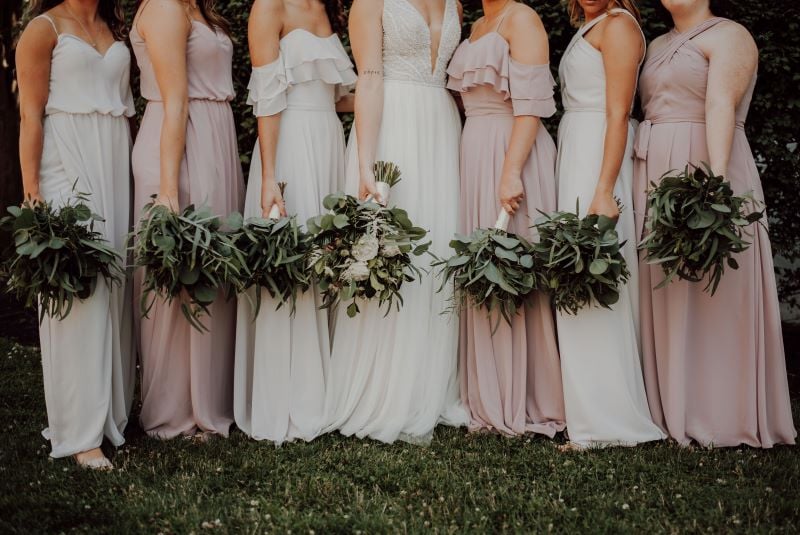 This classic feminine shade is also used for bridal and baby shower due to its elegant and subtle hue. It is a good option for everyday wear because it brings out the best in everyone's skin tone. Because of its neutral tone, it can also be a great base for interior design. Dusty rose is regarded as a color that is stunning on its own, but can also blend lovely with a range of colors.
Information about Dusty Rose / #DCAE96
In a RGB color space (made from three colored lights for red, green, and blue), hex #DCAE96 is made of 86.3% red, 68.2% green and 58.8% blue. In a CMYK color space (also known as process color, or four color, and used in color printing), hex #DCAE96 is made of 0% cyan, 21% magenta, 32% yellow and 14% black. Dusty Rose has a hue angle of 20.6 degrees, a saturation of 50% and a lightness of 72.5%.
Color conversion
The hexadecimal color #DCAE96 has RGB values of R: 86.3, G: 68.2, B: 58.8 and CMYK values of C: 0, M: 0.21, Y: 0.32, K:0.14.
| | | |
| --- | --- | --- |
| | VALUE | CSS |
| HEX | dcae96 | #dcae96 |
| RGB DECIMAL | 220, 174, 150 | rgb(220, 174, 150) |
| RGB PERCENTAGE | 86.3, 68.2, 58.8 | rgb(86.3%, 68.2%, 58.8%) |
| CMYK | 0, 21, 32, 14 | |
| HSL | 20.6°, 50, 72.5 | hsl(20.6°, 50%, 72.5%) |
| HSV (OR HSB) | 20.6°, 31.8, 86.3 | |
| WEB SAFE | cc9999 | #cc9999 |
| CIE-LAB | 74.63, 13.402, 18.72 | |
| XYZ | 50.157, 47.692, 35.412 | |
| XYY | 0.376, 0.358, 47.692 | |
| CIE-LCH | 74.63, 23.023, 54.4 | |
| CIE-LUV | 74.63, 31.336, 23.31 | |
| HUNTER-LAB | 69.06, 12.676, 14.726 | |
| BINARY | 11011100, 10101110, 10010110 | |