Salmon is a range of colors between pink and orange known for their likeness to the orange flesh of the fish salmon. Although the actual color of salmon flesh can vary from very orange to white, depending on their intake of krill and shrimp, the color salmon can fall anywhere in a range of pink to orange hues. Salmon is a warm toned color that can range from salmon pink was first introduced by Crayola in 1949, but the first recorded use of the name "salmon" to describe the trademark peachy hue was in 1776.
Hex #FF8C69
RGB 255, 140, 105
CMYK 0, 45, 59, 0
Salmon's most common uses largely include clothing and accessory usage. Despite the typical connotations with colors in the pink family and females, salmon is commonly seen in menswear as well—it's a popular choice in the spring and summer for men's dress shirts and polos. It's also a popular choice in terms of décor. Salmon is not considered a neutral, even in its most muted forms, so it is more commonly used for accents pieces in the home. Though salmon can come in more subtle tones that incorporate darker reds and browns, it is more recognizable in its brighter forms.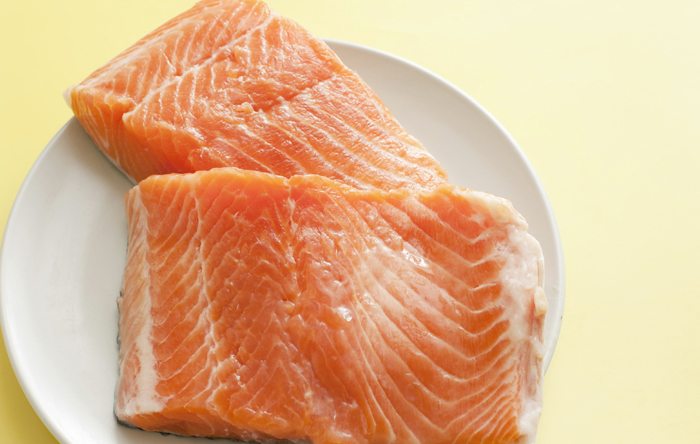 Psychologically, shades of pink such as salmon have been shown to stimulate energy and increase respiration, heartbeat, and pulse rate. In many cases, the color salmon might encourage action and confidence. Similarly, shades of salmon that are closer to orange can induce feelings of excitement. Shades of orange are often used to call attention to things—such as road signs and other warning symbols.
In this way, the color salmon can be quite eye catching depending upon its intensity and is sometimes better used in small doses—salmon walls in a home might feel quite overwhelming. It follows that people who love salmon can be quite energetic and fun to be around, if not occasionally attention-seeking. Despite its intensity, salmon is commonly used in homes and fashion and can be considered quite timeless when used correctly. Overall, salmon is a beautiful accent to any space, even if its placement should often times be strategic and minimal.