There's nothing quite like the soft hues of blossoms to lend a sense of tranquility to your day. With the smell of freshly bloomed petals wafting through the air, and the sight of vibrant colors dotting the green, creating a perfect flower bed can be a personal sanctuary. As someone who has dedicated many a sunrise to coaxing seeds into full bloom, I'm excited to share my love for flower beds with you.
Flower beds are the perfect canvas for exploring your creativity. They can be simple or elaborate, rustic or modern, large or small. The choices are endless, and each one tells its own story. It's not just about adding beauty to your outdoor spaces; flower beds are a way to reconnect with nature, find peace in the hustle of daily life, and learn about the wonderful world of flora.
Now, it's time to turn those garden dreams into reality. Whether you are a seasoned gardener or a green-thumbed beginner, we've curated over 20 diverse flower bed ideas for you. They're sure to inspire, challenge, and guide you in creating your very own blooming paradise. So, get your gardening gloves ready, pull out your favorite trowel, and let's dive in! Scroll through these magnificent designs and discover the perfect one that resonates with your gardening style.
Flat Rock Flower Bed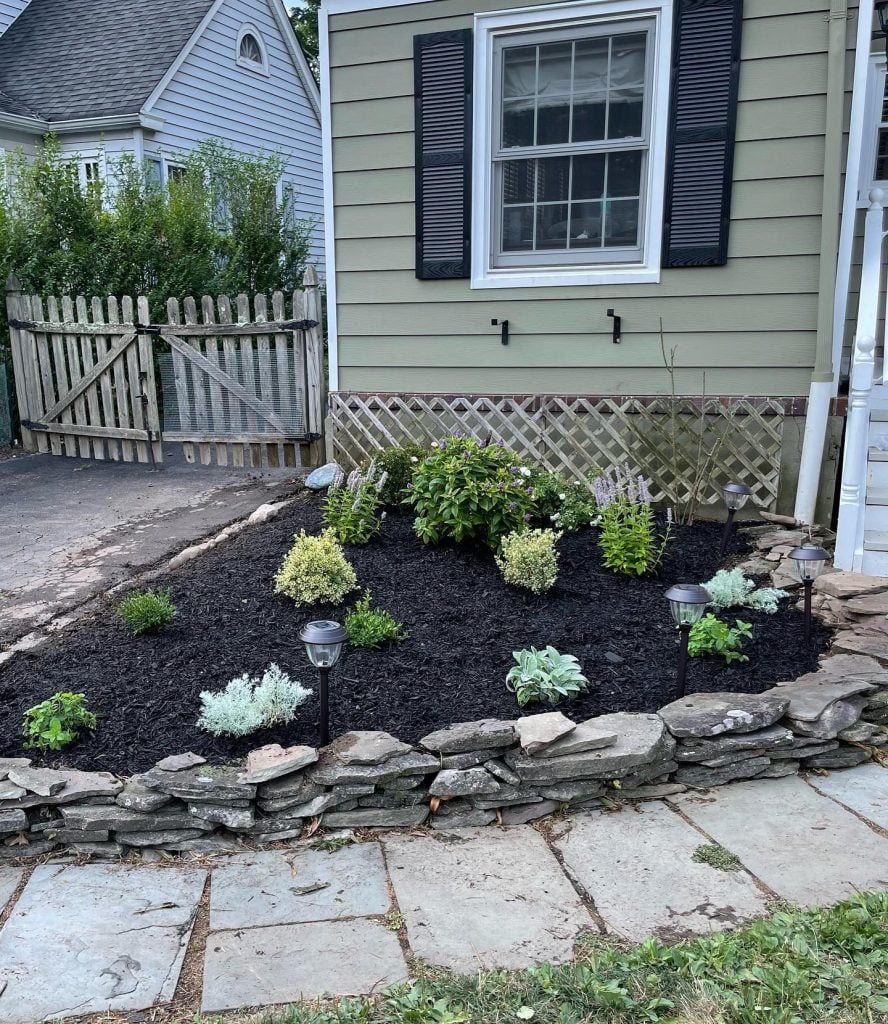 This unique flowerbed idea combines the natural beauty of flat rocks with the soft glow of small light lamps, creating a mesmerizing division in your garden. Carefully stacked together, the flat rocks form a charming wall that separates different sections of the flowerbed. The strategically placed light lamps add a touch of magic to the scene, illuminating the flowers and creating a warm, inviting ambiance in the evenings. This flowerbed design effortlessly blends rustic elegance with modern aesthetics, turning your outdoor space into a captivating oasis.
Minimalist White Rock Flower Bed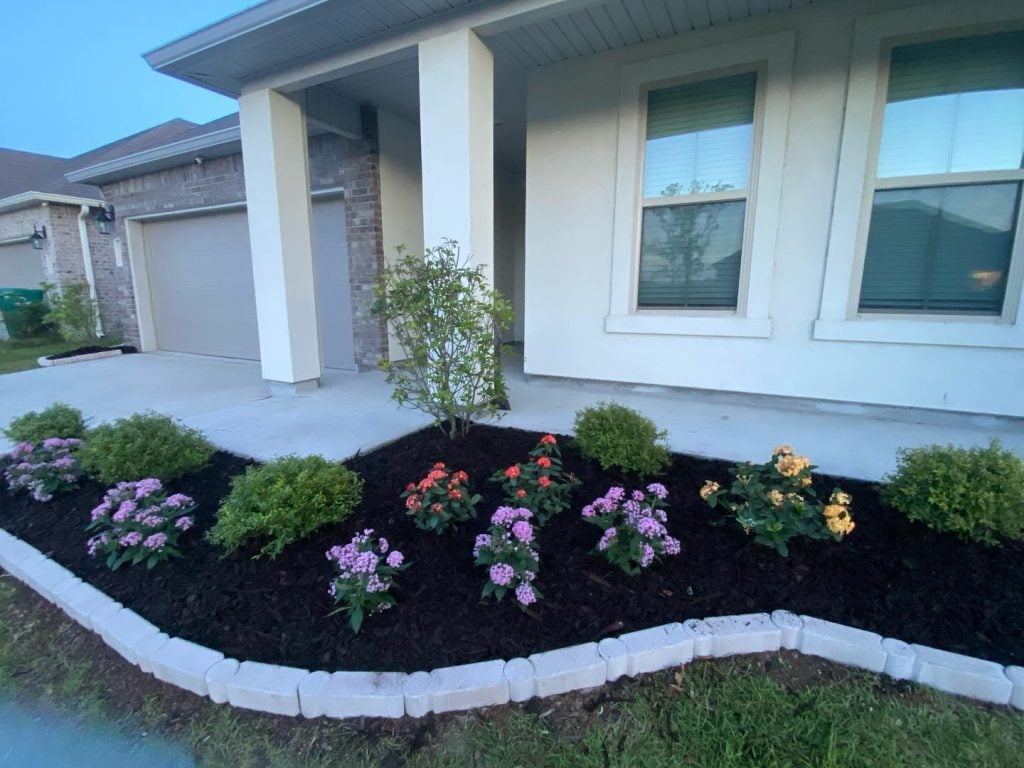 Feature white rocks in a flowerbed concept in front of your home to embrace simplicity and modern aesthetics. The architectural design of your property is well complemented by the clean lines and homogeneity of the rocks, which give off a sleek and contemporary appearance. This flowerbed's simple layout allows the vivid colors of the flowers and leaves to stand out, producing an eye-catching show. The white pebbles offer a low-maintenance substitute for conventional flowerbed borders since they require little care while yet giving your outdoor space a dash of class and refinement.
Blue Oasis Flower Bed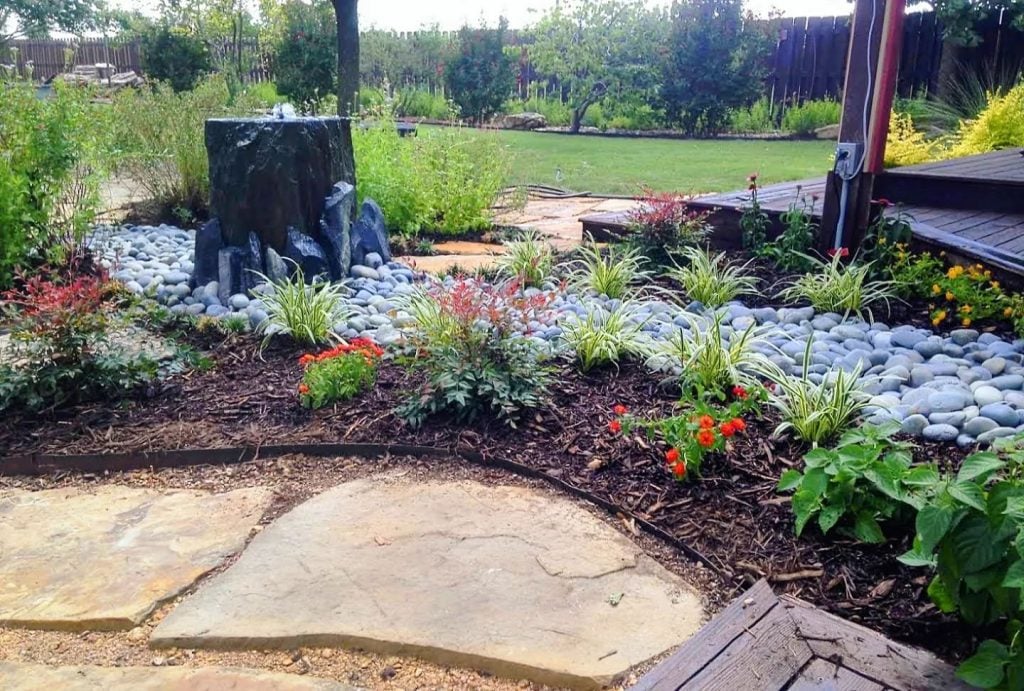 This lovely flowerbed design blends the allure of bluish-gray smooth pebbles with an eye-catching focal point—a large boulder in the middle of it all. The bed's thoughtful design incorporates a calming palette of cool blue tones, bringing serenity to any outdoor area. The blue rocks are positioned thoughtfully to form a border around the flowerbed, adding both interest and functionality by halting soil erosion. While the huge rock in the center acts as a focal point and lends a touch of grandeur to the overall arrangement, the carefully chosen plants, and flowers add a splash of color against the serene backdrop.
Rustic Cabinet Flowerbed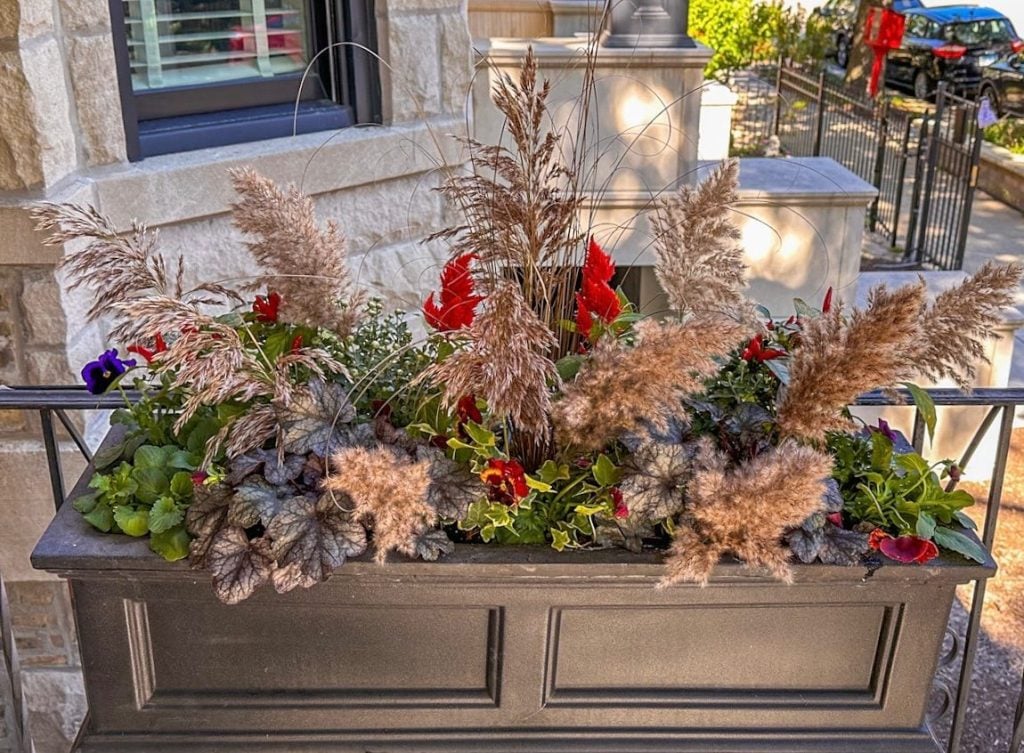 With a unique flowerbed design that adds the charm of an antique cabinet to your outdoor retreat, you may improve your gardening experience. A beautiful flowerbed in the form of a cabinet can be built out of wood. The wooden box frames your lush flora and creates a focal point that skillfully combines rustic charm with nature. Various shelves and compartments may be added to the cabinet flowerbed to accommodate a variety of floral plants, succulents, and even herbs. This creative layout offers a useful method for arranging and showcasing your prized plants in addition to giving your yard a touch of beauty.
Artistic Flower Bed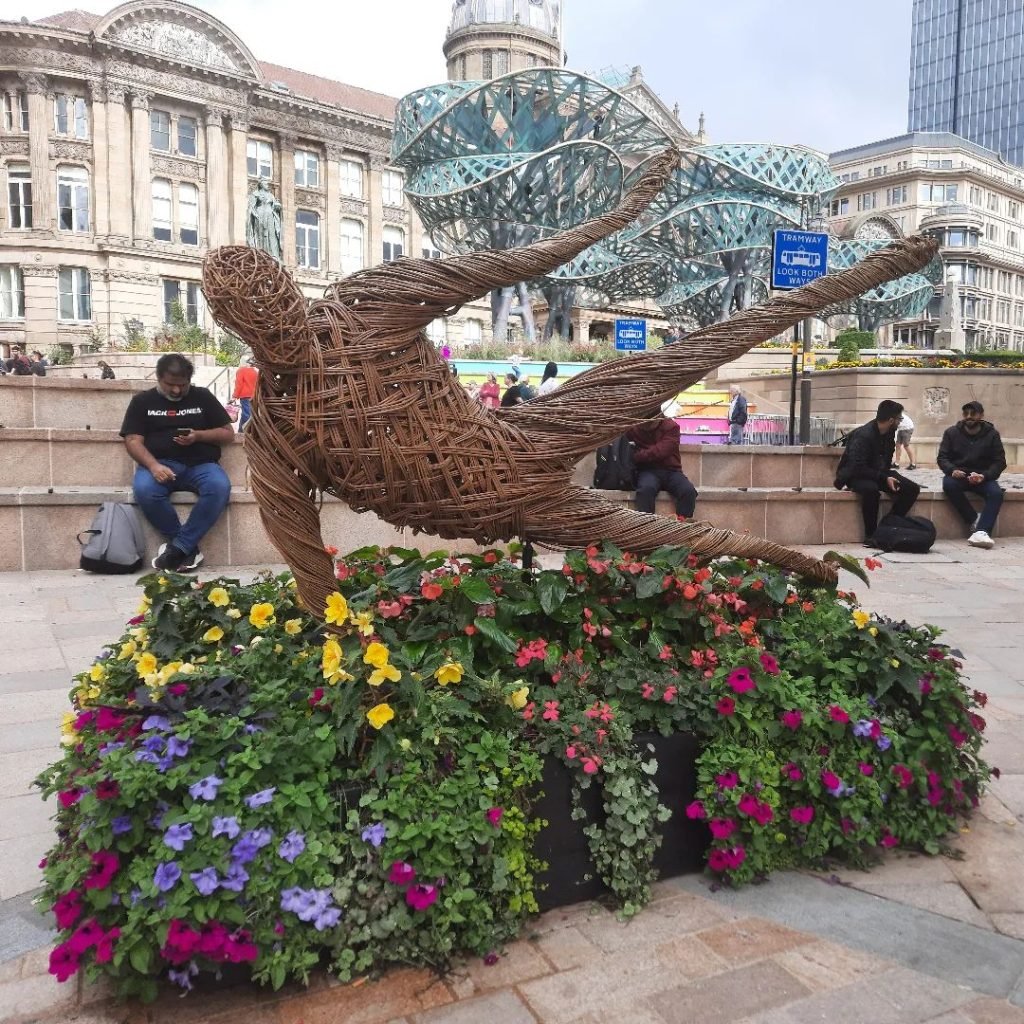 A compelling fusion of disparate components makes up the eye-catching flowerbed concept. A striking artwork in the form of a human being made of intertwined wooden threads takes center stage within a sleek black concrete cage. The rich texture of the wooden art piece is well complemented by the stark black color of the concrete box, which creates a striking backdrop that calls attention to and creates a mystery about the center of the flowerbed.
Clock Flower Bed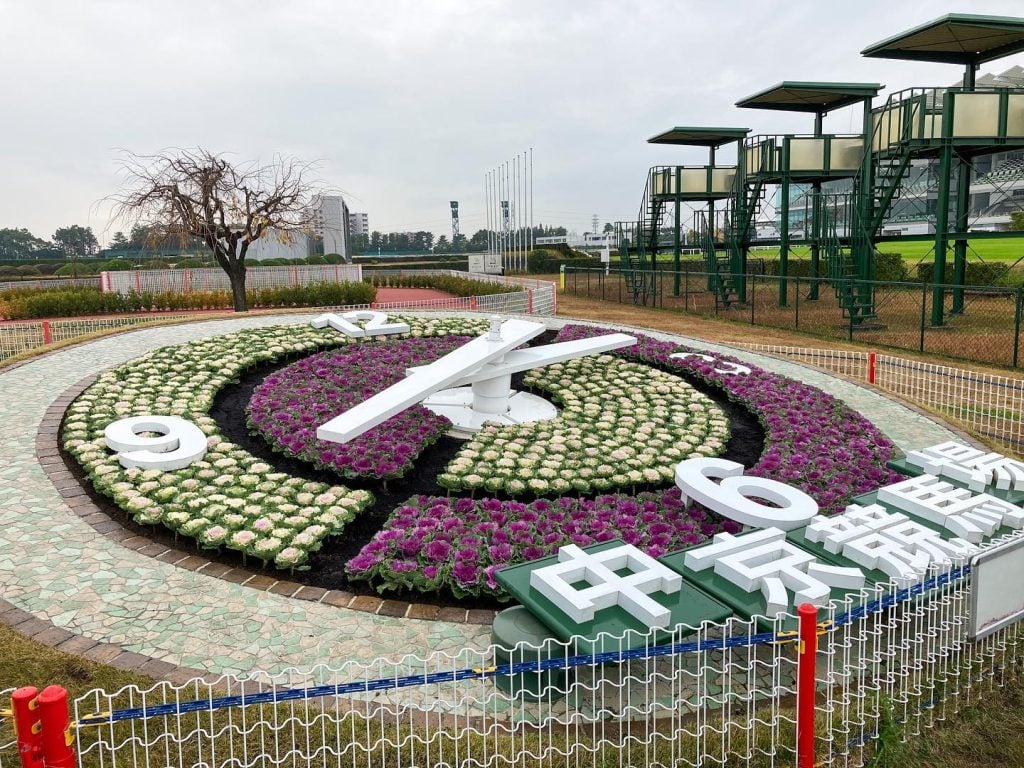 The Clock Flower Bed is a novel concept for a flowerbed that features delicate blossoms arranged to mimic the face of a clock. In order to create a spectacular visual show, the flowers are carefully chosen to symbolize the hours and minutes. The neatly painted white clock hands and numerals contrast sharply with the bright bloom hues. This flowerbed doubles as a practical watch, urging visitors to pause and take in nature's delicate beauty while keeping track of the passing of time. It not only adds a bit of whimsy and charm to any garden.
Seamless Flower Bed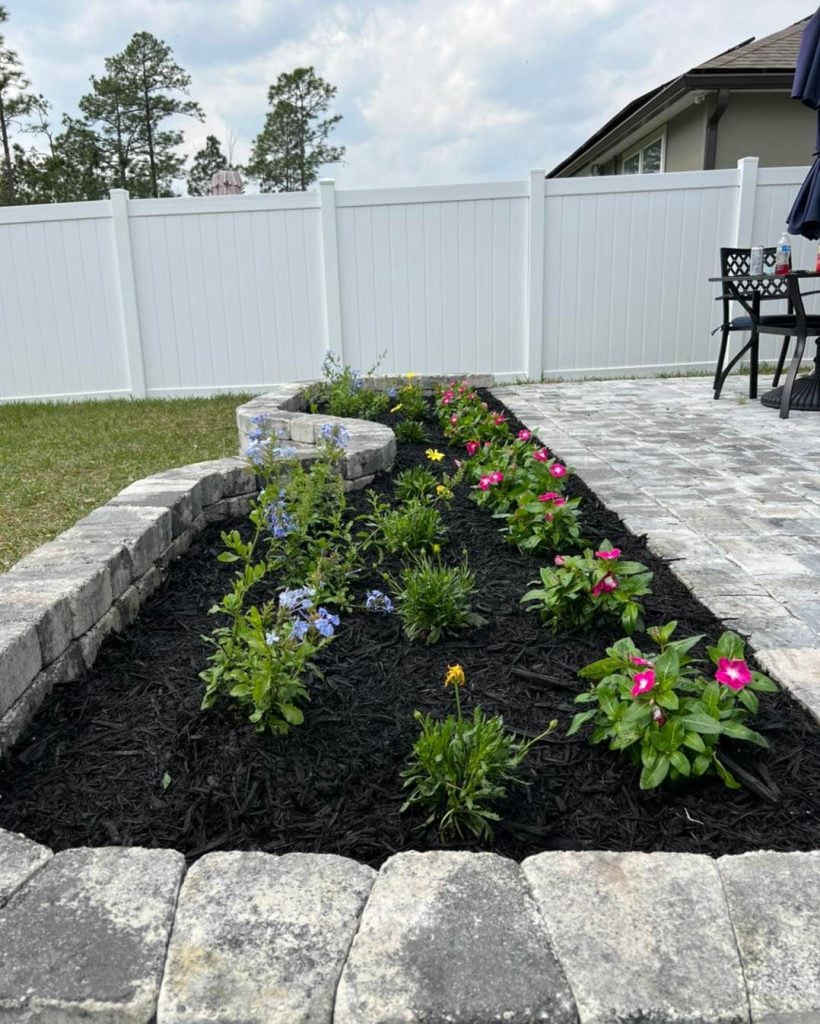 This one-of-a-kind flowerbed design exemplifies a seamless fusion of contemporary aesthetics with natural beauty. Two layers of squared rock are meticulously positioned to create a structured and symmetrical border around the flowerbed. The homogeneity and straight lines of the rocks give the whole appearance a modern feel. A bed of rich black soil acts as the ideal blank canvas for a variety of blooms inside this clearly defined border. The vibrant blossoms, which were thoughtfully positioned in the middle, offer a magnificent contrast against the deep soil and add a feeling of life and charm to the scenery.
Steel Edged Flower Bed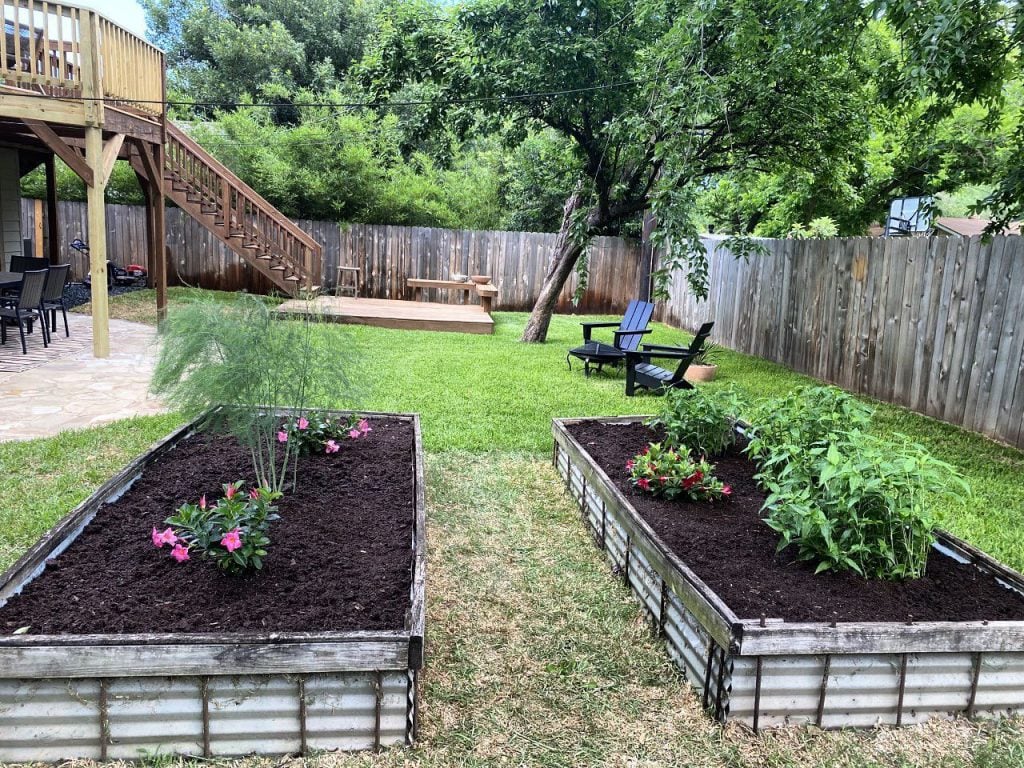 With this flowerbed design with a distinctive border constructed from galvanized roofing and steel pieces, you can embrace an industrial vibe in your garden. The border surrounding the flowerbed is made from meticulously cut and sculpted galvanized roofing sheets. The galvanized steel's shiny sheen gives the flowerbed a modern feel, and because to its endurance, it will stay well-defined and safe. With this pattern, you may contrast the delicate blossoms and greenery with the robust, industrial-looking steel border to startling effect. The end product is an eye-catching flowerbed that successfully combines urban appeal with natural beauty.
Square Flower Bed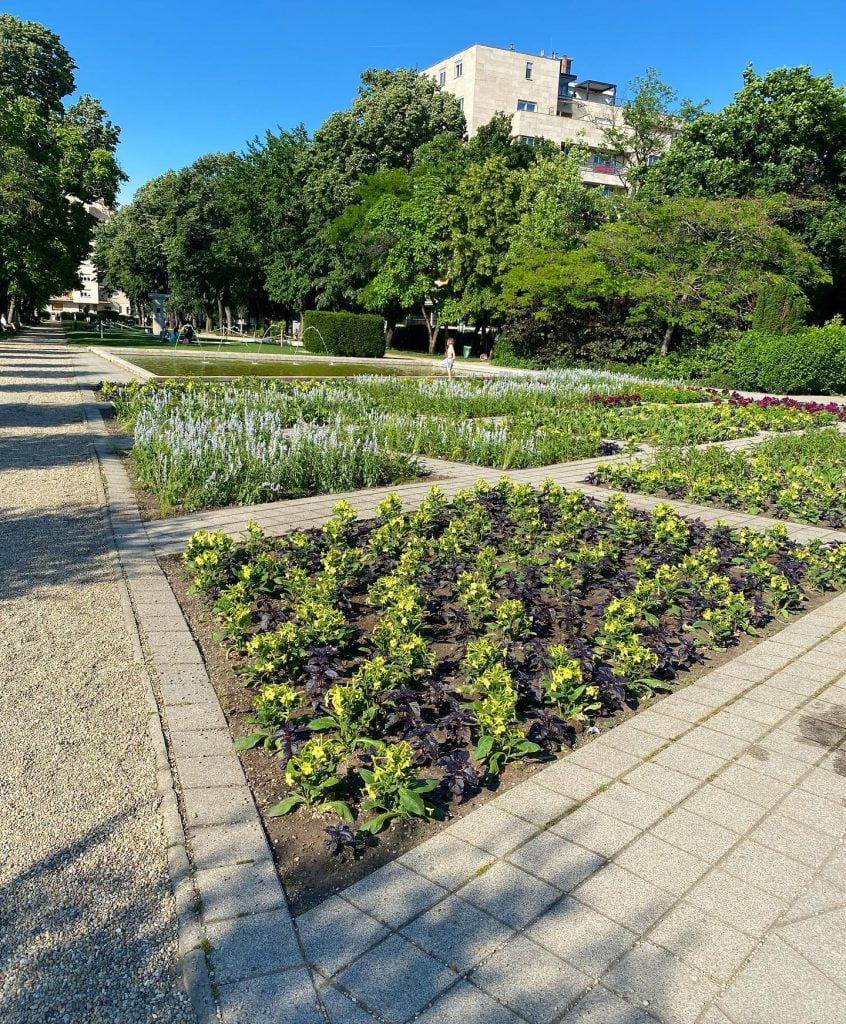 Imagine a square flowerbed with well-manicured hedges surrounding it to provide the impression of confinement and intimacy. Numerous kinds of flowers are painstakingly placed in rows inside the flowerbed, showing a harmonic fusion of hues, forms, and textures. The paths, which are dotted amongst the flower rows, provide a clear path for strolling through the garden and taking in the painstakingly selected flowers. Stepping stones or colored gravel may be used for the paths, which will complement the entire design and offer an easy maintenance option. This classic and beautiful flowerbed design in the form of squares with walkways between them adds beauty to any outdoor space.
Contemporary Charm Flower Bed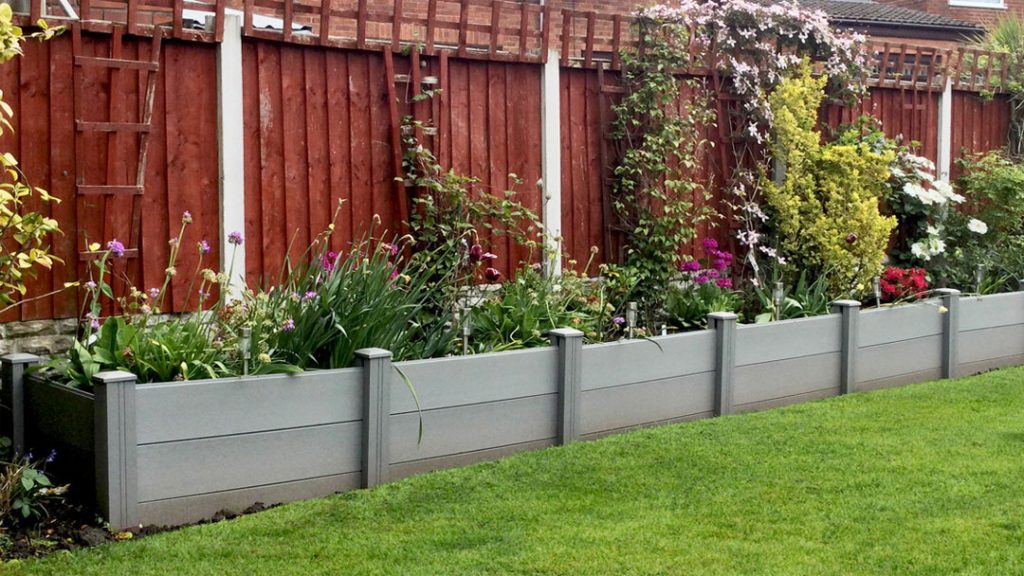 Improve the appearance of your garden with our Contemporary Charm Flowerbed, which adds a contemporary accent with a gray fence that radiates class and simplicity. A carefully chosen variety of flowers and plants are supported by a structured framework created by the fence's sleek and modern lines. Consider the startling contrast of bright red poppies, delicate white lilies, and rich green foliage against the neutral backdrop of the gray fence. This flowerbed design adopts a basic style that highlights the beauty of each individual flower while blending in with the overall contemporary design of your outdoor area.
Reimagined Boat Flower Bed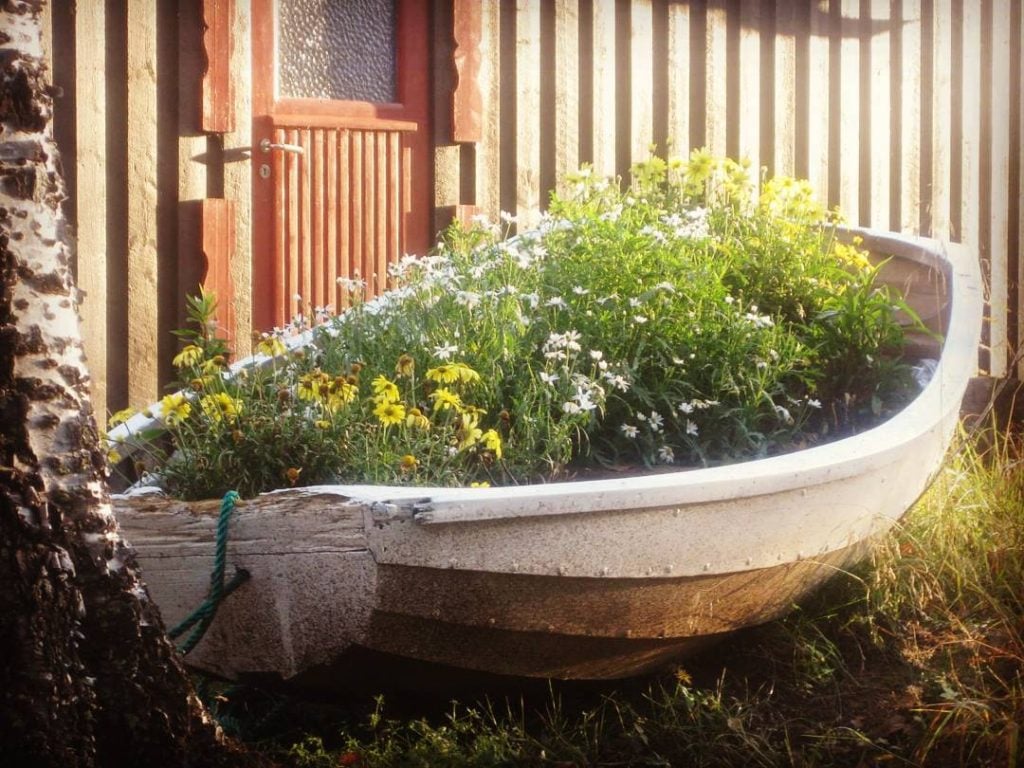 An original and imaginative solution that adds appeal to any outdoor area is turning an old small boat into an alluring flowerbed. The boat takes on new life as a quirky garden element thanks to its worn wood and nautical appeal. The boat flowerbed provides a feeling of seaside splendor and invites visitors to bask in the pleasures of nature's colors and scents since it is filled with a colorful selection of blossoming flowers, flowing vines, and lush vegetation.
Organic Flower Bed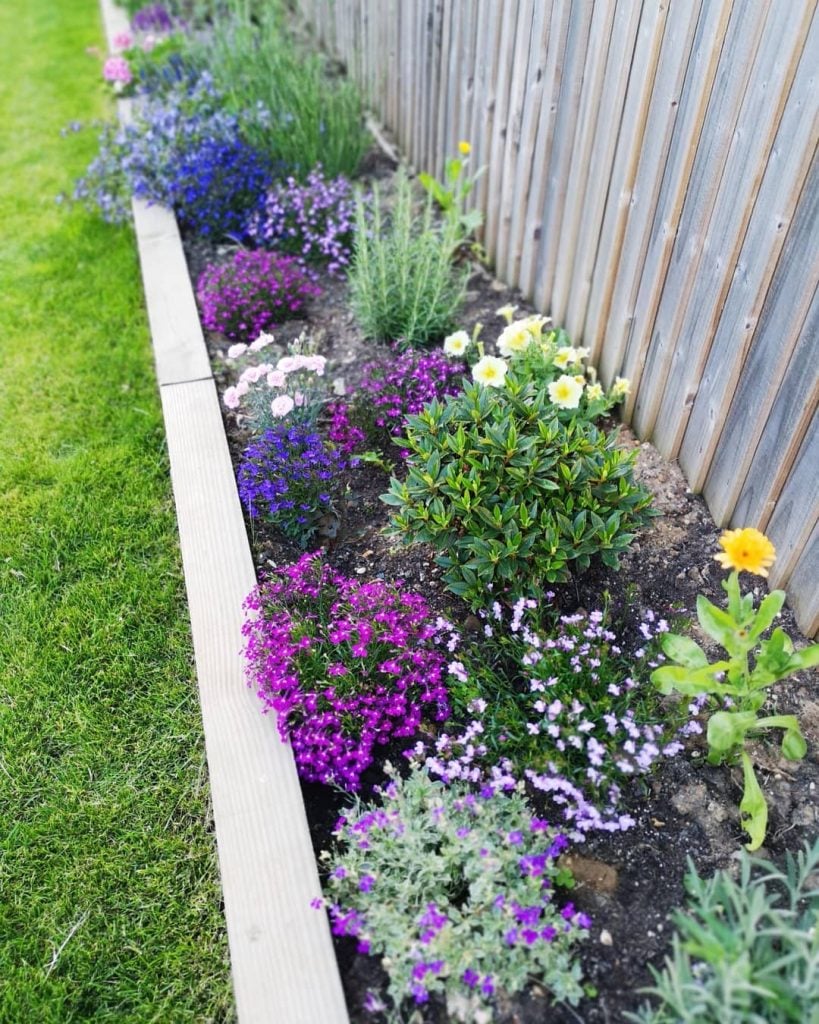 The rustic attractiveness of wood planks as a border is incorporated into this flowerbed concept, giving your garden a touch of country charm. The wooden border's worn look creates a cozy and welcoming ambiance while merging in perfectly with the surrounding vegetation. The wood planks may be neatly put in a row to define the border of the flowerbed and act as a functional barrier to keep the soil and plants in place. For those looking to add something basic yet beautiful to their outside area, this flowerbed design is ideal.
Whimsical Meadow Flower Bed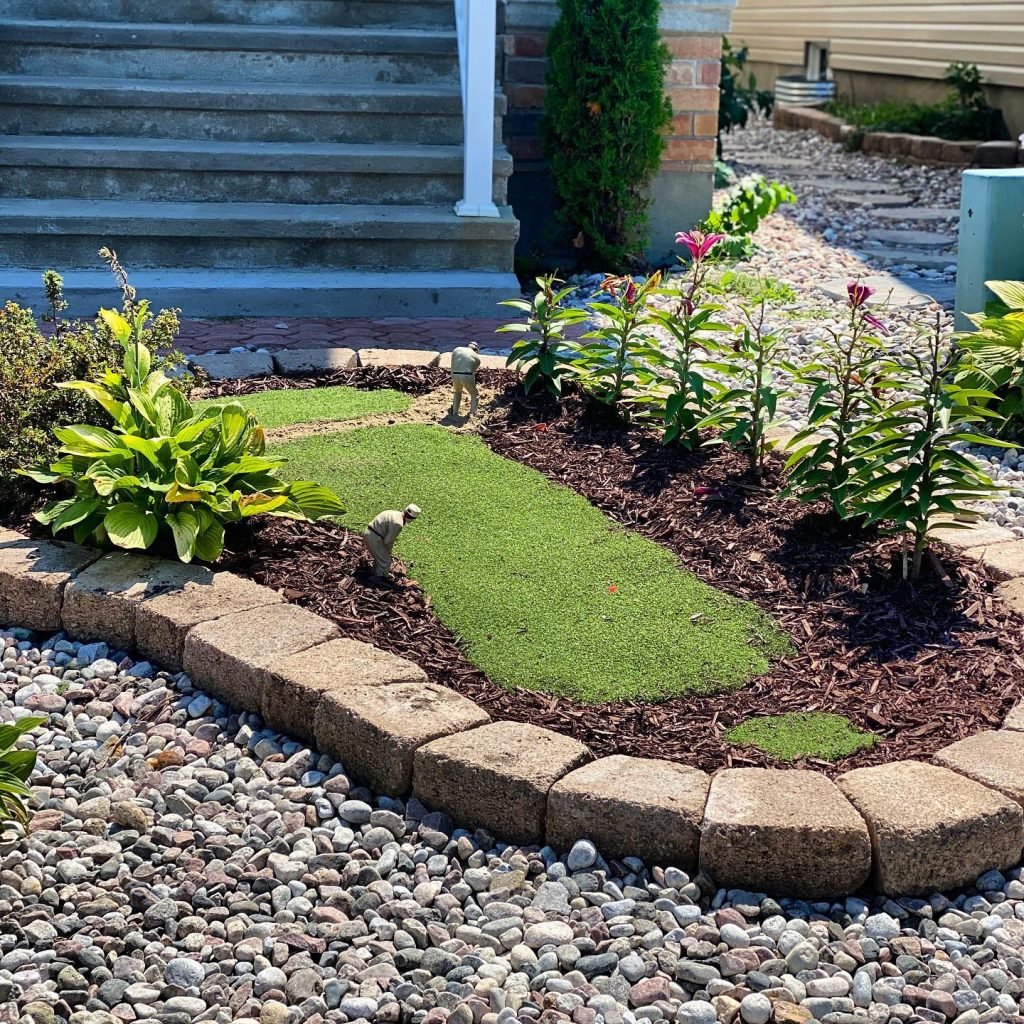 Step into a whimsical meadow where creativity knows no bounds. This flowerbed idea brings a touch of fantasy to your garden, featuring square, flat rocks arranged as charming borders that enclose a vibrant patch of grass. At the heart of the flowerbed, a delightful surprise awaits—a miniature worker scene that adds a playful and imaginative element to the overall design. These tiny workers, diligently going about their tasks, create a captivating narrative that captures the imagination of onlookers. The juxtaposition of the rock borders with the animated scene in the grass transforms your garden into a magical haven where dreams come to life.
Double-Layered Wood Frame Flower Bed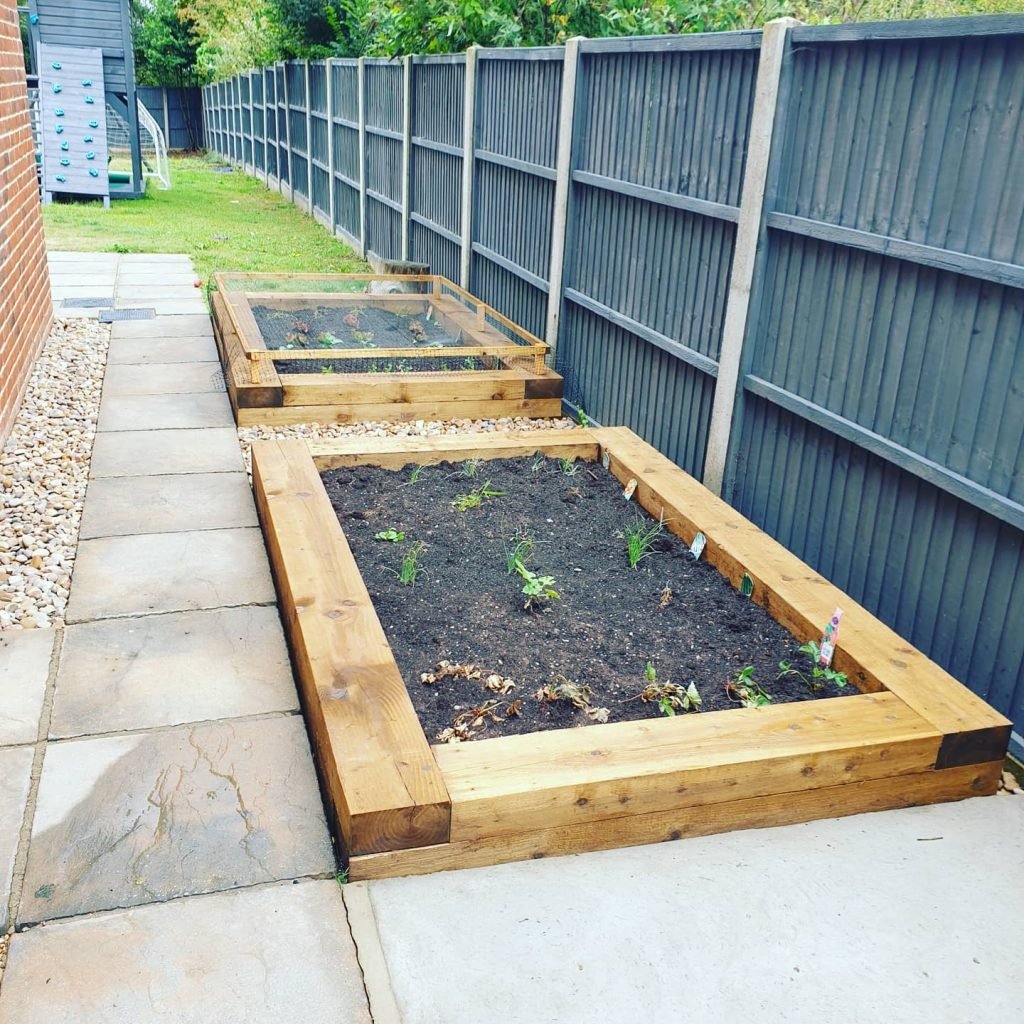 You may make a visually appealing rectangular form for your flowerbed by stacking the wood on two levels. Your garden becomes more eye-catching as a focus thanks to the double-layered design's depth and dimension. The wood's raw texture and grain give the flowerbed a cozy, organic feel while blending in beautifully with the surrounding vegetation. With this creative use of wood as a border, your outdoor area will look better than ever and will have a warm, welcoming ambiance.
Enchanting Flower Bed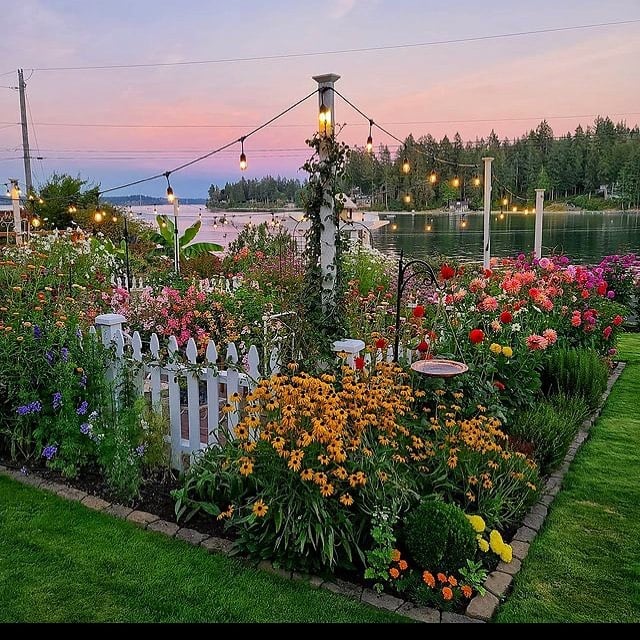 Picture a lovely flowerbed with a variety of colorful flowers, tucked up against a crisp white fence. With its beauty and whimsy, this lovely garden emanates a mesmerizing atmosphere. A magical touch is added to the picture when the sun sets thanks to the subtle twinkling of the delicate fairy lights, which provide a lovely glow over the flowers. You are beckoned to immerse yourself in the splendor of nature by the hypnotic show that is produced by the white fence, vibrant flowers, and charming fairy lights.
Enchanting Rose Circle Flower Bed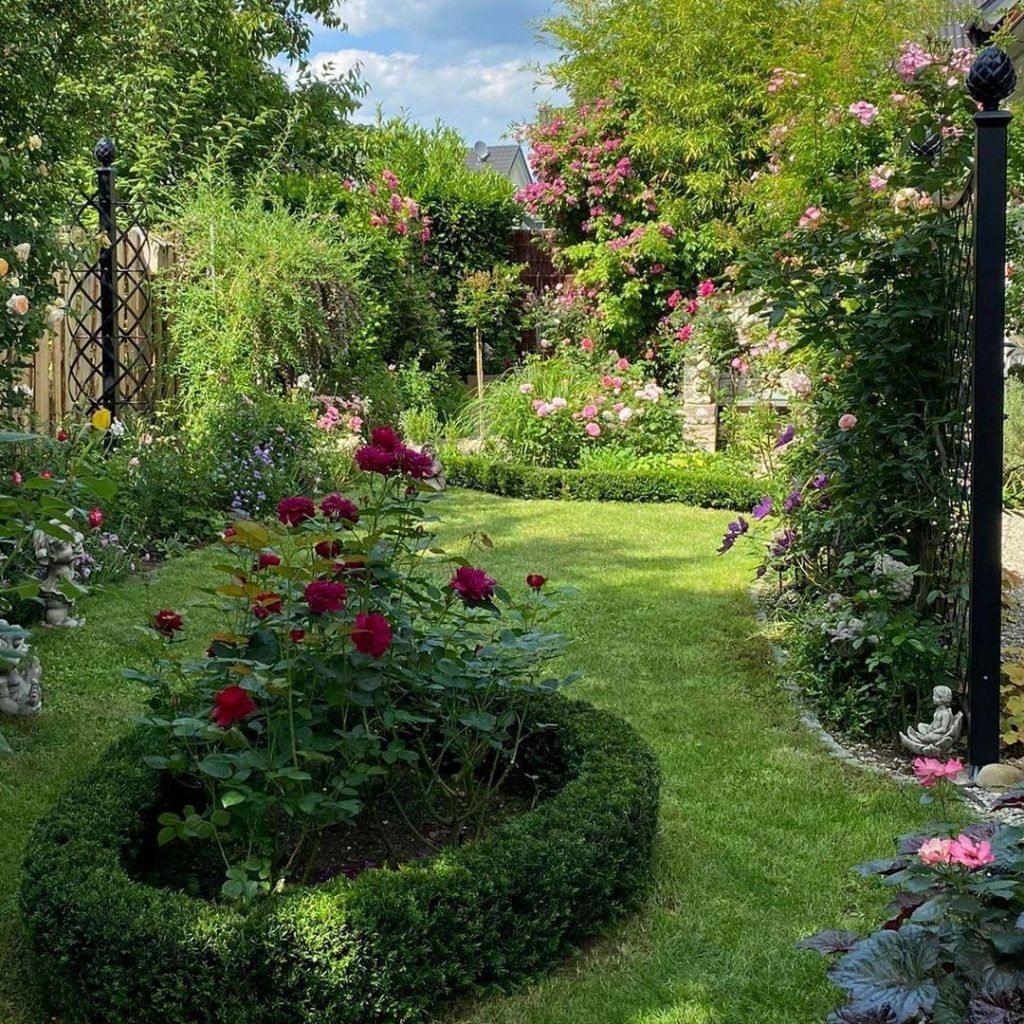 With the help of this gorgeous flowerbed idea, you can turn your garden into a serene haven of beauty. This design, which embraces the everlasting appeal of roses, is a circular arrangement that exudes class and sophistication. Carefully maintained shrubs elegantly encompass the flowerbed, acting as a natural barrier and providing structure and defining its bounds. A stunning collection of roses takes center stage in the center of the circle, presenting an amazing show of hues, forms, and scents.
Wall Textured Flower Bed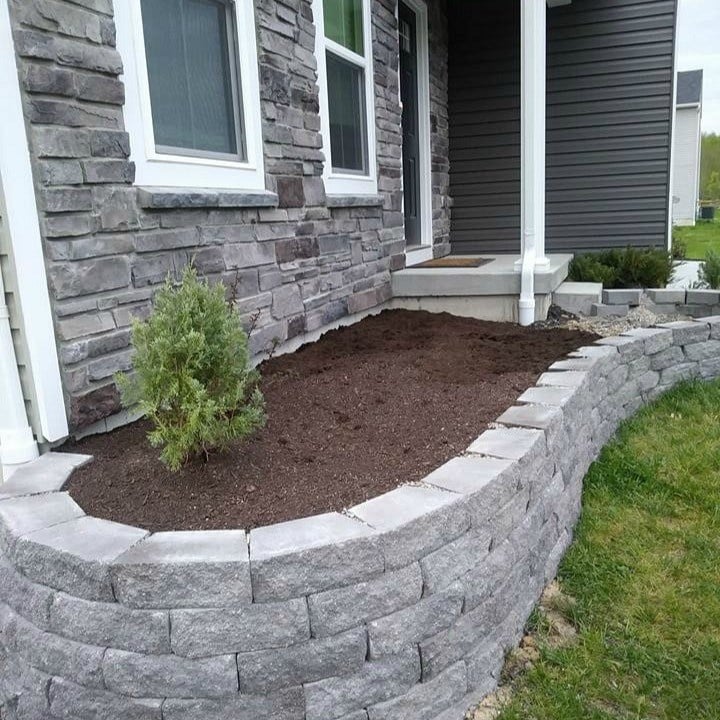 Create a magnificent tiered flowerbed in your garden that matches the texture of the walls of your home to improve its looks. This flowerbed design blends with the surrounding architecture by using five levels of blocks with the same texture as the façade of your home, resulting in a harmonious and attractive feature. The textured layers offer depth and character to your garden, boosting its general attractiveness and establishing a consistent design language across your property, whether they are placed along walks or surrounding your outdoor patio. Get ready to be mesmerized by the magnificent blending of architecture and nature.
Brown Brick Flower Bed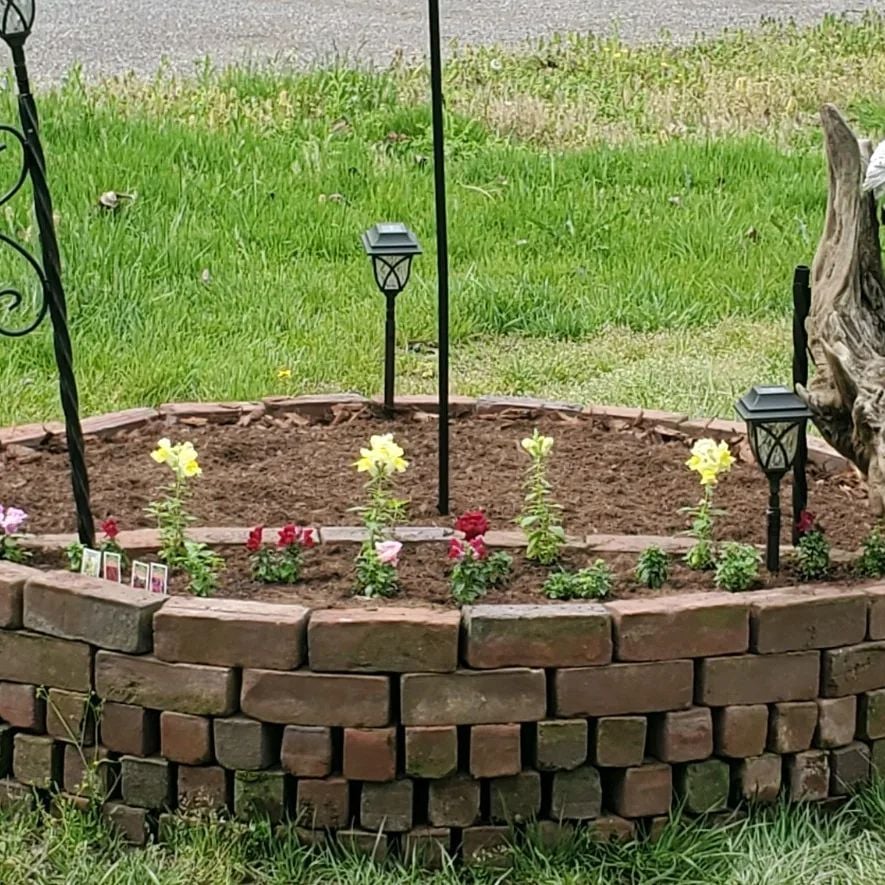 The brown brick flowerbed concept makes a striking focal point for any garden by fusing the delicate beauty of flowers with the rustic appeal of brown bricks. The flower bed's circular form gives the whole design a feeling of balance and harmony. The brown bricks provide a solid border that not only clearly delineates the flowerbed but also gives the garden a cozy, earthy feel. In order to create a wonderful atmosphere during the evening hours and reflect a soft glow on the surrounding flowers, tiny lamps are positioned strategically at the center of the flowerbed. The flowerbed transforms into an eye-catching focus point that improves the overall attractiveness of the outside area with a range of vibrant blossoms.
Corner Flower Bed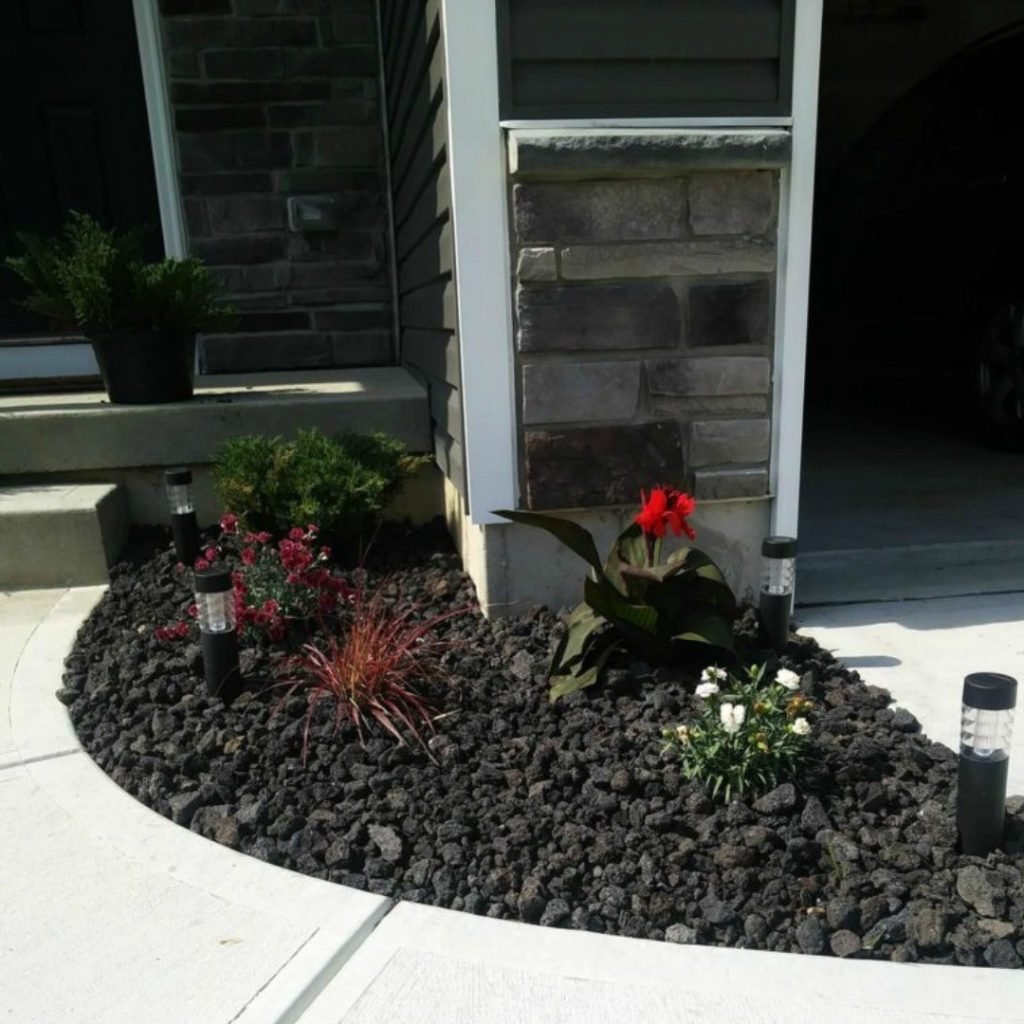 An appealing idea developed, turning the area between the garage and the front door into a lovely flowerbed. The flowerbed was designed with a modern aesthetic, and it had a bed of dark-colored pebbles that gave it an air of refinement and modernity. A variety of beautiful flowers were tucked amid the rocks, each one chosen with care to create a pleasing contrast of hues and textures. Tube-style lamps were carefully positioned to offer a gentle and welcoming illumination in order to improve the visual appeal and make sure the beauty of the flowerbed could be appreciated even after night. The space was filled with natural beauty and became a wonderful feast for the eyes thanks to this captivating exhibit that served as a lovely transition between the entry and the garage.
Cart Flower Bed
This unique and playful flowerbed idea combines childhood nostalgia with the beauty of nature. A red toy cart, reminiscent of a child's wagon, is repurposed as a vibrant flowerbed. The cart's vivid red color adds a striking visual element to any garden or outdoor space, while its compact size allows for easy placement in various areas. Filled with an array of colorful flowers and cascading vines, this flowerbed creates a whimsical and cheerful atmosphere, instantly capturing attention and delighting both young and old alike.
Enchanting Contrast Flower Bed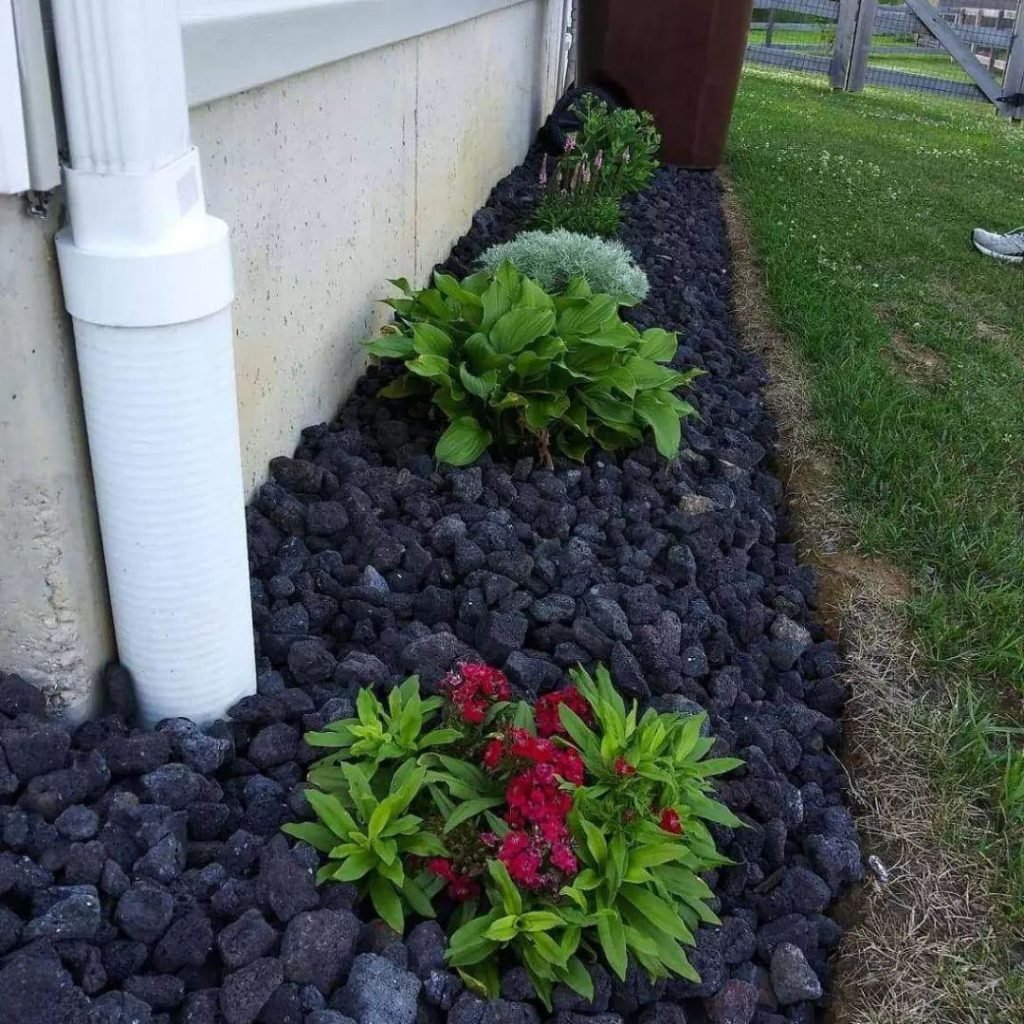 In order to create a fascinating contrast with the brilliant colors of the flowers, this flowerbed design concept uses black pebbles that are set on top of the dirt. The vibrant flowers burst against the startling backdrop of the dark rocks, creating a visually beautiful spectacle. The arrangement gives the flowerbed a feeling of depth and dimension, which improves its overall visual appeal.
Brown Flower Bed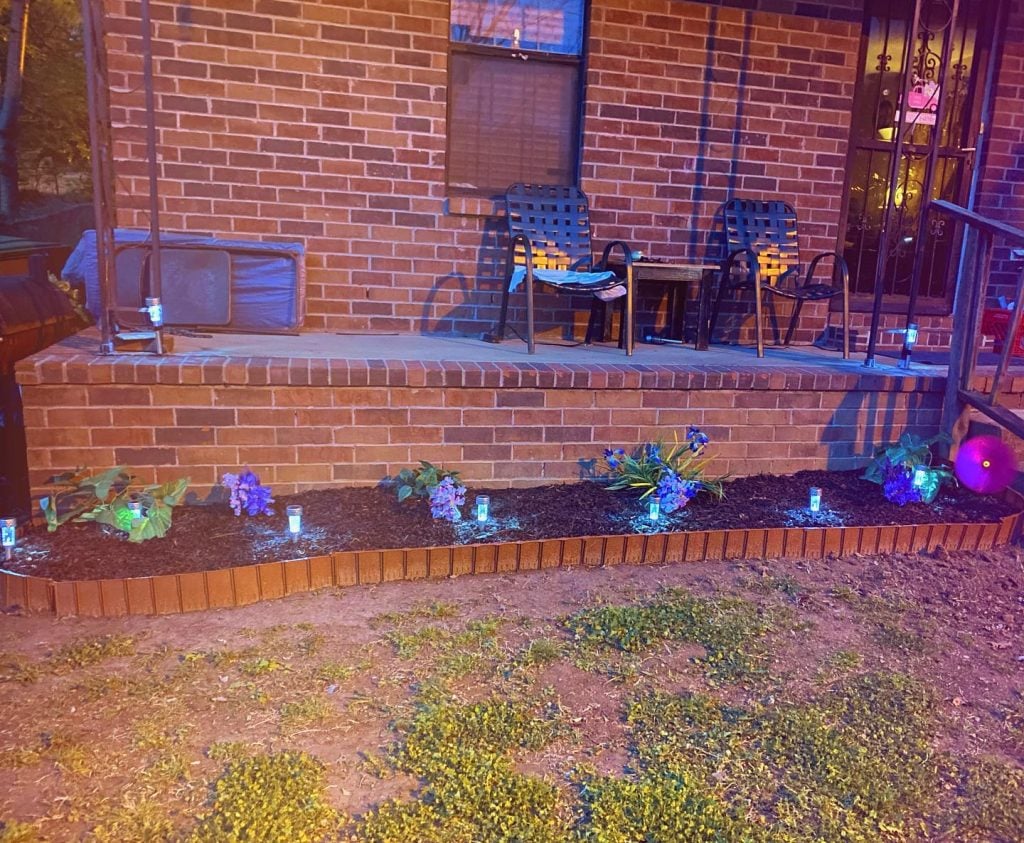 With a flowerbed design that elegantly complements your brown home wall, turn your patio into a charming retreat. A charming boundary that blends in with the surroundings is provided by a modest fence made to seem like wood. With a carefully chosen assortment of flowers and plants brimming with color and scent, your flowerbed can take center stage thanks to the short fence. From delicate flowers to colorful tulips, the flowerbed transforms into a stunning feature that gives your outdoor area depth and personality.
So, whether you're looking for a symphony of colors, a minimalist design, or a wild country-style haven, it's all here. Let these 20+ flower bed ideas light up your imagination, and may they guide you towards creating your dream garden. Enjoy the journey, and let's grow together!