In the bustling rhythm of modern life, efficiency and organization often go hand-in-hand with tranquility and aesthetic appeal. That's especially true in one of the most often overlooked yet consistently utilized spaces of the home—the laundry room. These hardworking rooms can be a sanctuary of cleanliness and order when given the right touch. Whether your space is a petite powerhouse or a dedicated suite, every square foot counts in a laundry room.
Therefore, we've carefully curated a list of 30 innovative and compact design ideas, perfect for maximizing your laundry room's potential. These ideas not only optimize function but also infuse charm, elegance, and comfort into any laundry routine. So, get ready to transform your laundry room into a fashionable and efficient space that speaks to your unique style and needs. Discover the art of smart design and practicality in our exciting collection of small laundry room ideas.
A Timeless Black, Gray, and White Laundry Room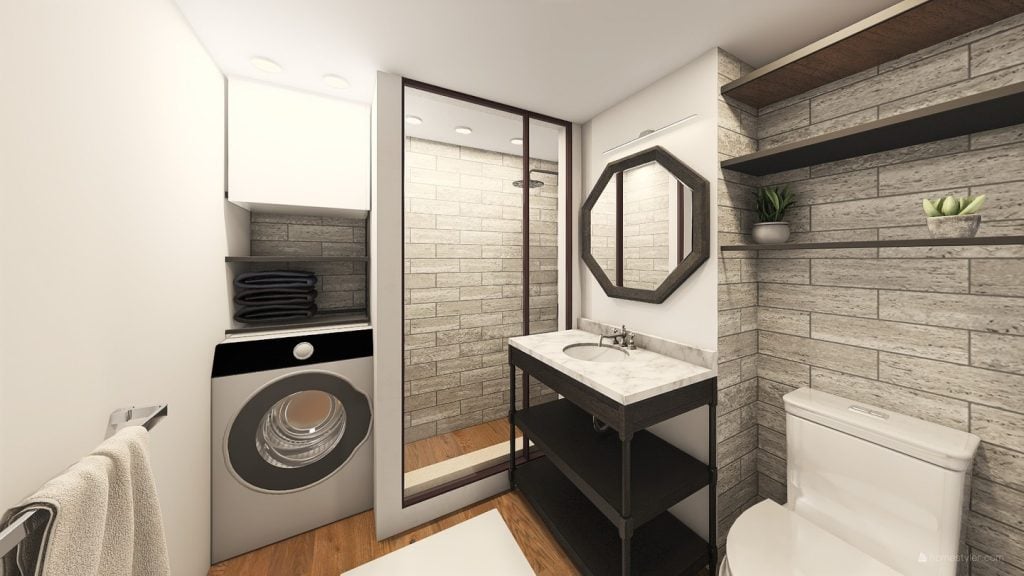 Enter the sophisticated monochromatic magic laundry room design, where white, gray, and black harmoniously meld to create a chic and classic area. This elegant color scheme highlights contemporary appliances and useful storage options while establishing the mood for a tidy and ordered environment.
A Sleek White, Gray, and Brown Laundry Room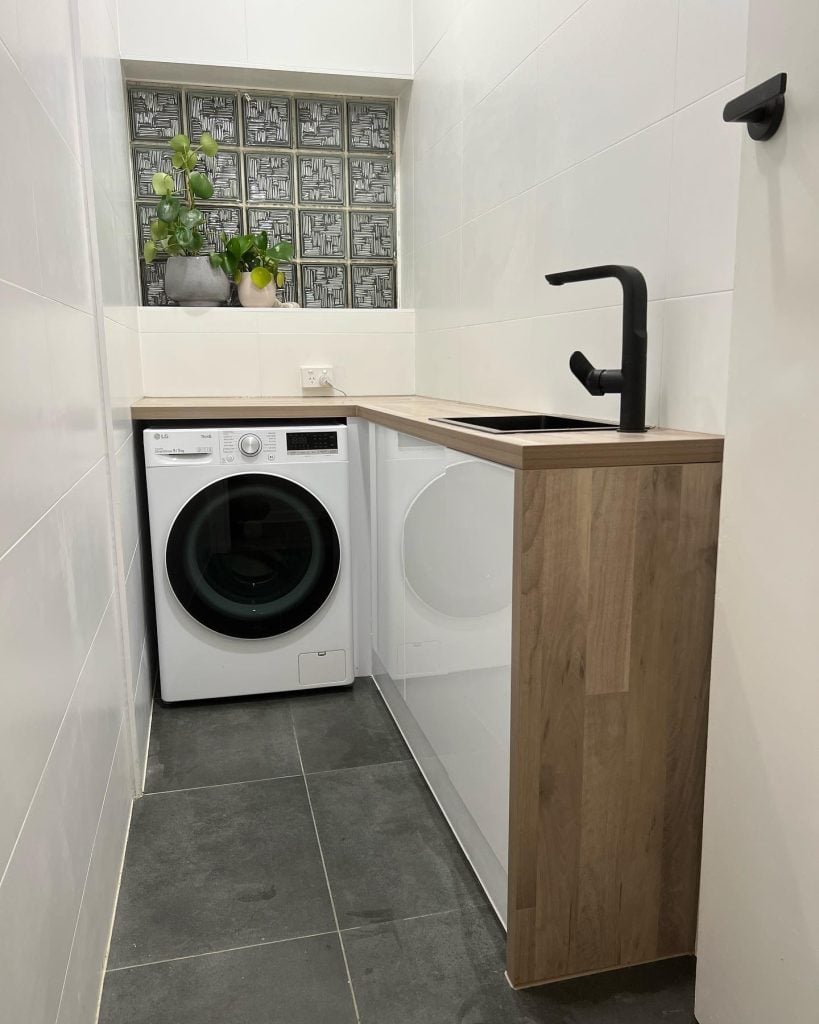 The pristine white background is given a chic touch by the sleek gray tiles, which also provide an eye-catching contrast. By including a warm wood table and a sleek black sink, this modern space is given flare as well as practicality.
The Aesthetic Hamorny In Black And White Laundry Room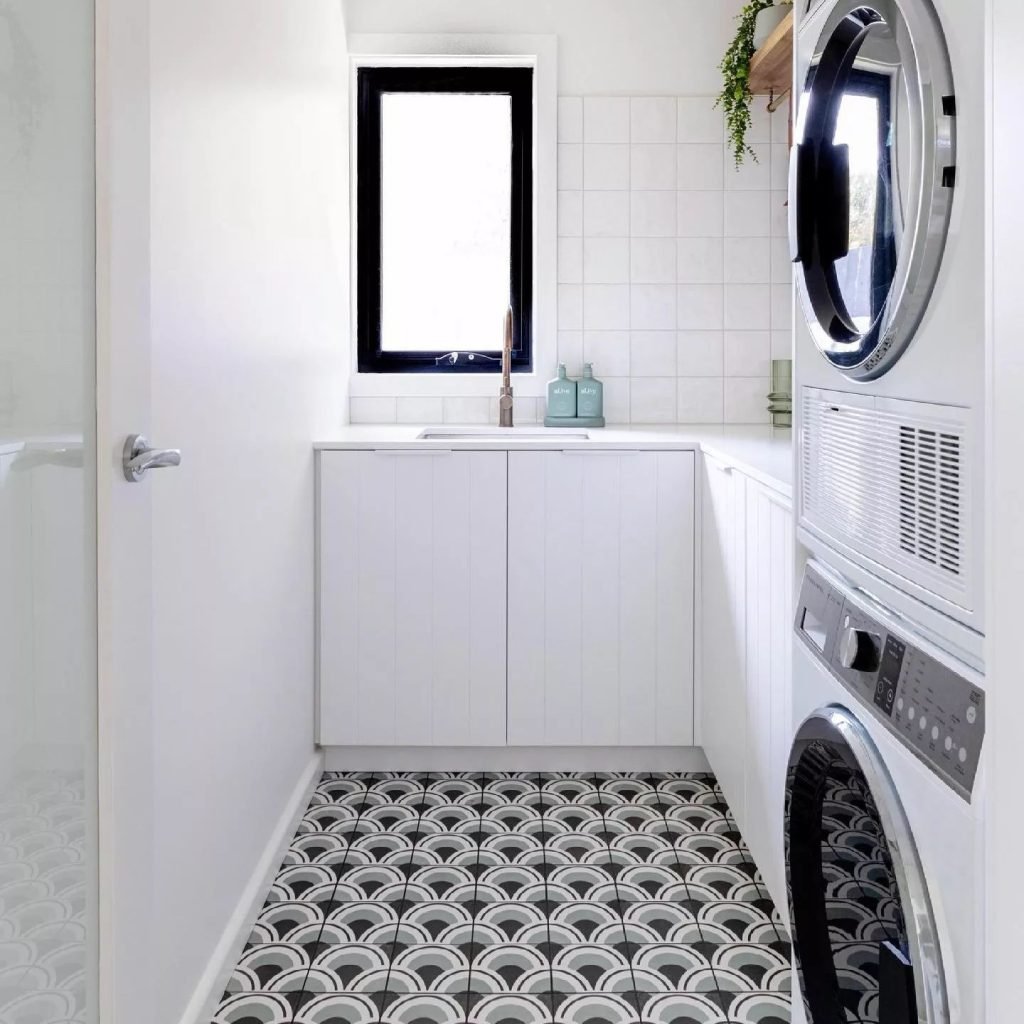 The stark black and white tiles give depth and visual intrigue, perfectly complementing the immaculate white walls that provide a clean and minimalist backdrop. In order to complete the harmonic balance of light and dark, the white appliances and black windows act as strong focal points.
Modern Minimalist Style White and Wood Laundry Room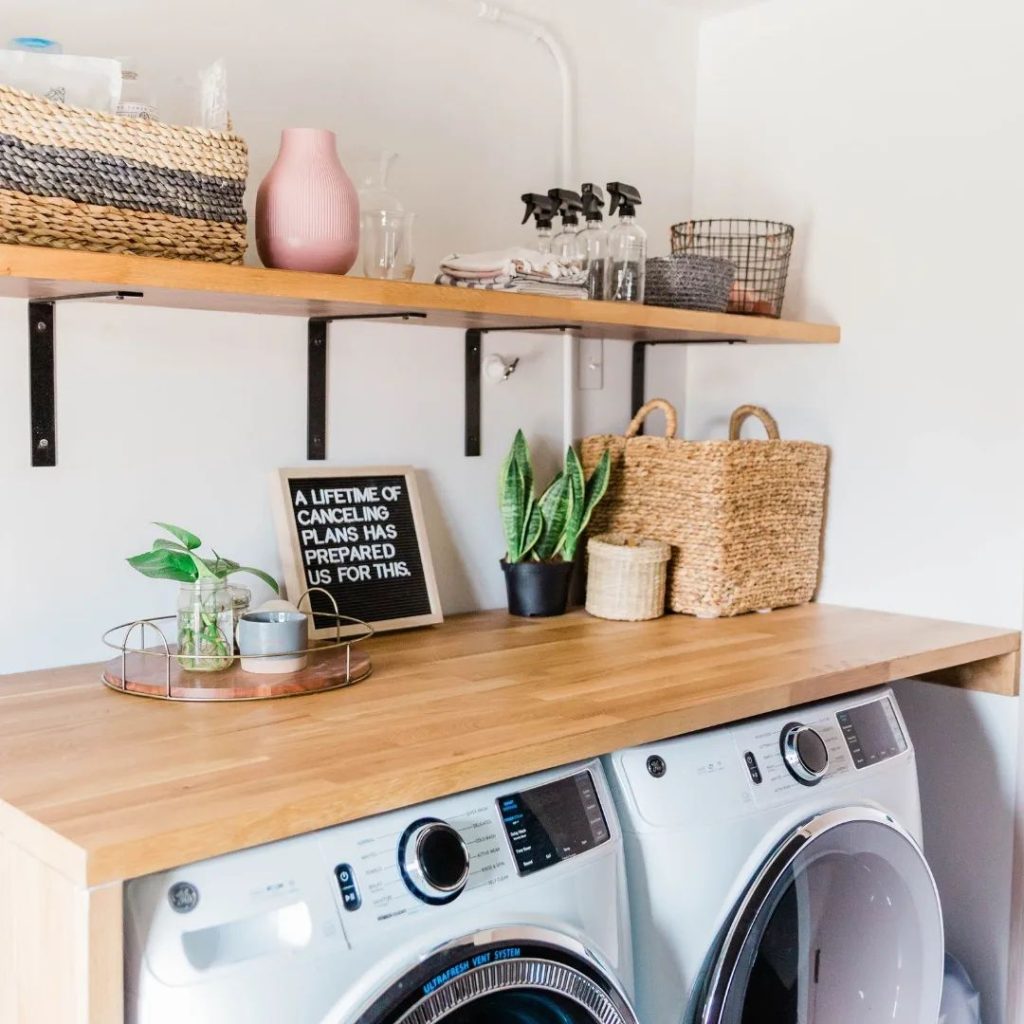 Enter a calm laundry room with white walls that are enhanced by the coziness of wooden tables and storage baskets. To make your washing tasks more relaxing, the white appliances perfectly complement the spotless surroundings. Simplicity and utility are seamlessly combined in this contemporary minimalist design.
A Fresh Looking Dirty White and Green Laundry Room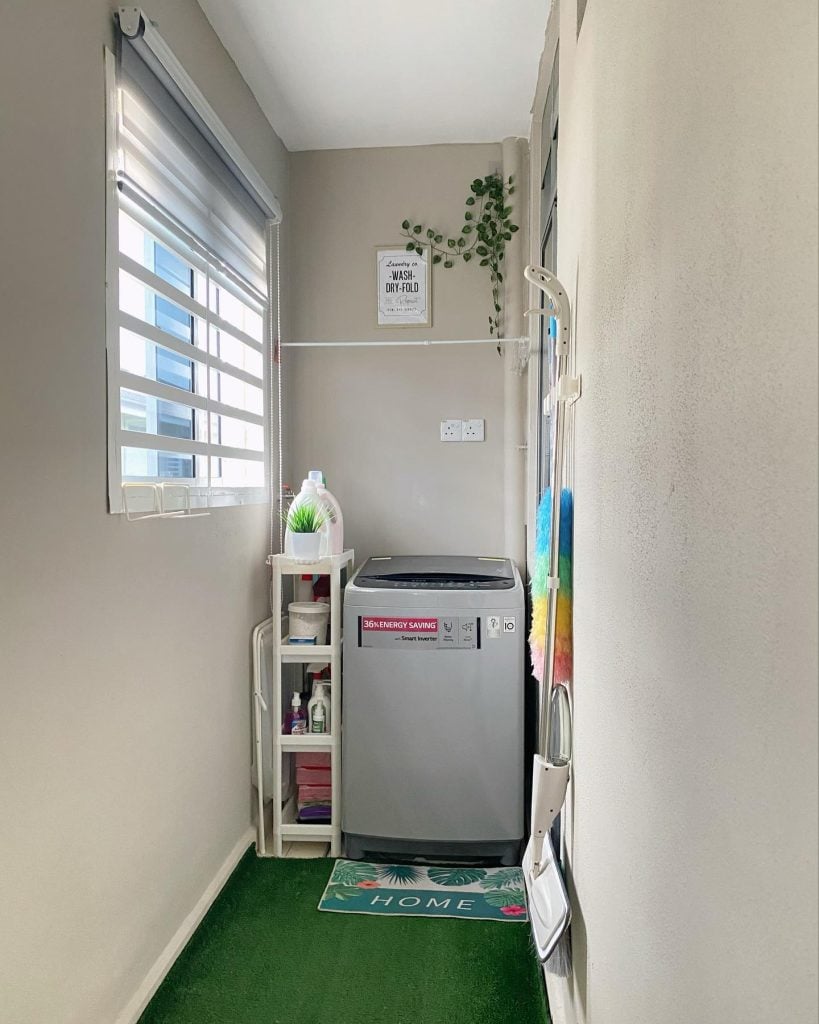 The room's individuality is enhanced and the busyness of washing day is alluded to by the dirty white wall, which acts as a blank canvas for creative stains. The lush green carpet underneath gives a splash of color and a touch of nature, fostering a welcoming environment that turns a tedious task into a pleasurable one.
Earthy White and Light Gray Laundry Room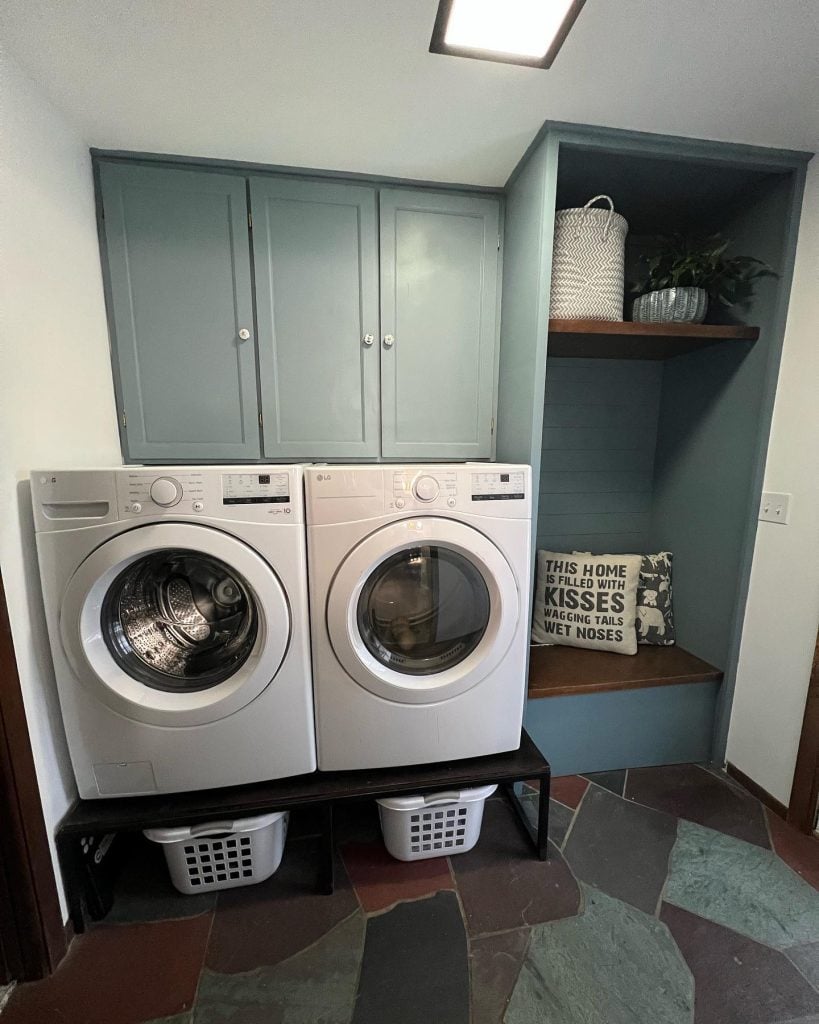 A great contrast to the spotless white walls that give the room an airy feel is the flooring that resembles rocks and gives it an earthy feel. The light gray cabinetry in this trendy laundry area flawlessly combines form and function while highlighting elegance.
Mysterious Elegance of the Dark and Marble Laundry Room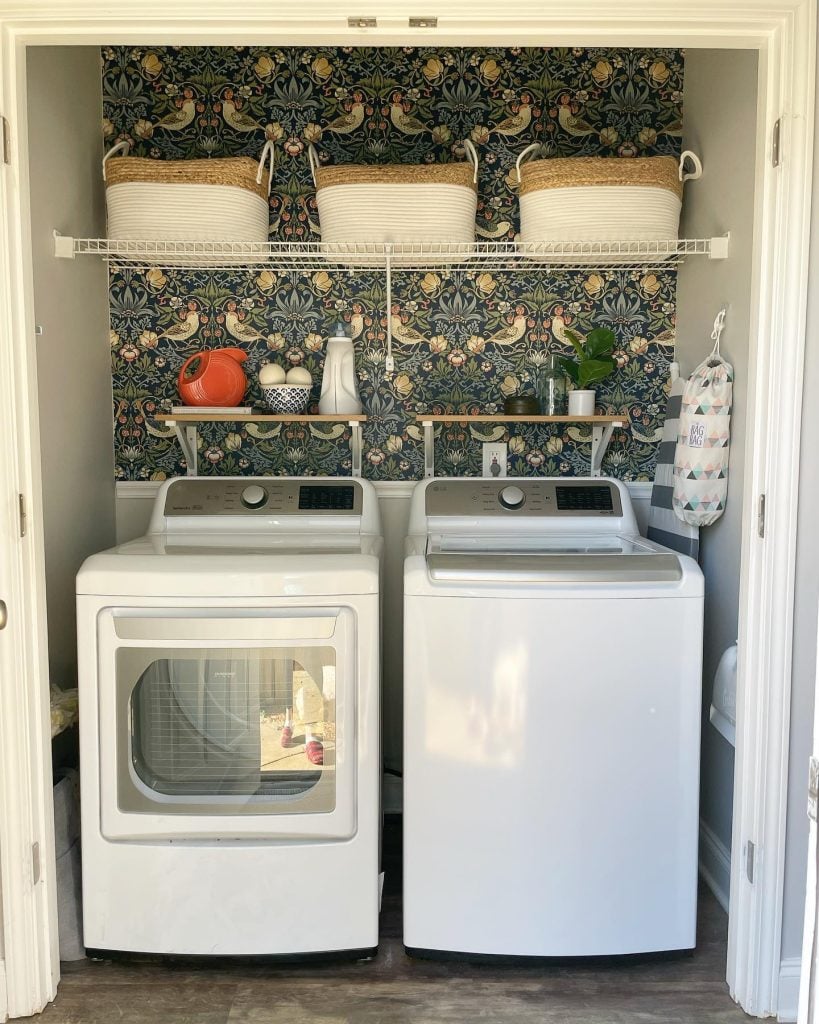 Indulge in the exquisite allure of our unique laundry area design. The dark flower wallpaper adds an air of mystery, while the marble-like floors imbue elegance and sophistication. A pristine white washing machine stands as a centerpiece, blending seamlessly with the captivating ambiance, creating a truly enchanting space for your laundry rituals
Soft Serenity of White, Light Gray, and Wood Laundry Room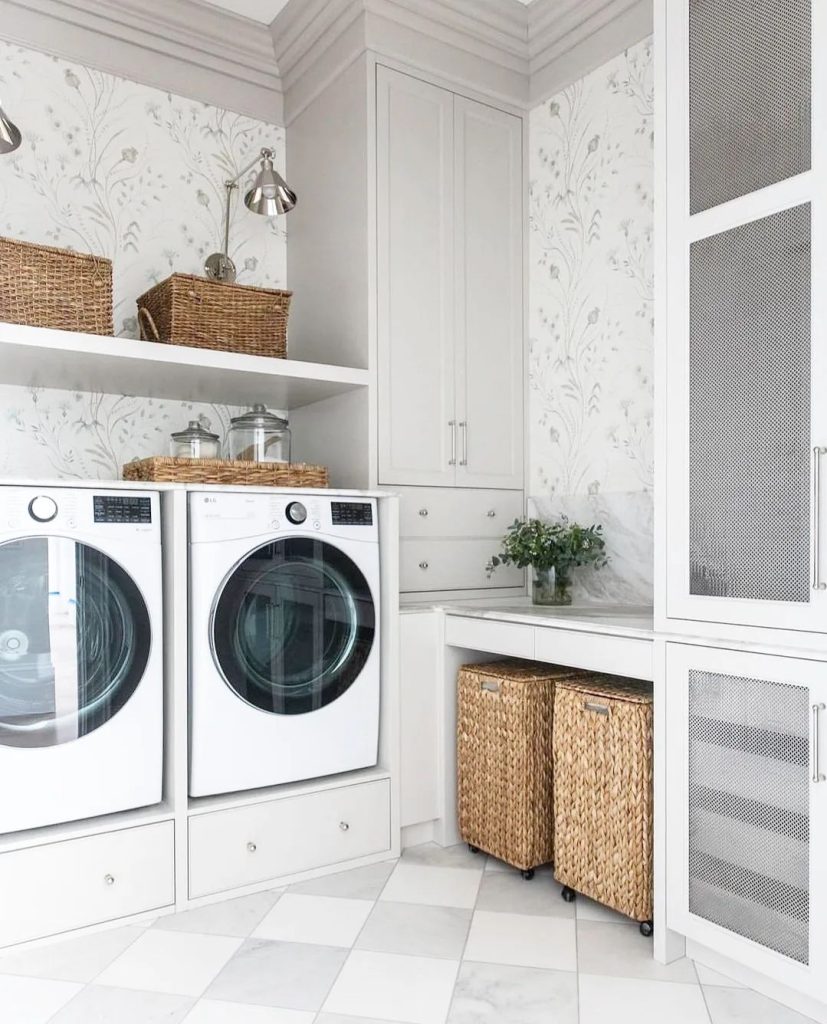 Accept the calming beauty of our white and light gray floral wallpaper, which softly blossoms on the walls and gives the room a quiet feeling. The white and light gray tile floor complements the wallpaper and gives a touch of contemporary sophistication. The wood-style laundry basket adds a rustic appeal by fusing practicality with a natural look.
Harmonious White, Bluish Gray, and Wooden Tone Laundry Room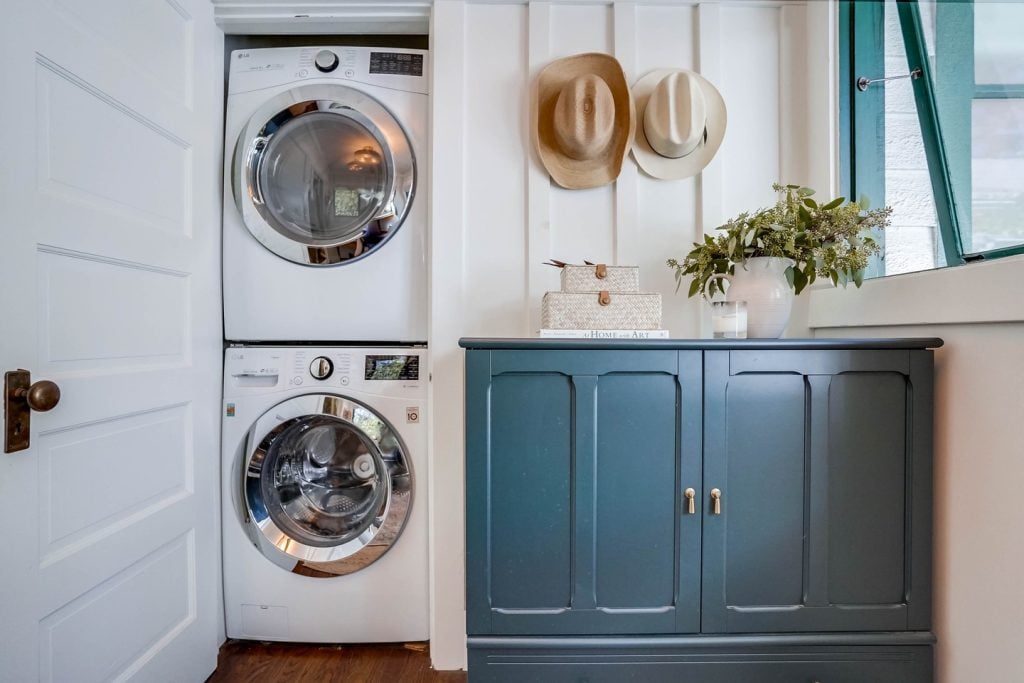 The window frames and bluish-gray cabinet stand out well against the spotless white walls, which serve as a clear backdrop. A location where doing laundry becomes enjoyable is created by the warm tones of the oak floor, which completes the scene and adds a touch of natural elegance.
Modern Style White, Light Green, and Tan Laundry Room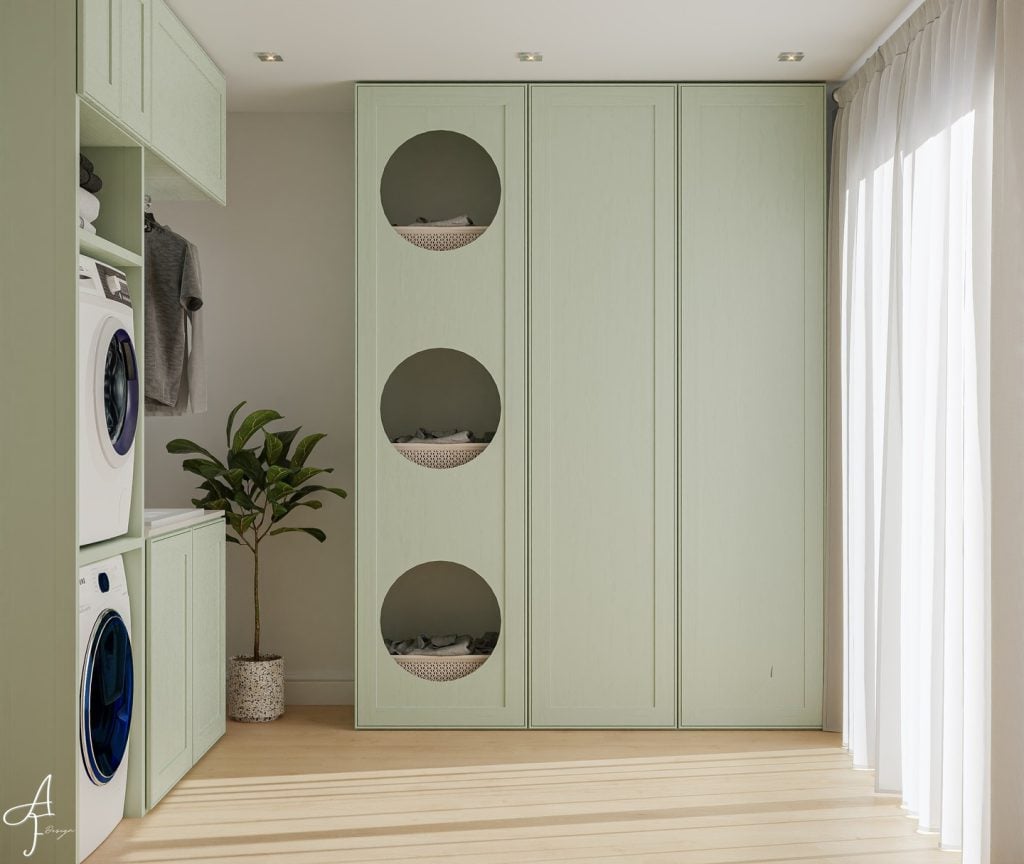 The light green cabinets add a splash of color with a nod to nature, while the white walls offer a blank slate. The tan floor gives a touch of warmth and completes the calming ambiance of this welcoming laundry room.
Monochrome Design with White Blossoms, Black Accents, and Carpeted Floor Laundry Room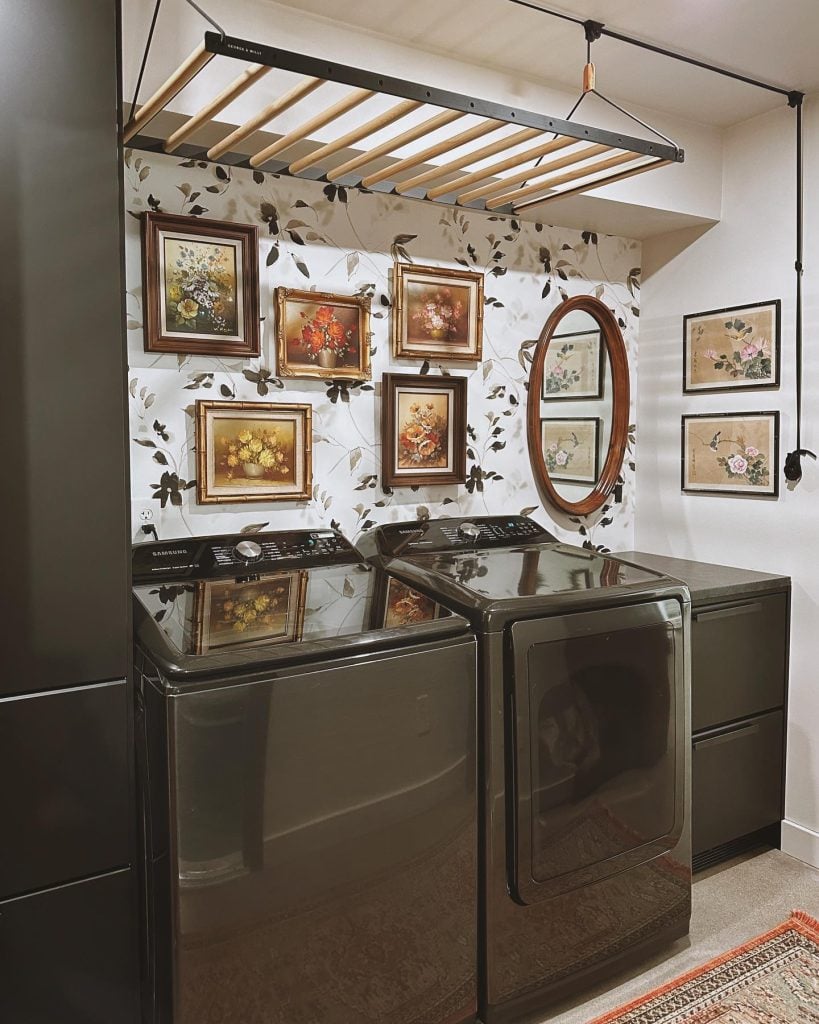 Delicate white flower wallpaper adorns the walls, infusing the space with a touch of natural elegance. Contrasting against the backdrop, sleek black cabinets and a washing machine exude a modern sophistication, while the plush carpeted floor beneath your feet invites you to indulge in a moment of comfort as you attend to your laundry needs.
Harmonious Blue and White Laundry Room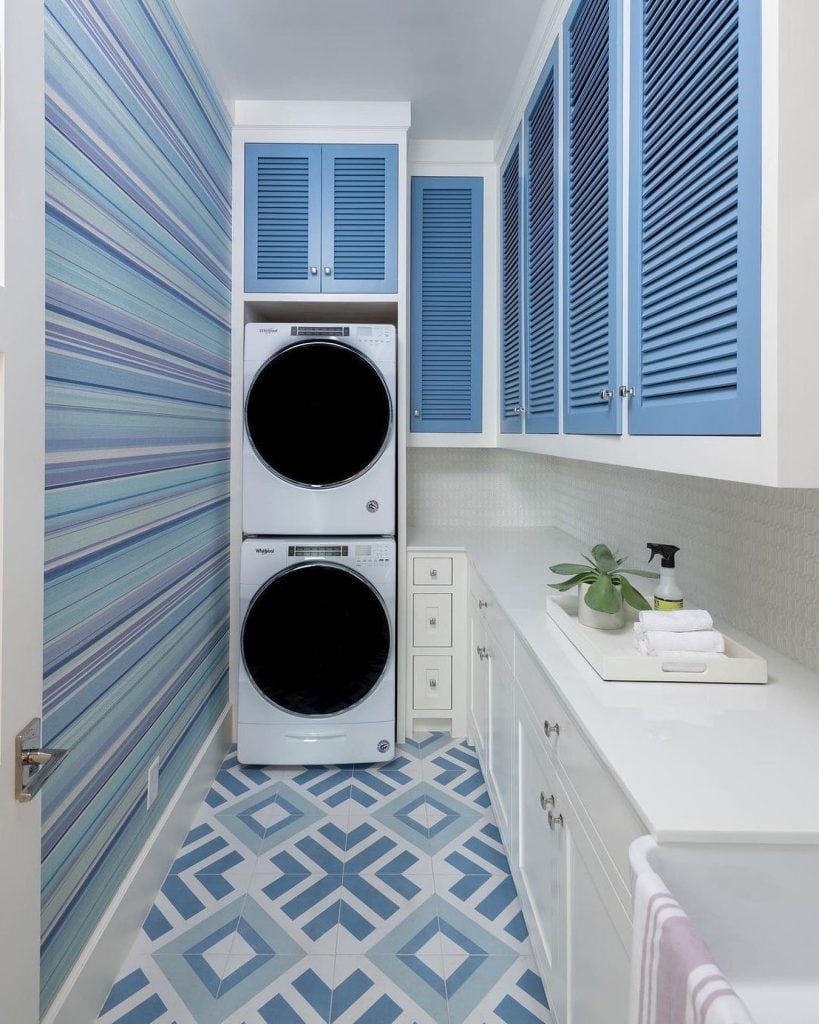 Your senses are immediately calmed by the pleasant ambiance that is created by the walls, which are covered with fascinating blue and white tiles. The white washing machine stands out as a sign of cleanliness and efficiency while the blue cabinet doors simply mix with the tiled floors.
Natural Elegance with Crisp White, Warm Oak, and Earthy Touch Laundry Room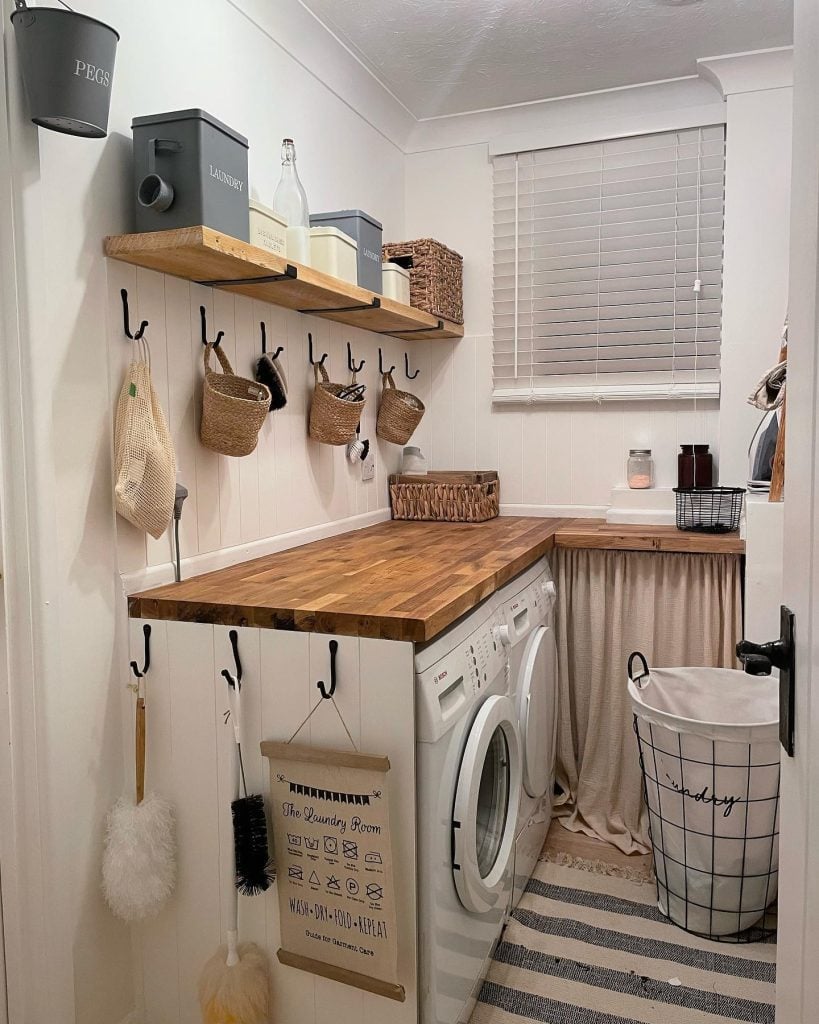 Inviting a touch of nature into the area, the mix of spotless white walls acts as a canvas for the highly textured wood countertop. This laundry paradise hits the ideal mix between warmth and simplicity, giving it an enticing escape for the monotonous process of doing laundry. The presence of rustic wooden baskets completes the design.
Laundry Haven An All White with a Touch of Black Laundry Room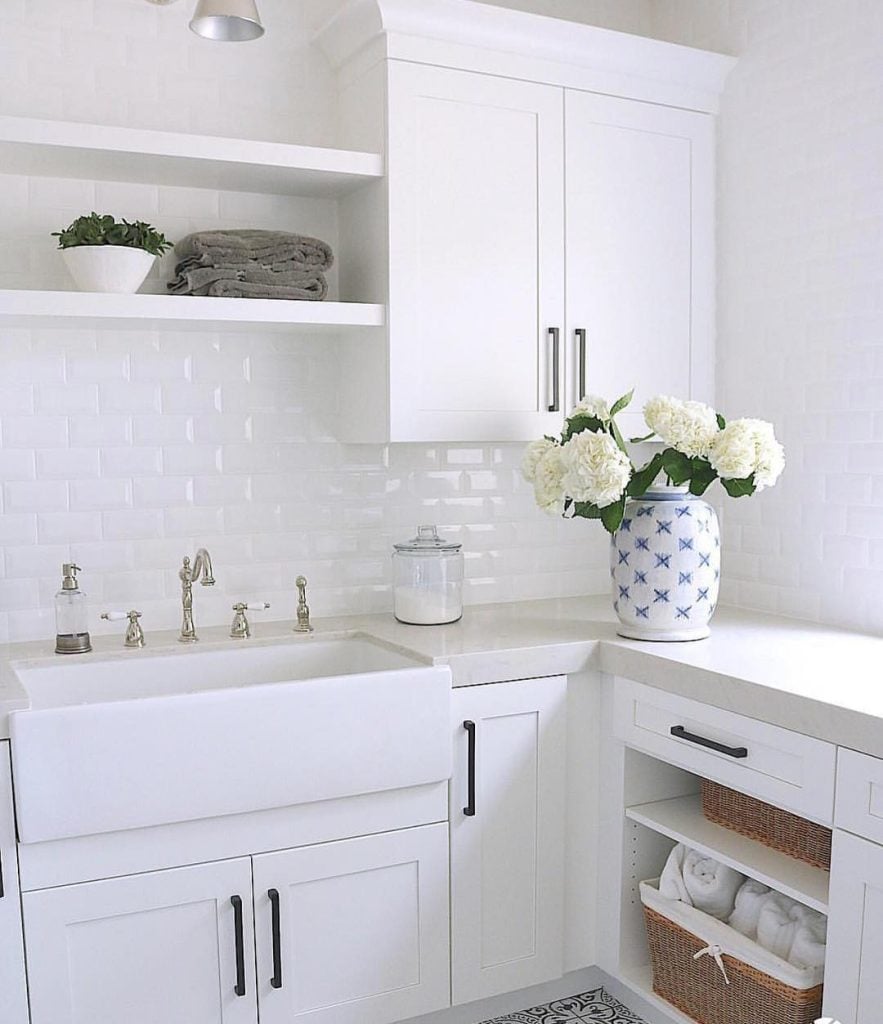 Enter a contemporary, sleek laundry room that oozes style. While the minor addition of black handles gives a hint of refinement, the immaculate white cabinets take center stage and provide a clean and fresh atmosphere. In this modern haven, doing laundry becomes a stylish and joyful activity thanks to the monochromatic color scheme.
The Elegance of the White, Gray, and Black Laundry Room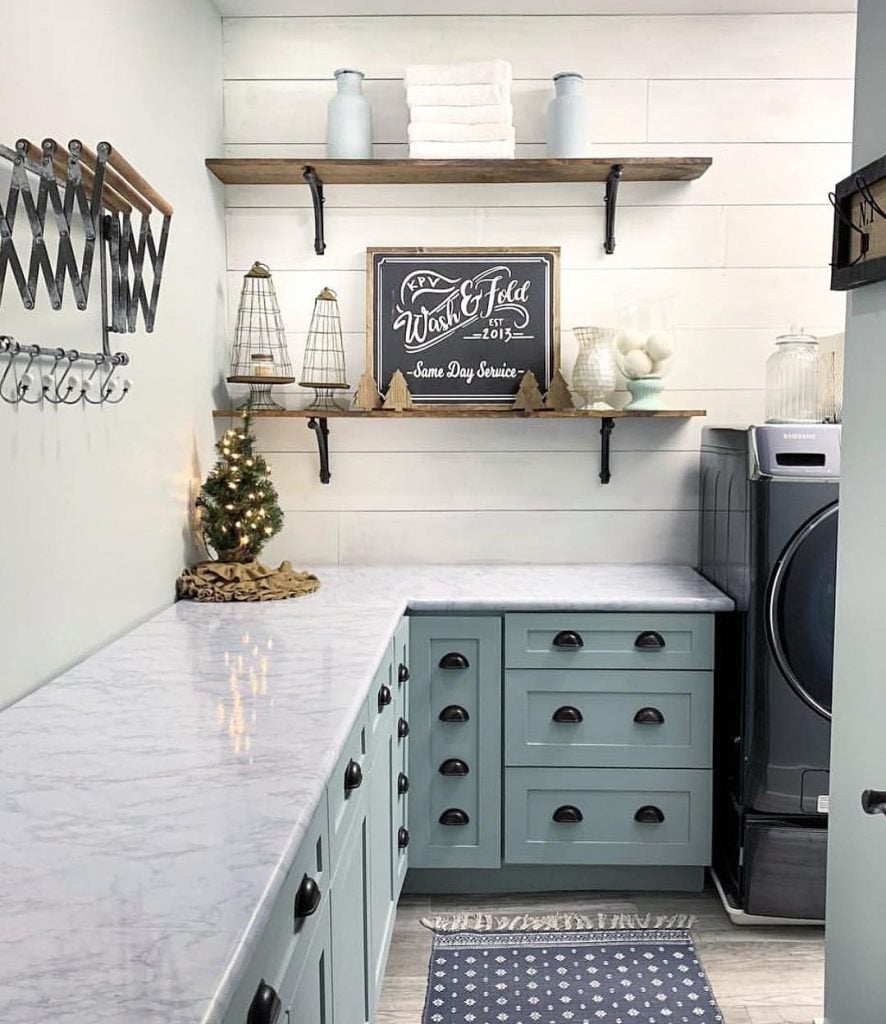 The room is adorned with spotless white walls that serve as a blank canvas and a sleek marble countertop that screams elegance. A laundry room that is both fashionable and practical is created by the union of gray cabinets with sleek black handles and a coordinating gray floor.
Nature Style With Wood And White Laundry Room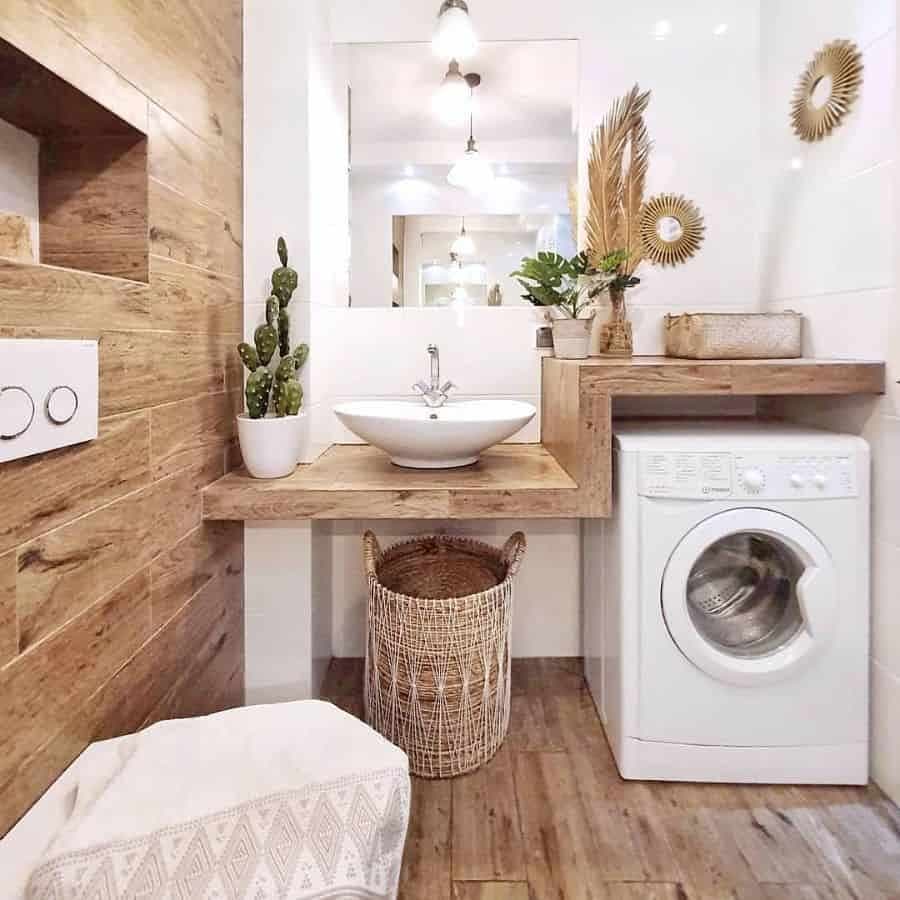 With the wood-designed floor and wall tiles, you can experience the ideal fusion of contemporary elegance and organic warmth. Rich, earthy hues contrast sharply with the white walls, adding a stunning visual element, and the presence of colorful plants next to the sink and laundry area brings a welcome dose of nature inside.
Monochrome Gray, White, and Black Laundry Room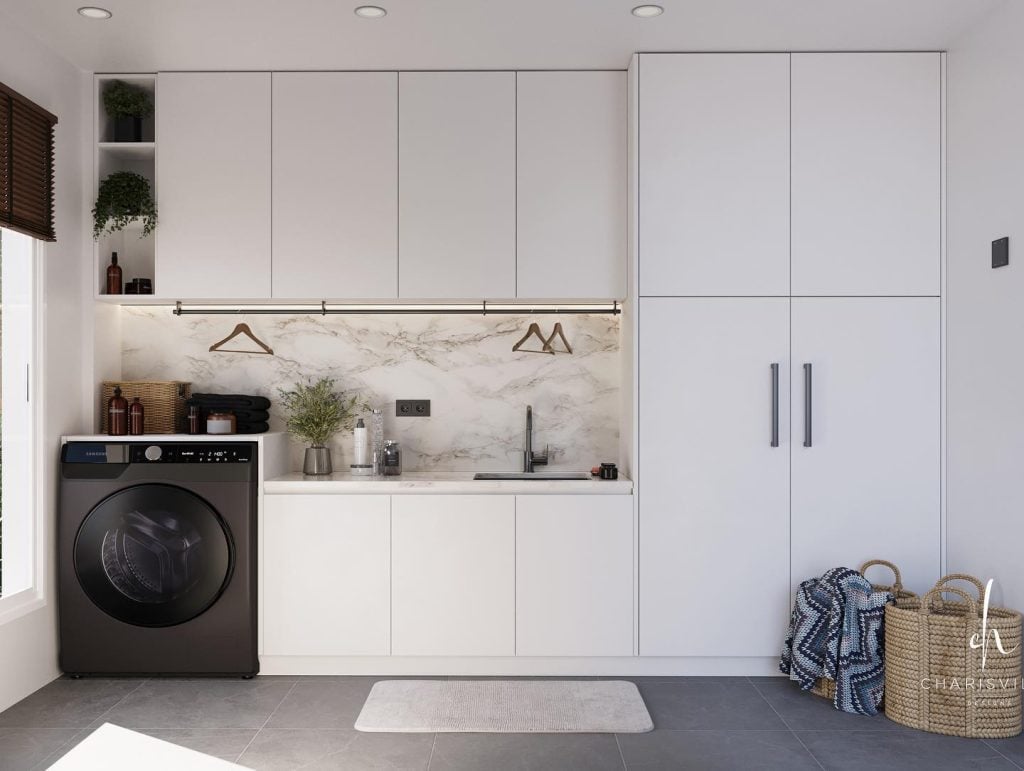 The backsplash is made of pricey marble and screams grandeur. It is accented by the gray-designed floor, which provides a streamlined basis. The monochromatic color choice is well balanced by the dramatic black washing machine that serves as the room's main point and adds a sense of clean-lined elegance.
Earthy Elegance Of Dark Brown And Silver Laundry Room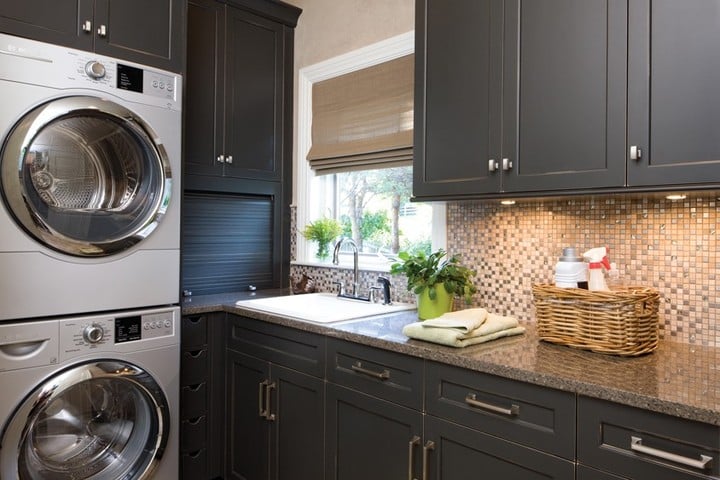 Elevate your laundry area with the enchanting blend of dark marble countertops, rich dark brown cabinets, and a sleek silver washing machine. This captivating color scheme exudes an air of sophistication and luxury, transforming your laundry space into a haven of style and functionality. Embrace the beauty of "Earthy Elegance" and turn your mundane chores into a delightful experience.
Modern Aesthetic Of Gray, Oak, And Checkered Laundry Room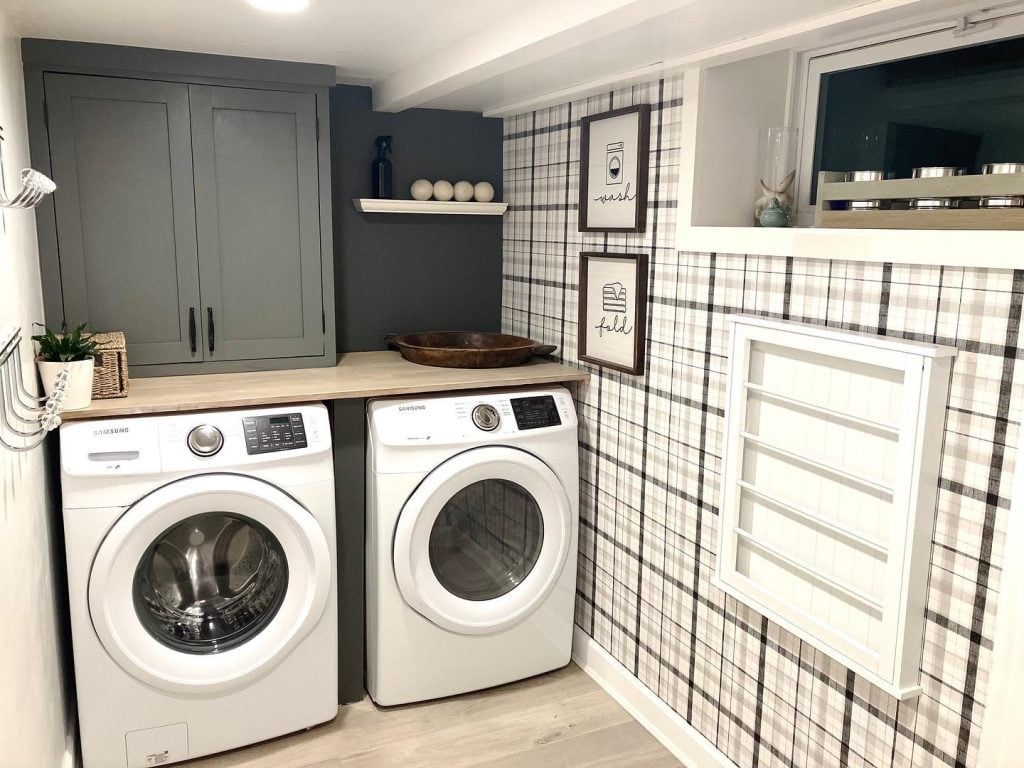 Elevate your laundry area with the enchanting blend of dark marble countertops, rich dark brown cabinets, and a sleek silver washing machine. This captivating color scheme exudes an air of sophistication and luxury, transforming your laundry space into a haven of style and functionality. Embrace the beauty of "Earthy Elegance" and turn your mundane chores into a delightful experience.
Coffee Tones Laundry Room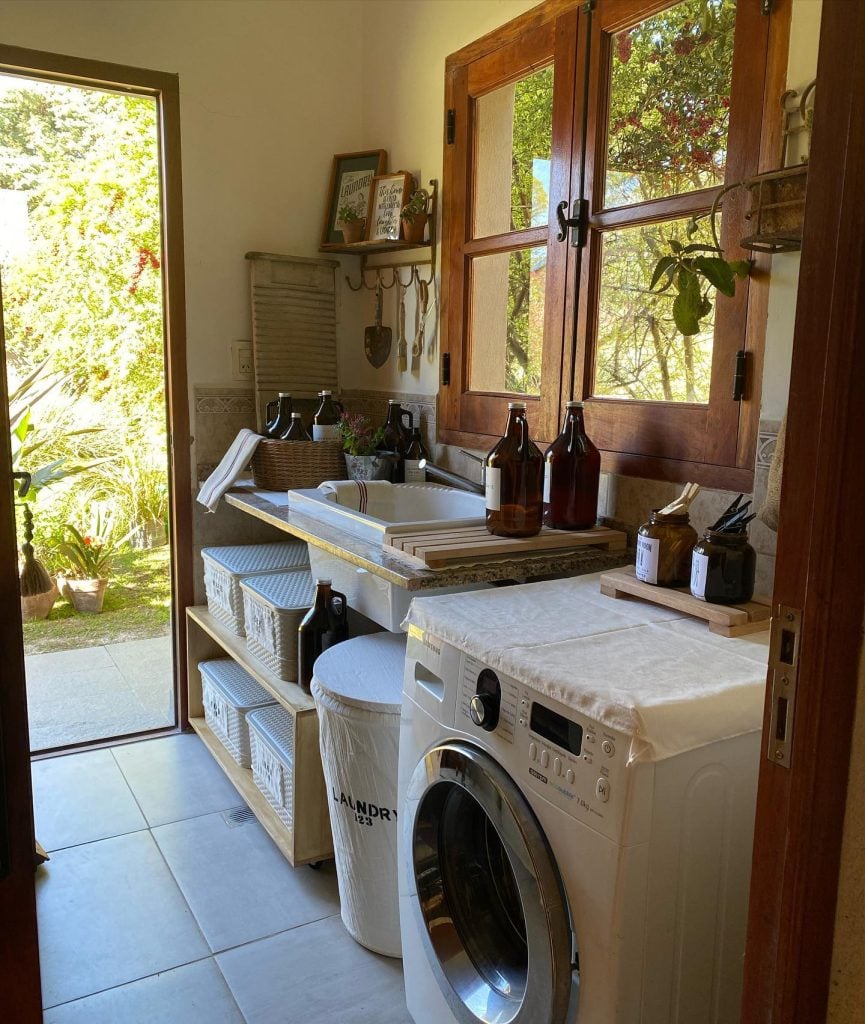 Indulge in warm hues with our Coffee Tones laundry area. Featuring a luxurious marble countertop, complemented by an elegant oak window and a charming brown tiled wall, this space exudes a cozy and inviting atmosphere. Complete with a sleek white washing machine and carefully placed brown bottles as accent pieces, this laundry area combines functionality with stylish color coordination.
Green Oasis Flowered Walls and Checkered Floors Laundry Room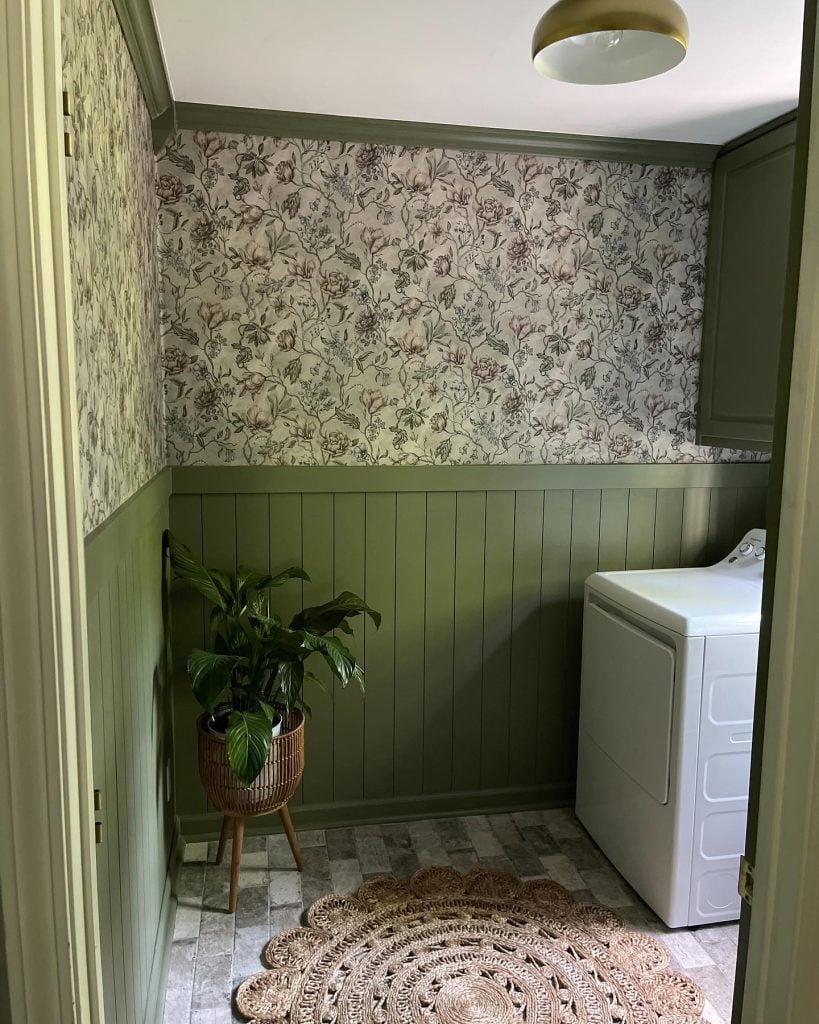 This room has a delightful touch of floral wallpaper, and the flooring has a compelling checkered pattern. Discover a lovely setting that makes doing laundry a pleasurable and beautiful activity.
Neutral Tones Gray, Wood, and Marble Laundry Area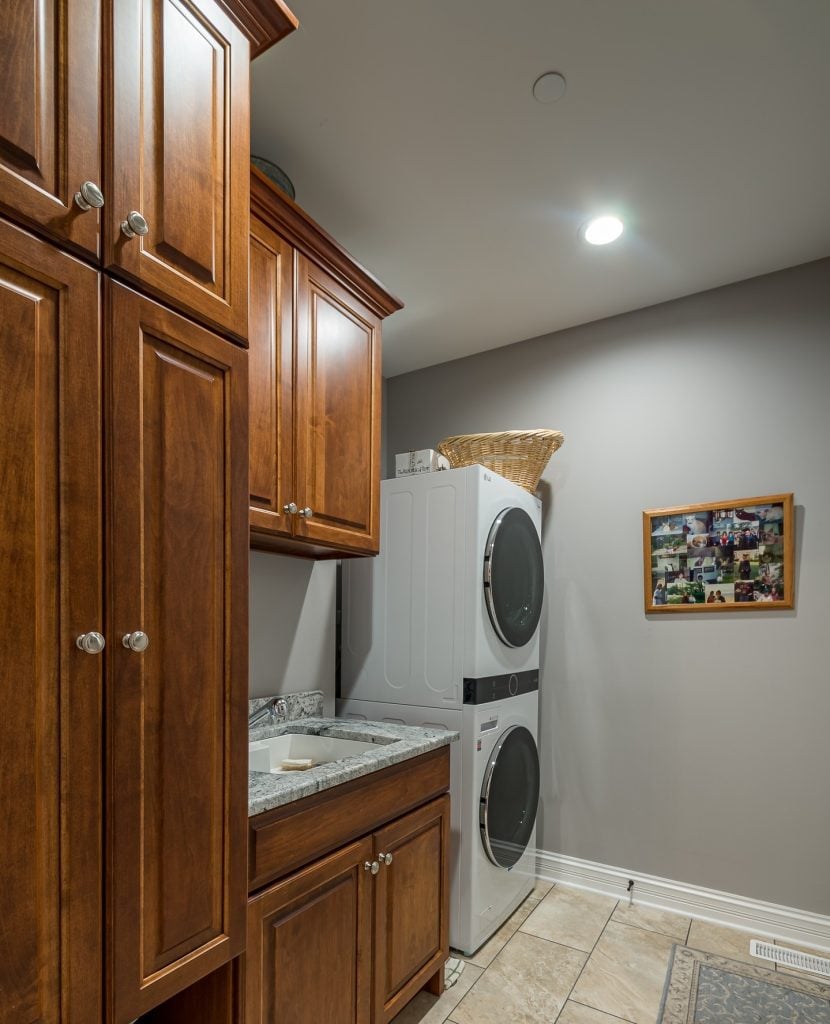 The oak cabinets' richness complements the serene ambiance that the gray walls have produced. A stunning marble countertop adds a touch of opulence, transforming this space into a stylish haven for all your laundry needs.
So there you have it, 30 clever and stylish small laundry room design ideas that prove even the most modest spaces can pack a punch. Each of these designs brings function, style, and joy into the practical realm of everyday chores. We hope this inspiring collection encourages you to take another look at your own laundry room, seeing in it the potential for a transformation that enhances both your home and your daily life. Remember, even the smallest changes can create a big impact, so why not get started on your laundry room makeover today? Happy redesigning!