When we think of coloring, we often think of crayons or colored pencils. But what if there was a way to color with something even more exciting? What if you could use a pen that would make your coloring experience even more fun and enjoyable?
Gel pens are perfect for coloring because they have a rich pigment that can help you really get into the details of your work. Gel pens also offer great versatility in terms of line width, which is important for adding depth and variation to your work. Gel pens are also great for blending different colors together, making them ideal for coloring books that feature complex images like landscapes or portraits.
Because gel pens create a thick line, they're also great for outlining drawings or patterns before filling them in with other mediums like pencil or marker pens. If you're looking for an alternative way to enjoy coloring while still getting all the benefits, gel pens might be just what you need! We decided to do some research and find 12 of the best colored gel pens that you can buy on Amazon.
1. VaO1A Color Gel Pens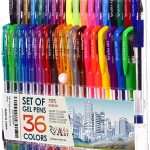 These beautiful gel pens come in 36 vibrant colors and are perfect for your coloring book. The pen has a comfortable construction, so when you're holding it your fingers won't get sore. They come with a latex pn holder which helps prevent the gel pens from sliding out and getting lost. The best part about this pack sit he fact that they come with erasable pens so if a mistake occurs you can easily fix it. VaO1A pens are safe for children to use and non-toxic.
Buy on Amazon

2. Reaneon Gel Pens
The Reaneon Gel Pens come in a set of 200 divided into 100 gel pens and 100 refills. The pack includes glitter, metallic, neon, pastel, neon-glitter, swirl, and classic options, perfect for that artistic person who needs a bit of everything. The product is acid-free and non-toxic and offers a money back guarantee from the manufacturer. The pen is easy to use and nicely glides over the paper when you use it for coloring.
Buy on Amazon

3. Shuttle Art Gel Pens
Shuttle Art offers a set containing 120 individual colors that are all unique in their own way. The pens come with a plastic pouch to secure them when you aren't using them and the pens are acid-free and non-toxic. All pens come with a fine point tip for great coloring and smooth writing. The pack also includes rainbow, metallic, neon, swirl, and pastel colors, so you get a lot for your buck. The best thing is the magical ink that comes with the set. From the outside the color looks black but once applied to paper the color changes to an array of different options.
Buy on Amazon

4. ColorIt Gel Pens
These high quality gel pens are long-lasting and include 48 high quality pens. The pens include glitter, metallic, and neon pens that come with extra ink refills and a great plastic travel case. The product is non-toxic and acid-free plus it has a 0.8mm tip that gives a perfect application regardless if you're coloring or writing.
Buy on Amazon

5. Aen Art Gel Pen
The Aen Art gel pens come in sets of 100 but unlike the other pens, this one is a full set of 100 in either glitter, metallic, or neon, instead of being intermixed. There are no duplicate colors in these sets and are easy to hold since they come with a comfort grip. They promise to dry fast and offer no smearing but they come with ink refills when needed. Aen Art even said you can use the pen hundreds of time without the ink running out.
Buy on Amazon

6. Smart Color Art
With 140 colors, the Smart Color Art gel pens are a great set to get. The pack comes with a mixture of glitter, neon, metallic, pastel, standard, and neon glitter pens, with each section coming in their own personal packaging. The pens are all placed in a sturdy see-through box so the pens are well taken care of and organized. If you are looking for a fine tip then look no further since the tips on the Smart Color Art pens are 0.6mm where more are 0.8mm.
Buy on Amazon

7. Lineon Gel Pens
If you're interested in a simple gel pen pack then Lineon Gel Pens are a great choice. The pack comes with 50 colored gel pens and 50 refills that offer smooth writing, coloring, and drawing. The colors range from glitter, neon, metallic, and pastel and all are typical colors you need for your art. The ink does not bleed through the paper either unless the artist continually colors over the same area many times.
Buy on Amazon

8. Feela Gel Pens
The Feela 360 gel pen pack is perfect for any artist looking to get a good bang for their buck. The pack includes 180 pens and 180 refills with a dual box packing which is breakage-resistance and eco-friendly. The pens are long-lasting and glide easily over the paper, perfect for drawing and coloring. The best thing about these pens are they are left-hander friendly and don't smear when you use your left hand.
Buy on Amazon

9. Tanmit Gel Pens
The Tanmit Gel Pen pack comes with 240 gel pens that include 120 refills. The pack offers 28 clitter, 20 metallic, 19 neon, 16 pastel, 16 fluorescent, 11 dye colors, 6 rainbow and 4 standard. The tips come with an array of different tips between 0.6mm to 1.0mm. The colors are all unique and the pack even comes with white, silver, and gold pens. The pack is also super easy to refill.
Buy on Amazon

10. Fiskars Gel Pens
Fiskars Gel Pens comes in a pack of 48 colors and offer a smooth-flowing and fade-resistant pigment ink. They are acid-free and offer a pen tip between 0.8mm and 1.0mm. The ink will not bleed through the paper but the tips are ideal for small detailing. The pens come with 12 glitter, 9 metallic, 9 neon, 9 pastel, 6 swirl, and 3 black.
Buy on Amazon

11. Caliart Gel Pens
The Caliart Gel Pens come with 100 gel pens and 100 refills. The pack includes 28 glitter, 17 metallic, 4 classic, 15 pastels, 16 neon, 6 swirl, and 14 glitter-neon. The package is foldable pack that is perfect for storing them in a backpack, locker, or on the shelf. The tip on each pen ranges from a small point to medium.
Buy on Amazon

12. Bright Ideas Gel Pack
The Bring Ideas gel pen pack offers 12 neon and glitter color pens, perfect for anyone who doesn't need a lot of color and wants to keep their pens to a minimum. The pens come in a hard box to help keep them safe and protected when the artist is not using them.
Buy on Amazon

The Verdict
Gel pens are a great choice for coloring. They're especially good for people who love to color detailed illustrations, but they can be used to create anything you want. We curated the best gen pens for colorings, we hope that we were helpful enough to pick you the best gel pen.