Bohemian living room design is a style that is often characterized by its use of bold colors, patterns, and shapes. In general, these rooms are meant to be very open, airy spaces where you can relax and unwind after a long day of work or school.
Bohemian living rooms usually have a lot of sunlight streaming through the windows and onto the floor. This helps give the space a warm and welcoming feel, which is perfect for entertaining friends or family members in your home.
These rooms also tend to have less furniture than traditional living spaces do. The idea behind this is that you want to be able to see as much of the floor as possible so that you can see all of the beautiful rugs and pillows that are scattered throughout your room!
Bohemian living rooms are often decorated with bright colors like reds and oranges because these shades tend to make us feel happy which means that they can be used effectively when trying to create an overall sense of happiness within your home!
If you're looking for inspiration on how to create a bohemian-chic living room that's perfect for entertaining friends or relaxing after work, here are some examples we picked for you:
1. Stylish Bohemian Corner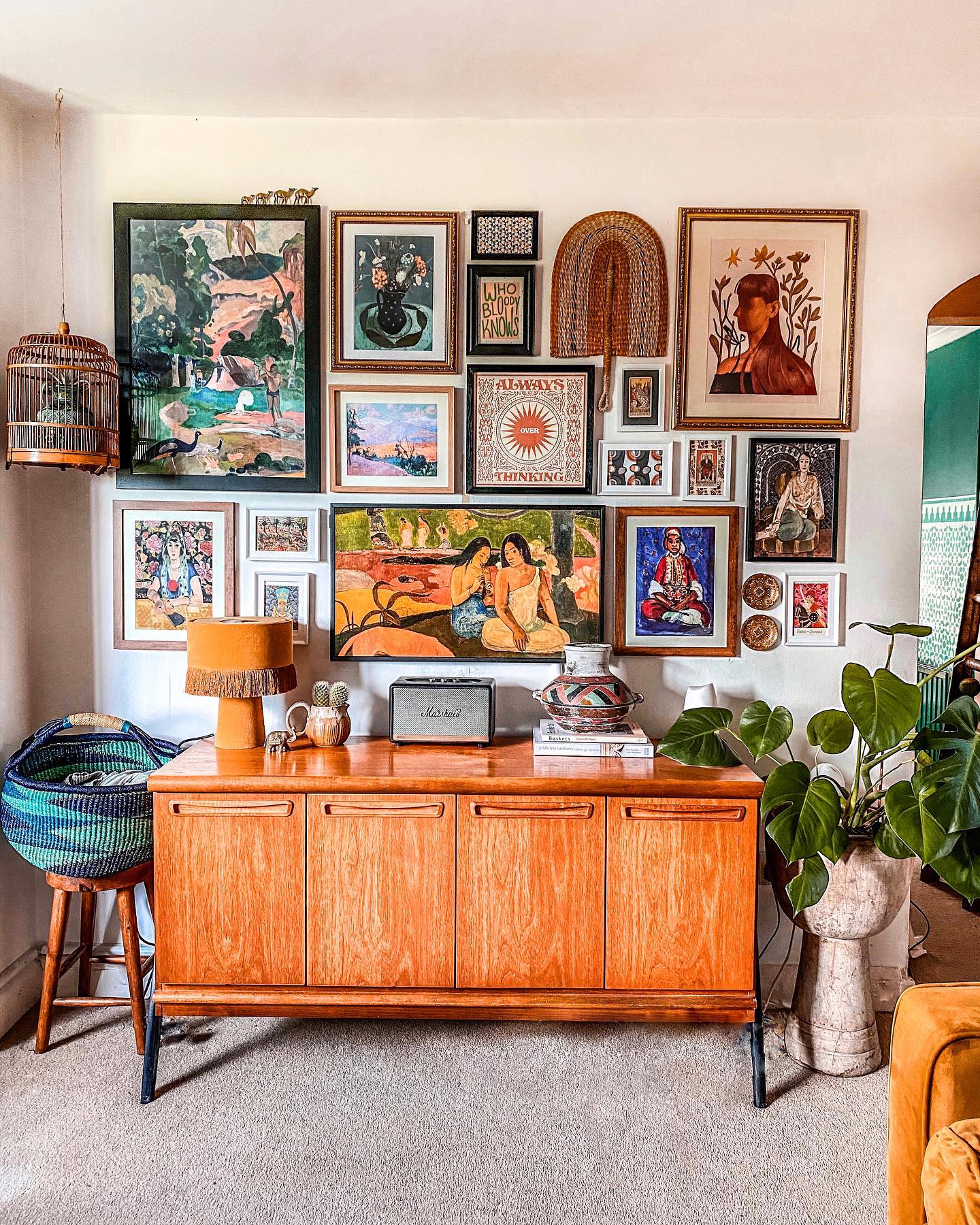 Add color and vibrancy with all of these cool elements. If you enjoy a lot of color, this will suit you. Most men and women will like cool pictures, portraits, and greenery such as plants or flowers. If you're a creative individual and you want a chic and bohemian look, this is truly it!
2. Brown White & Nude Bohemian Living Room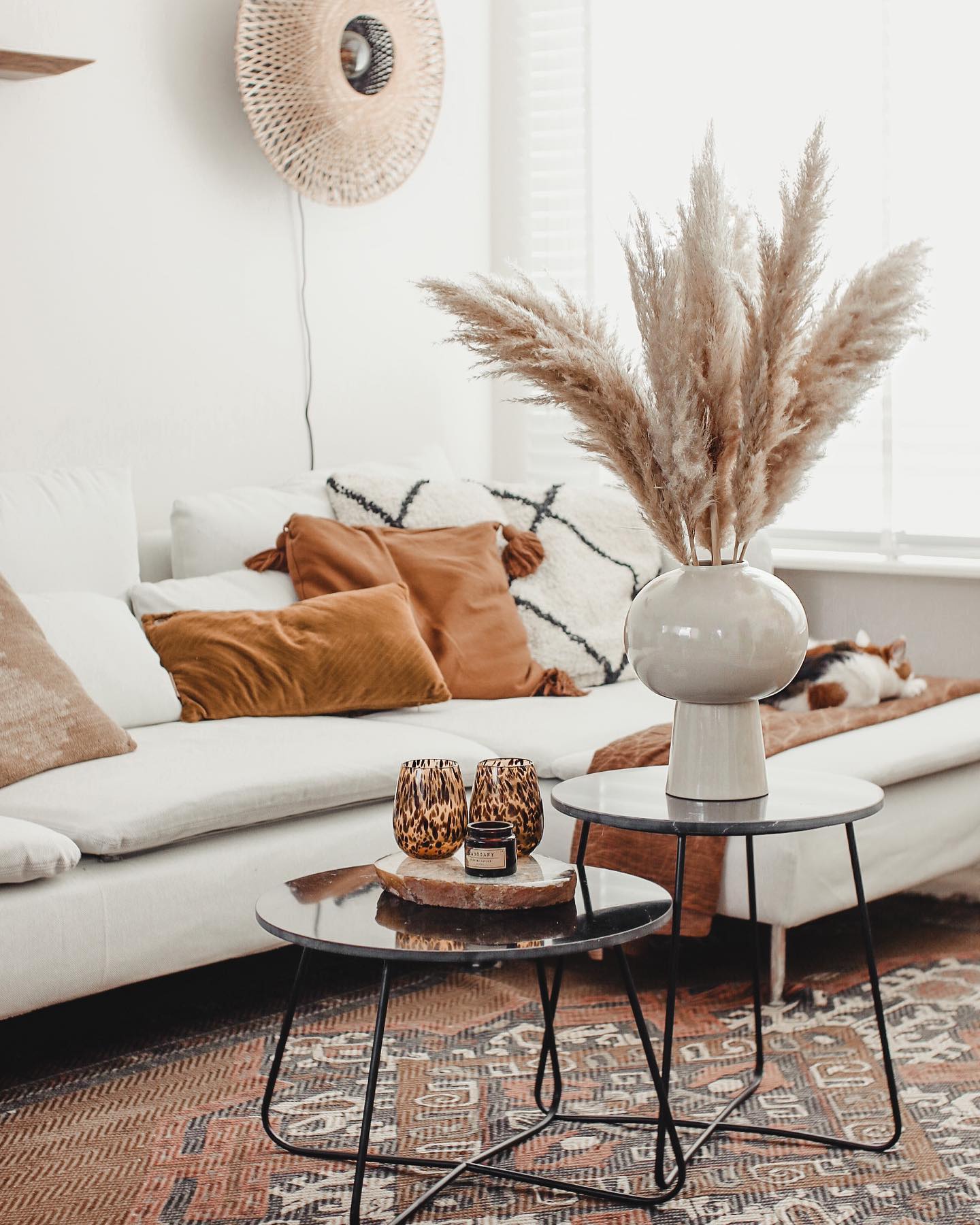 Elegant, feminine, and fancy, this white and brown/nude color combo will suit those who enjoy trendy looks. Your chosen retro bohemian style can look this good. Why not opt for a vase, glass tables, and other accessories to make your living room come to life? You'll love the entire concept especially if you're in your twenties and you wish to make your space urban and chic.
3. Retro Bohemian Living Room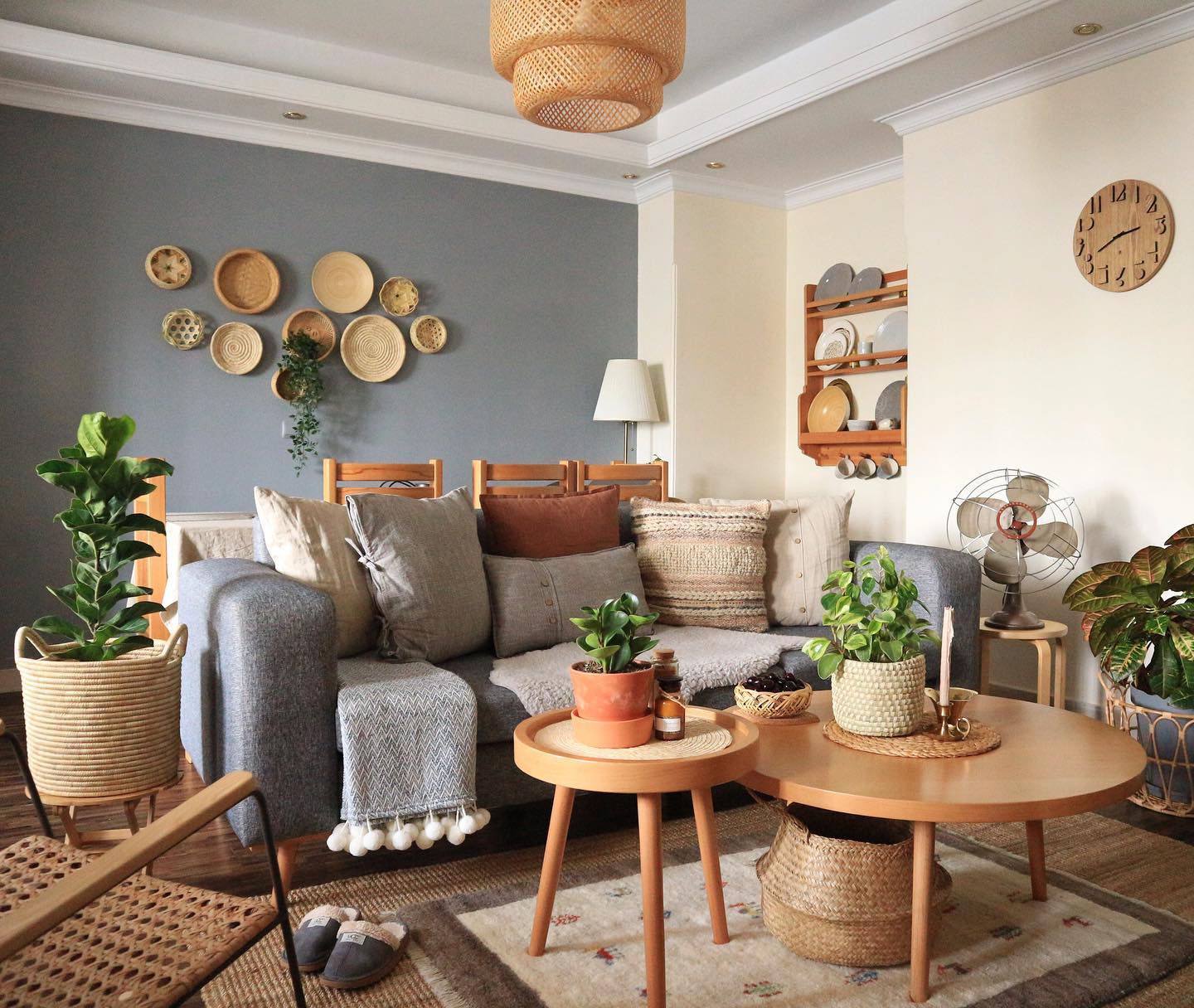 Nude, brown, white, and grey is a dream combo come true! Not a lot of people dare to give this living room concept a go. Do you? If you like neutral shades and that true bohemian character, this will suit your character. Make sure that you have a vision for this type of room. The truth is that you might struggle to maintain it due to all of its flowers and herbs, but hey, it's up to you!
4. Cozy Chic Brown And Nude Living Room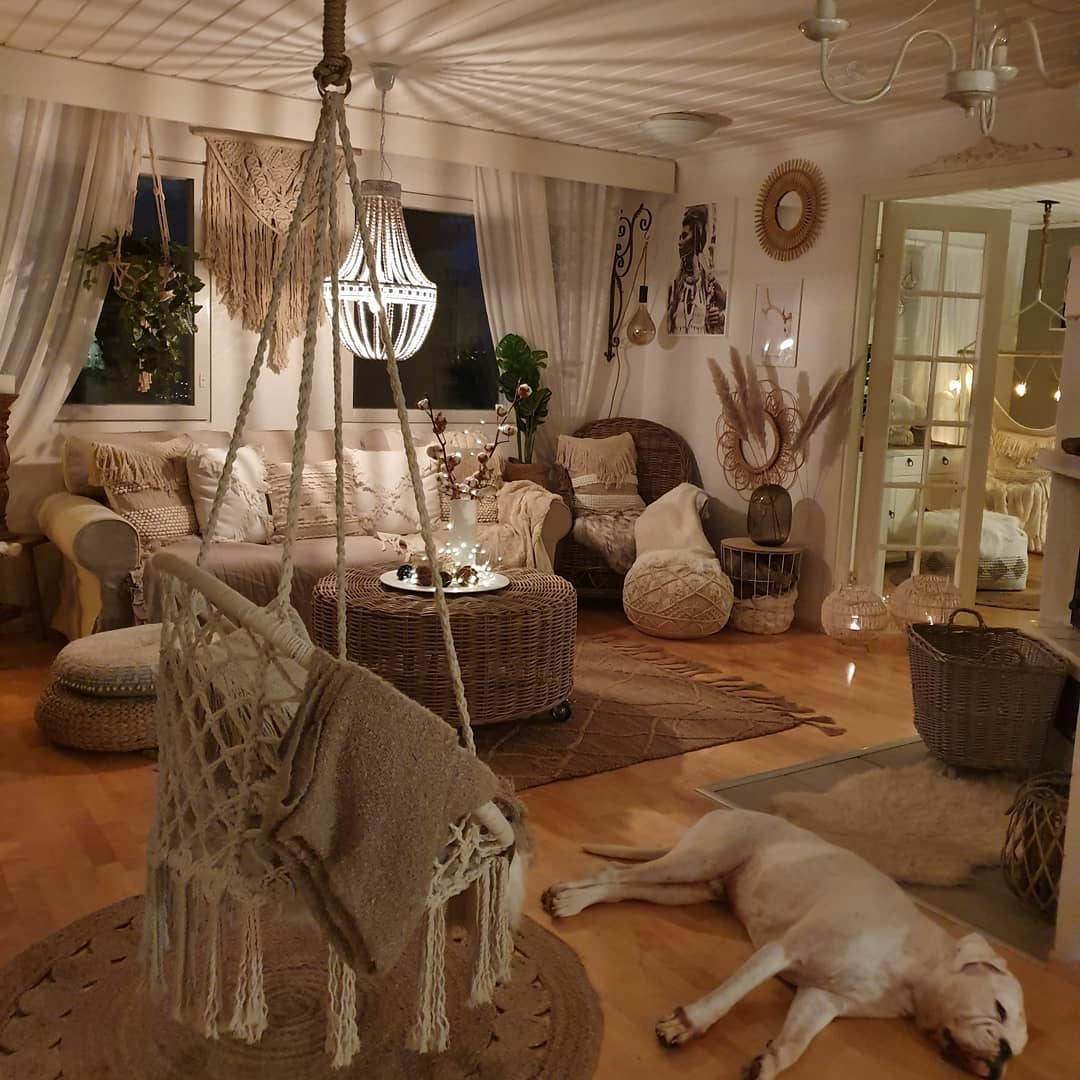 If you're an artsy soul you enjoy creating new rooms regularly and you're all about style, this is for you! Give it a go with all of these shades of brown and nude to spice up your design and enjoy the cohesive look. A must-do is a swinging char in this case!
5. Dark Mysterious Bohemian Living Room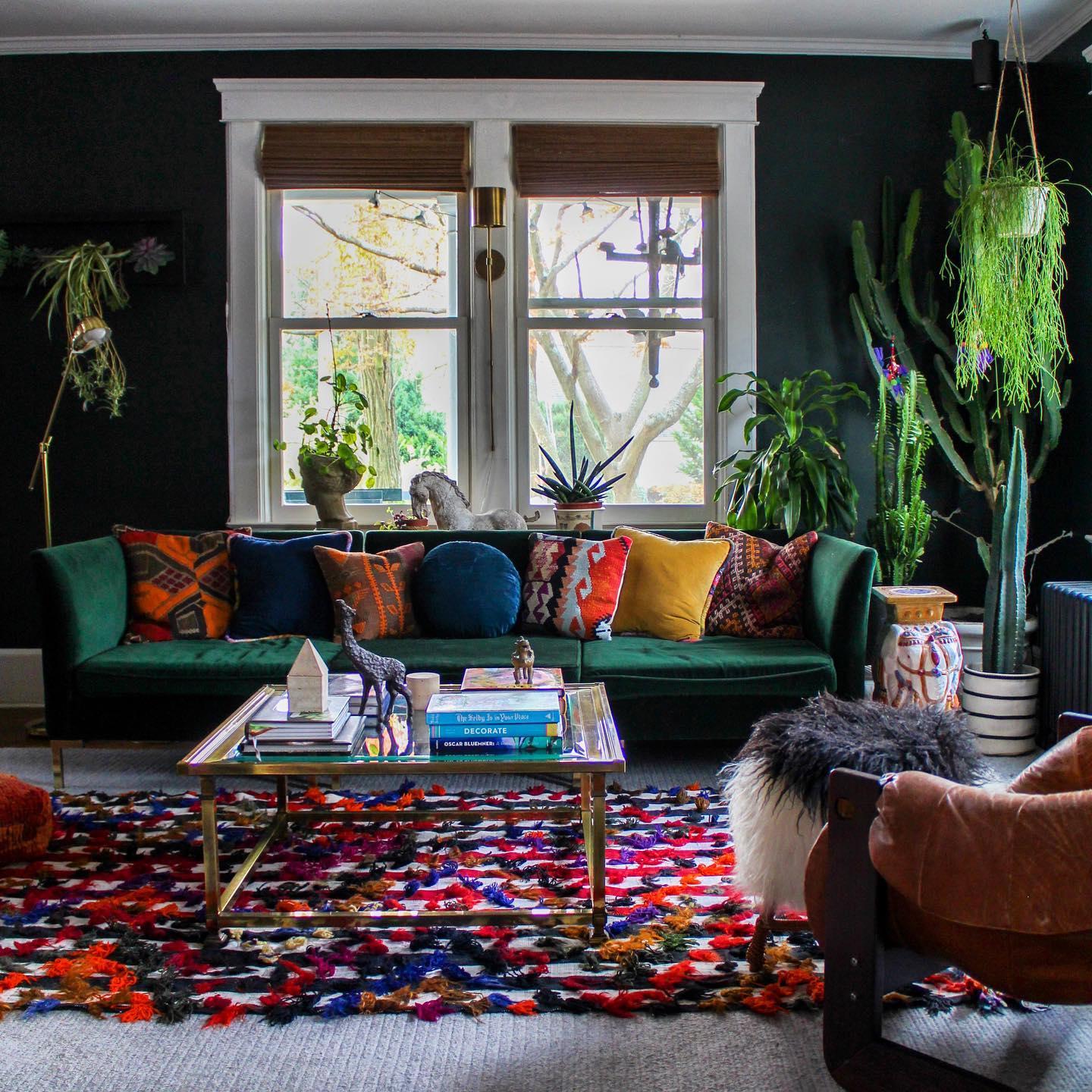 Those who love bohemian looks and retro fashion will love this colorful and wild look. Throw on a bunch of pillows and make your room retro and funky. If you enjoy vibrancy and color this approach will suit you. Make sure that you go for wild and colorful pillows that will give up a cozy and aesthetically pleasing look.
6. Light Neutral Bohemian Corner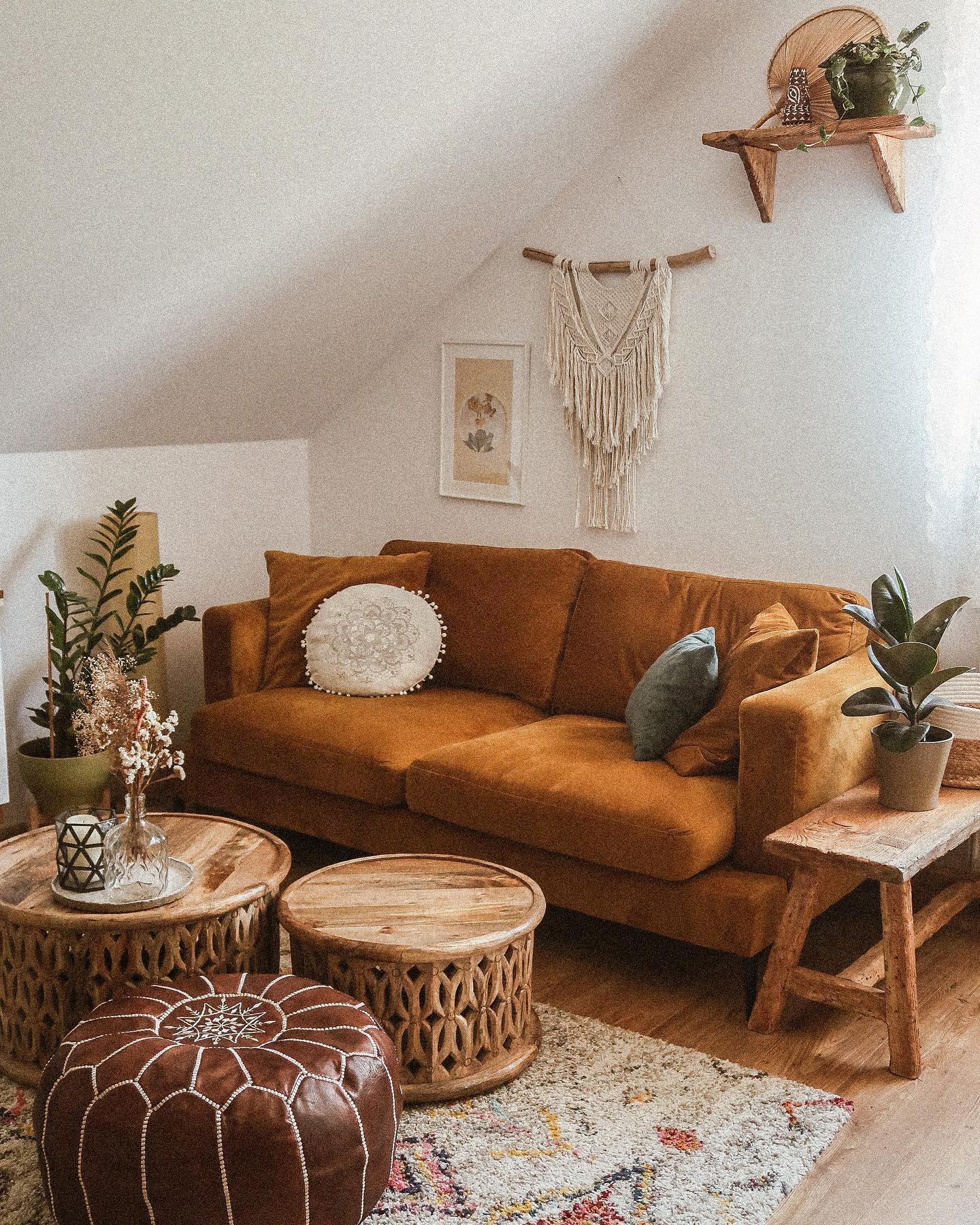 If you're into bohemian colors and the entire relaxed cozy look, this concept will suit you. Dark brown or nude shades will suit picky women who struggle to make up their minds when it comes to their preferred design. Stick to neutral and simpler colors and make sure to add a pop of style with some brown or green plants.
7. Bohemian Living Room With Black Pictures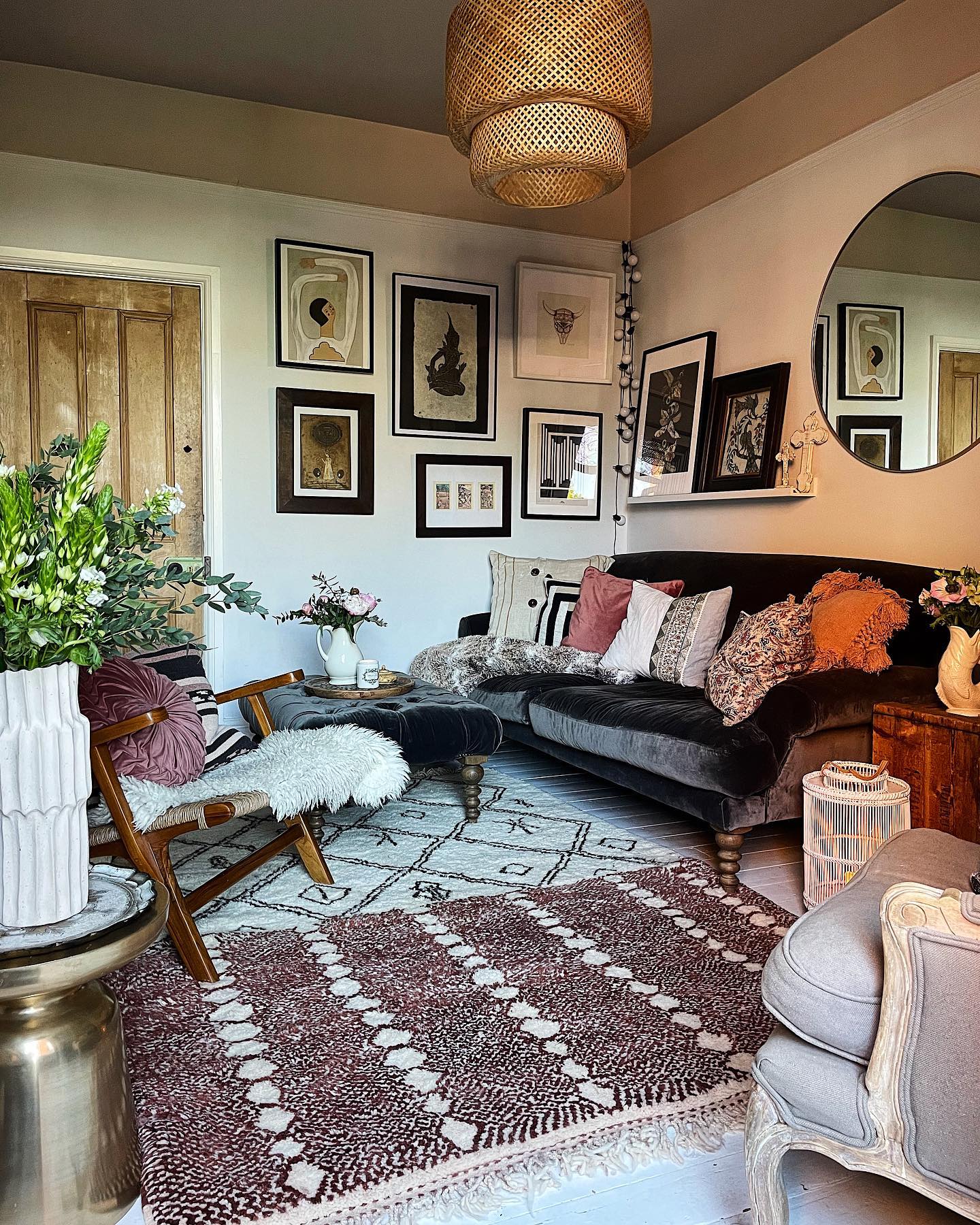 Mature couples or more serious people might enjoy this look a tad bit more. If you like traditional looks yet still want that touch of bohemian patterns to them, this will suit you. Go for darker colors if you want to create a feeling of a smaller room and a closer feel/concept.
8. White Bohemian Living Room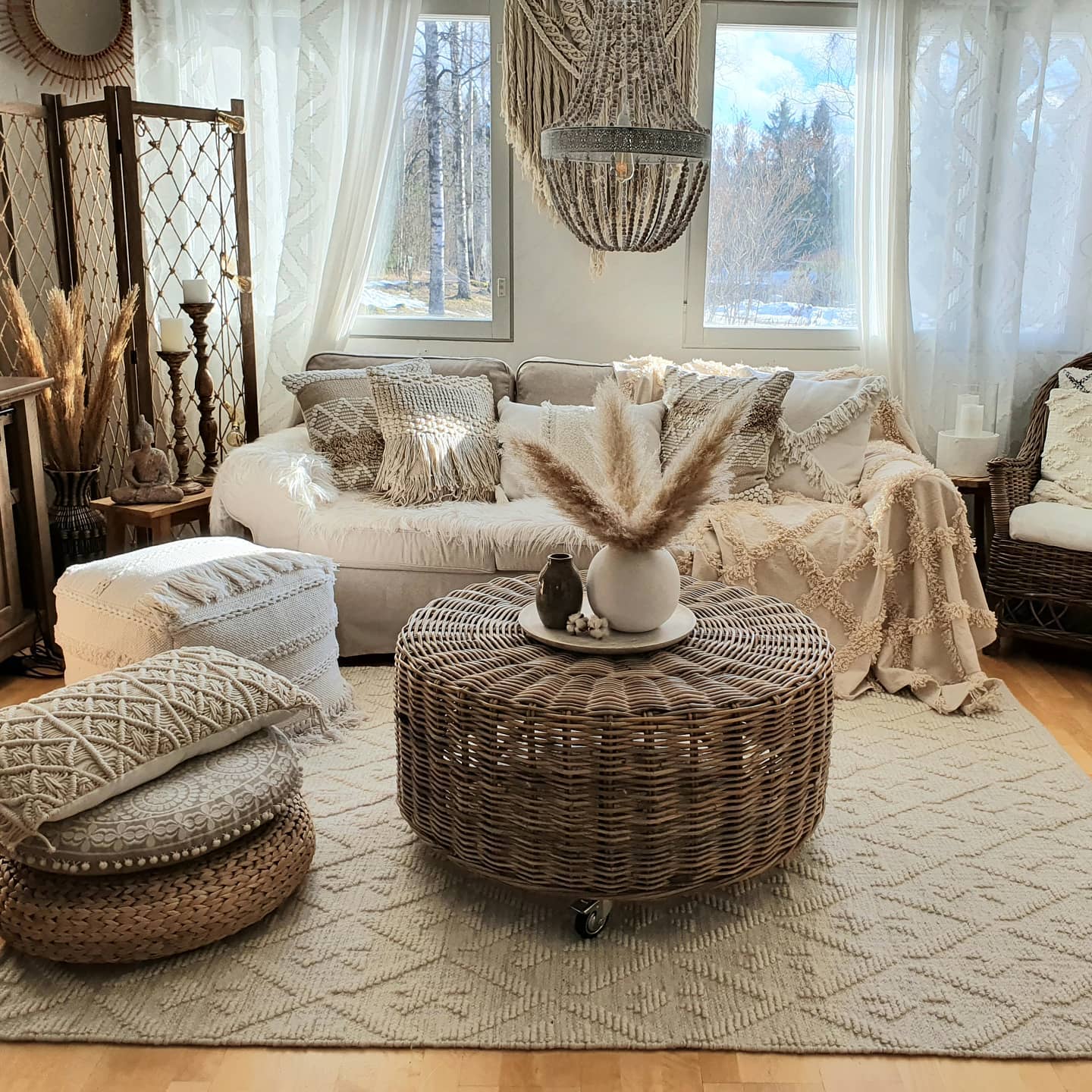 This is a true bohemian story! Women who want an elegant living room and those who enjoy a light and open concepts, as well as airy living rooms should try out this color combo. Go for neutral colors and flowers as well, everything will easily blend on top.
9. Bohemian Living Room With Pillow Accessories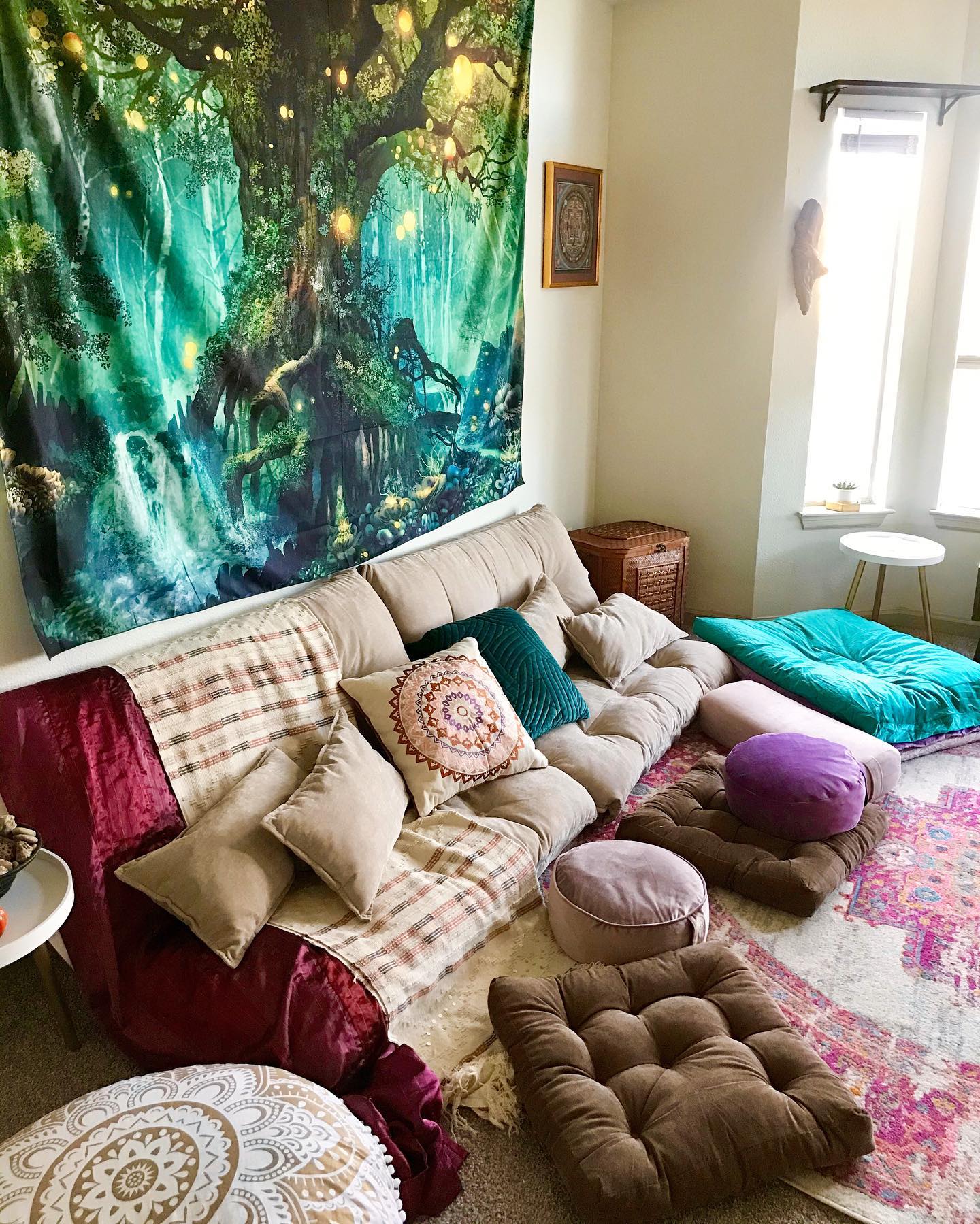 Is green your favorite color? If so, make it work with your bohemian style and approach. Those who like vibrant rooms will love this design. Throw on a bunch of cushions and you're going to love its mysterious and stylish presence, perfect for younger couples or women who love Pinterest-inspired living rooms.
10. Living Room Bohemian Design Nude Look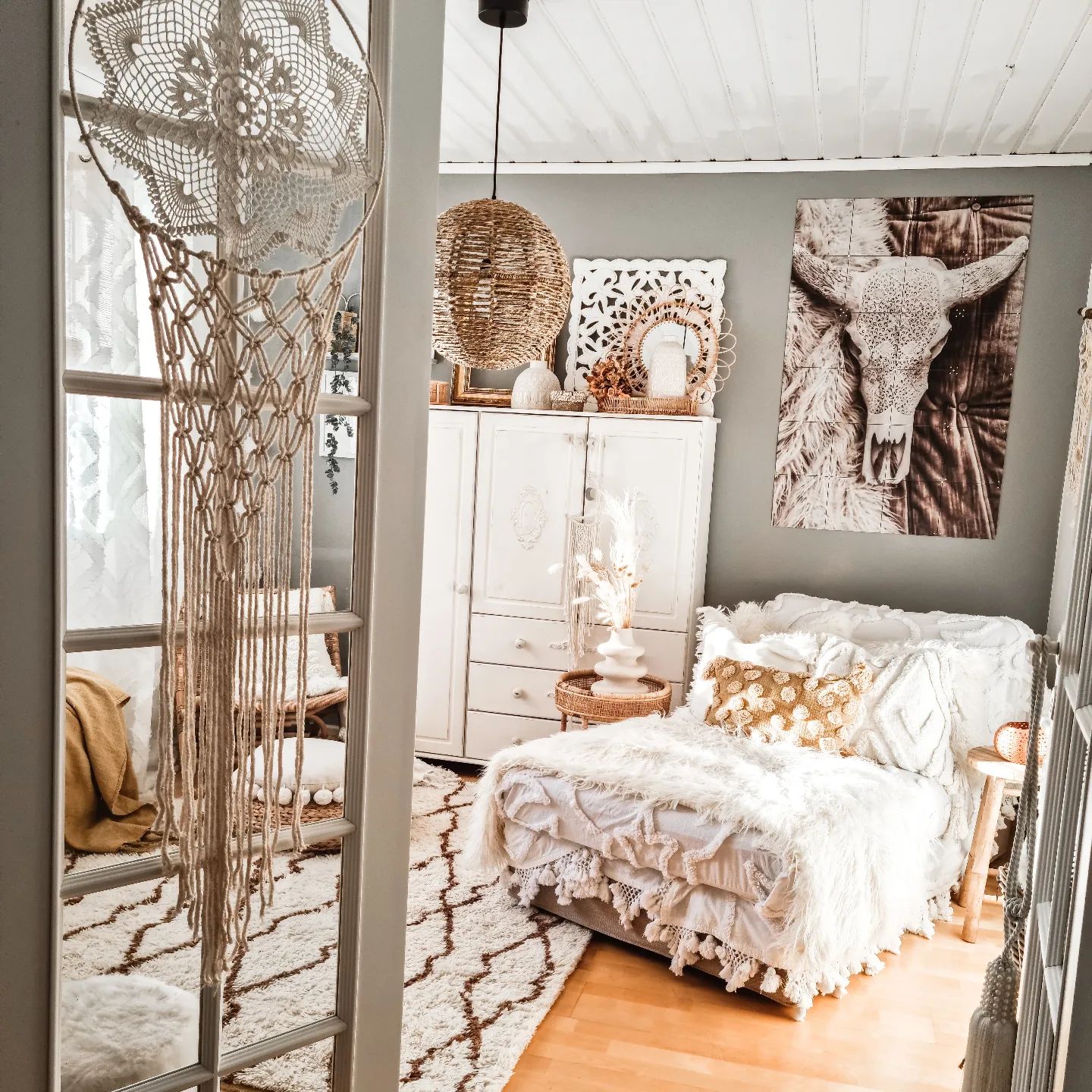 If you're working with small and limited space just know that you can open it up with white elements and beige shades. Those who like their clean and calm aesthetic will also enjoy this look. The right rug or even your favorite bed cover will make all the difference in your style!
11. Floral Bohemian Living Room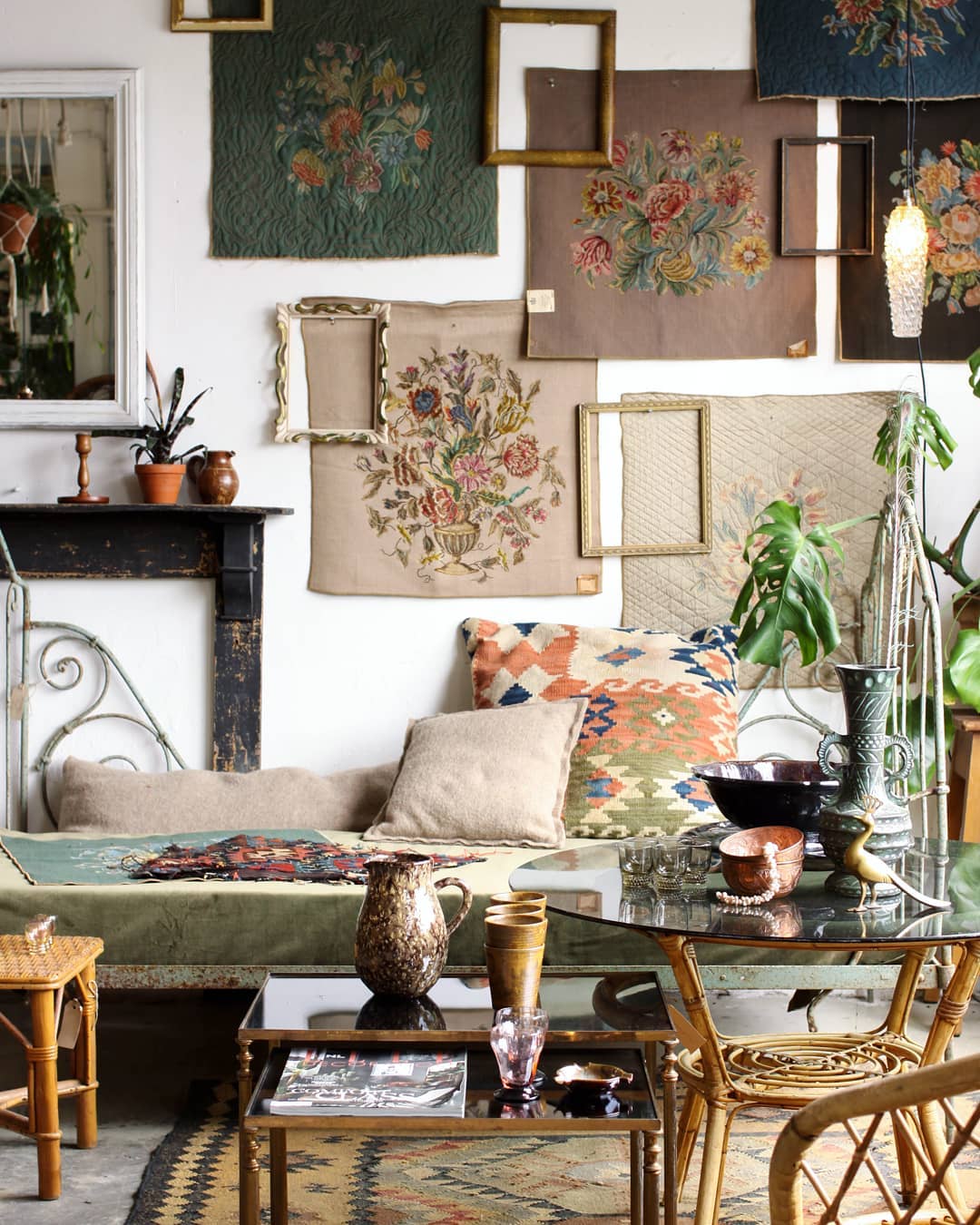 Those who are artsy and have got a lot of their own personal art will love this concept. Simply place all of your paintings up and give the room some character. This living room will also enjoy a vase, some flowers, and a pop of green. Everyone will admire your approach and bravery when it comes to this bohemian design.
12. Green Bohemian Living Room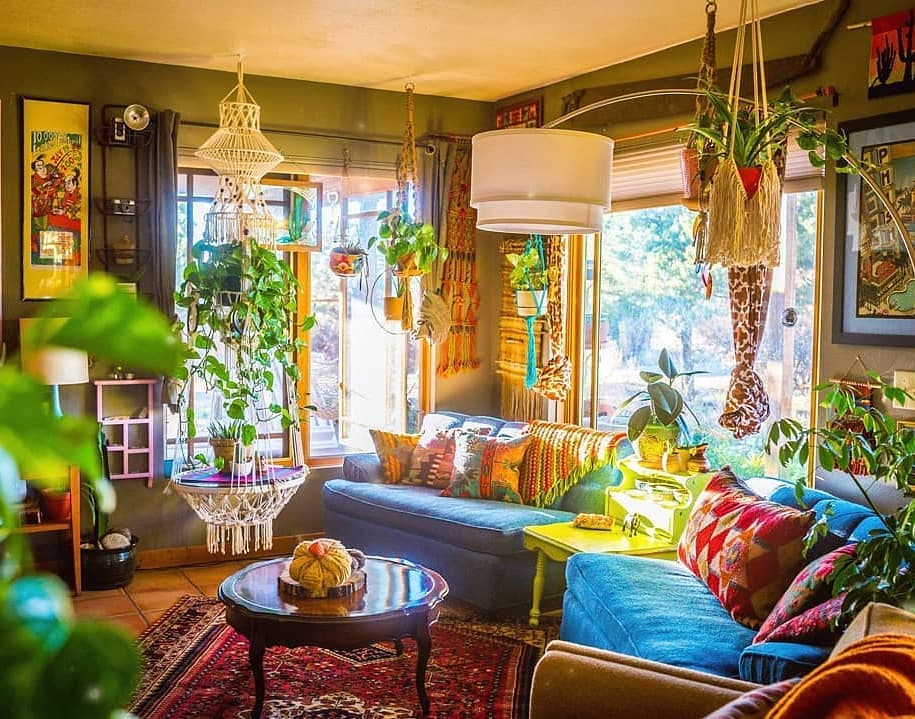 Not a lot of people would dare to go all out. Do you? If you're someone who enjoys colorful and crazy ideas this will suit you. Add a ton of plants and vibrant shades with some pillows or even loud wall colors. Your bohemian side will easily show and come through when it comes to this airy and open-space concept.
13. Vibrant And Lively Bohemian Living Room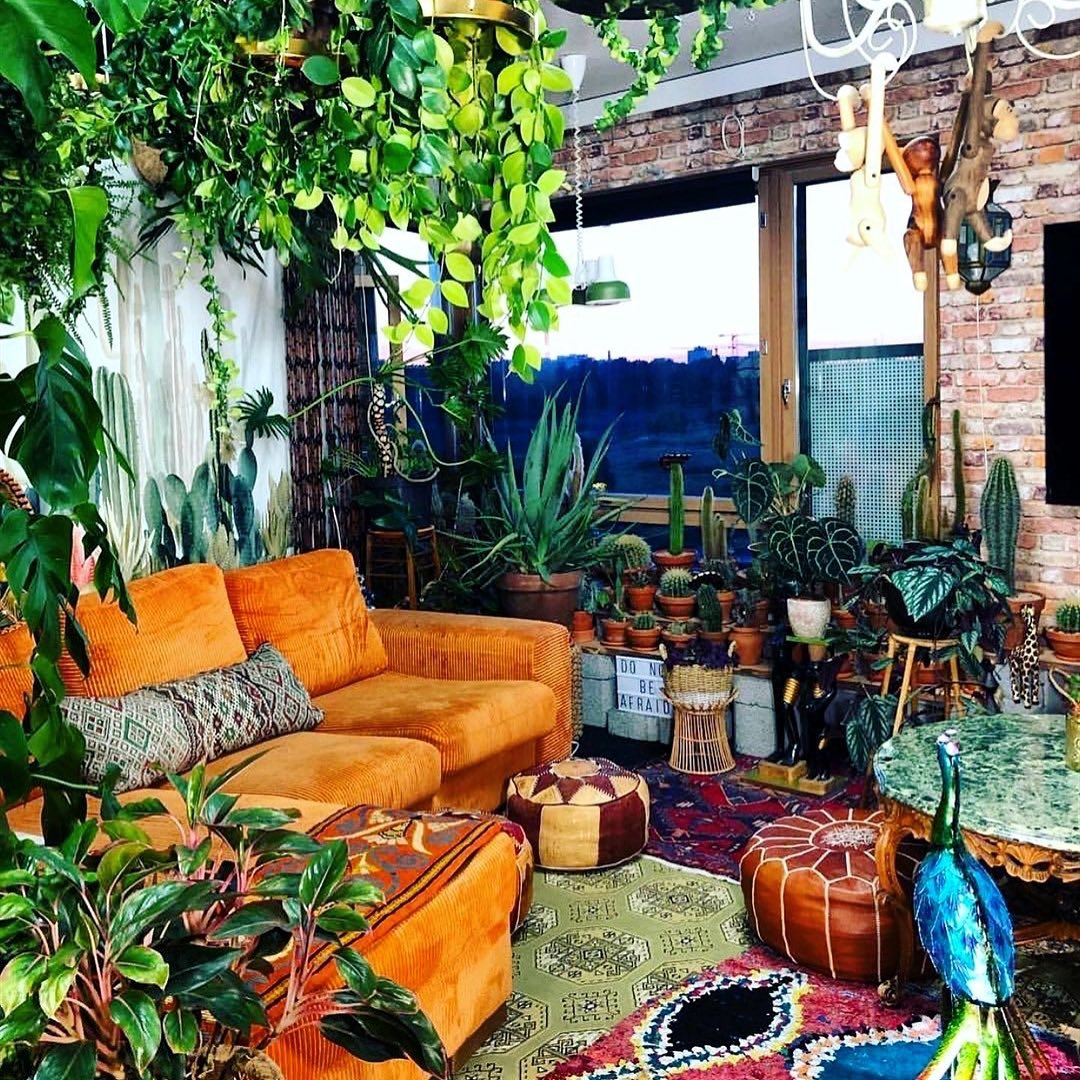 Brown, nude, and green are some must-do shades when it comes to your living room. If you want that bohemian feel, stick to a lot of plants. The more the merrier rule does apply here. Loads of different cushions and pillows will also give this space character.
14. Retro Wall Bohemian Design Look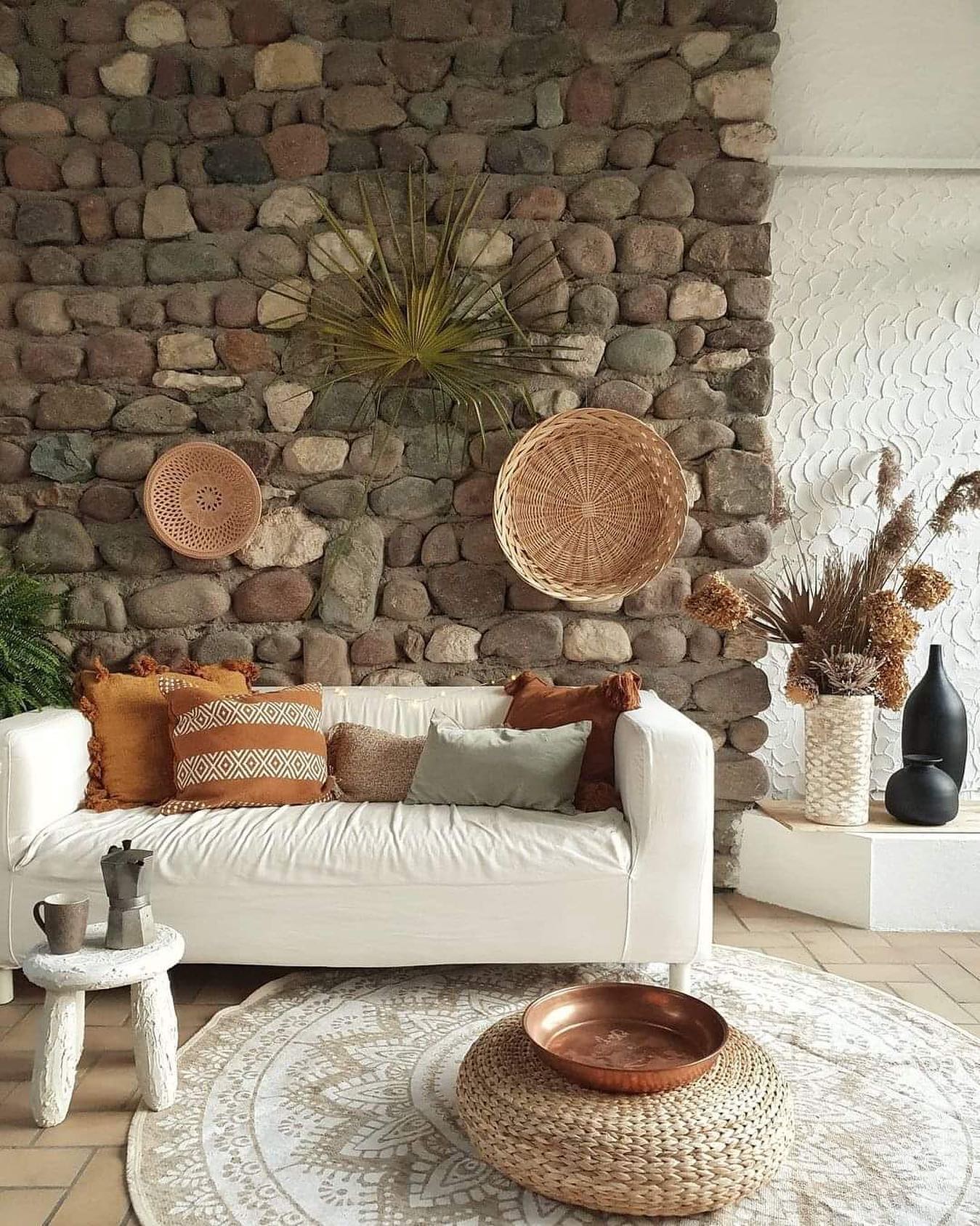 If you can make huge renovations in your home we highly recommend that you start with your wall. This brown and nude brick element pattern will look unique and different. Some beige or brown shades will also look just right. Make sure that you can handle the maintenance when it comes to this iconic room.
15. Light Pink Artsy Floral Living Bohemian Look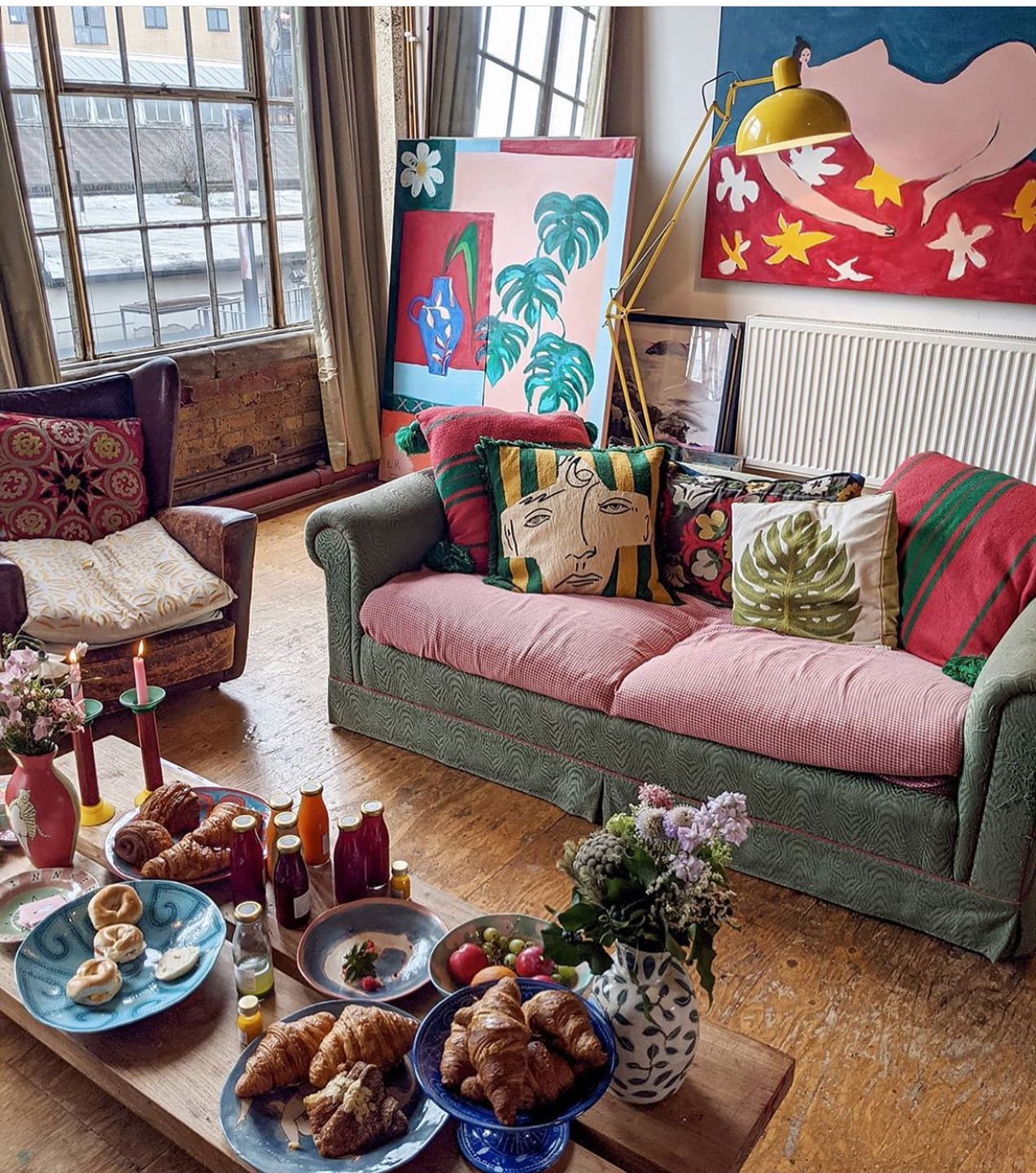 If you're an artsy soul you're going to enjoy this cool and stylish pink and green corner. If you're a fan of chic and vibrant looks + you're in your twenties or thirties you might enjoy this the most. Hang your painting up on the wall to give it character.
Transform your living room
So guys, ready to begin some DIY transformations? If so, which one out of these options speaks the loudest to you? If you want you can always customize your look based on your favorite color scheme and palette. Both men and women will easily enjoy these looks, just give them a go and see for yourself!