Does purple interior or exterior sound like something you really fancy? If that is the case you should keep on reading to get more inspired and to try out some of these cool creations. Here, we're going to look at some amazing bedrooms, living rooms, bathrooms, and kitchens, allowing you to enjoy a stylish outcome while putting bright purple shades all around you. Keep on reading and find something for your home down below!
Living Room
1. Dark Purple And Light Purple Living Room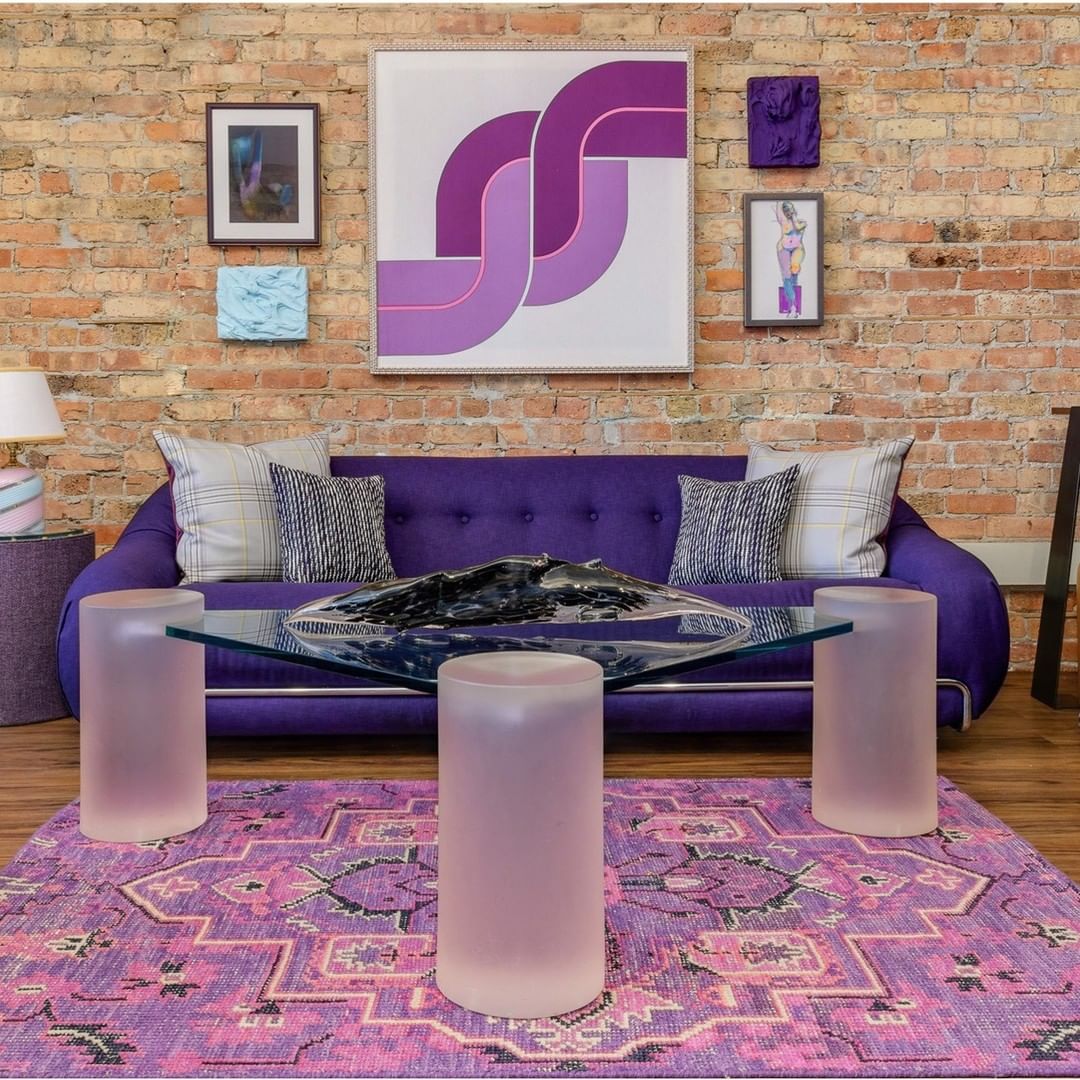 Different shades and hues of purple can look fun and mystical, as well as creative and mysterious at the same time. Try out this loud purple art and pair some pink, white and beige to get this modern trendy apartment!
2. Purple And Blue Living Room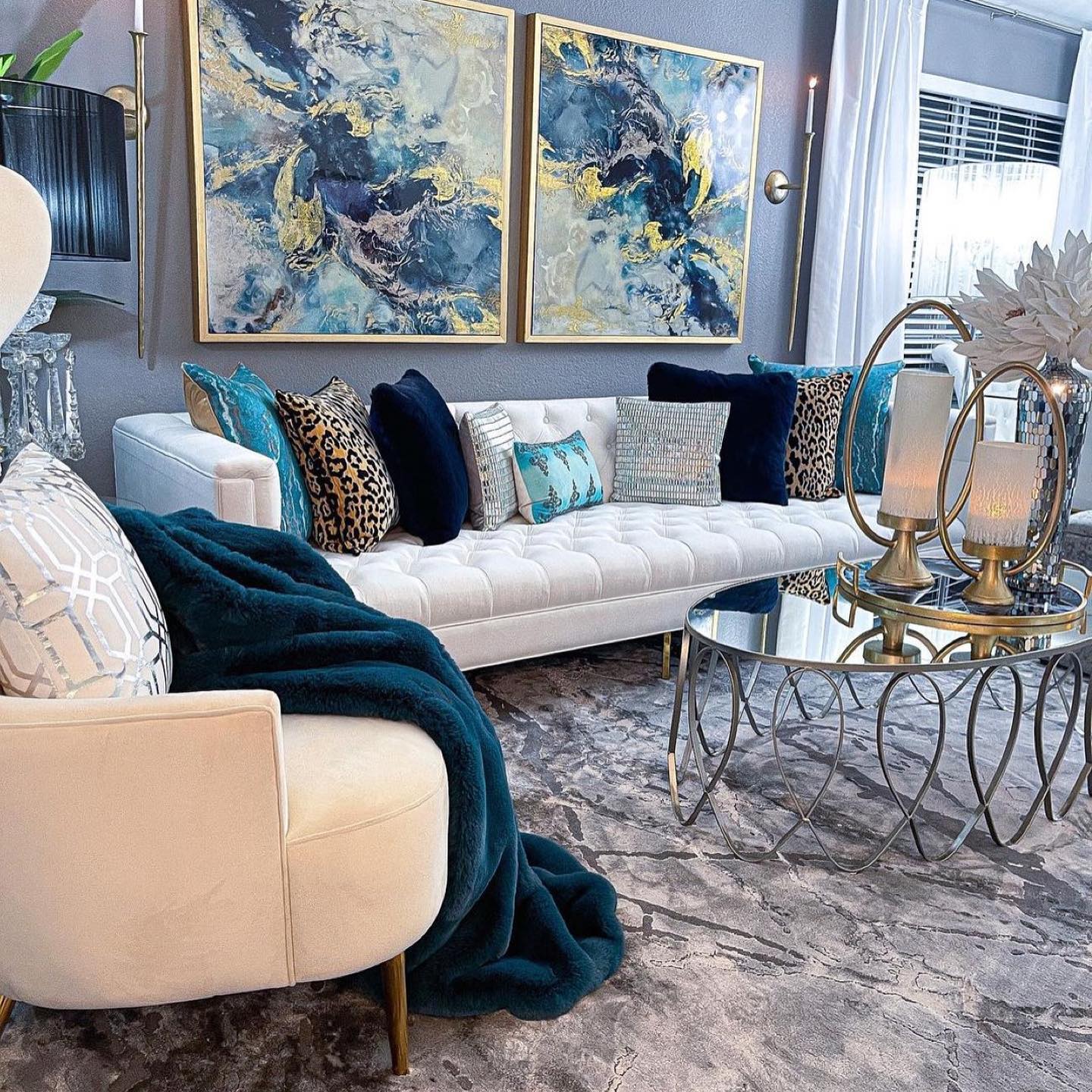 Go for a dramatic pink and purple color combo if you wish to make your living room super elegant. Men and women who enjoy classy pieces and trying out different shades of darker tones will like this design. You can also make a clean yet classy appearance with the combination of a white couch to show off your aesthetic. In the end, this will attract a ton of looks and attention.
3. Dark Purple Living Room
Dark purple living room with golden hues or orange shades that you're going to adore if you're a traditional old soul yourself. This living room is going to look amazing when executed the right way. Heads up since adding a ton of cool accessories is crucial in this case.
4. White And Purple Living Room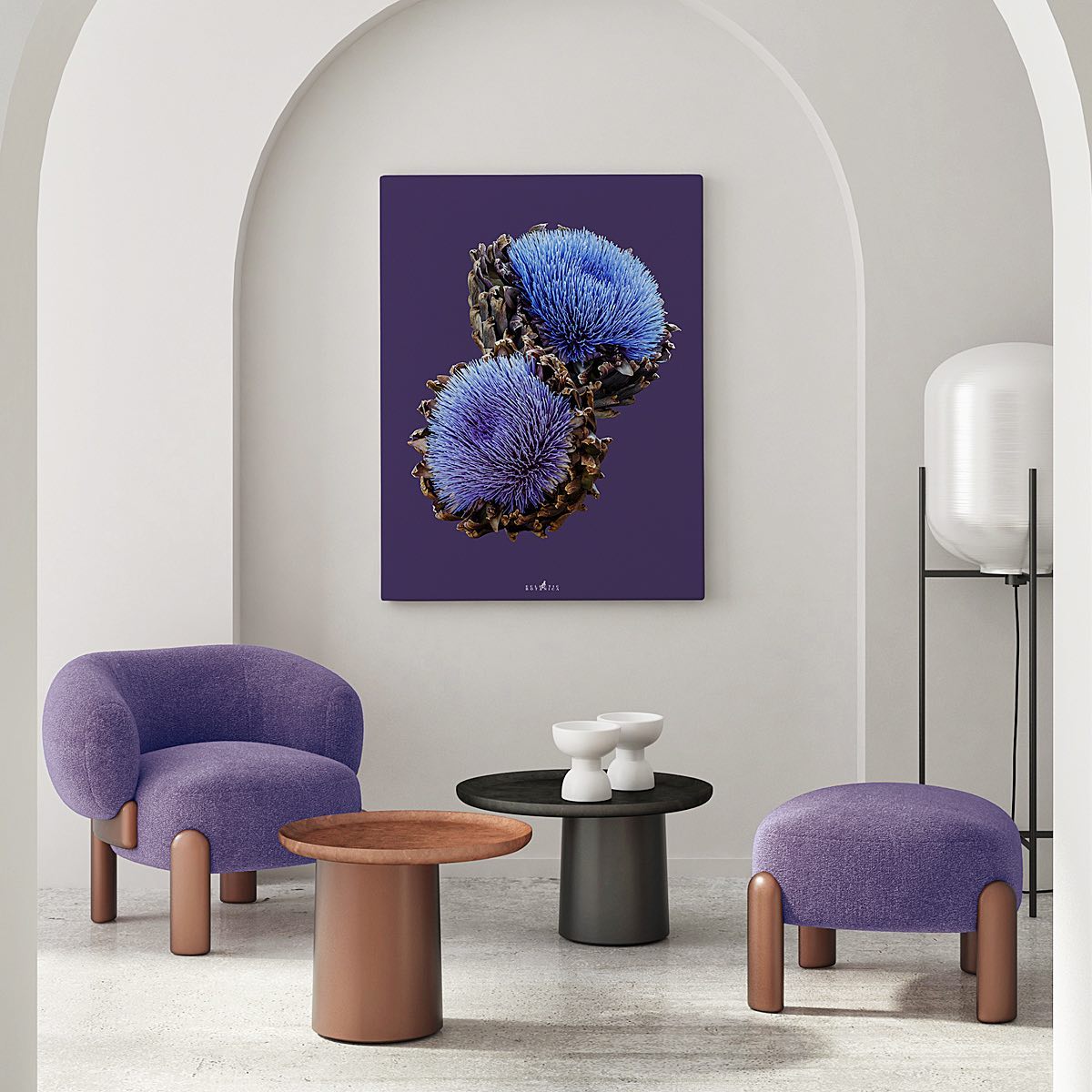 How much of an artsy person are you? The truth is that you can always add color and elegance with the right artwork. People who want something modern will like this black, white and purple aesthetic. Quite often, these shades can form a cohesive look and can make any living room come to life. If you're a fan of weird yet abstract ideas this will suit you.
5. Purple And Gold Living Room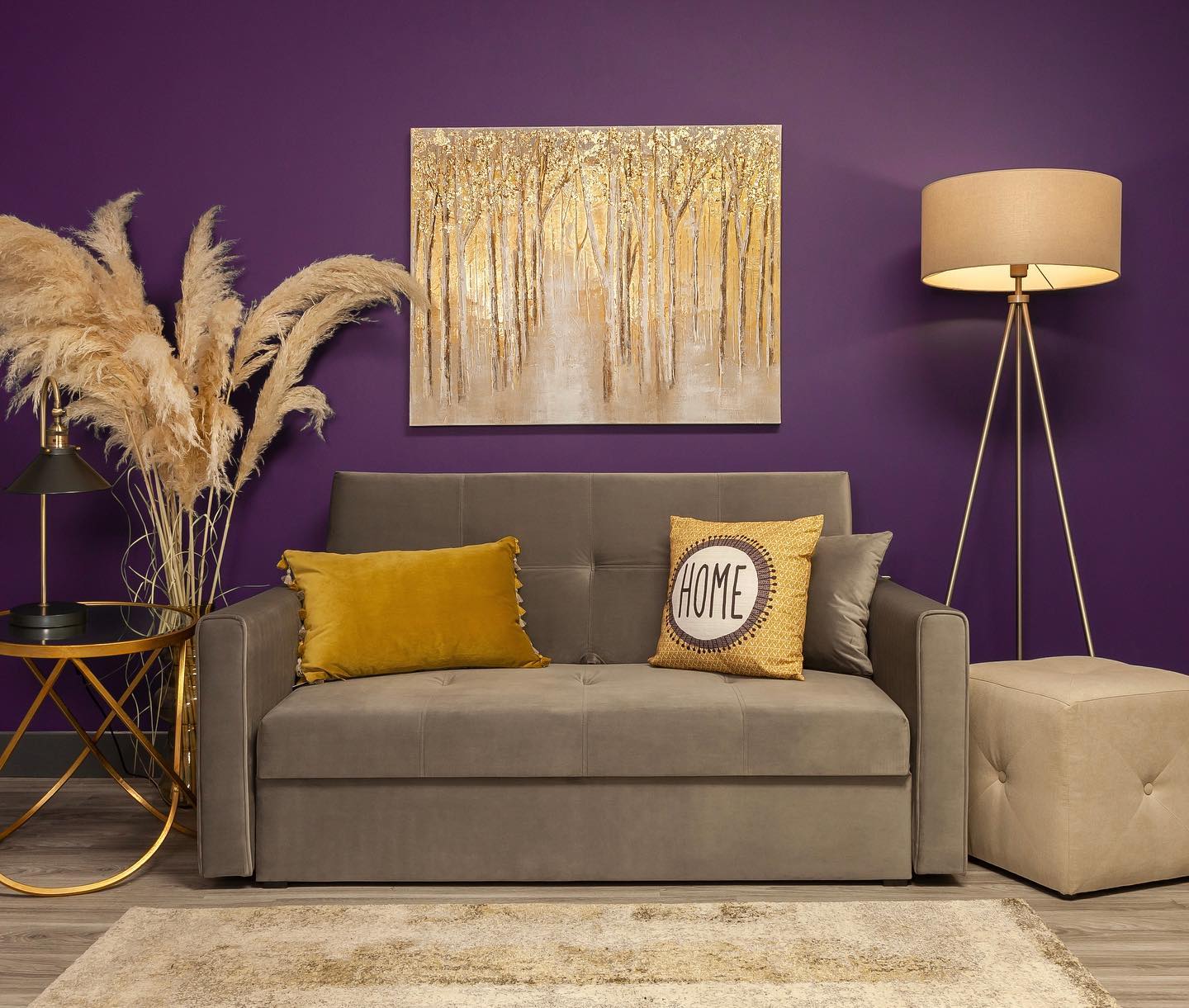 A stylish purple and gold decor can look mesmerizing! If you're a fan of stylish colors and you want a pop in your room, this will suit you. The combo of purple and hues of gold will look so elegant and rich, don't you think so? Some god or yellow cushions will give it glam as well!
6. Stylish Purple Living Room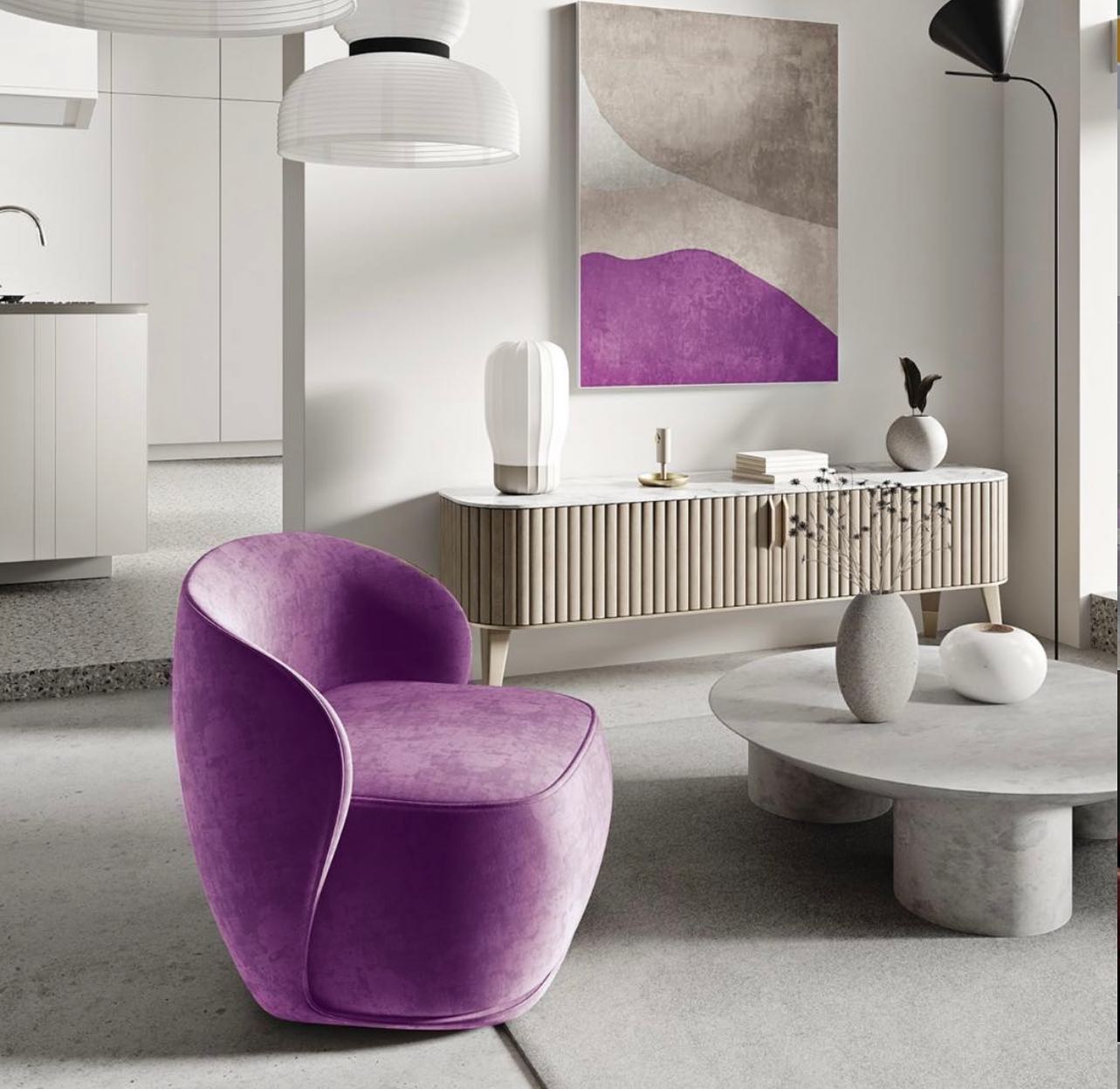 If you're a fan of classy elements this will suit you. This is such a vibrant living room with classy pieces and cool furniture that will attract looks and leave your visitors speechless. If you enjoy abstract looks and you wish to fancy purple along with white, consider this beauty!
7. Nude And Purple Living Room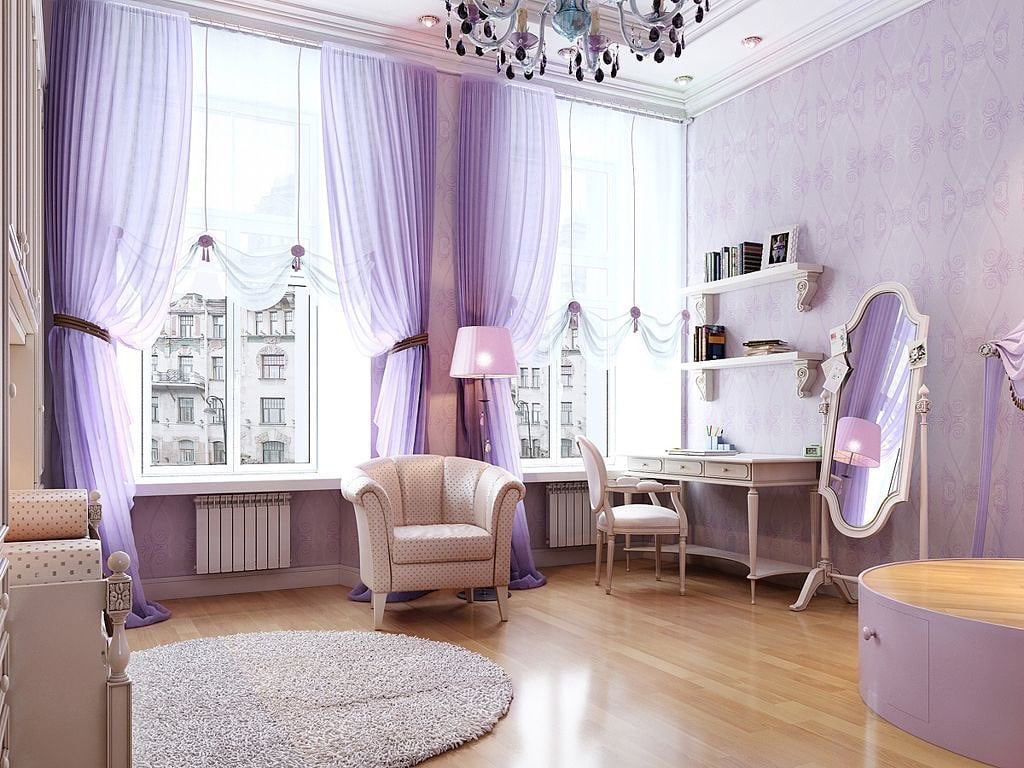 Classy and feminine, try this living room if you're someone who enjoys stylish ideas. Most women will enjoy this elegant and classy princess-like design. Aim for light pink and airy colors if you're a fan of elegance and you want your rook to look very sophisticated.
8. Gold Hues With Purple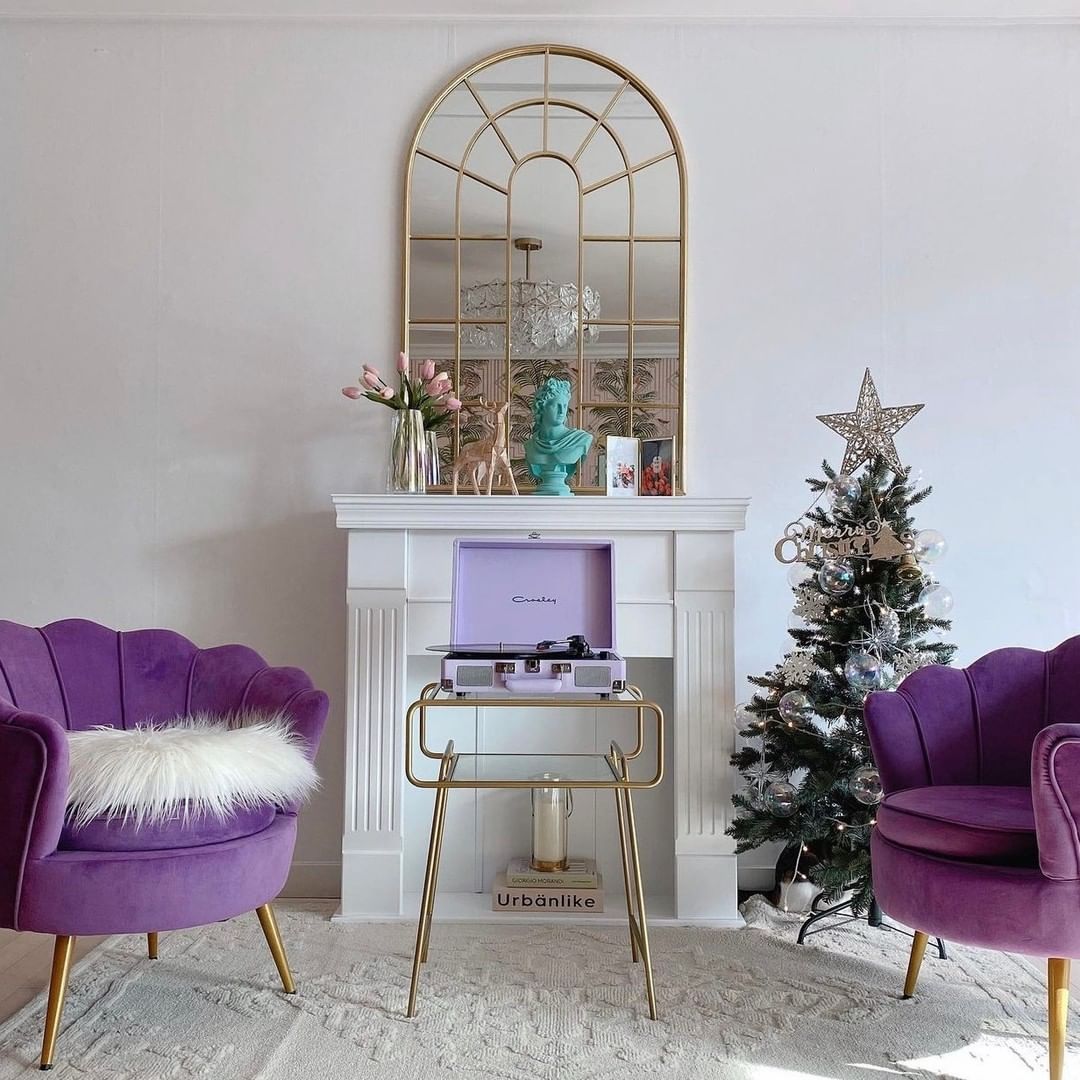 Try some cool gold hues and show off this purple and white space! By adding stylish pieces and gold pops this design will look way more feminine and put together. If you're a fan of making your space look dramatic and cohesive, especially for the holiday season, this is a must-do!
Bedroom
1. Grey & Purple Bedroom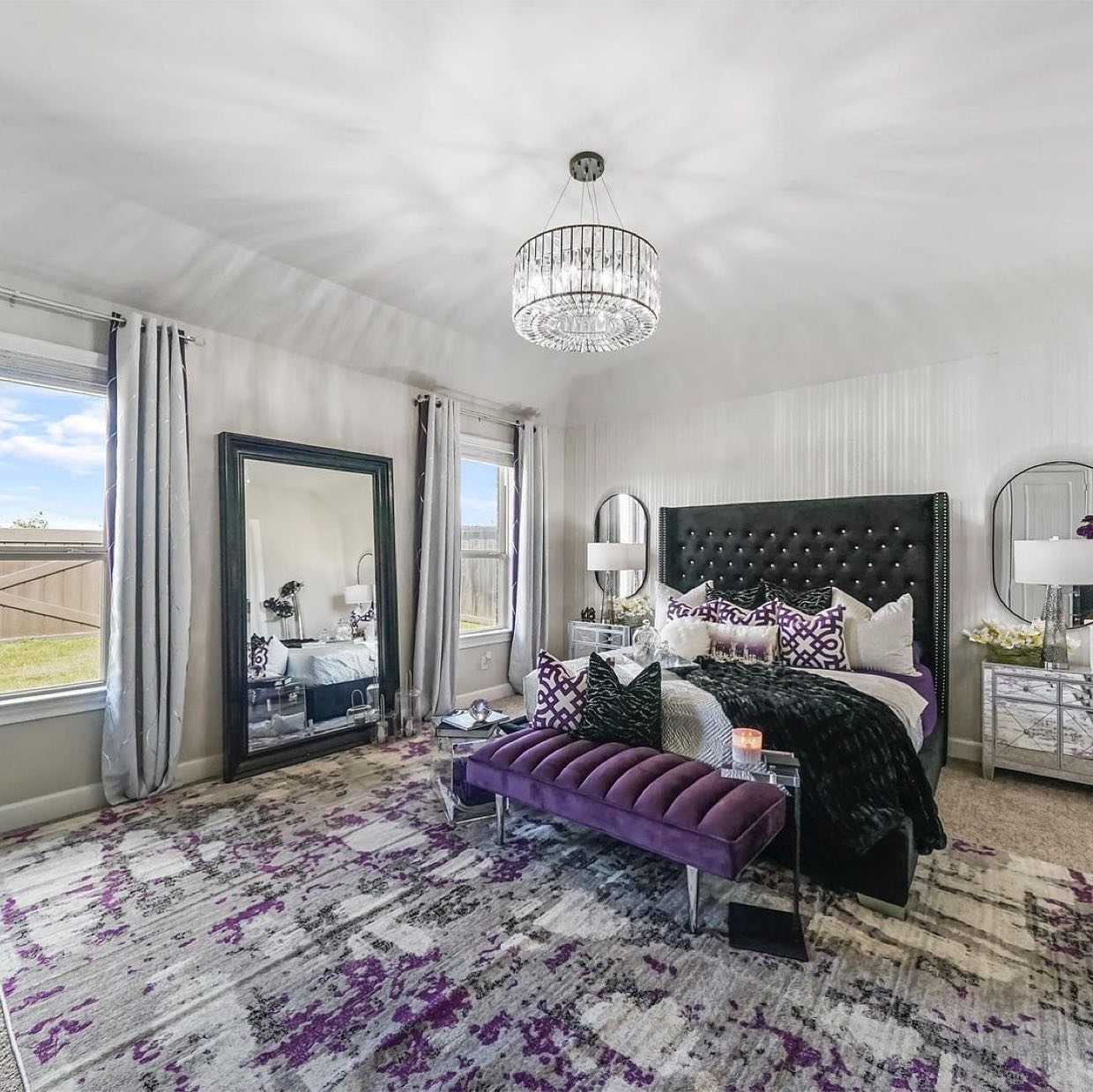 How many of you would adore this type of bedroom? The truth is that it can look so elegant and stylish when done the right way! The combination of black, grey, and purple can look elegant and romantic. With the right lighting system and some decorations such as a lamp or a mirror, every person can get the most stylish bedroom!
2. Light Purple & Lilac Bedroom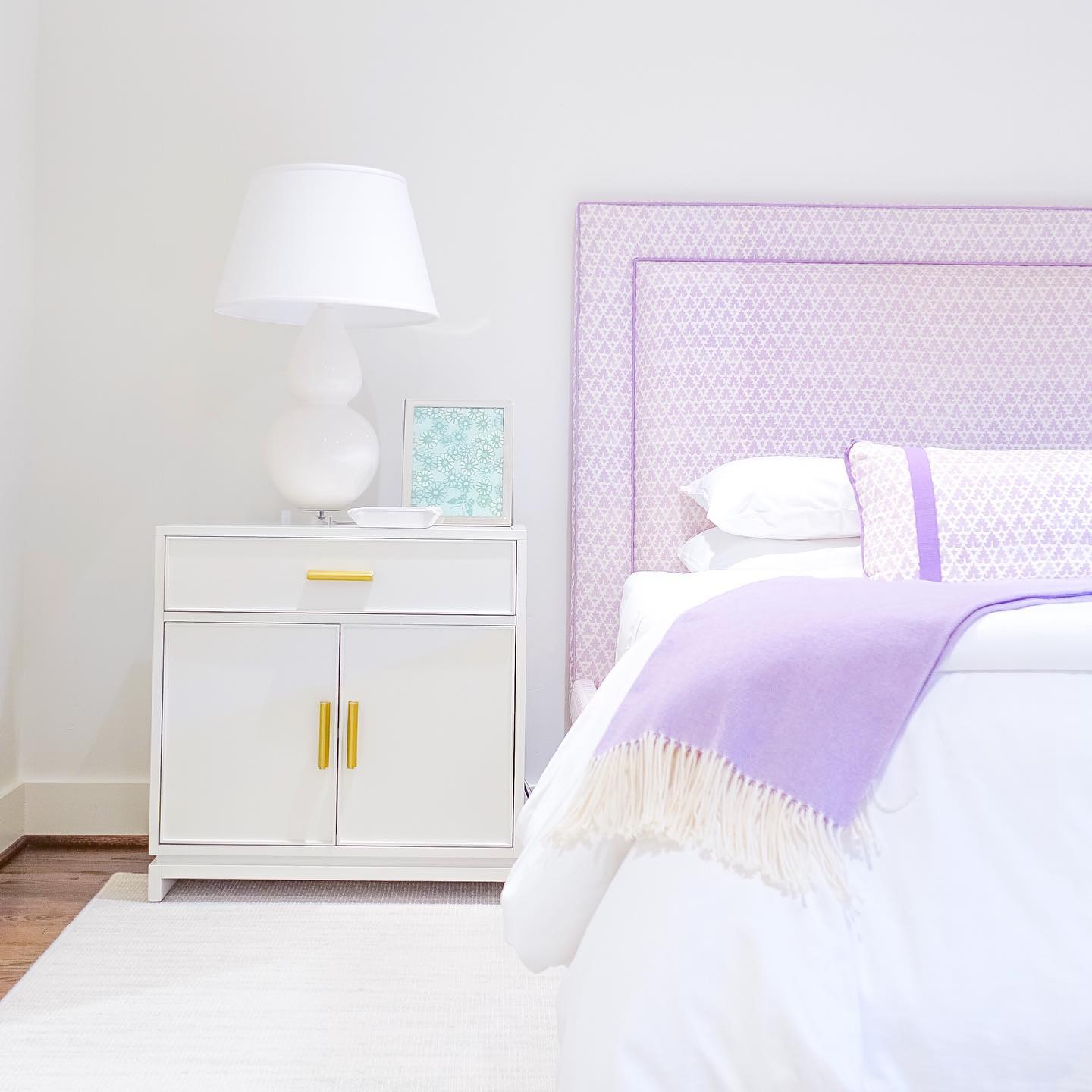 Lighter pastel shades will always look soft, romantic, and feminine. Go for purple or pastel purple and white to get this cool corner. Anyone aiming for their little personal oasis will adore this true fresh and calming color pattern.
3. Stylish Teen Purple Bedroom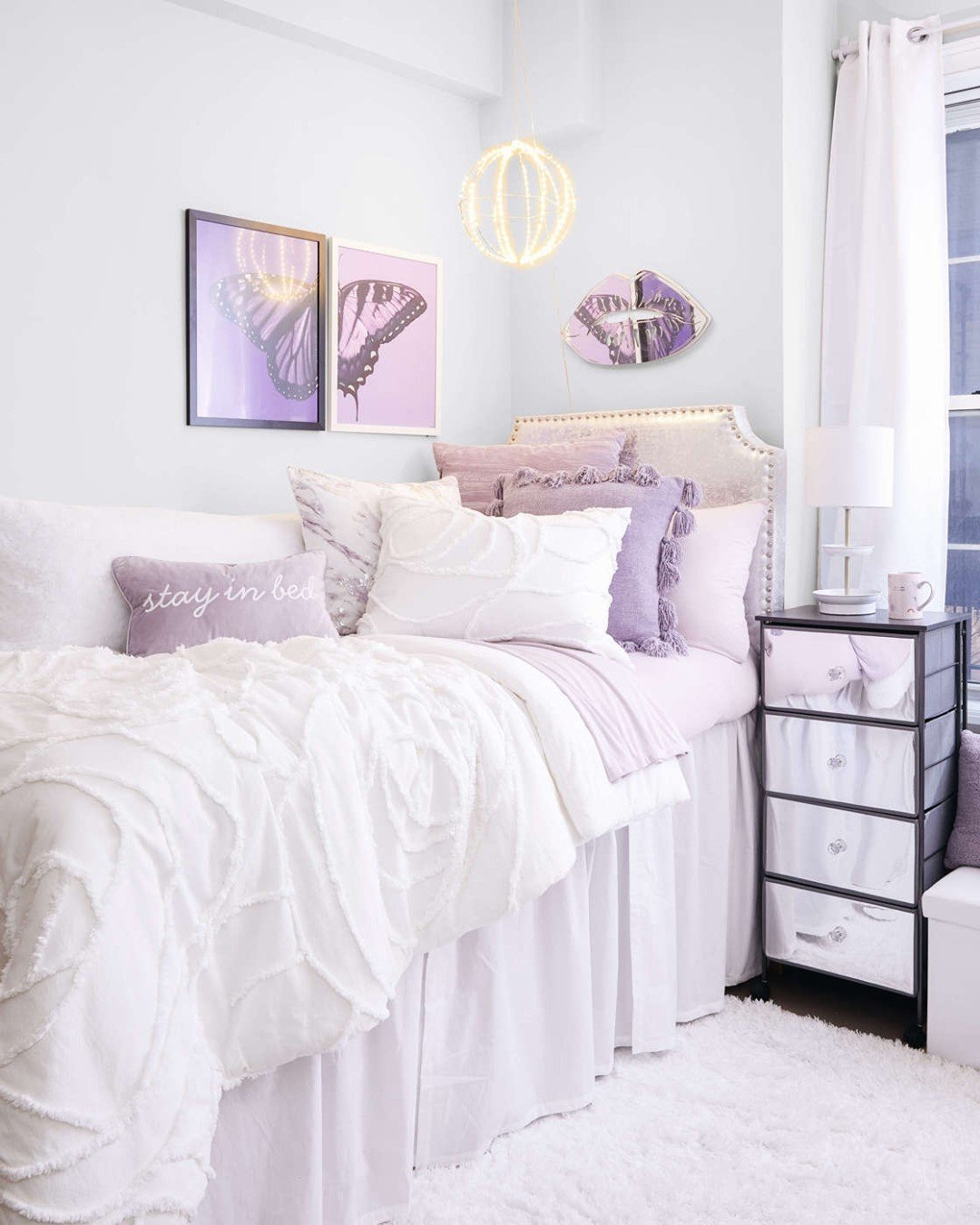 If you're a teen this type of bedroom is the right one for you and your personal style! Teen girls will mostly adore this style and concept. If the color purple is your top pick and you usually aim for modern and louder looks, this is a true teen bedroom for your liking!
4. Neutral Purple Bedroom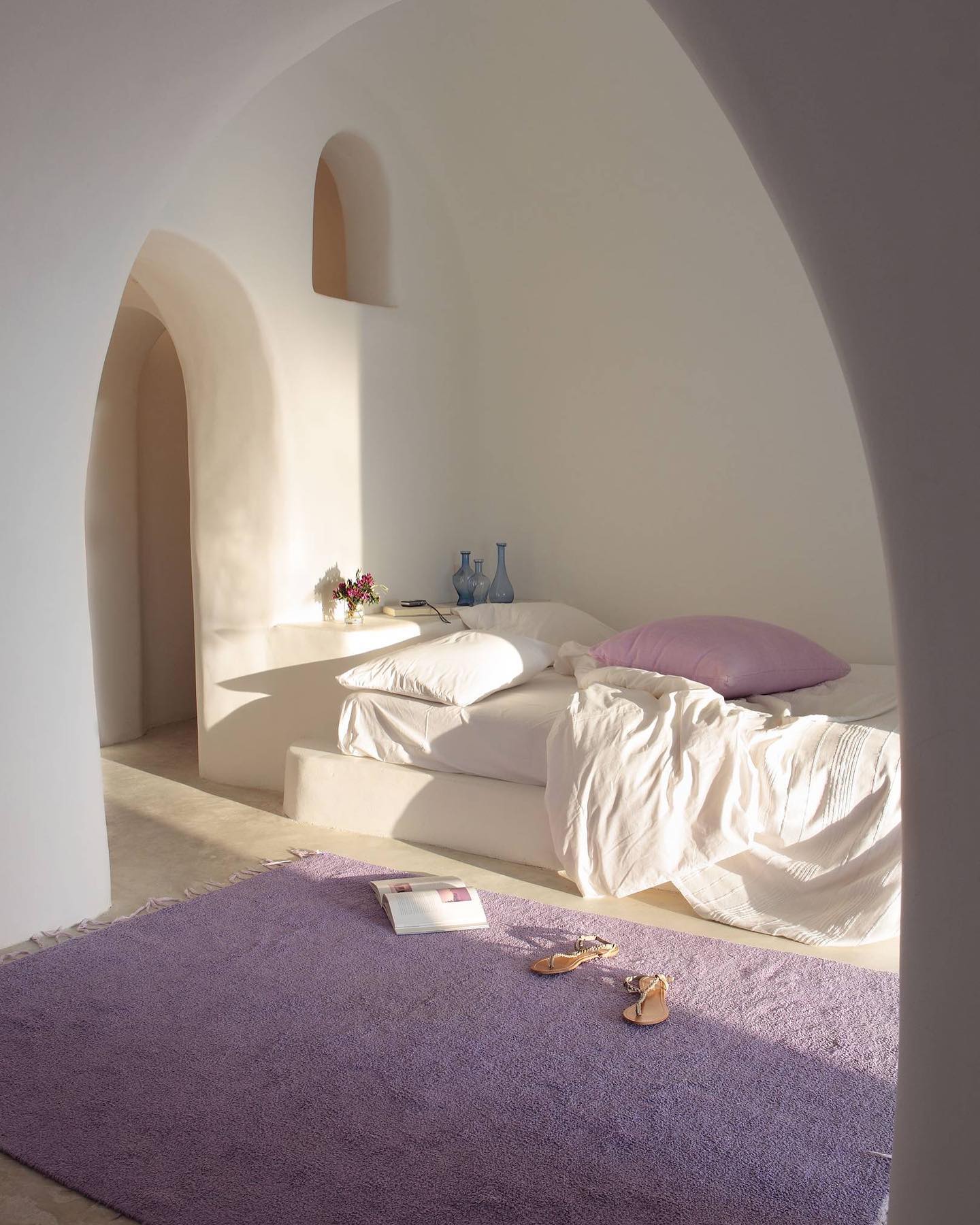 If you know of an amazing architect you should give it a go with this cool color concept, as well as this architectural design. It also has that slight Greece vibe and looks luxurious, along with its Mykonos feel. If you're a fan of subtle lilacs and neutrals this overall bedroom feel will make you feel like an actual goddess. The end result is feminine and more-so stylish than any other option.
5. Purple Bedroom With Gold Elements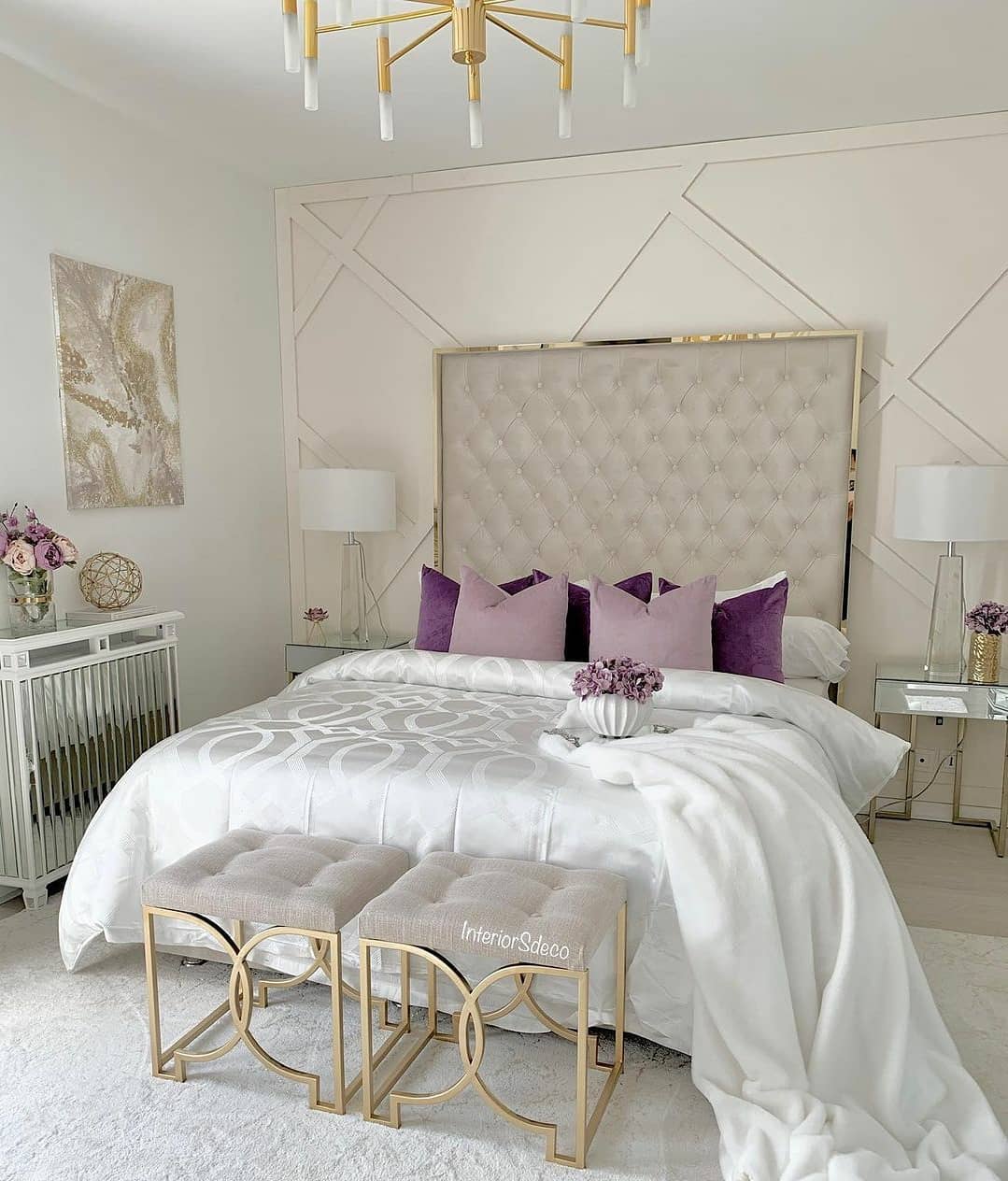 Combine purple and gold if you want to feel and look rich. This gorgeous master bedroom with hints of gold, white and purple will look magnificent and formal, perfect for newlyweds who can't make up their minds when it comes to their specified style. The golden chandelier will definitely tie the whole look together and make it look even more boujee!
6. Purple, Blue & Yellow Bedroom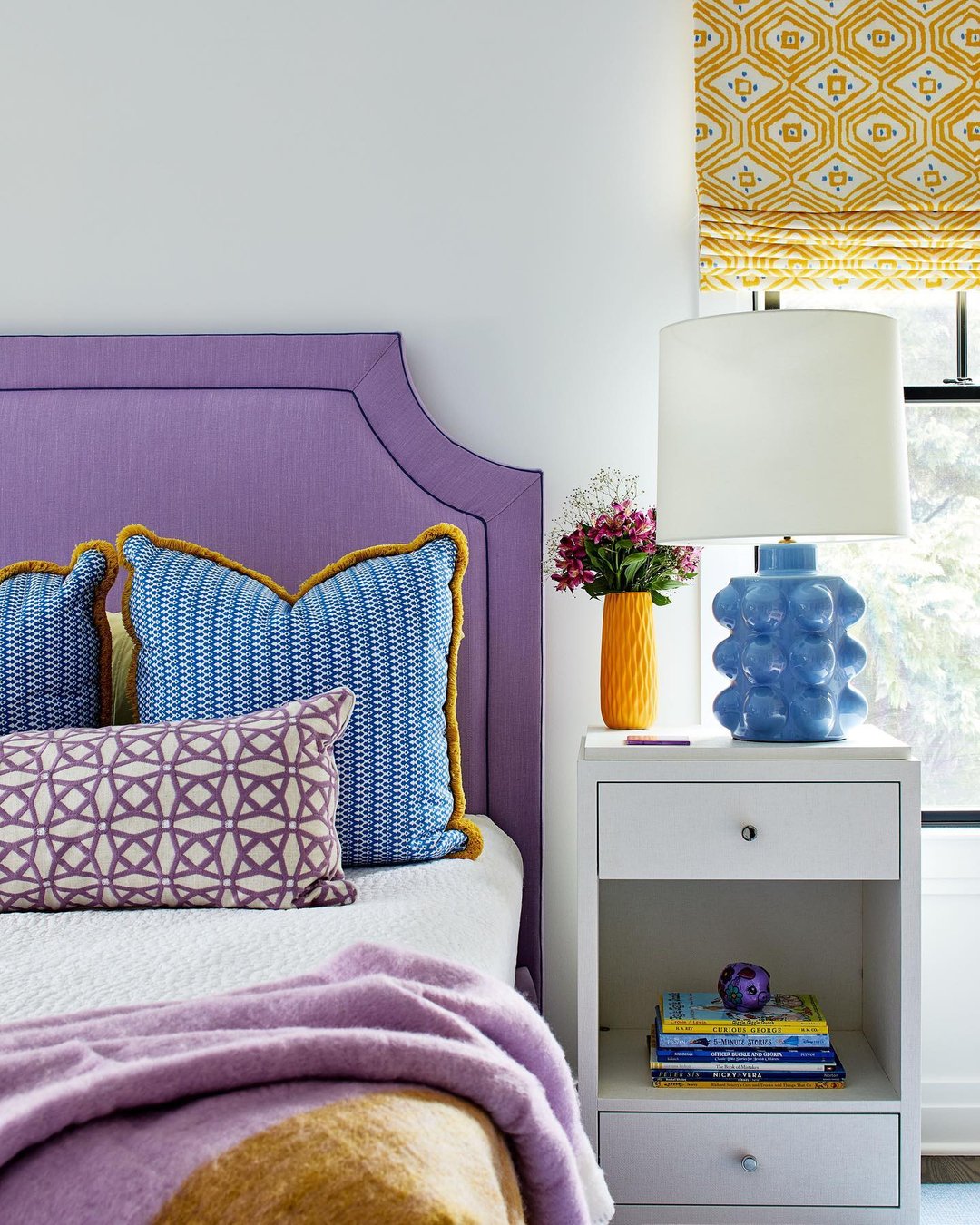 Purple, blue and yellow, all of these colors are a dream come true! Only some people dare to go this bright and bold, do you? You can make your bedroom so chic and super Arabian/eastern with this color scheme. People who enjoy bright and loud looks will also fancy this piled-up look combined with pillows, lamps, books, and a quirky little vase.
7. Dark Purple Bedroom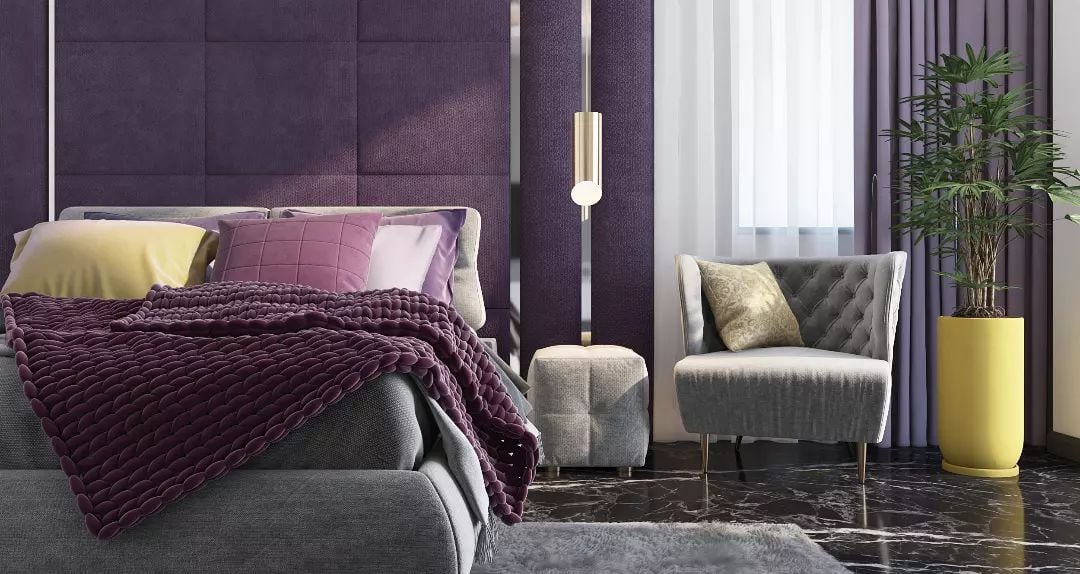 A dark purple bed can look so stunning with the right shade of grey. Combine grey and purple if you fancy luxurious master bedroom concepts! This giant and gorgeous design will look very sensual and romantic, perfect for mature couples who are super picky about their looks. Heads up since a design such as this one can be pricey to recreate.
Kitchen
1. Blue And Purple Kitchen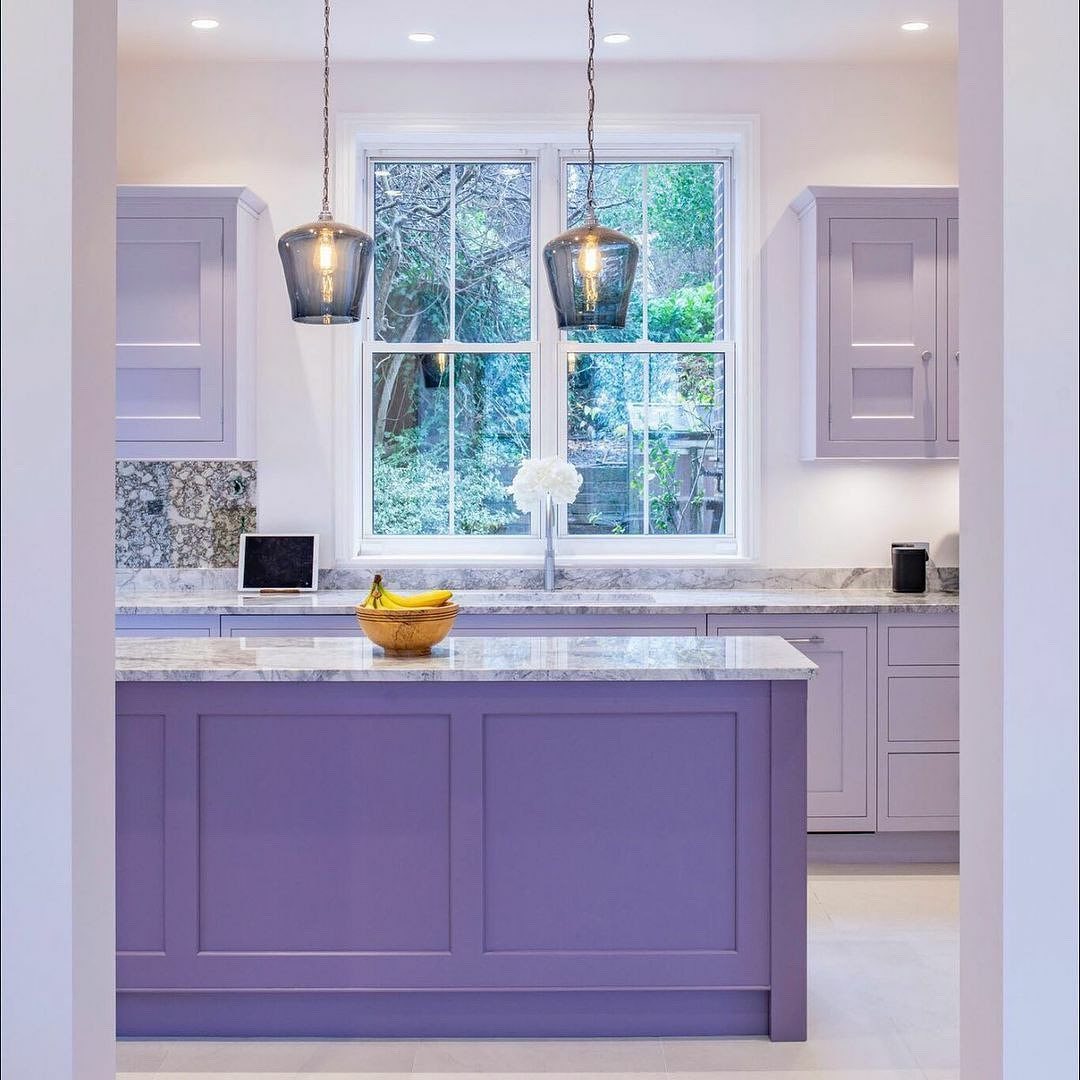 How much do you fancy this kitchen? Do you enjoy brighter spaces and lighter designs? People who want something modern and new will like this kitchen. It is a gorgeous purple kitchen when paired with this white Island. Open up the space with cool lights and let this room be filled with joy!
2. Dark Purple Kitchen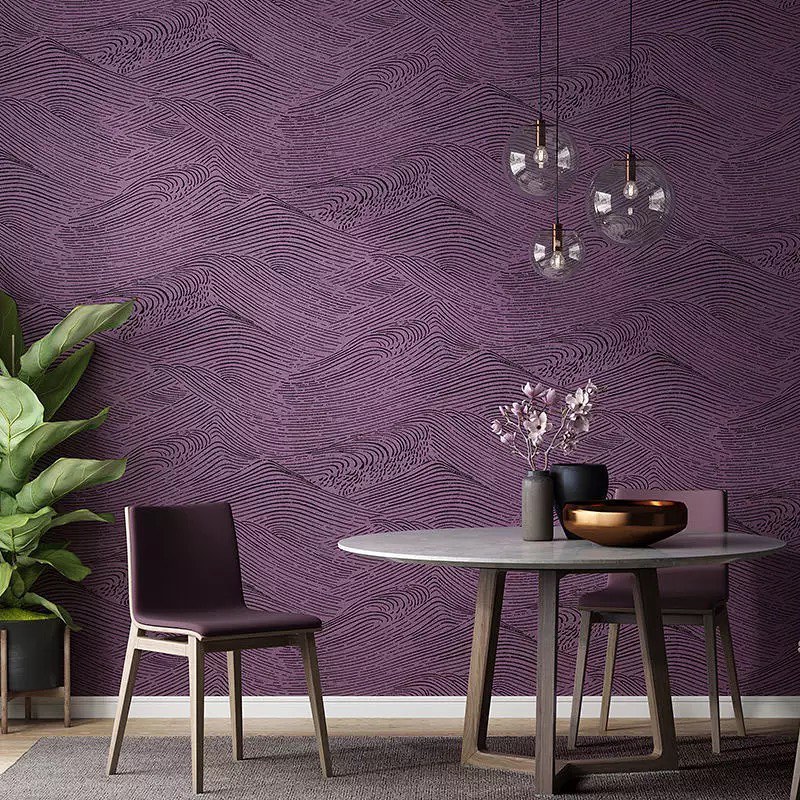 Dark purple shades are not for everyone. Do you fancy them? This darker kitchen will look amazing with some neutral elements. Aim for grey, nude, and even pink to round up the look! If you're into mystical spaces and you want your kitchen to look sexy, this is the vibe for you!
3. White Nude Purple Kitchen & Dining Room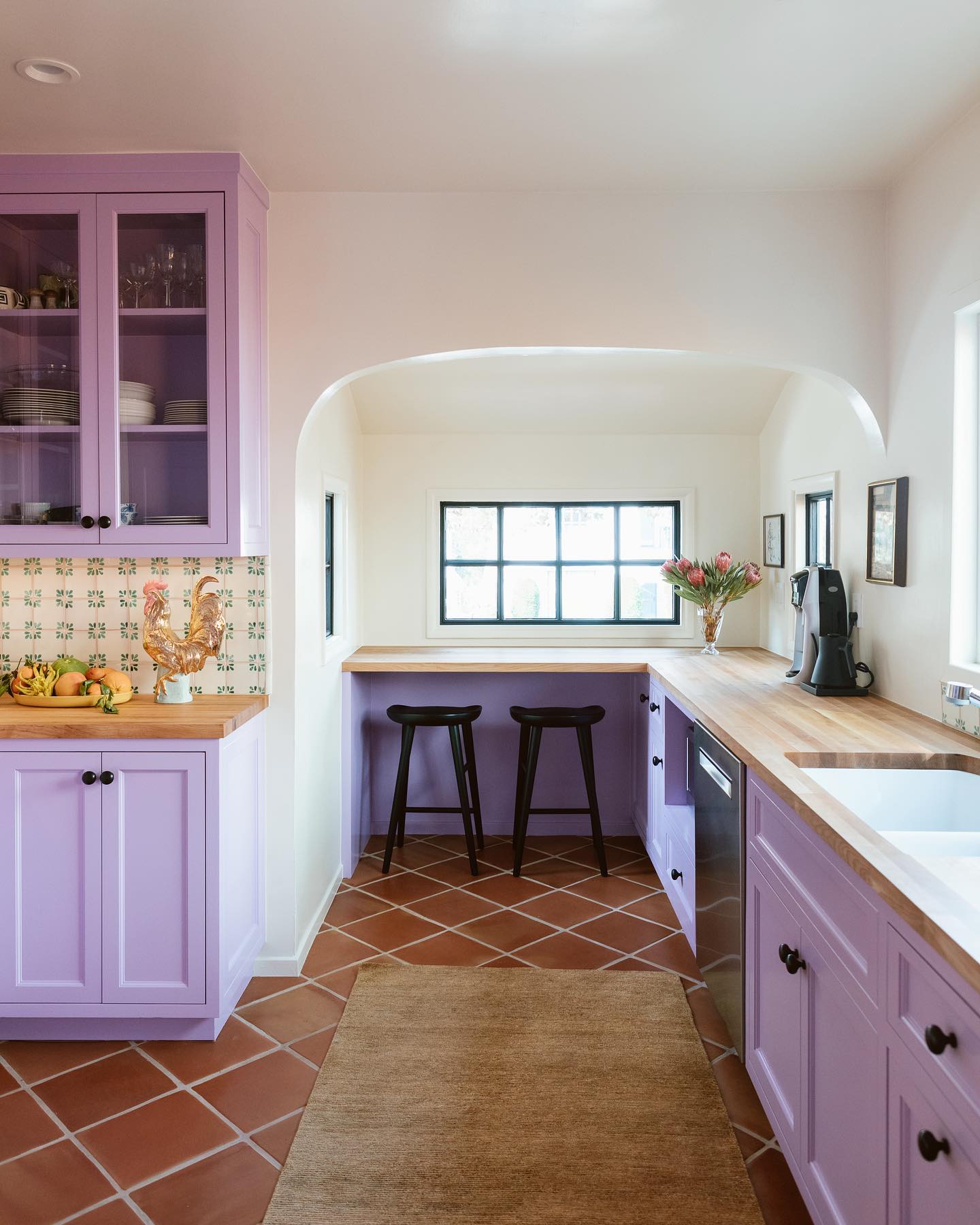 Old-school and yet so retro, this traditional kitchen is for those who want to keep it cool and casual. Sticking and going for traditional elements but with a pop of color is for anyone who is into Pinterest-perfect rooms! In the end, this kitchen and dining room area will work so well for most mature couples.
4. Stylish Purple Kitchen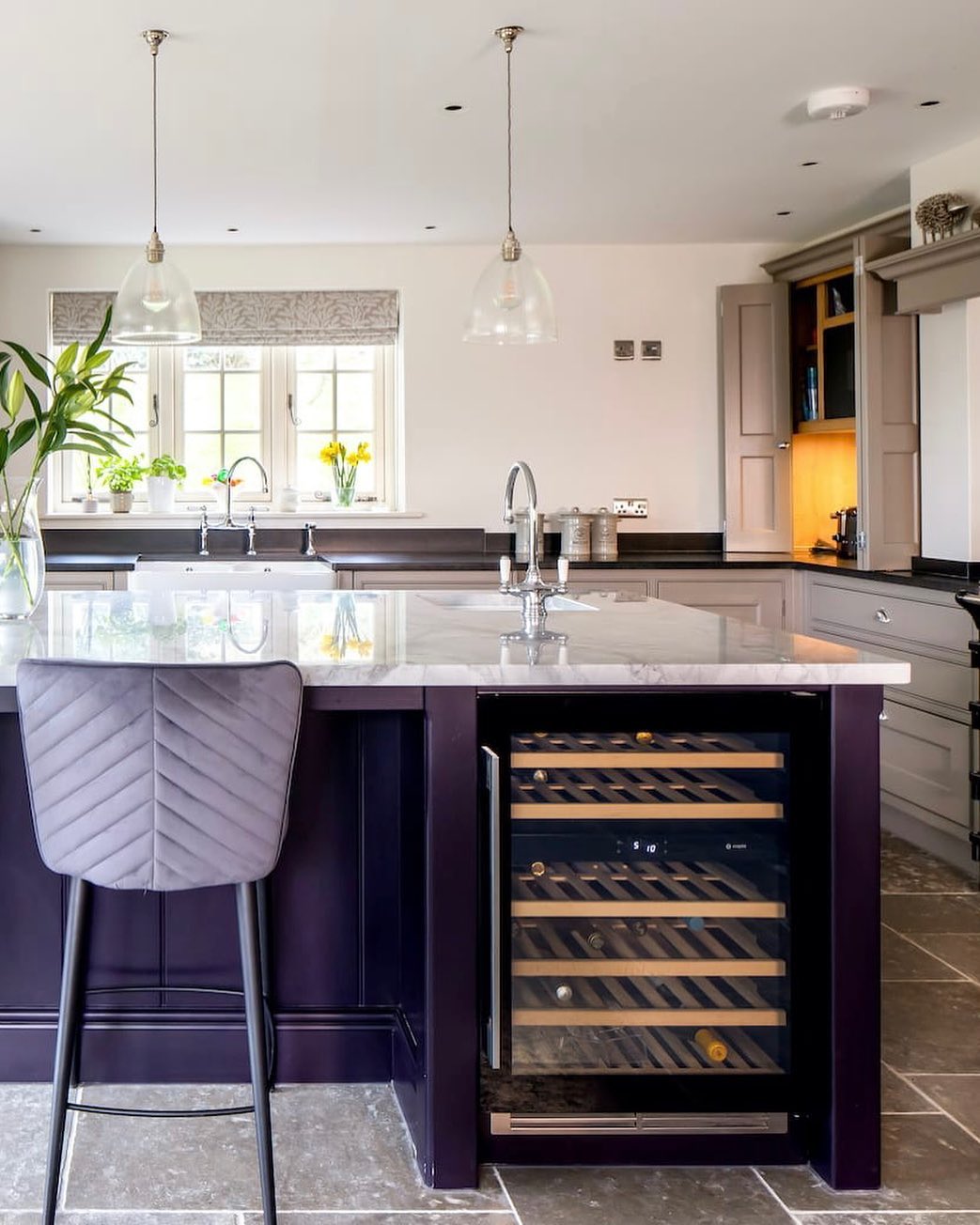 If you enjoy high gloss and shiny elements why not give it a go with this stylish purple kitchen? For most people, this kitchen is a must-do when trying to rock a stylish trendy outcome. You will enjoy the purple and white blend if you're a fan of calming kitchen concepts. In the end, this beauty will leave everyone breathless!
5. Pink And Purple Kitchen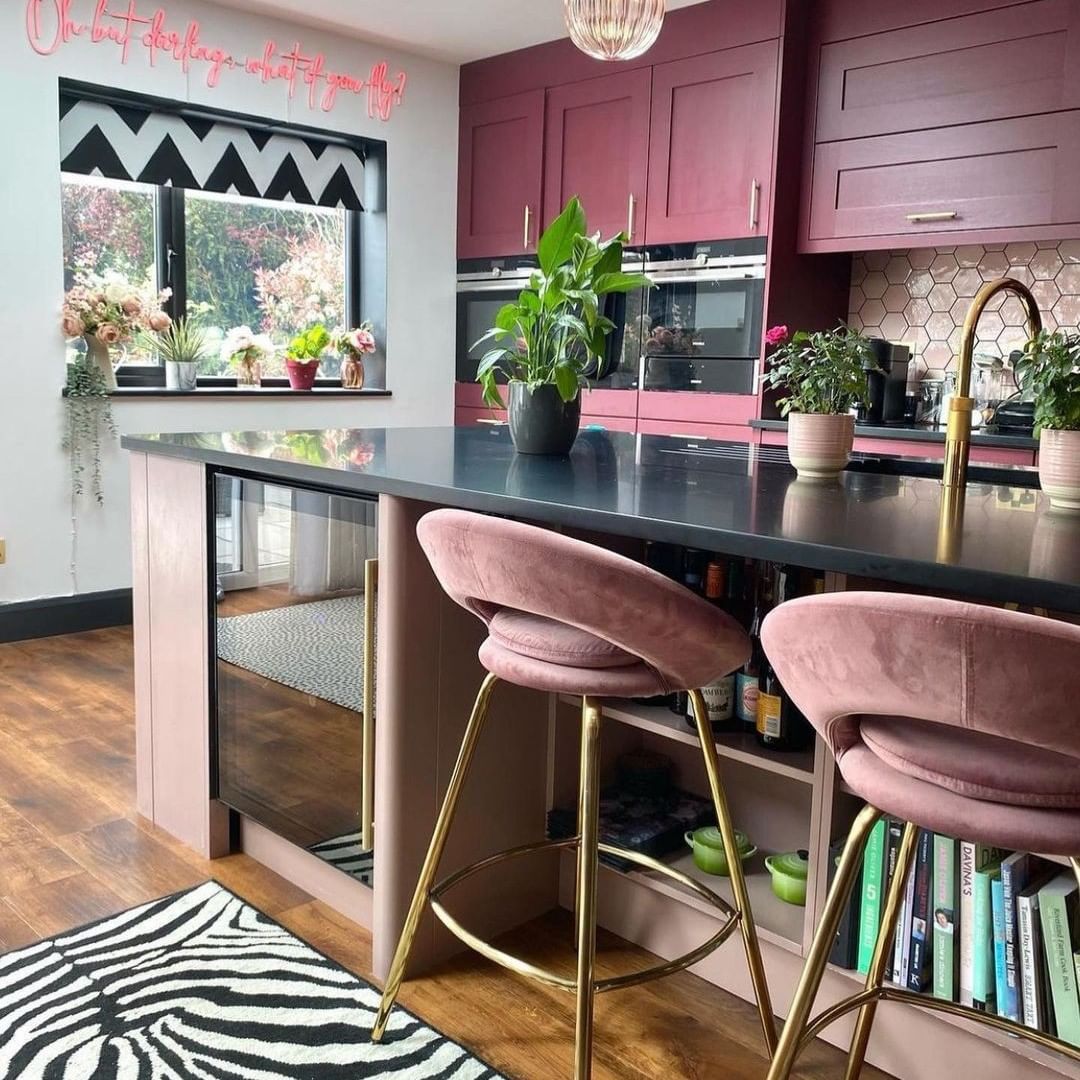 Pink and purple with dramatic pops of color will suit those who like urban concepts. By adding some cute and colorful books, along with a stylish rug you will achieve the most show-stopping outcome. High gloss and gold shades will look stunning and perfect for perfectionists.
6. Traditional Purple Kitchen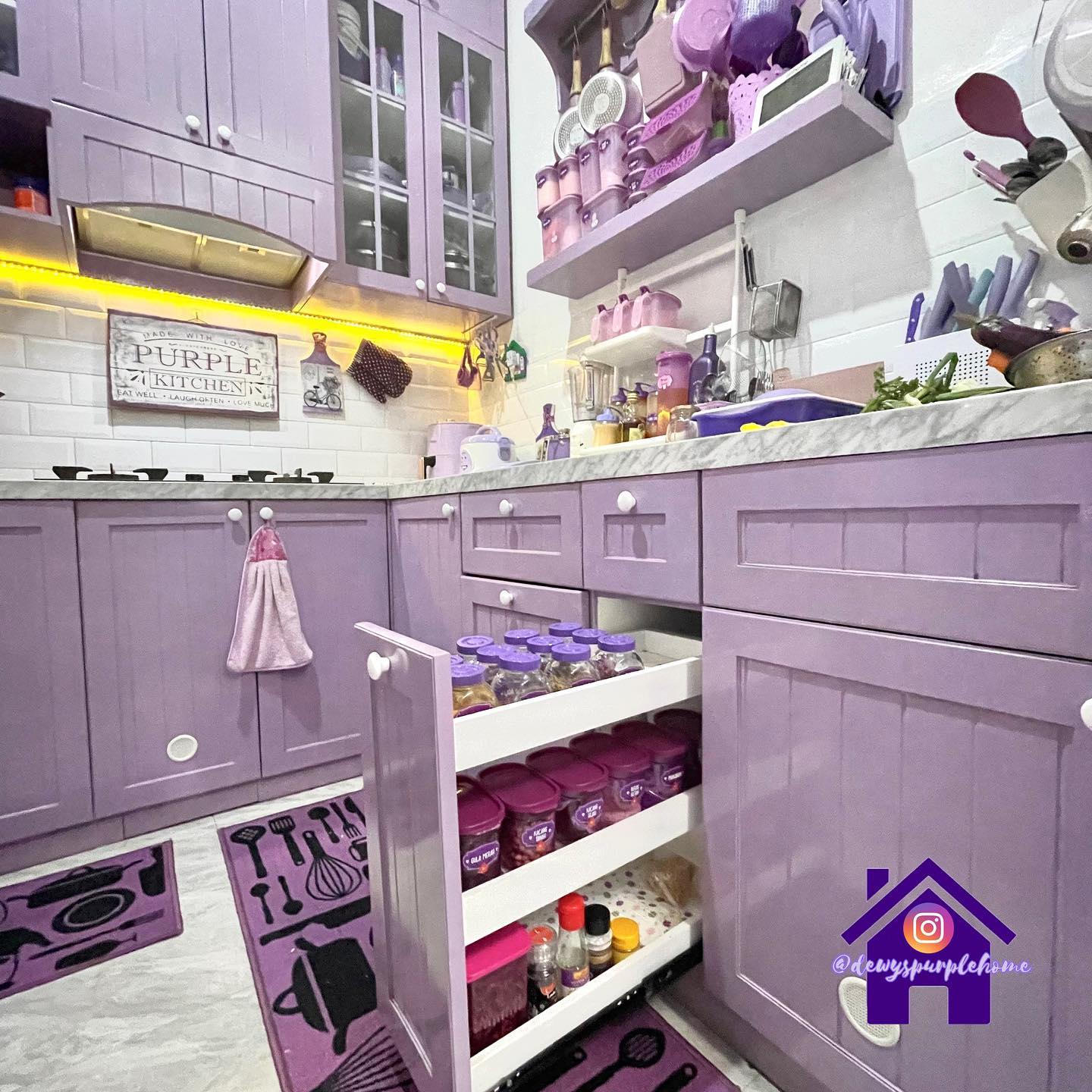 Traditional kitchens don't have to be boring! Take a look at this cool beauty. It is a must-do for couples who are sick and tired of plain old designs. Simply spice up your design with the right shade of purple. Those who enjoy having cute and almost feminine kitchens will see the beauty in this design. Heads up since you might have to do a lot of coloring.
7. Black And Purple Kitchen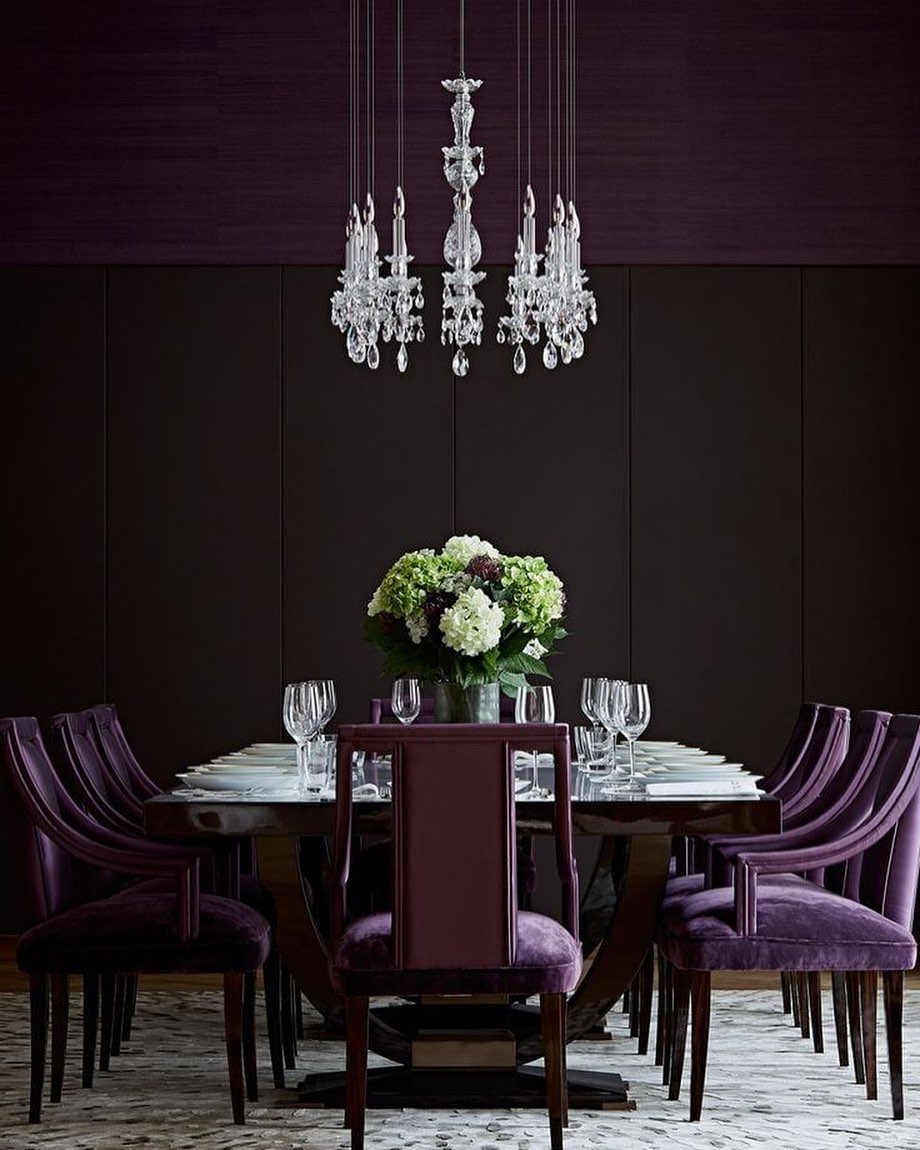 Give it a go with the right shade of purple and pair it along with black! This design is perfect for those who want a classy outcome and a stylish kitchen or dining room. In most cases, this type of color combo will suit most serious people who are trying to get that high-end and luxurious feel. Does this pine like you?
Bathroom
1. White And Lilac Bathroom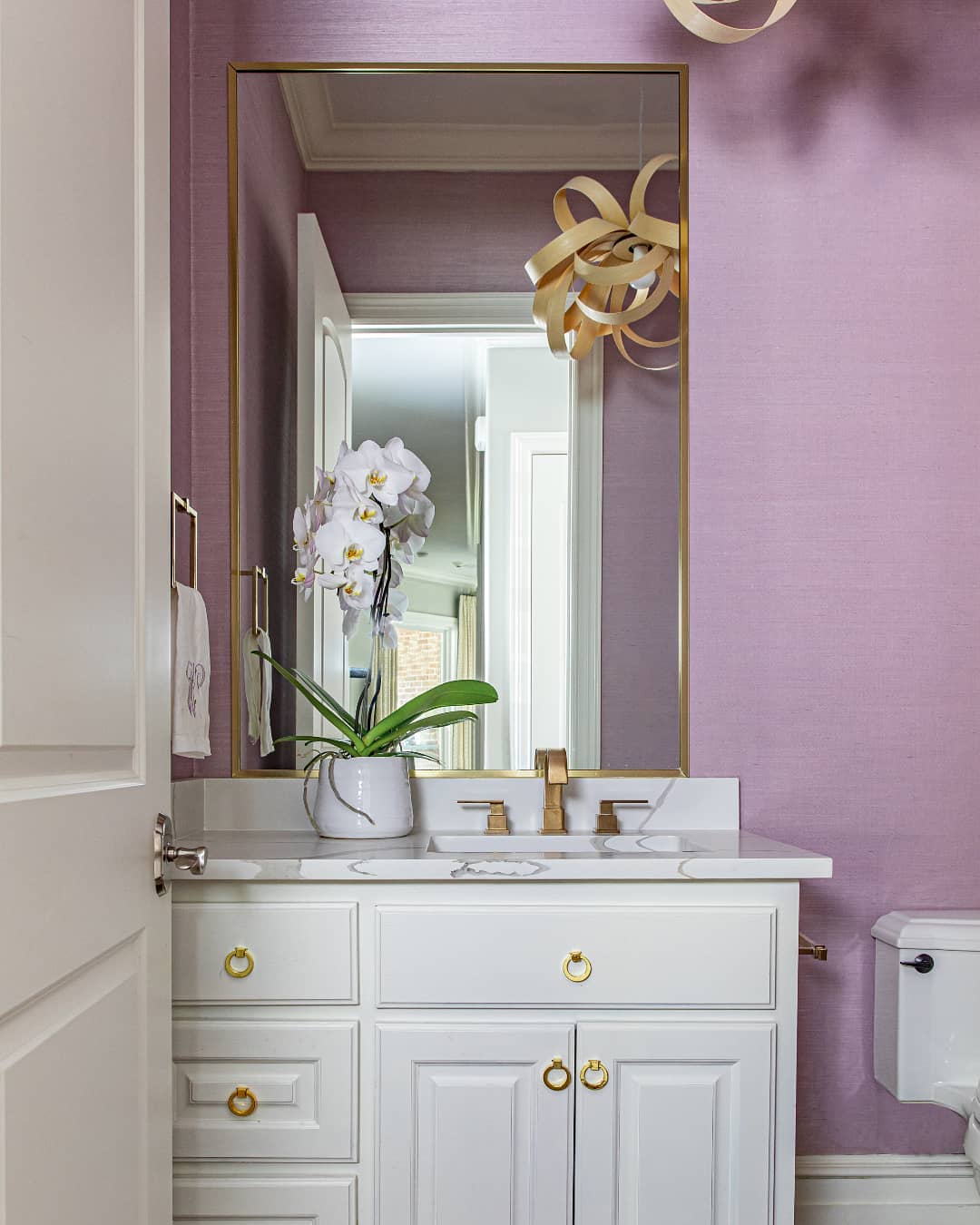 Light purple and white can look so good when combined together. These two colors are a must-try if you're a fan of lighter and neutral colors. The end result is very low-maintenance as well, perfect for people who enjoy hues of white, purple, and gold all combined.
2. Purple And White Bathroom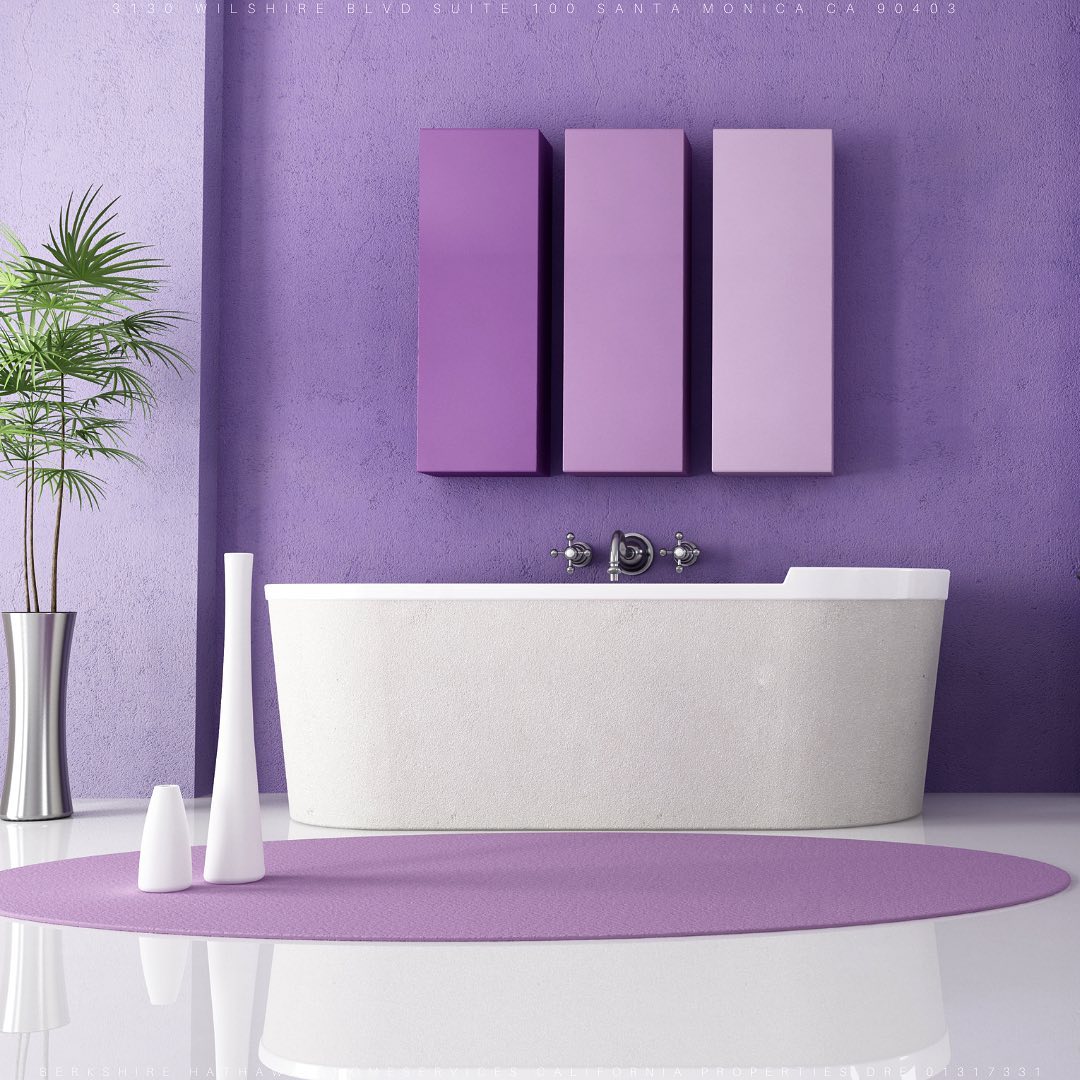 How about this master bathroom look?! If you're into giant and gorgeous designs this bathtub and color combo is for you. Go for abstract art and give it a go with these transitioning shades. This just goes to show you that you can rock white and purple in any format in your home, especially in your luxurious bathroom!
3. Rosy Purple Bathroom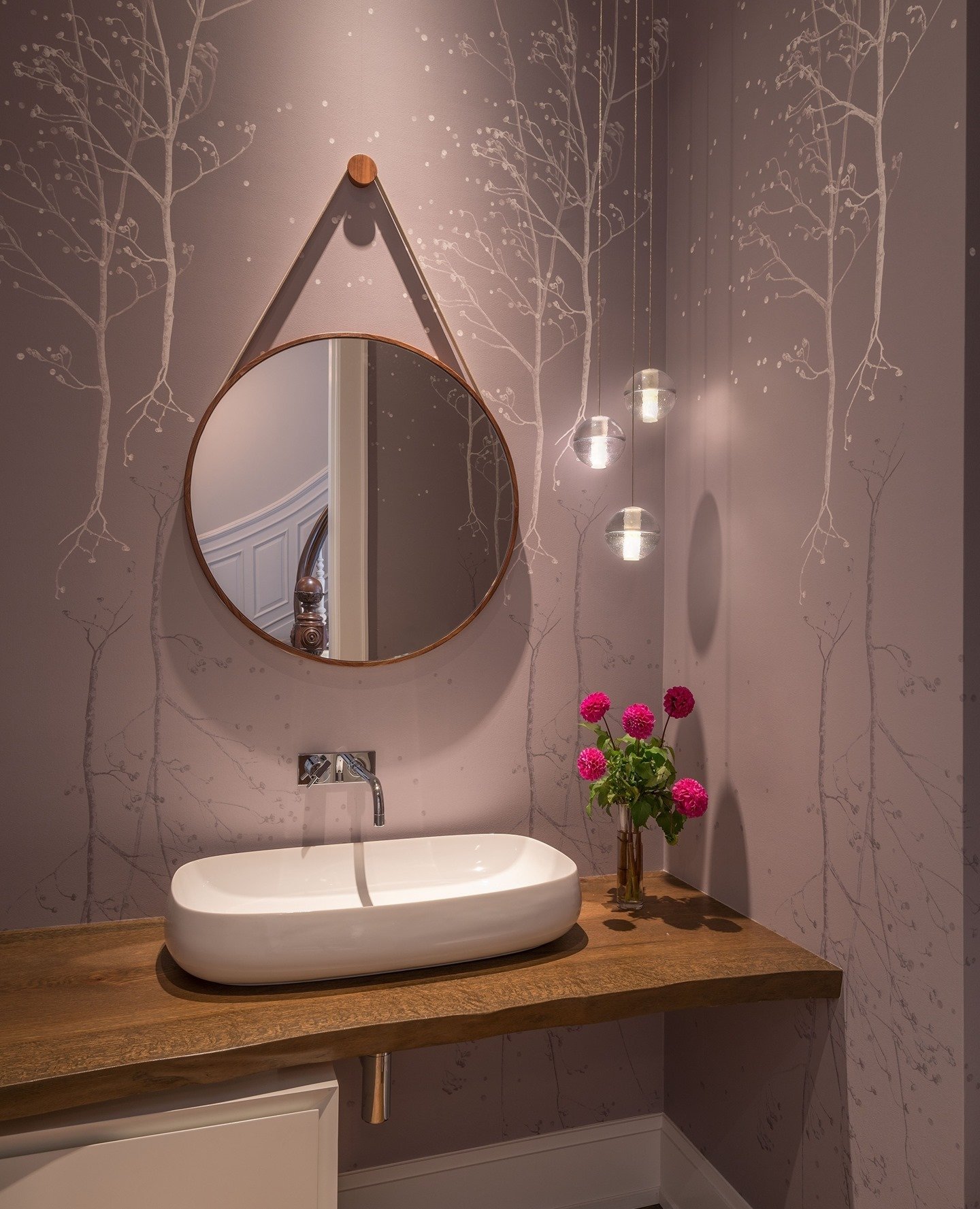 Rosy and purple seem like your perfect shades. If so, why not show them off when in your bathroom? This design is very calming, perfect for those who wish to attract attention and have that rosy calming light purple aesthetic! If you are into calming vibes aim for the right light that will help with this goal.
4. Classy Purple Bathroom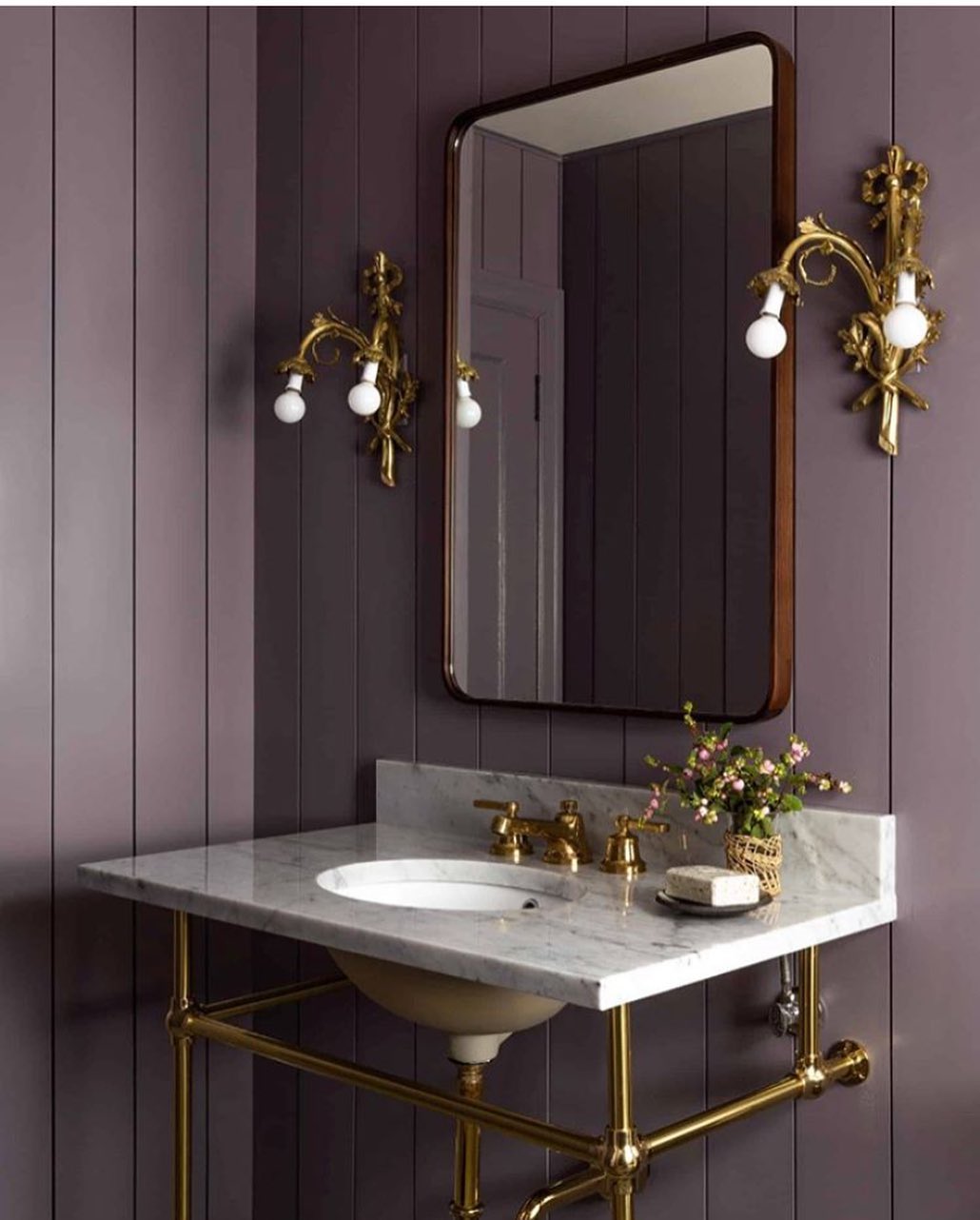 A classy purple shade that will look amazing with the right golden hue. You can also add and opt for some marble elements to achieve this classy feel. If you're working with a smaller toilet consider all of these shades and this color combo for flawless results.
5. Modern White And Purple Bathroom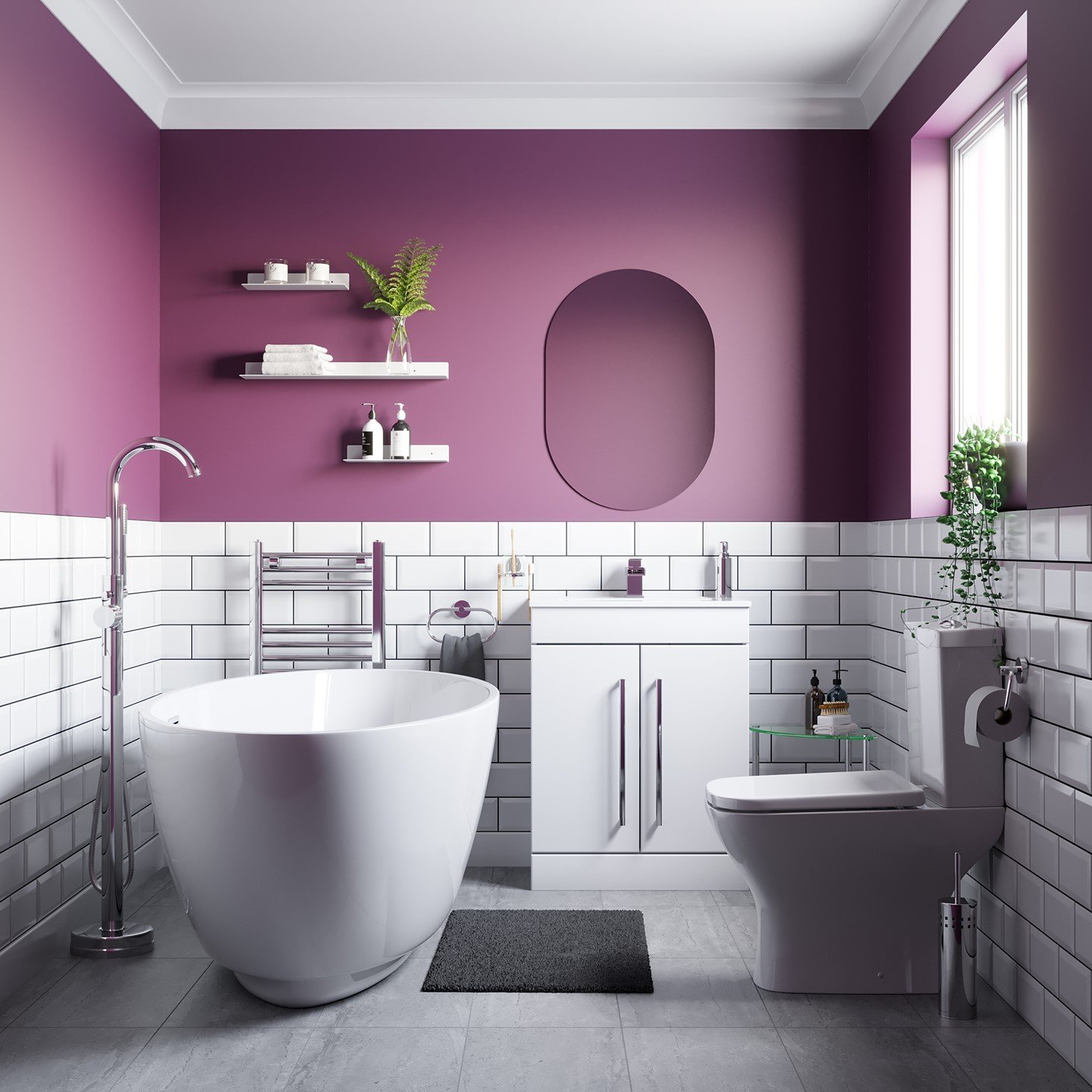 Not a lot of people like the modern vibe and something gigantic when it comes to their toilets. Do you? Well, this giant purple and white bathroom are very sleek, often a common design by those who fancy modern elements. If you wish to recreate it we give you a heads up since this design can be pricey to recreate and fully pull off.
6. Chic Retro Purple Bathroom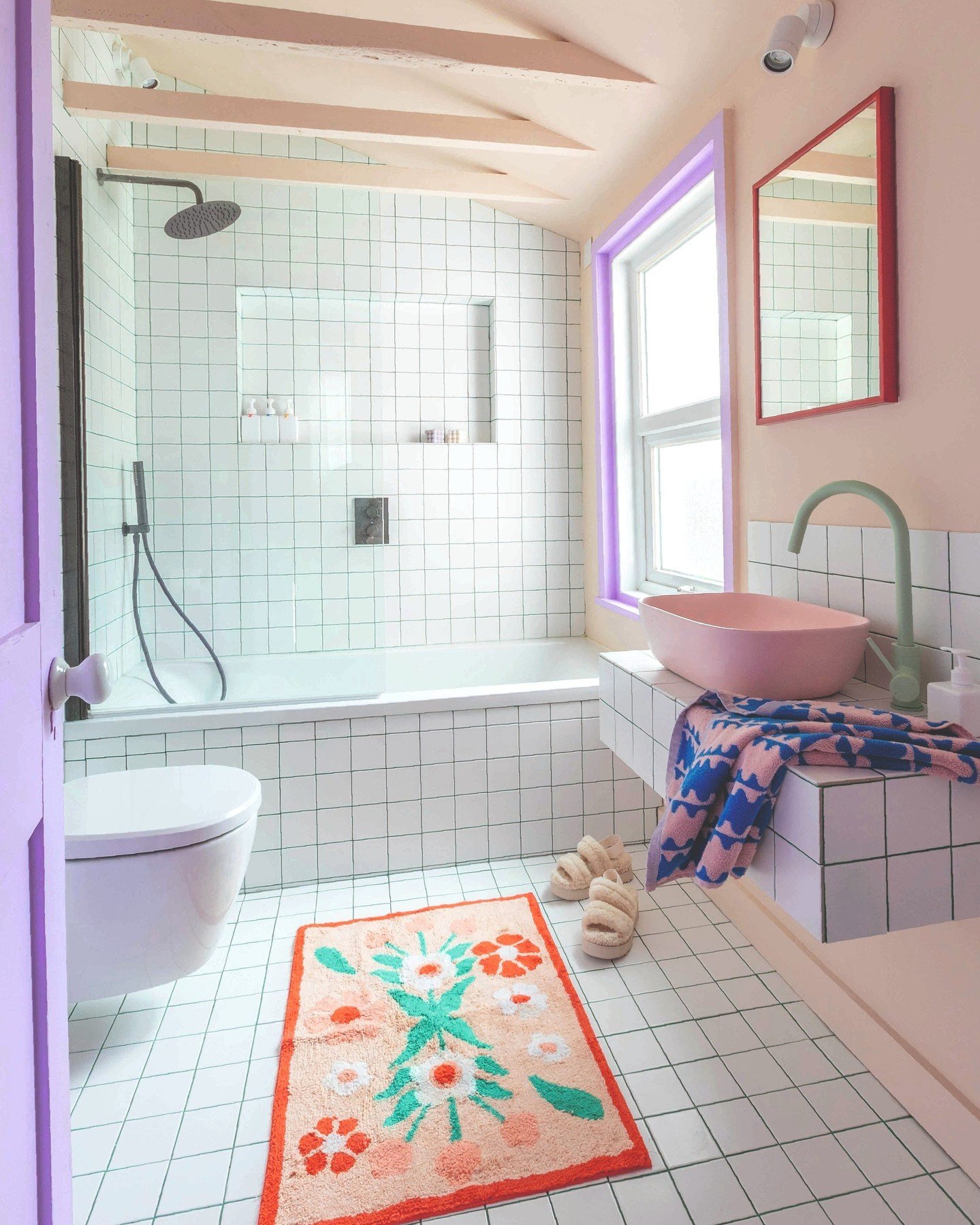 Lastly, if you're a wild and creative spirit, why not give it a go with this chic and colorful bathroom? It is a stylish design that has a ton of colorful elements to it, often done by younger art lovers! Show that purple can look good when paired with a ton of different shades and that it can truly open up any space when styled the right way.
Time To Experiment With Purple
Purple can be your next go-to room decor color. It can also come in handy when you are redecorating your bathroom, kitchen, or living room. If you're a fan of stylish little corners and you want to add a bit of color to them, why not do it with this magnificent shade? In the end, everyone will enjoy these transformations. Let us know which one you fancy the most out of the bunch, we can't wait to see what you fancy.