Home living situations differ. Whether you live with roommates, live in a big city, or other, the possibility is you have a small living space. Often, we compromise space for the wonders of bustling, cosmopolitan cities, inspiring people and mostly, budget. Although the truth is this compromise does not have to be negative.
A small space can be very charming. With the proper tips, disposition and decoration a small space can be curated to perfection. This cozy, personalized space can be a great juxtaposition to the outdoor chaos or to a shared housing situation. This is another reason to really concentrate on your bedroom – it is your sacred space to decompress and be completely yourself.
So don't be uninspired by a small bedroom; on the contrary, take the opportunity to create your space. The main problem in small bedroom is storage space, therefore disposition and organization are crucial to optimizing space. Many of these tips will focus on ideal organization to optimize the usage of the small space.
For a cozy feel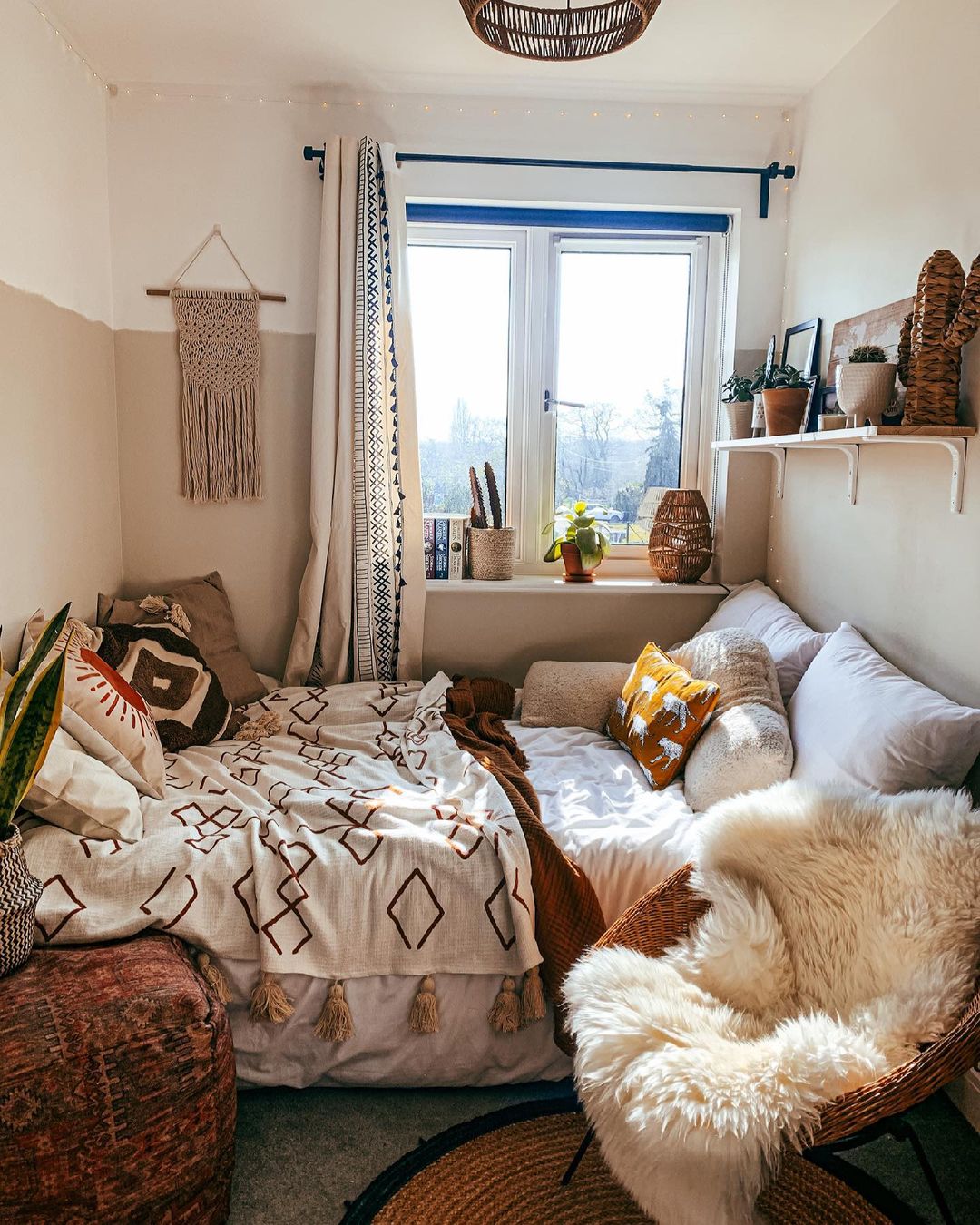 Focusing the furniture in the back of the room is a great way to create more feeling of space. The whole front becomes open for mobility. Having the bed at the end of the room also creates a cozy feeling, and can also be used as a couch.
A bed with many features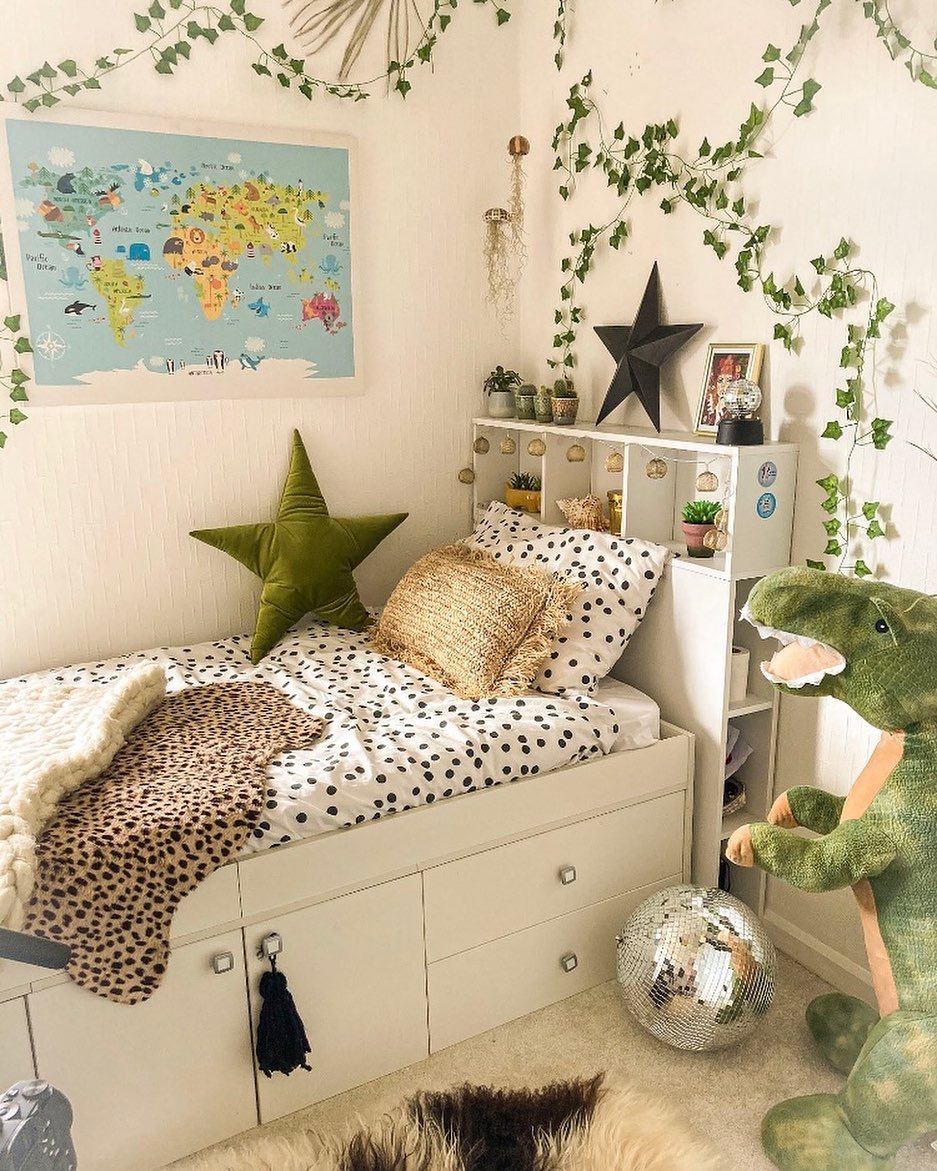 This bed's disposition is ideal for storage space. The backboard replaces the need for a night table, and the sides of the backboard also have storage space. The bottom of the bed has several drawers which can replace extra storage furniture.
A wall with usage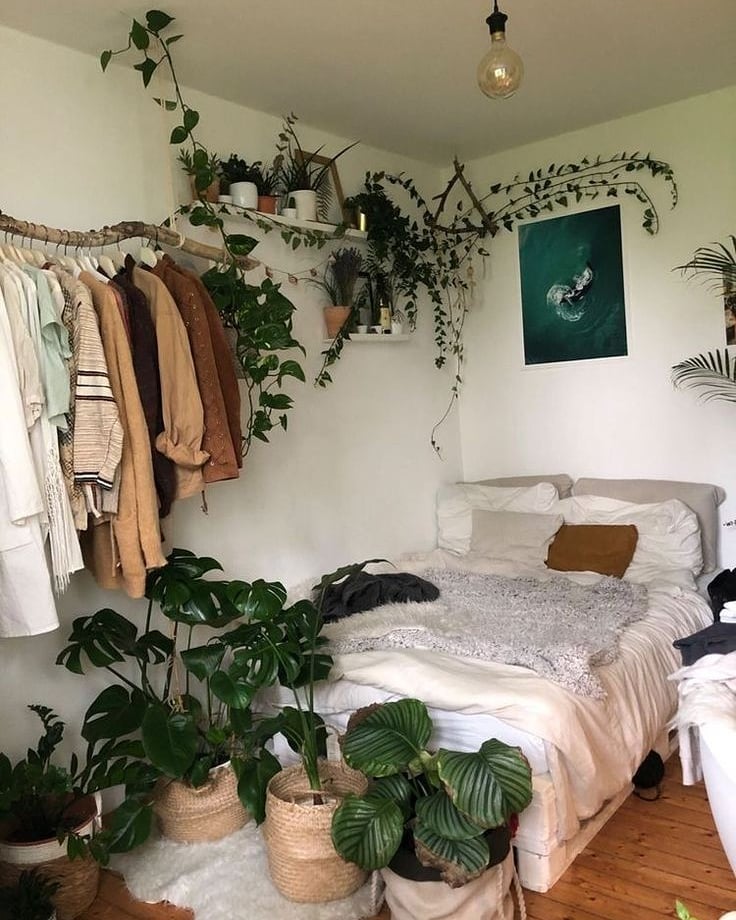 Use your walls as storage space! Many shops now propose different technologies to place shelves and racks on the walls. This creates more space in the rest of the room and decorates the surroundings. The usage of plants also lightens the space and makes it more breathable and less claustrophobic.
Loft, the optimal small space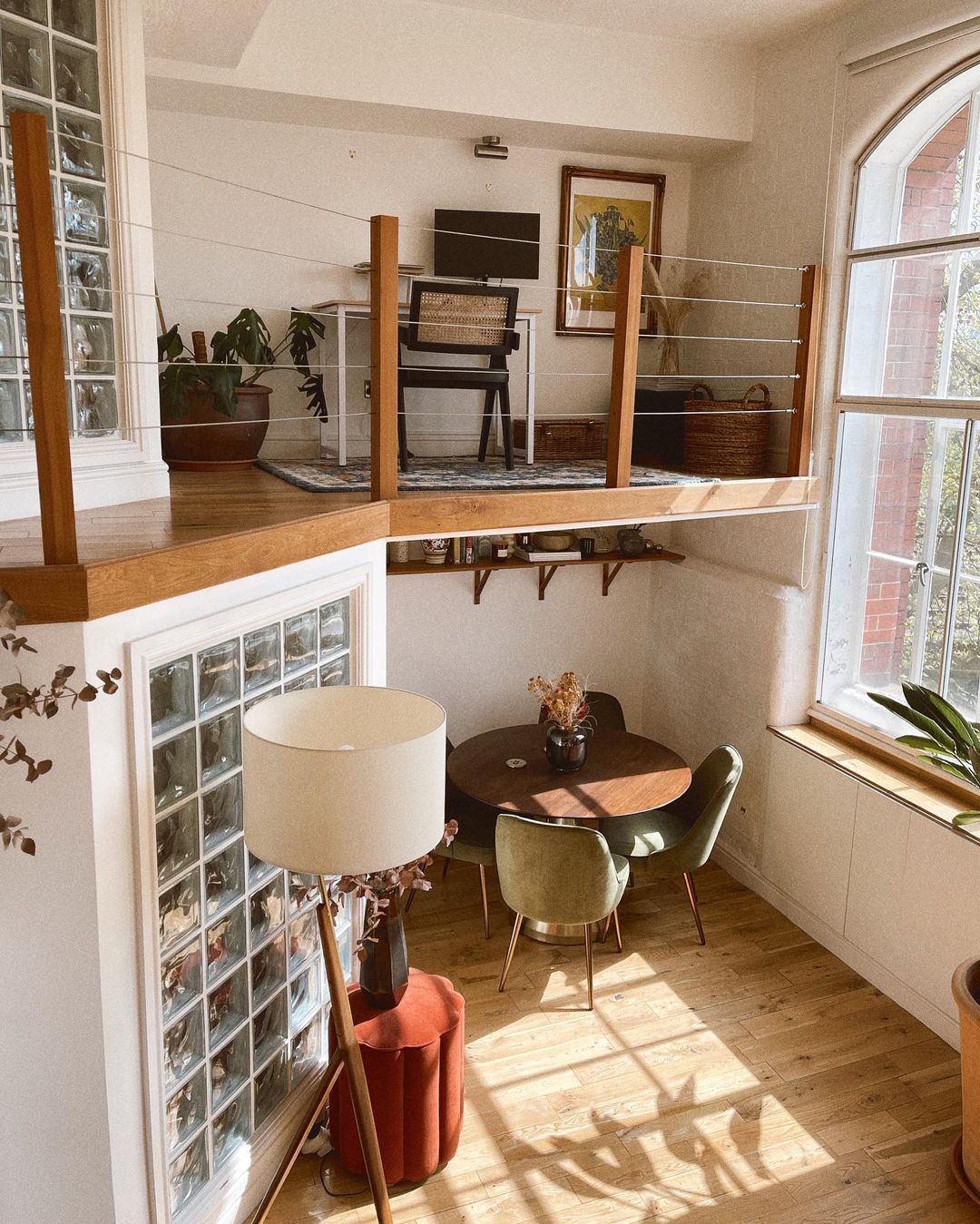 If possible, loft bedrooms are a great architectural hack to making more usage of a small space. This allows you to use one story as a room and the other as a living space. This is really an optimal choice.
Not only monsters under the bed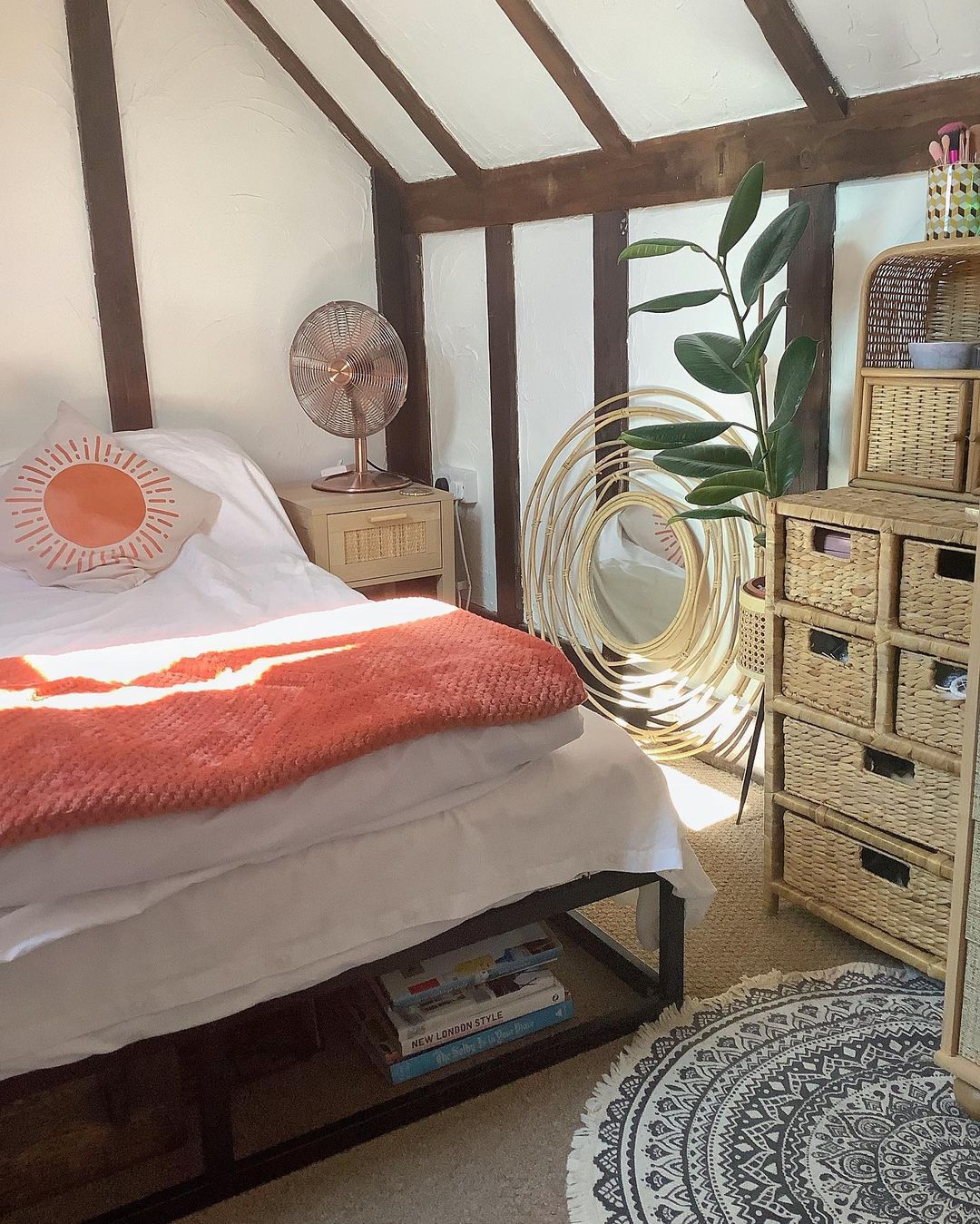 Using a bed frame with empty space at the bottom allows to use that as storage space. This minimizes cluster which can quickly make a space feel smaller. Using the bottom to store certain things can even be an aesthetic addition to the room.
Wall furniture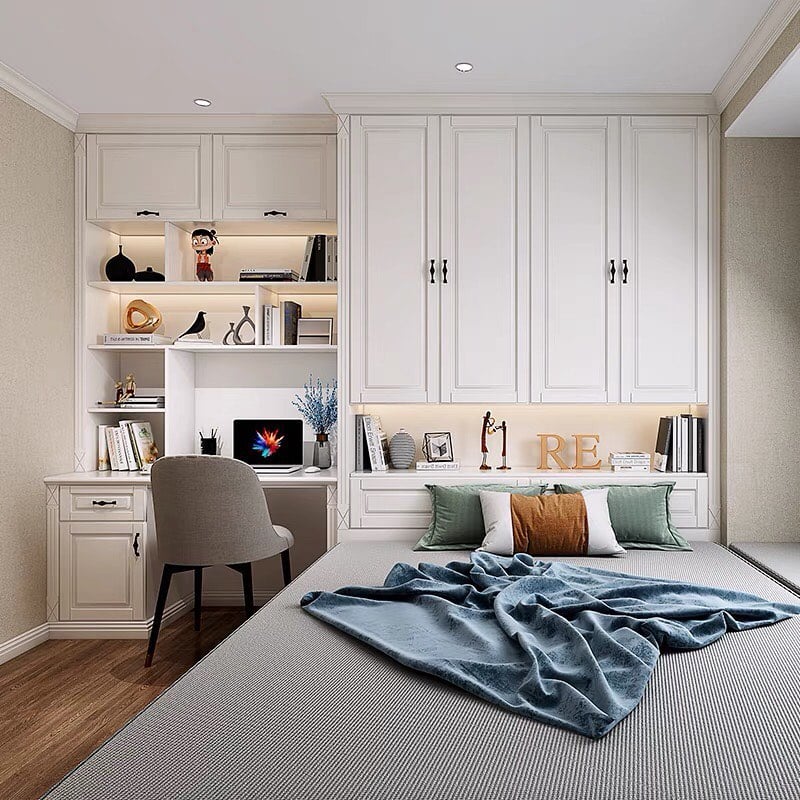 Another way to optimize space is to look for wall furniture. In this example, the whole wall is used to the tea. There is space for storage above the bed, and there is a desk and cabinet. This isn't too overwhelming as it is the space behind the bed and would elsewise be used for nothing.
All furniture has storage
This image is another example of wall furniture. There is storage space and a desk area. In this set up, even the bottom of the bed has space to store. This really allows the rest of the room to be used freely and openly, allowing space to circulate.
Pull-out couch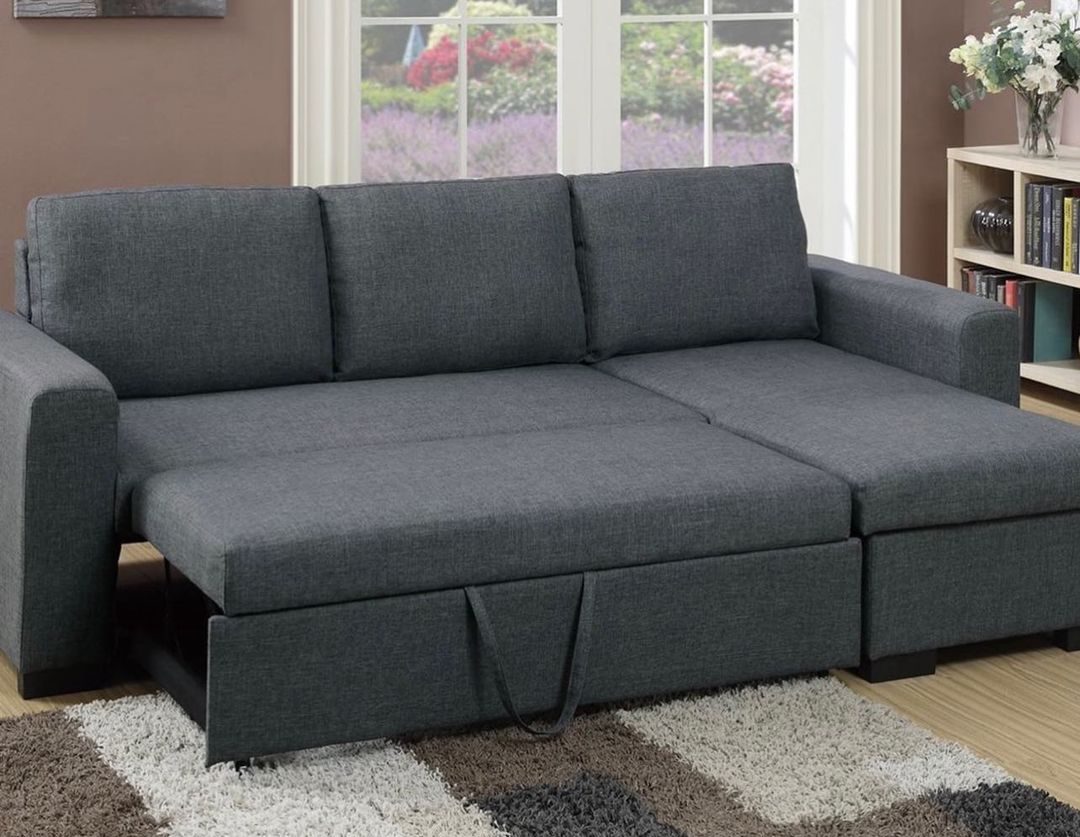 A great solution to a small bedroom is a sofa bed. This versatile piece of furniture transforms your room or studio from a bedroom to a living room. Therefore, your space can be personalized and socialized. Today there are many cute and comfortable sofa bed options that will make you forget about your grandma's futon!
Pull-out bed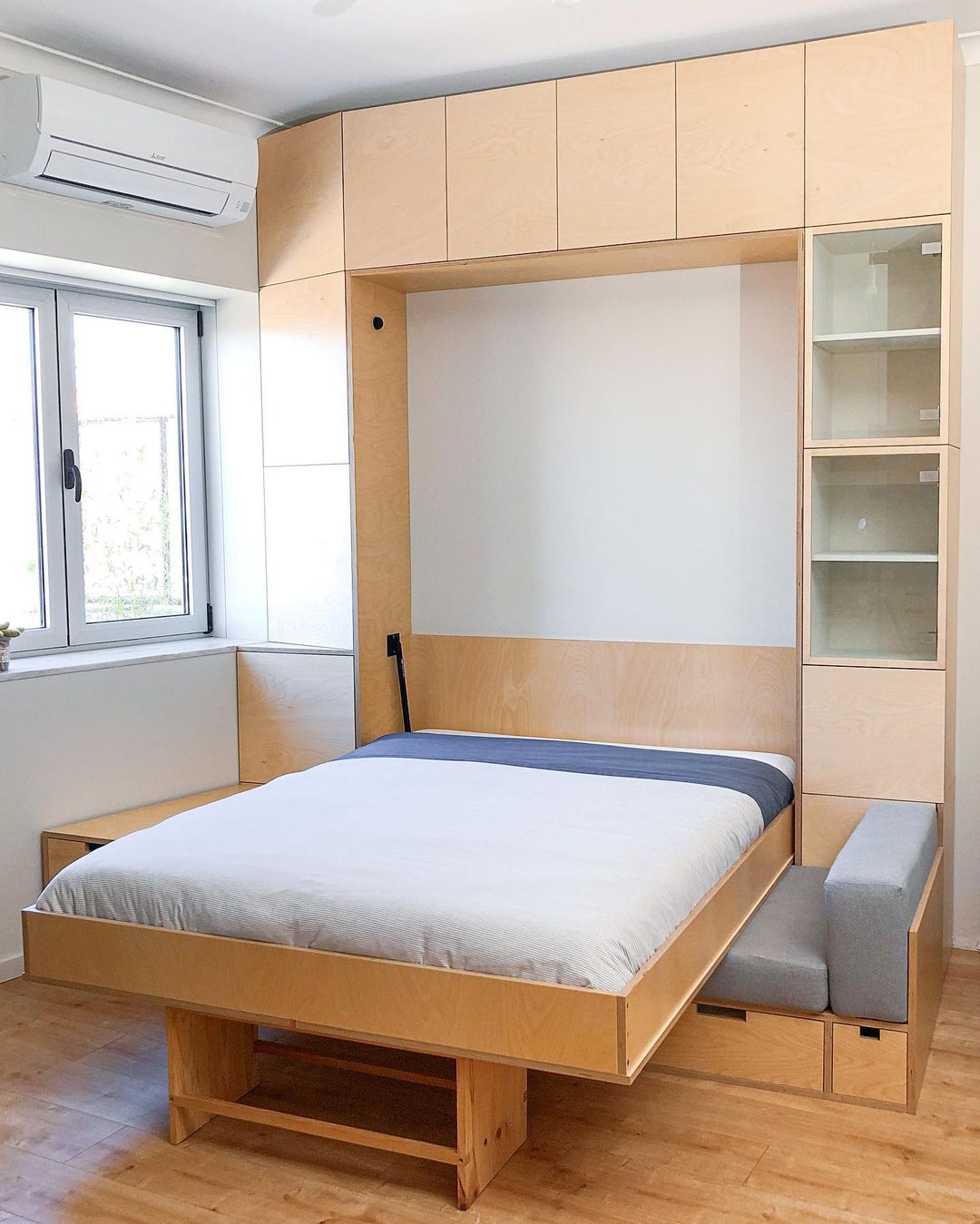 A futuristic approach to space optimization is a wall bed. This is perhaps the ultimate solution to transforming a small space. A bed is usually what takes up the most space in a bedroom and what makes it a bedroom and not a living room. With this solution, the space in a small room is doubled and it allows for a tidy, organized room.
Bunk-bed revisited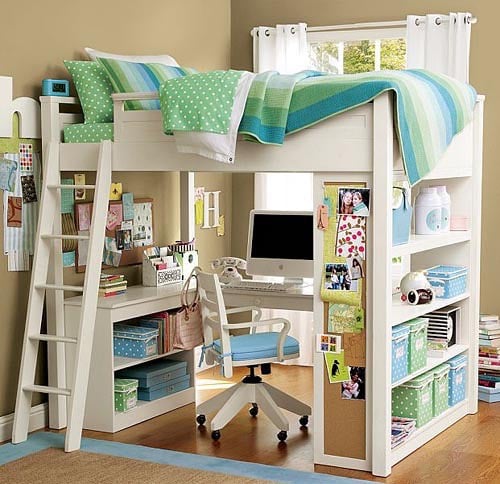 Perhaps the classic item of furniture we all dreamed to have when we were young now takes a new level of sense. This bunk-bed is not just a bed but a desk and bed in one. This simulates the benefits of a loft space without the construction work.
Modern bunk-bed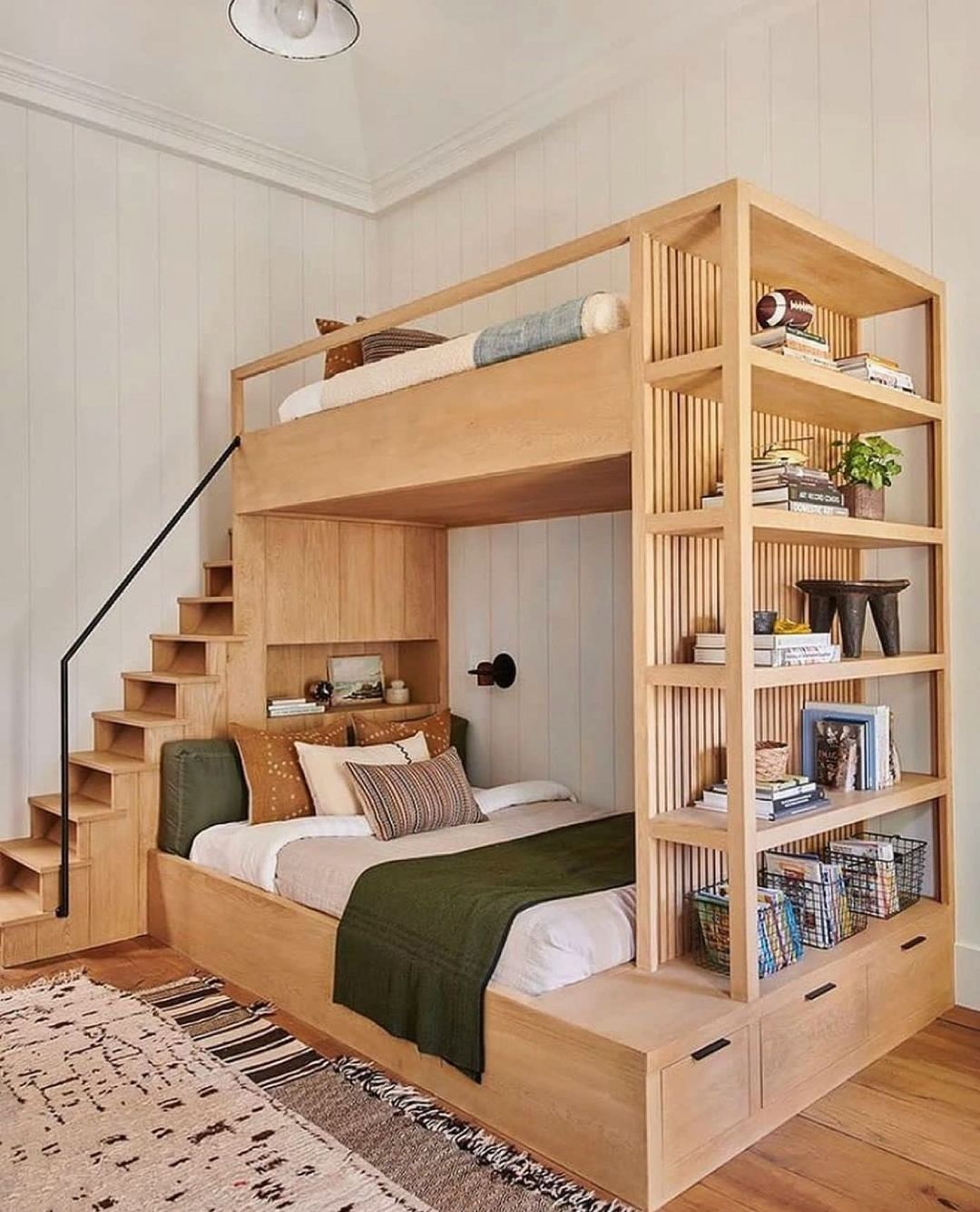 Once in the bunk-bed realm of furniture, the options are vast! Where before it was considered child furniture, today they have all types of designs – revisited and matured – made for small living spaces. This bunk bed option has a bigger bed on the bottom and shelves and cupboards on its side.
Multifaceted furniture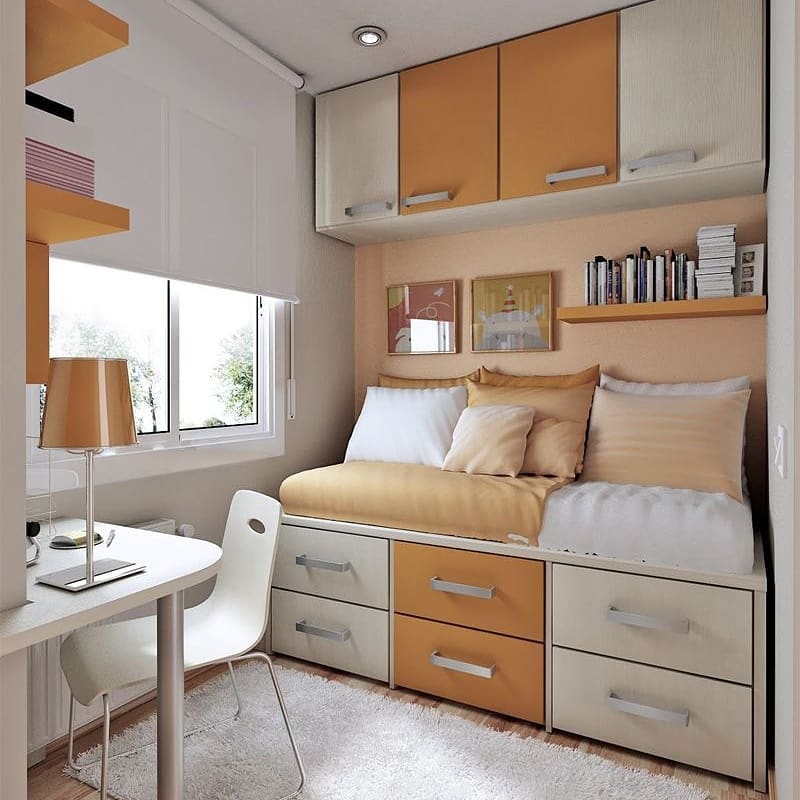 This tiny bedroom is curated to perfection. The bed can also be used as a sofa and items can be stored above and bellow the bed in an un-suffocating manner.
The monochrome approach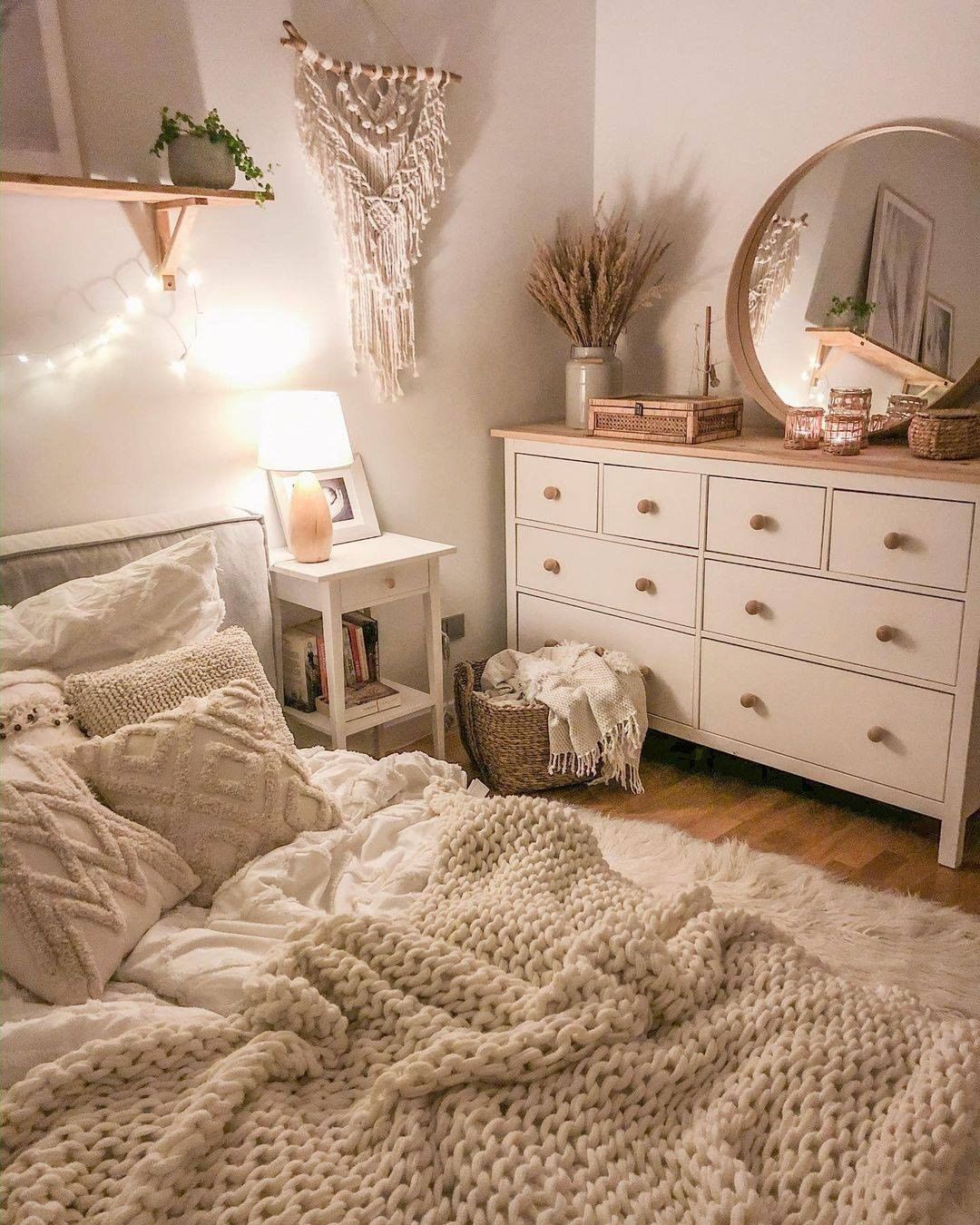 Another trick to making a small bedroom seem larger is by having a monochrome approach and using lighter colors. A bedroom all in white will be sure to largen your space and create a cozy, lofty feel.
A build-in loft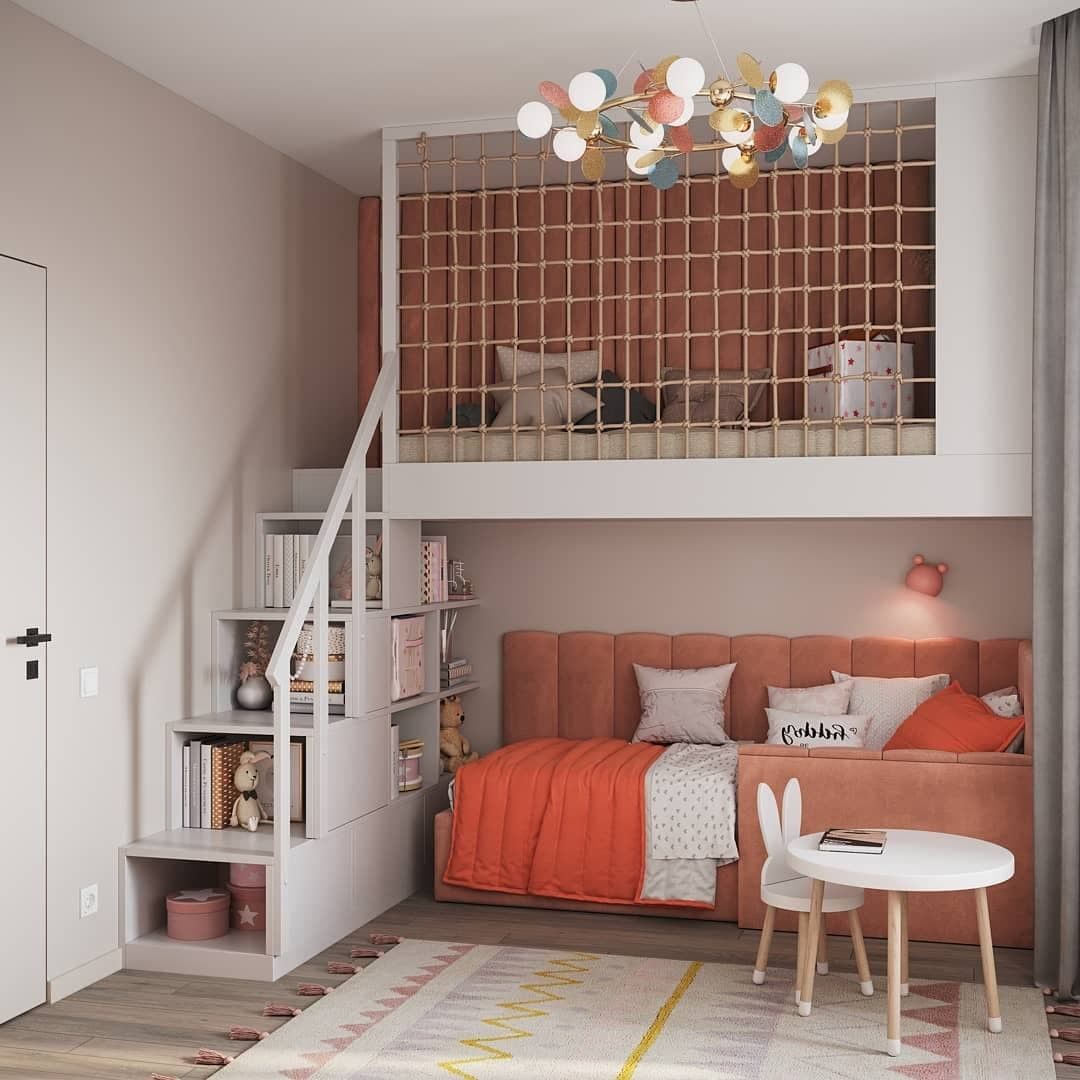 This interior design company has really come to revolutionize our idea of versatile furniture. These interiors transform a small space in a have-it-all. With the right disposition you can create a loft.
Furniture loft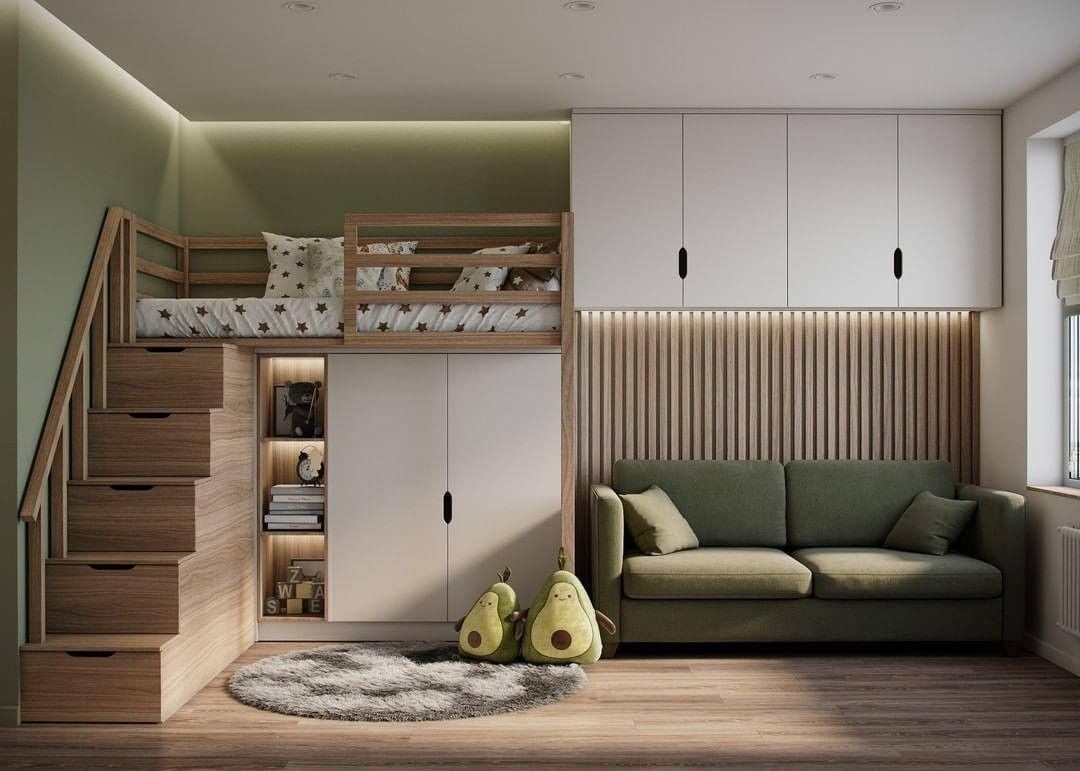 This is another example from this interior company. This slick look adds a loft and creates two levels in a small space. Everything can be tidily put away and space can be enjoyed.
Minimal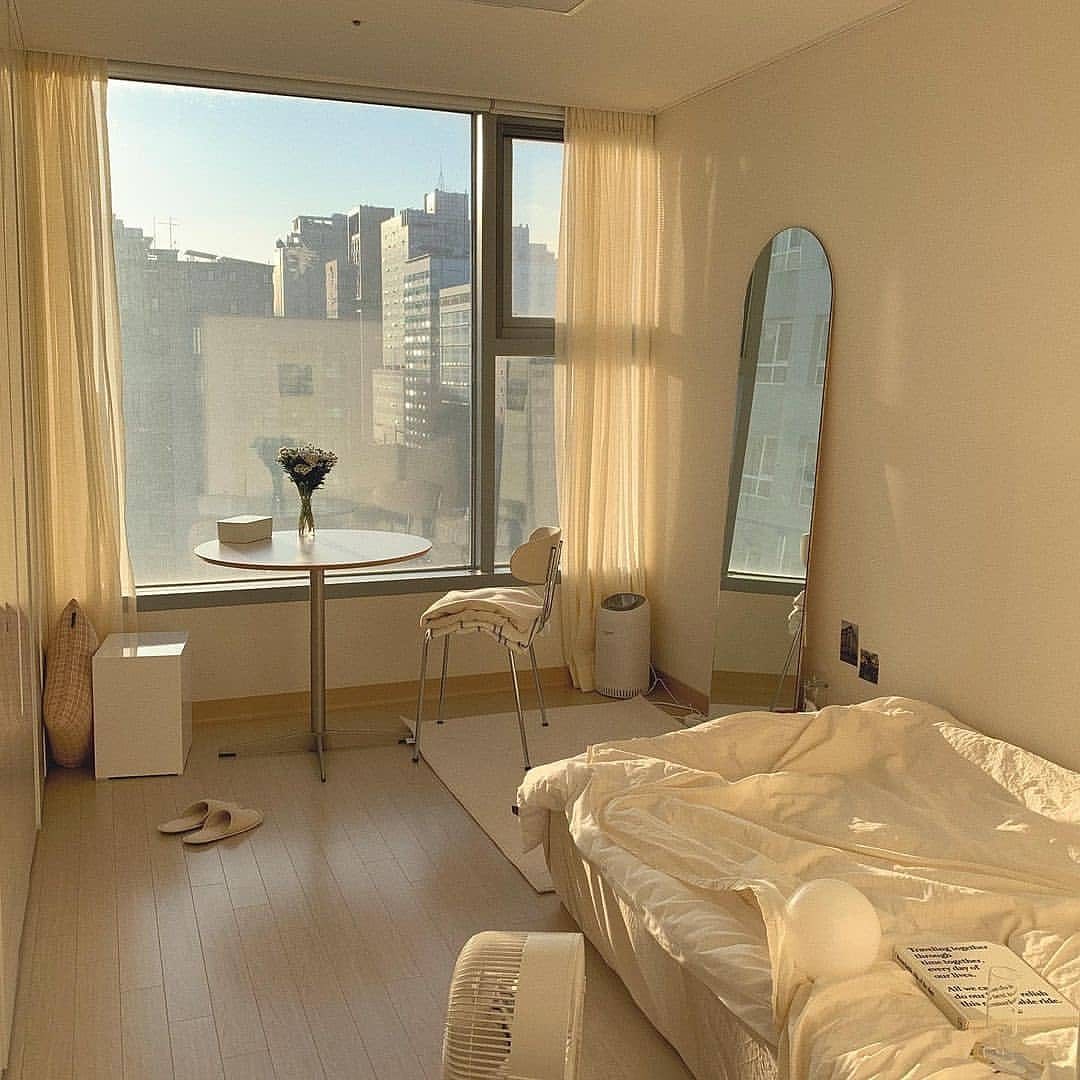 The ultimate trick for small bedrooms is keeping it minimal! We too often hoard and accumulate things that we do not use. This creates a sense of claustrophobia inside and out. Stick to your essentials to feel lighter in both your internal and physical space.
There are many ways to make a small bedroom a special place. From colors, to furniture, to material, there are many approaches to optimizing your special space. Your small bedroom is your special space and it is important to make it clean and comfortable.
As these examples have tried to tackle the biggest issue faced in small spaces is storage. But this should no longer be an issue with the innovative approaches there are in furniture today. Look into your needs and find the space disposition and material that suits your needs. And don't forget – less is more!