Pumpkin painting can be such a fun, relaxing, and creative activity to do and try out. Mostly popular for the Halloween season and during October, do you like to paint and draw yourself? If you wish to get creative and you're looking for some inspiration keep on reading and discover more prints down below.
1. Paint a scary face on your pumpkin. This can be as simple or complicated as you want—some people prefer just to paint eyes and a mouth, while others do an entire portrait of the Grim Reaper or Frankenstein's monster.
2. Paint a funny face on your pumpkin. Again, this can be as simple or complicated as you want—you might want to draw an exaggerated nose or an evil grin, or maybe even add some cool accessories like sunglasses or a beanie hat.
3. Paint an animal face on your pumpkin. Just like with human faces, you can make it as simple or complicated as you want—you might try painting dog ears on the front and adding a smiley nose and tongue sticking out at the side (if you're feeling ambitious), or maybe just drawing a few squiggles around the top to make it look more like a cat's face than anything else!
4. Design an abstract pattern using dots, lines, and shapes in different colors on the surface of your pumpkin.*
Here is what you can draw on top of your pumpkin on your own or with your friends and family.
1. Spooky Pumpkin Painting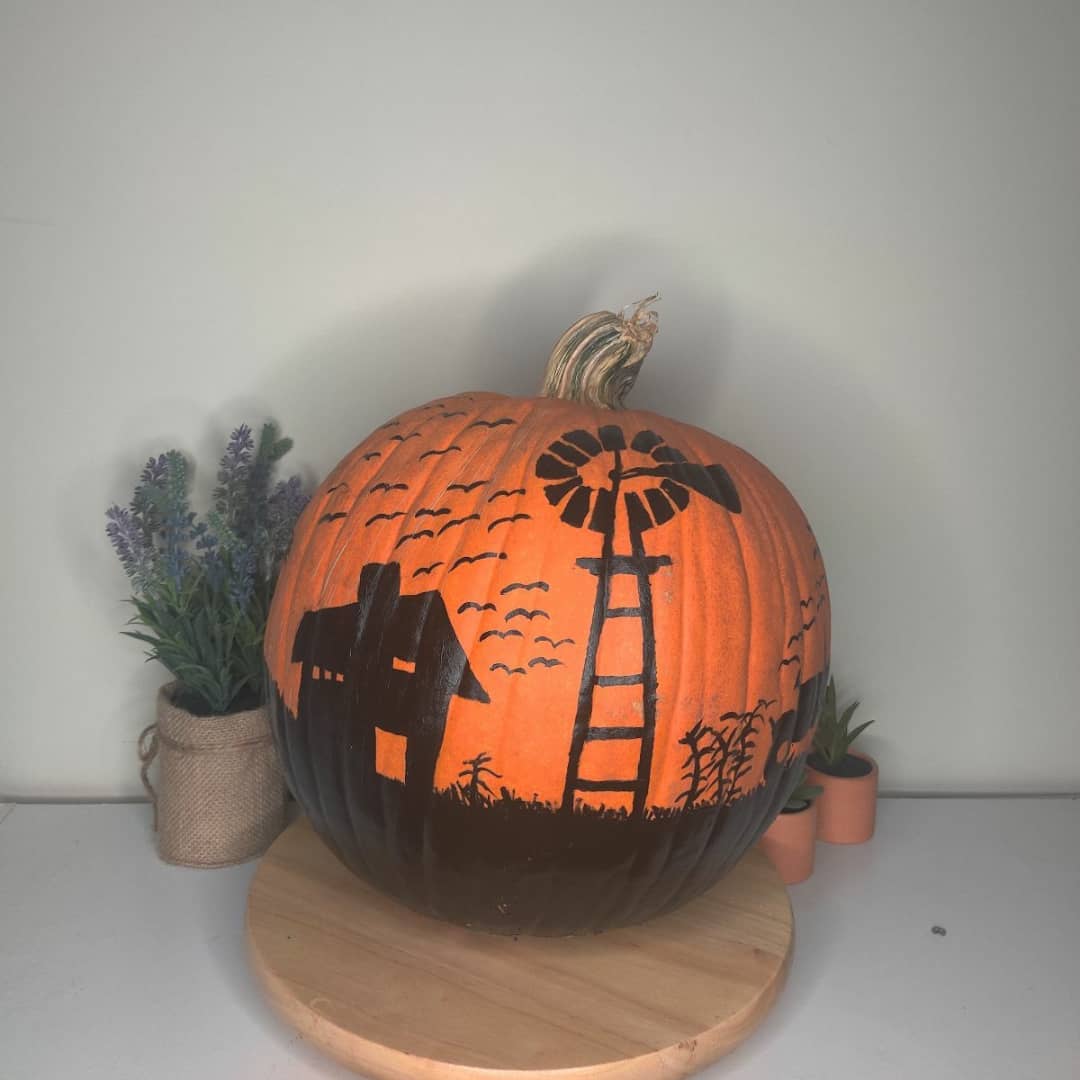 So common and traditional-like, you will easily spot this pumpkin, and you will easily recreate this look. Just add a black shade on top and color away!
2. White & Red Pumpkin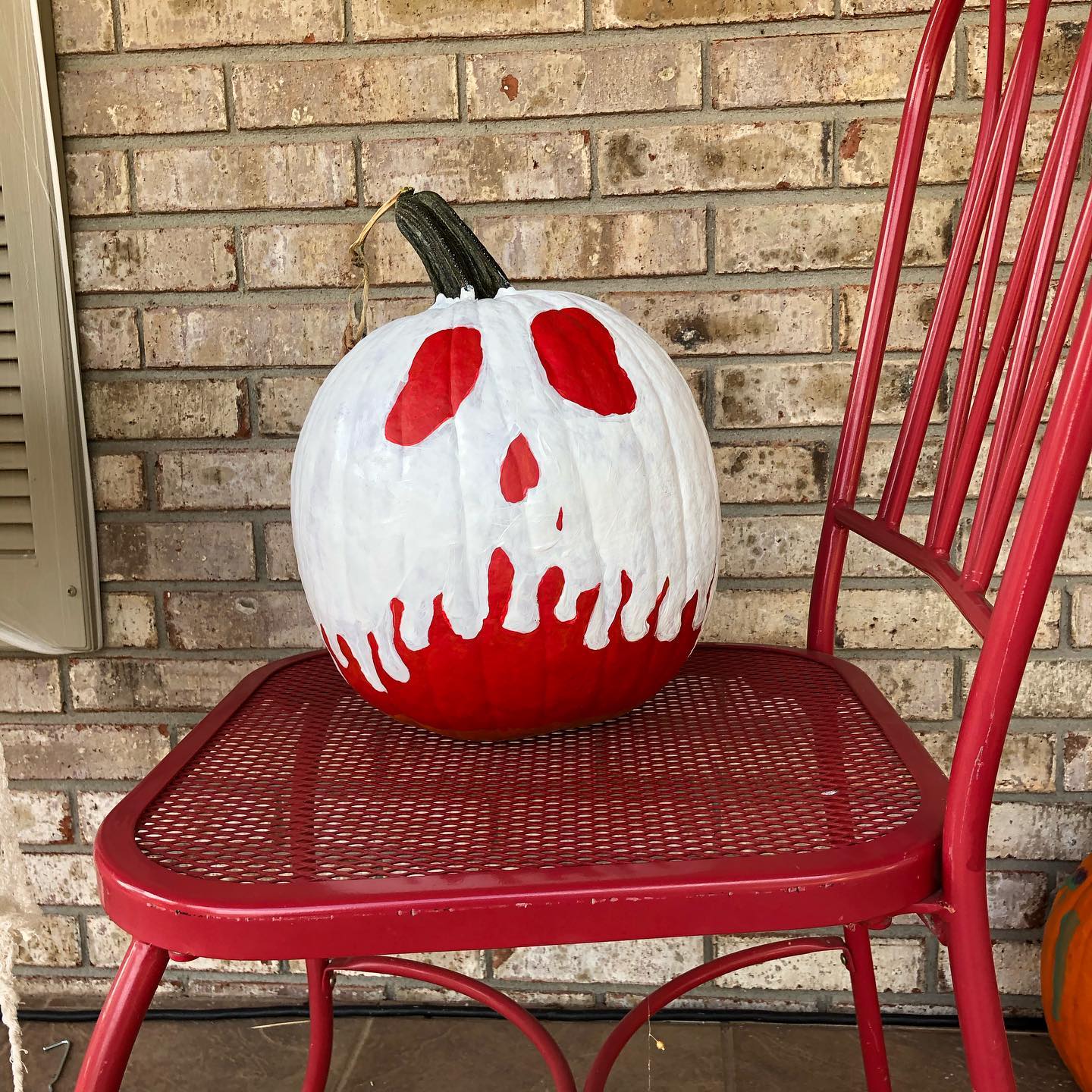 White and red is a brave choice, but it can also look a bit spooky. This pumpkin is a bright and loud choice for Halloween, wouldn't you want to recreate it?
3. White Pumpkin With Retro Elements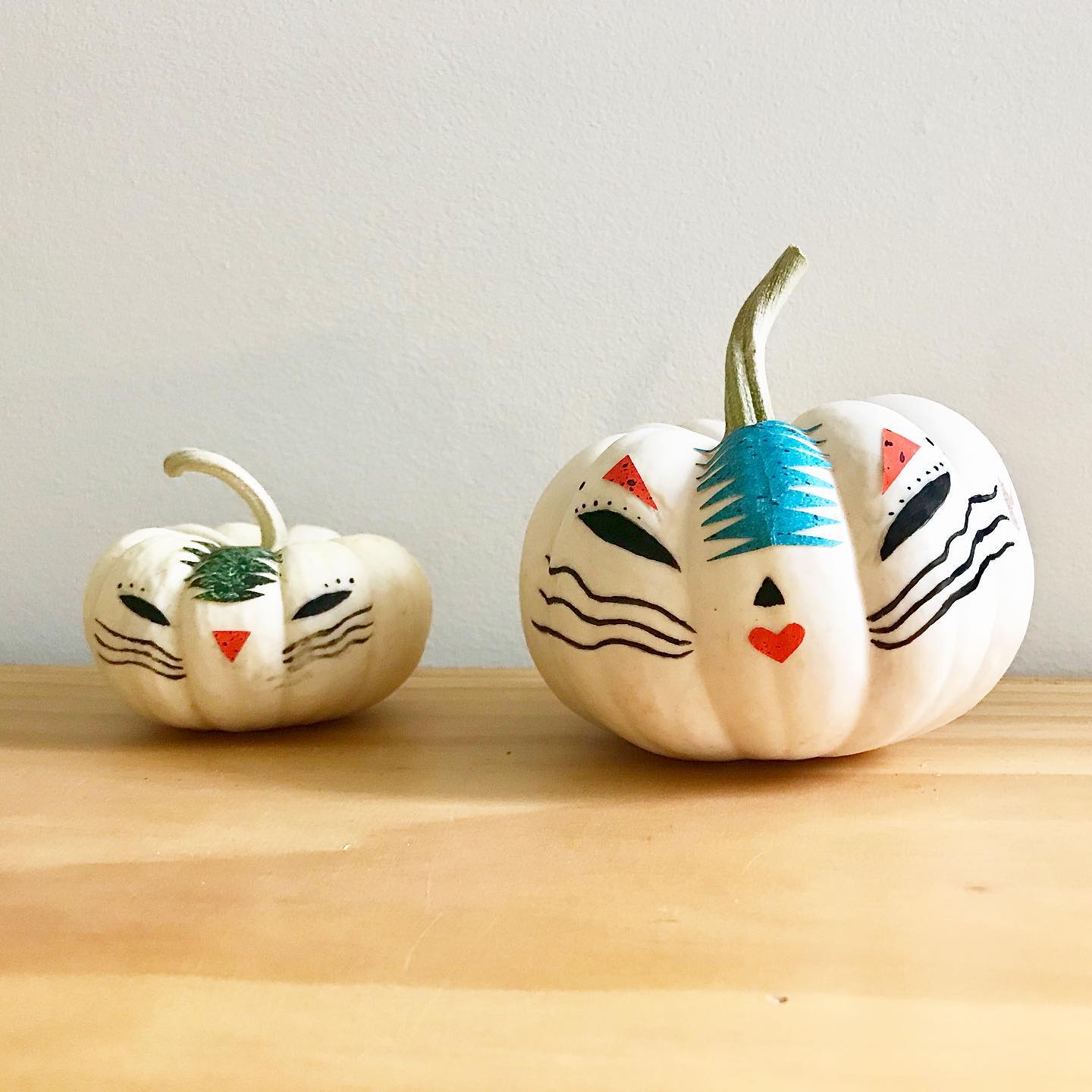 So cute, retro, and boohoo, why not do the same design on two types of pumpkins? A giant one combined with a small one will suit parents with kids the best.
4. Floral Pumpkin Painting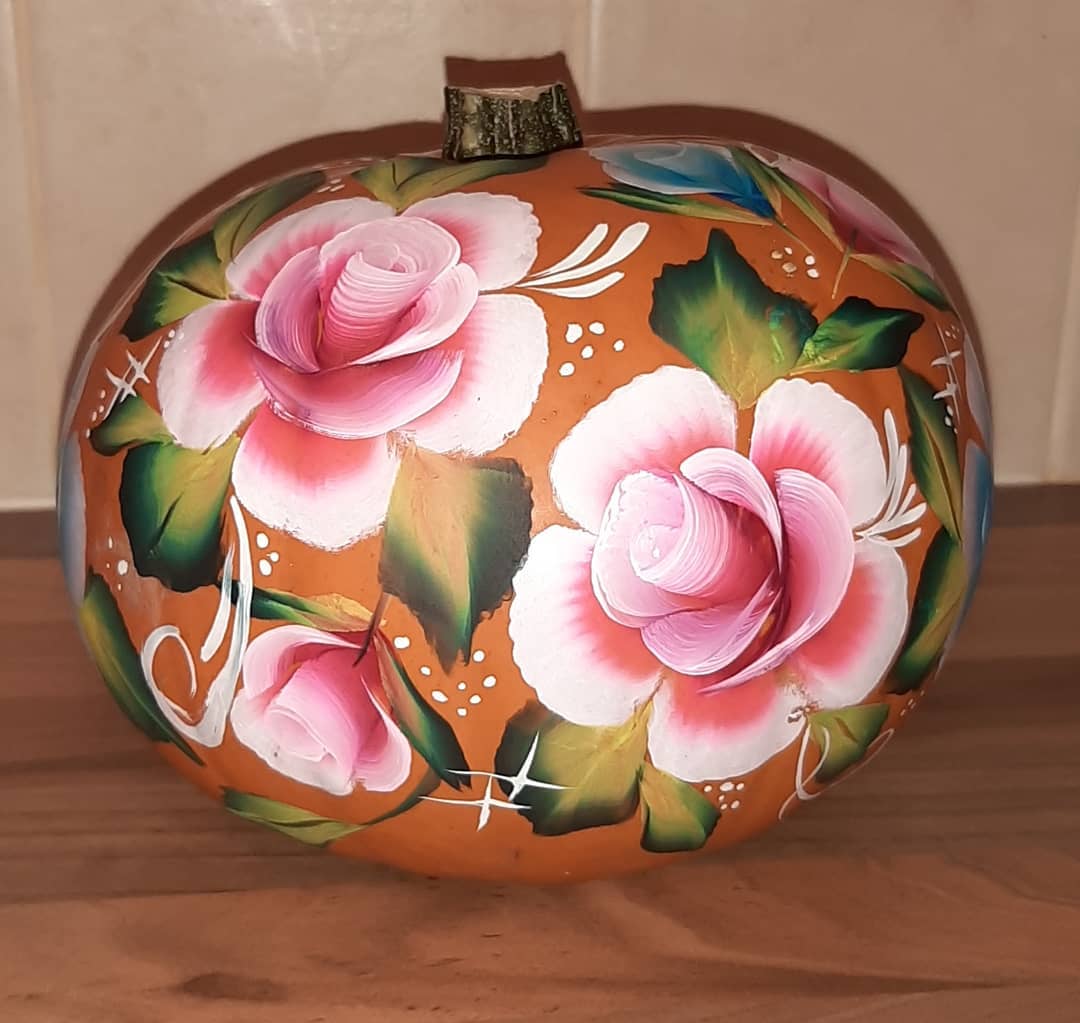 Precision is a must-do when it comes to this pumpkin. If you enjoy flowers and bright patterns experiment with this beauty and color away!
5. Tribal Pumpkin Look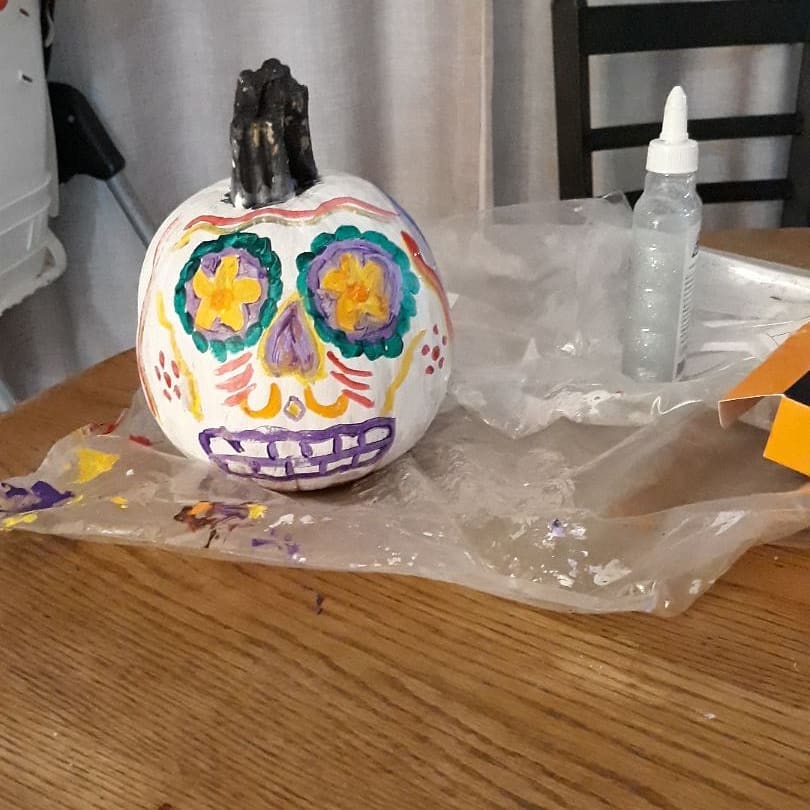 Let your imagination run wild! If you like to paint and you are a true fan of colors this bright and vivid neon-like pumpkin is for you to experiment with!
6. Miss Piggy Pumpkin Painting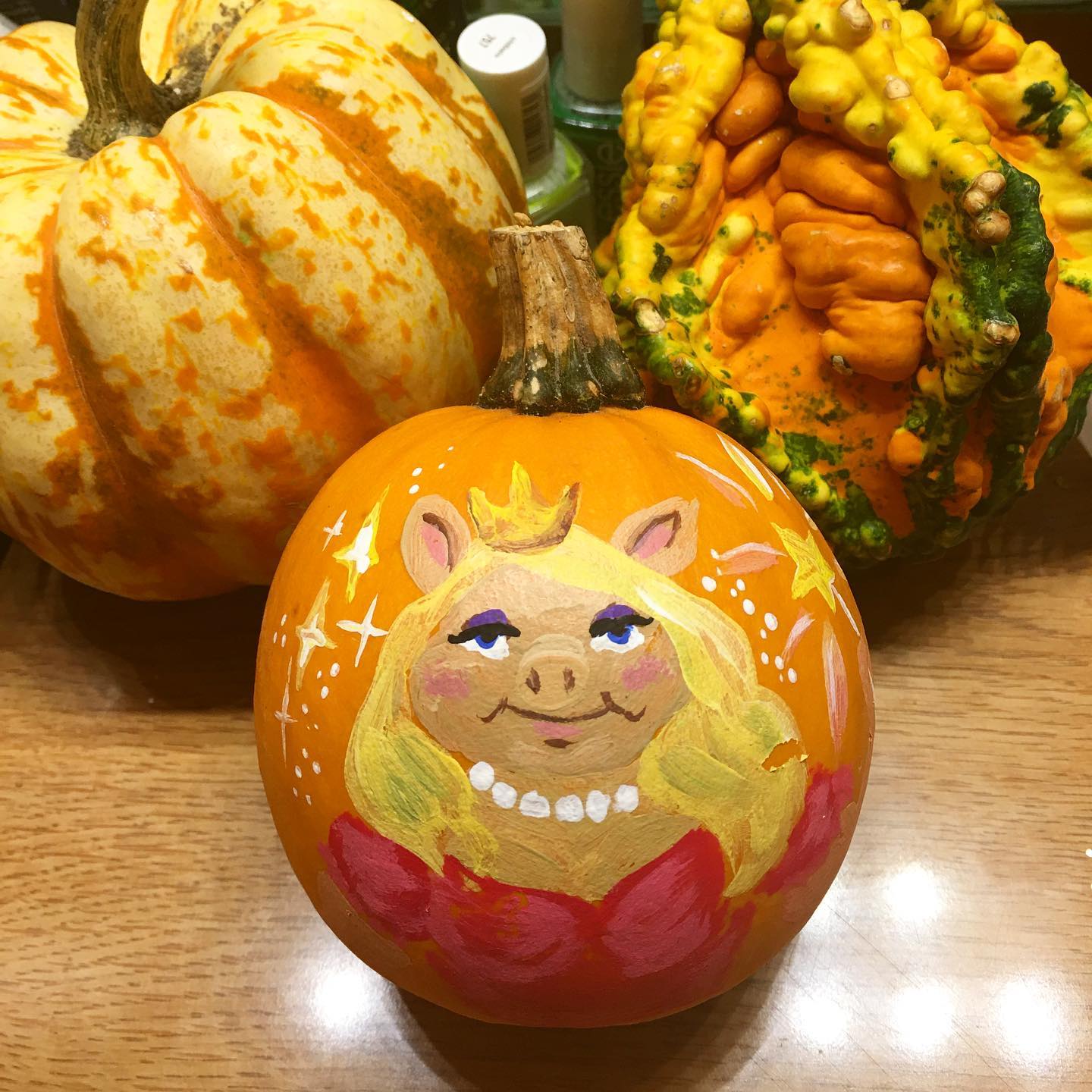 If you are into cartoon-like and retro pumpkins and you love to watch cartoons all-day-everyday, this Miss Piggy will be fun for all of you to draw on!
7. Boo Pumpkin Painting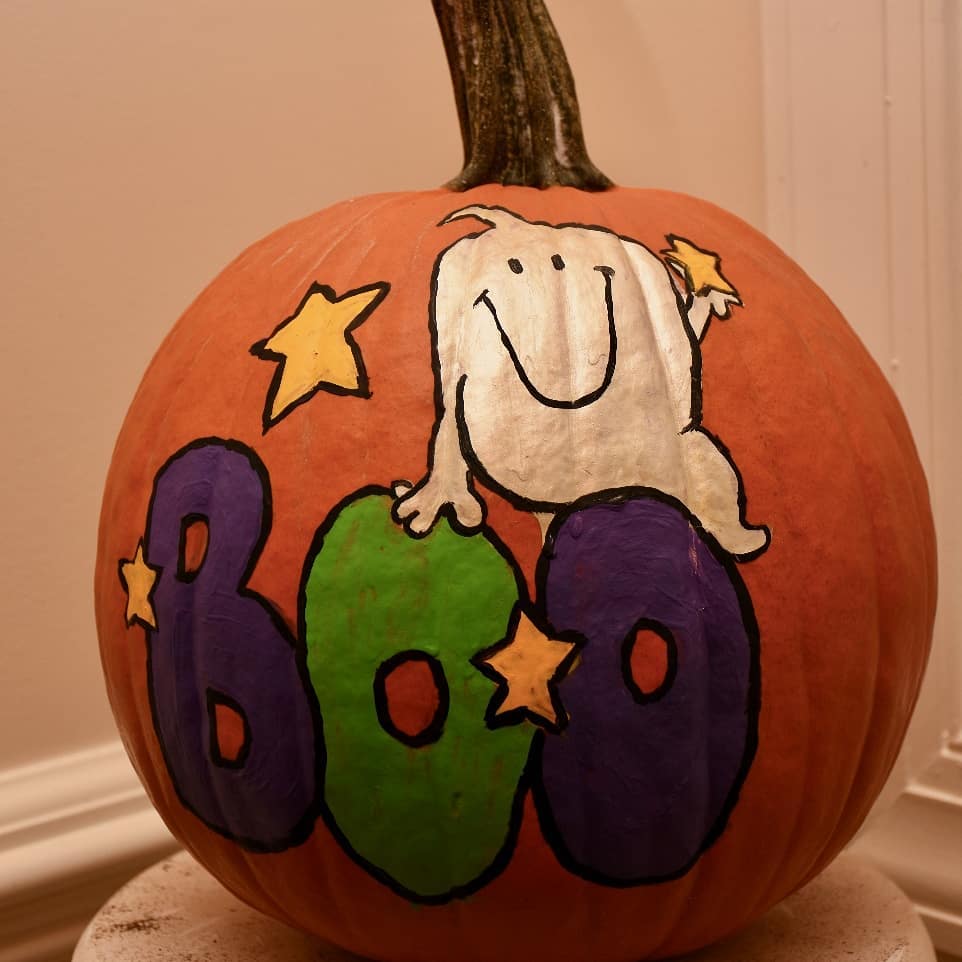 Cute ghost pumpkin that is easy to do and recreate, as well as draw on top. Go for the word "boo" and you're going to like this bright print for Halloween.
8. Tiger Pumpkin Painting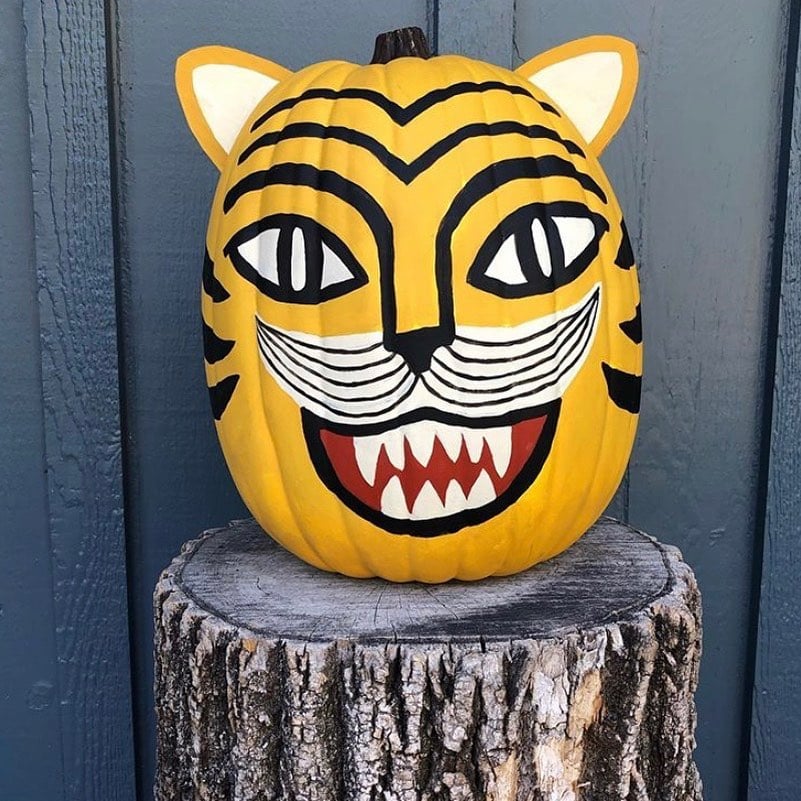 A tiger-inspired pumpkin that is loud & wild! If you are an animal lover and you know how to draw detailed characters, why not experiment with this one?
9. Artsy Pumpkin Painting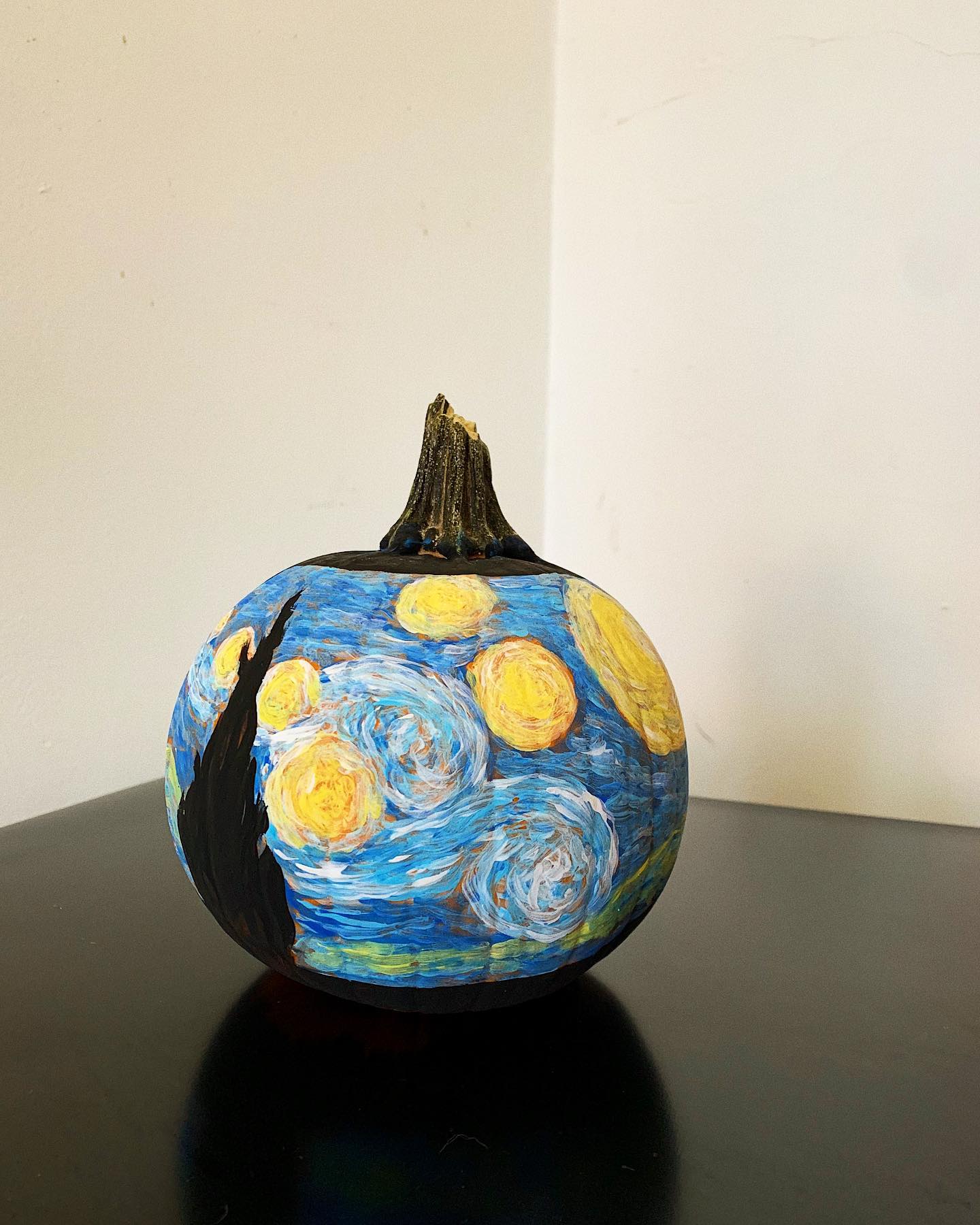 Inspired by Van Gogh and "The Starry Night", this pumpkin is for those who like to be artsy and super creative with their art.
10. Dog Pumpkin Painting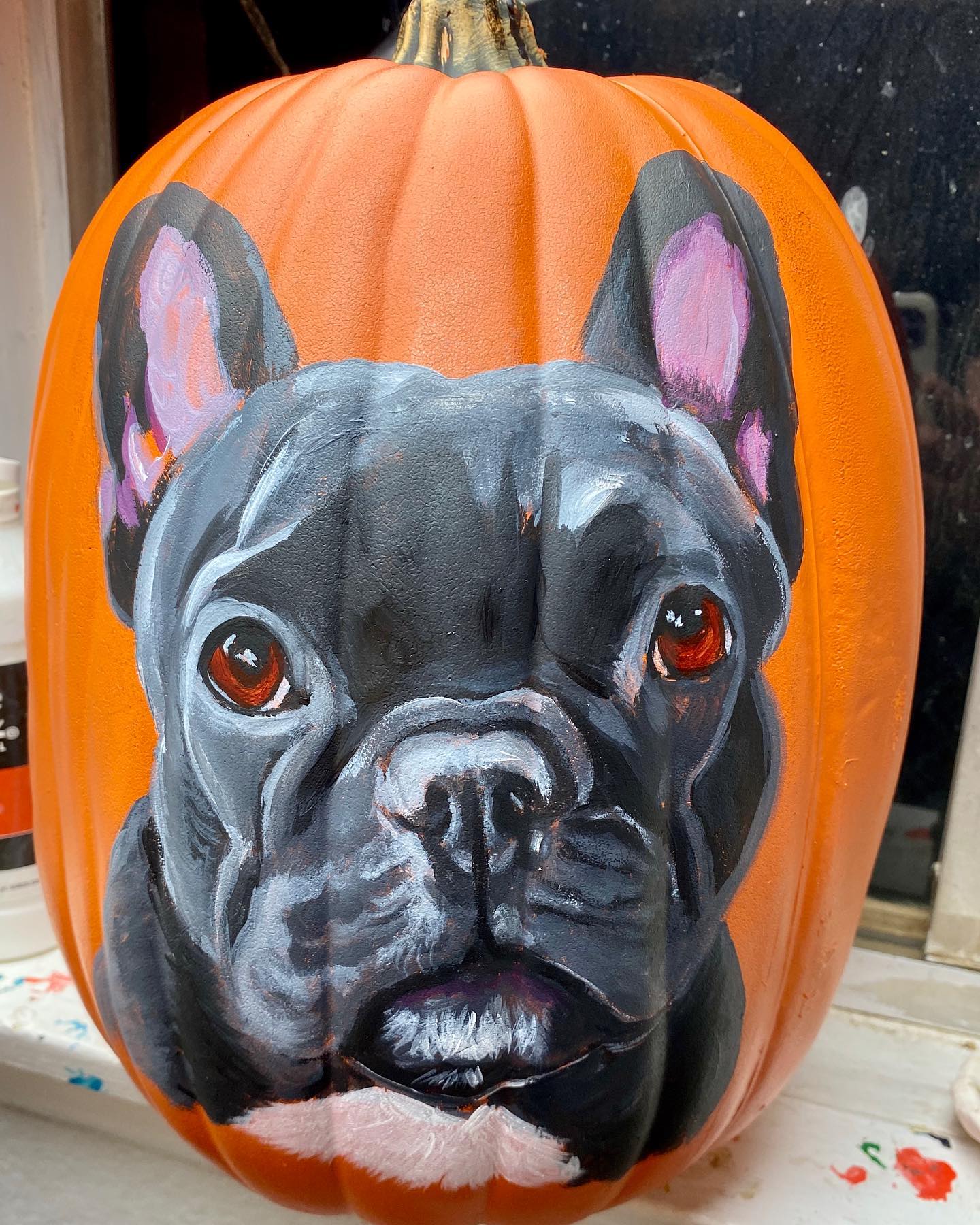 Show your pet just how much you love them by getting this pet-dog creative pumpkin. If you are all-about precision and have that artistic side to you, give it a go!
11. Matching Pumpkin Paintings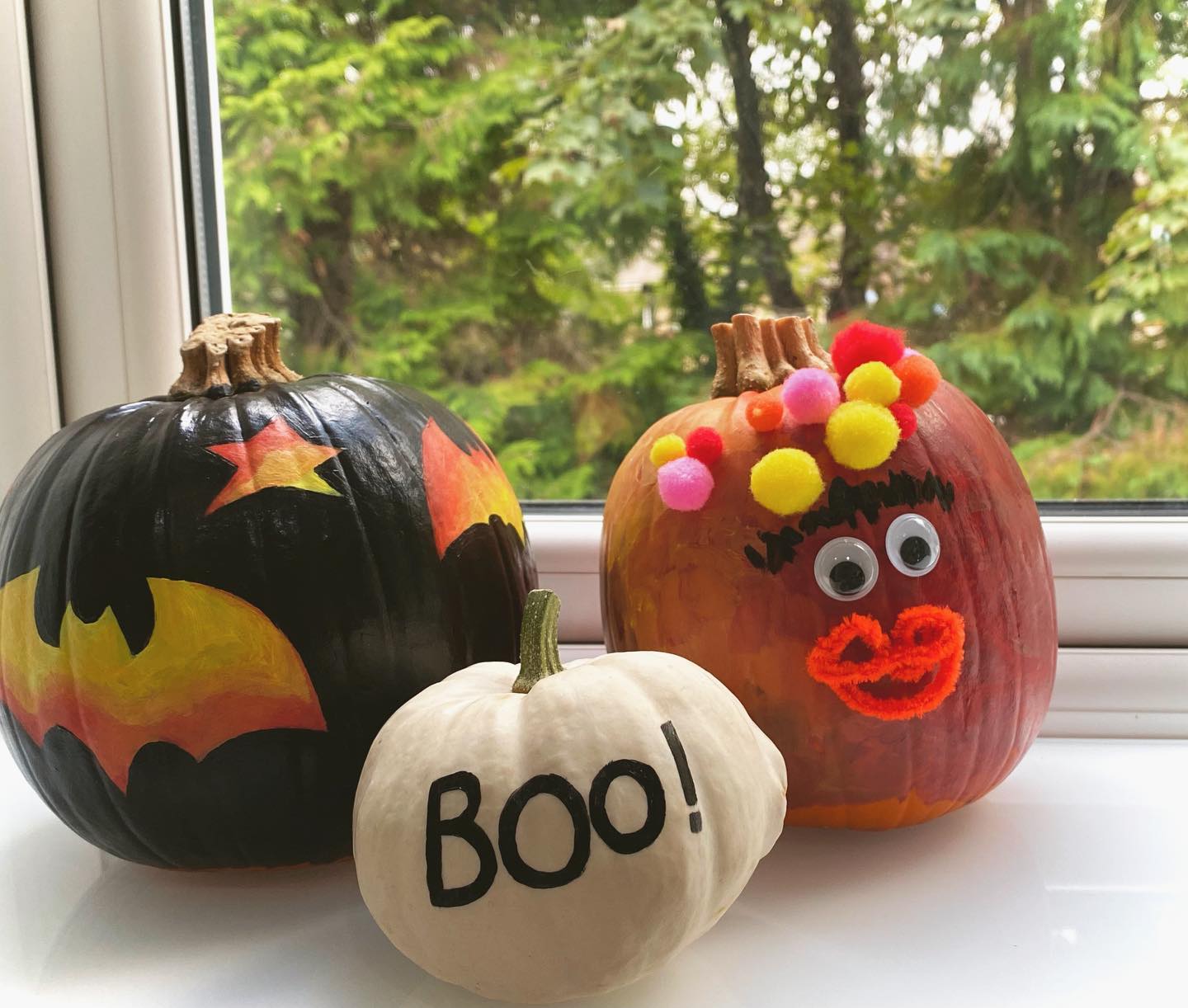 You and your entire family can go for these wild pumpkins. If you want to create and have matching art, combine these pieces together and have your own fun story to tell!
12. It Pumpkin Creation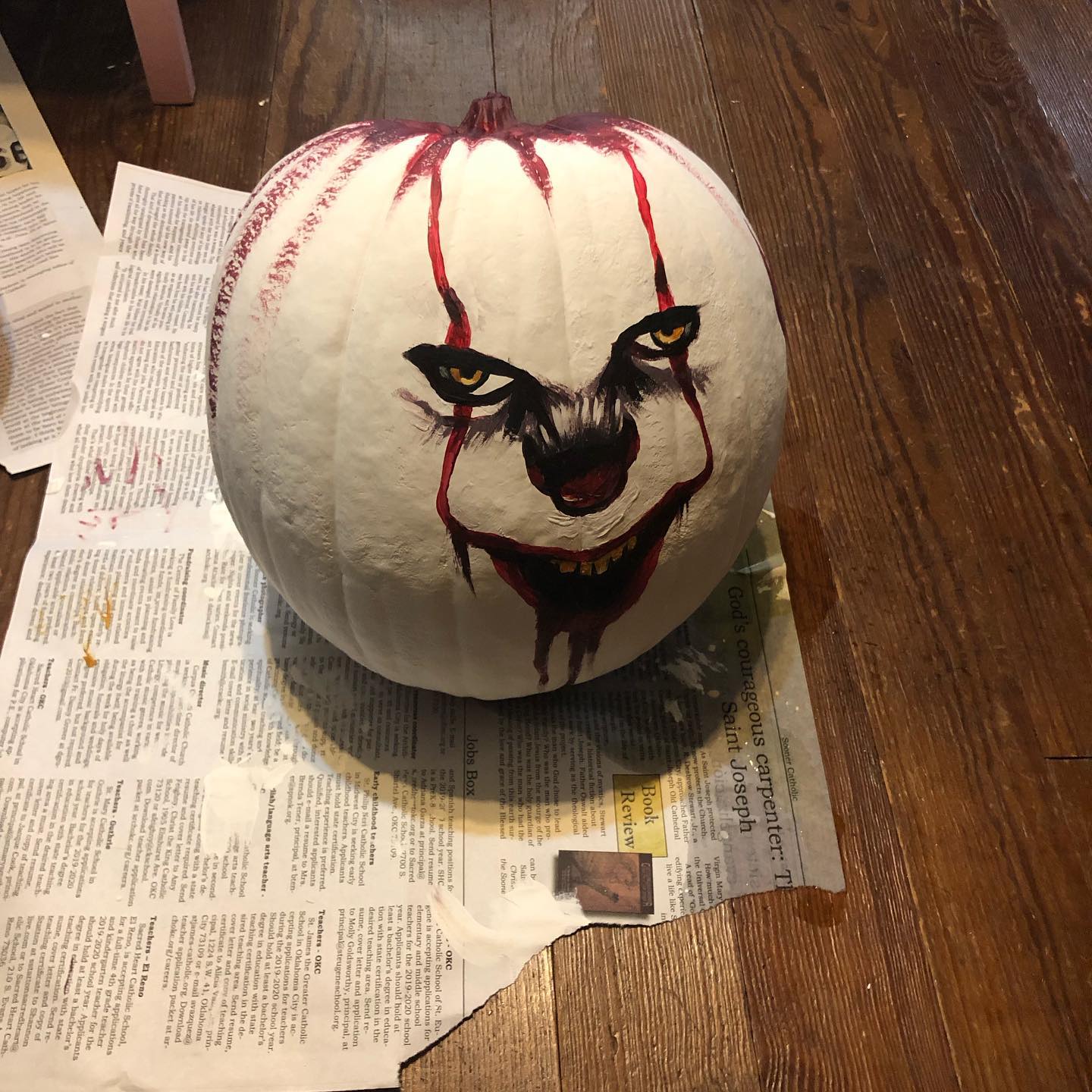 "It" is one of the most-loved and popular Horror movies to this day. Go for this crazy clown print if you have the time and patience to recreate it.
13. Clown Pumpkin Idea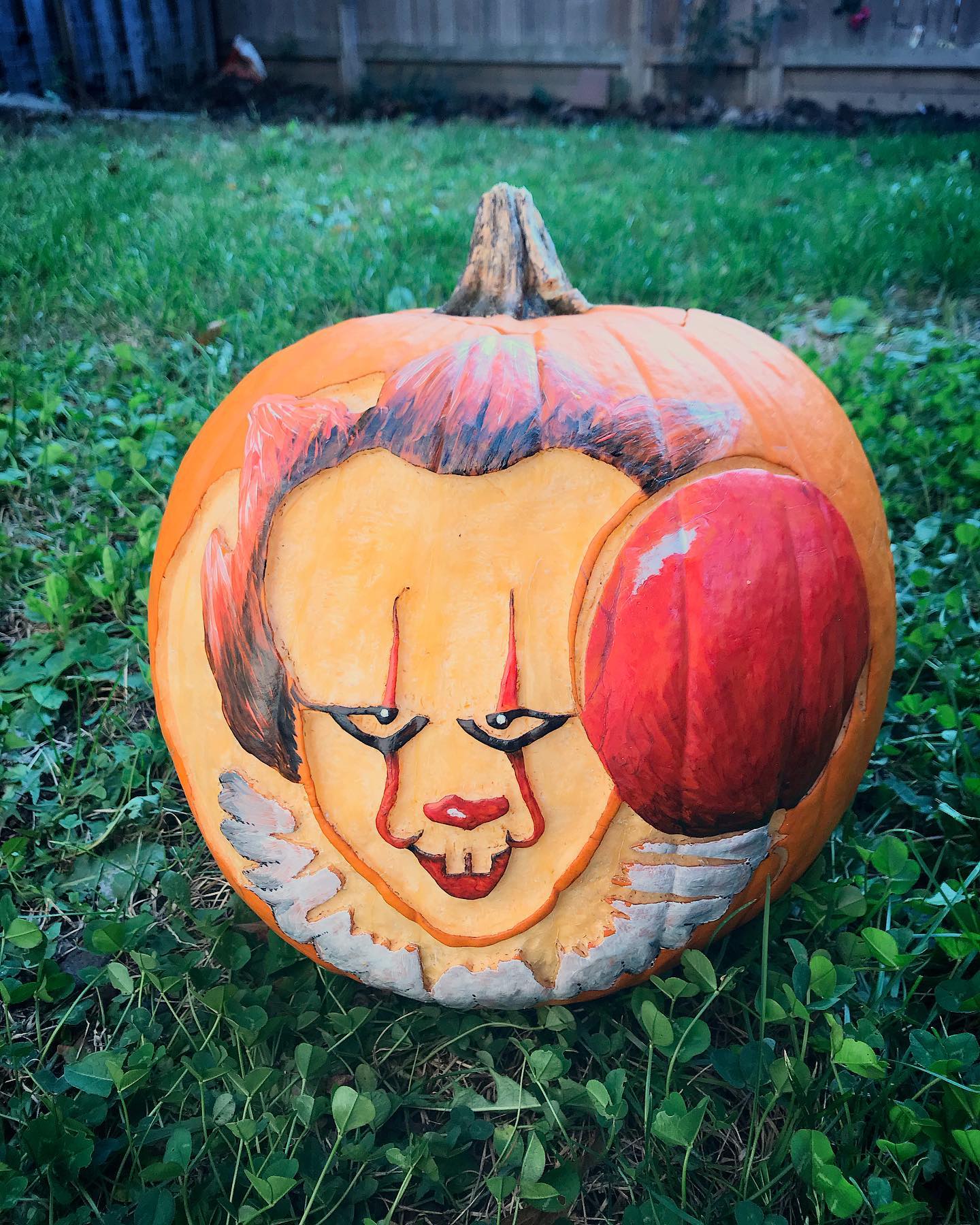 Pennywise pumpkin art pumpkin will take some time to do but will be worth it in the end. You can also experiment with a bit of carving details to get the best outcome.
14. Mountain Pumpkin Painting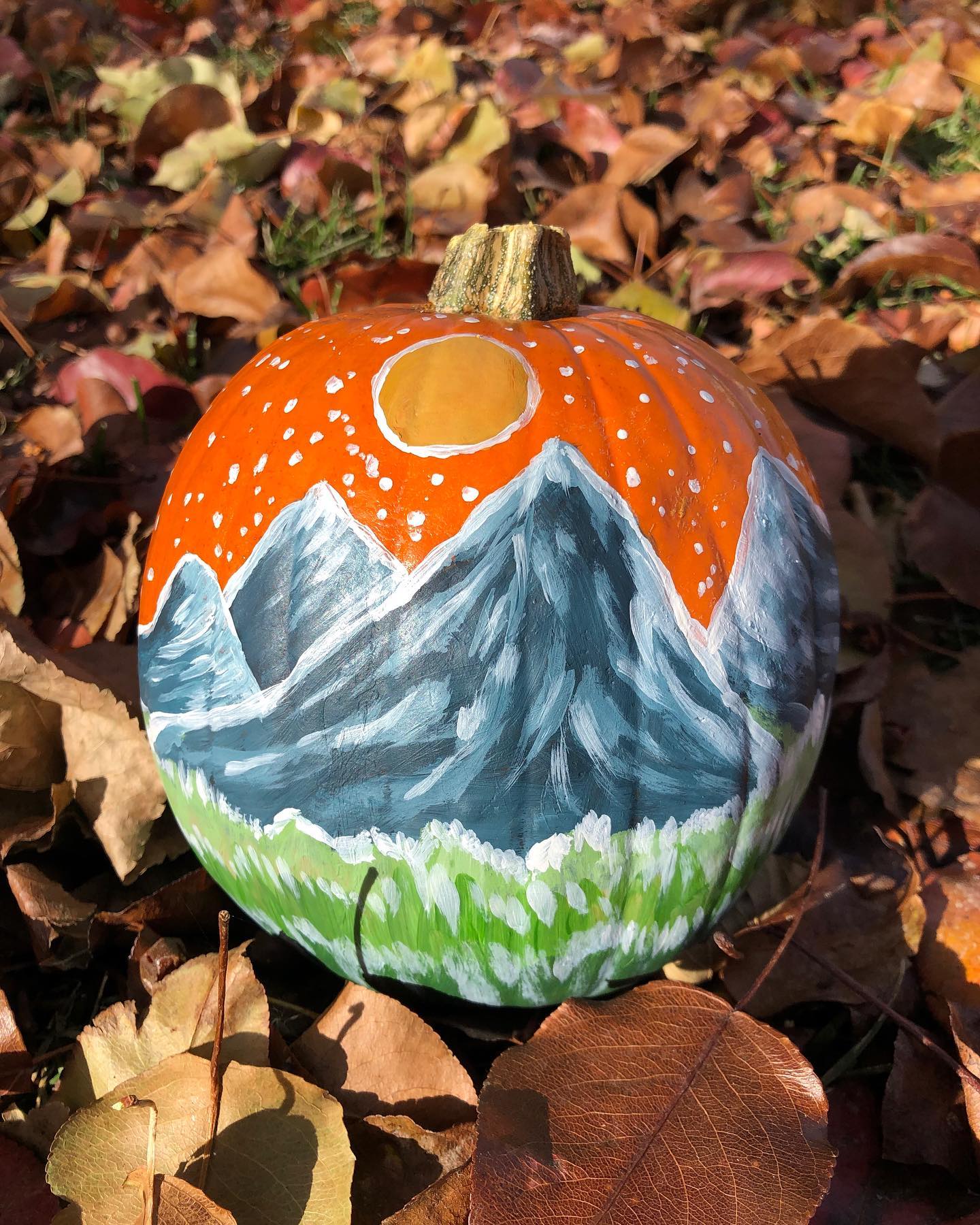 If you're a nature lover show off all of these colors and get creative with your pumpkin! Simple and easy to do, no matter your age.
15. Colorful Pumpkin Idea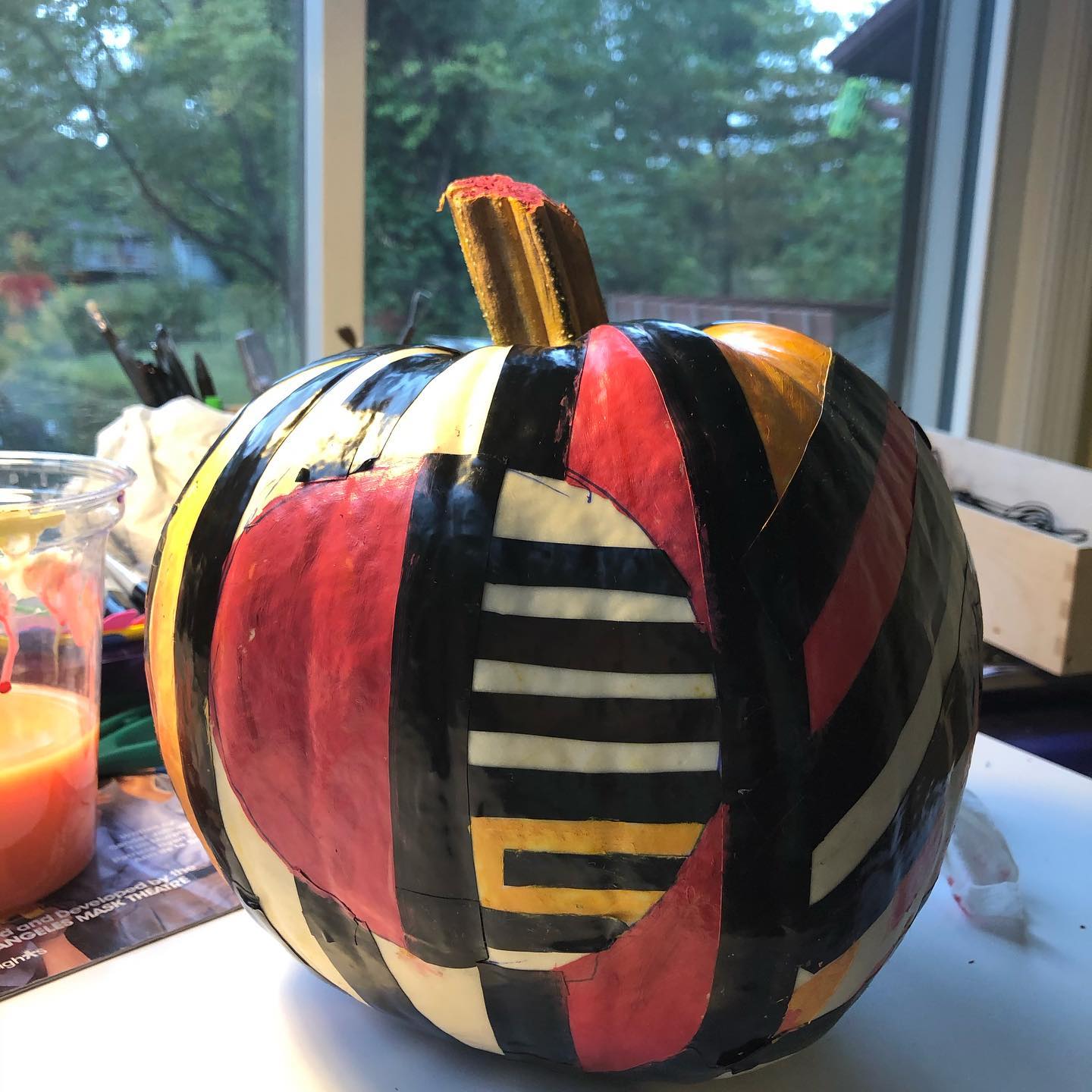 This colorful abstract artsy pumpkin is so retro and has a ton of different geometrical elements. Aim for brighter colors to get an ideal design.
16. Halloween Pumpkin Painting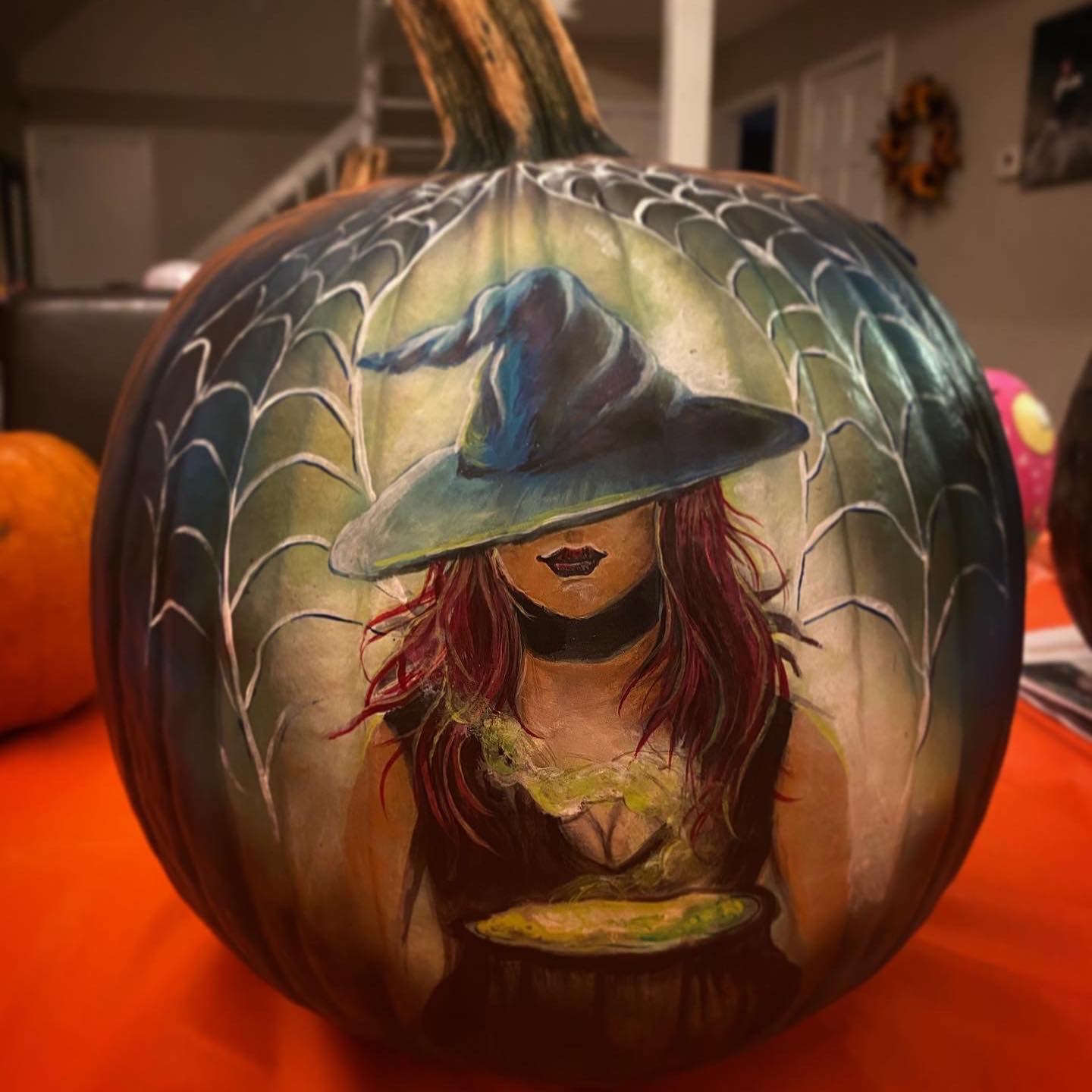 Only some creative souls will achieve and succeed to recreate this pumpkin. If you're a huge fan of Halloween try your best to recreate this witch design.
17. Portrait Pumpkin Painting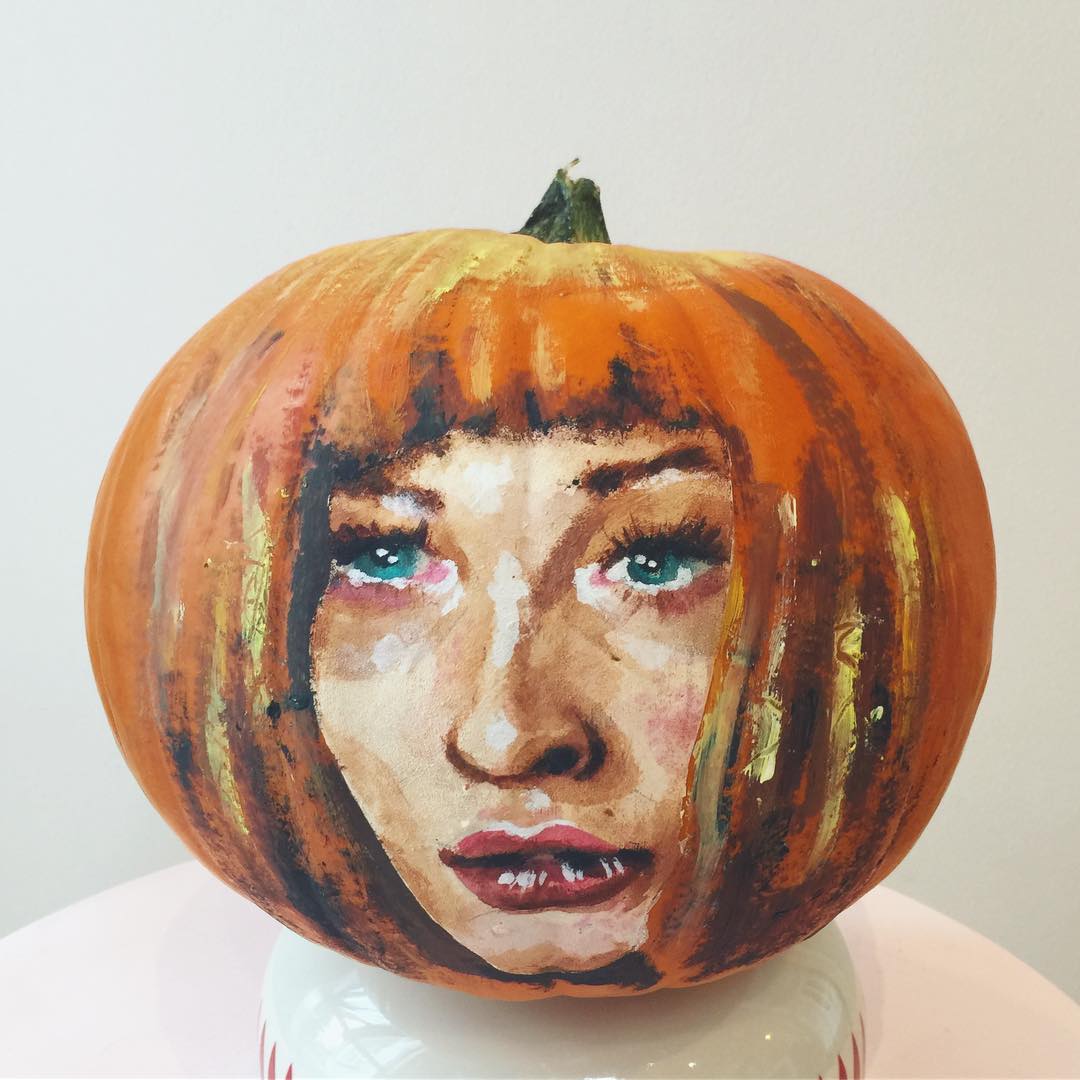 Pumpkin portraits are hard to draw and pull off, which is why you have to be skilled and creative enough to do them. Are you a creative person?
18. Blue & Red Pumpkin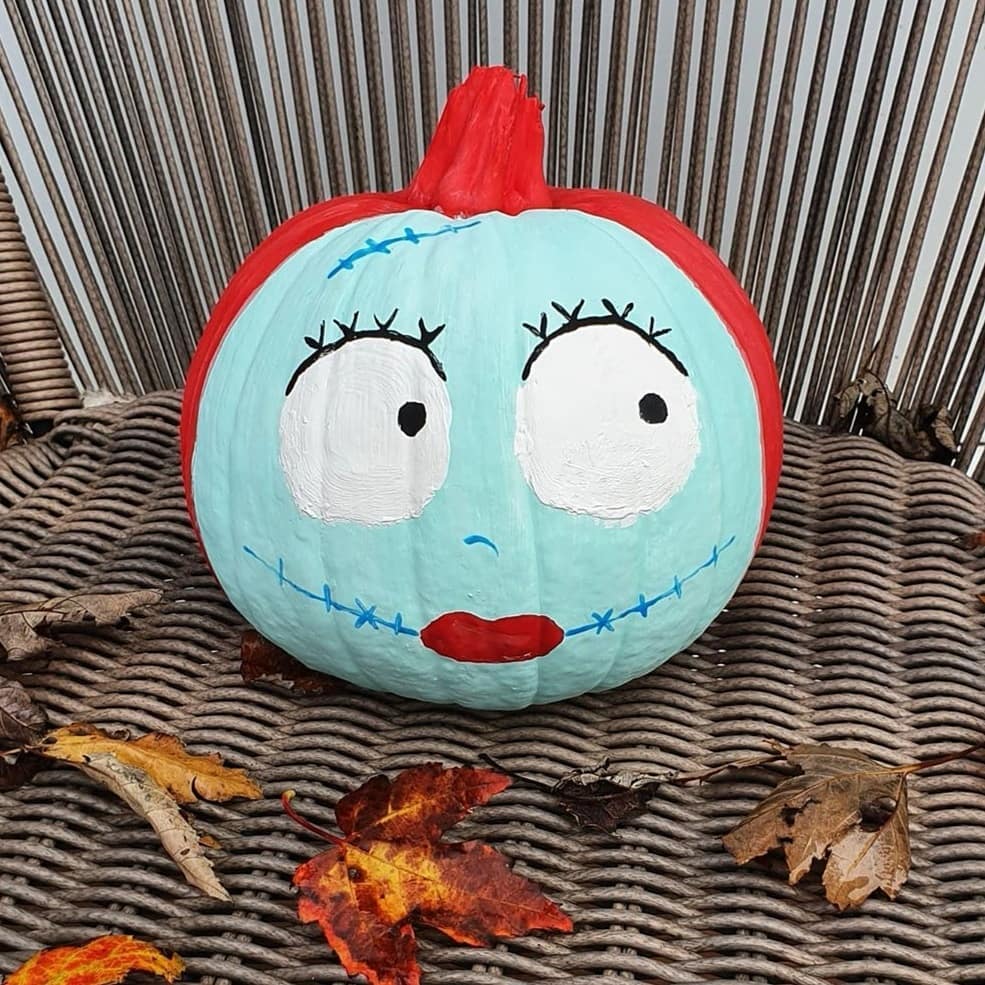 Spooky and cute, this red and blue pumpkin duo is super easy to recreate. You can try drawing it along with your kids.
19. Witch Pumpkin Painting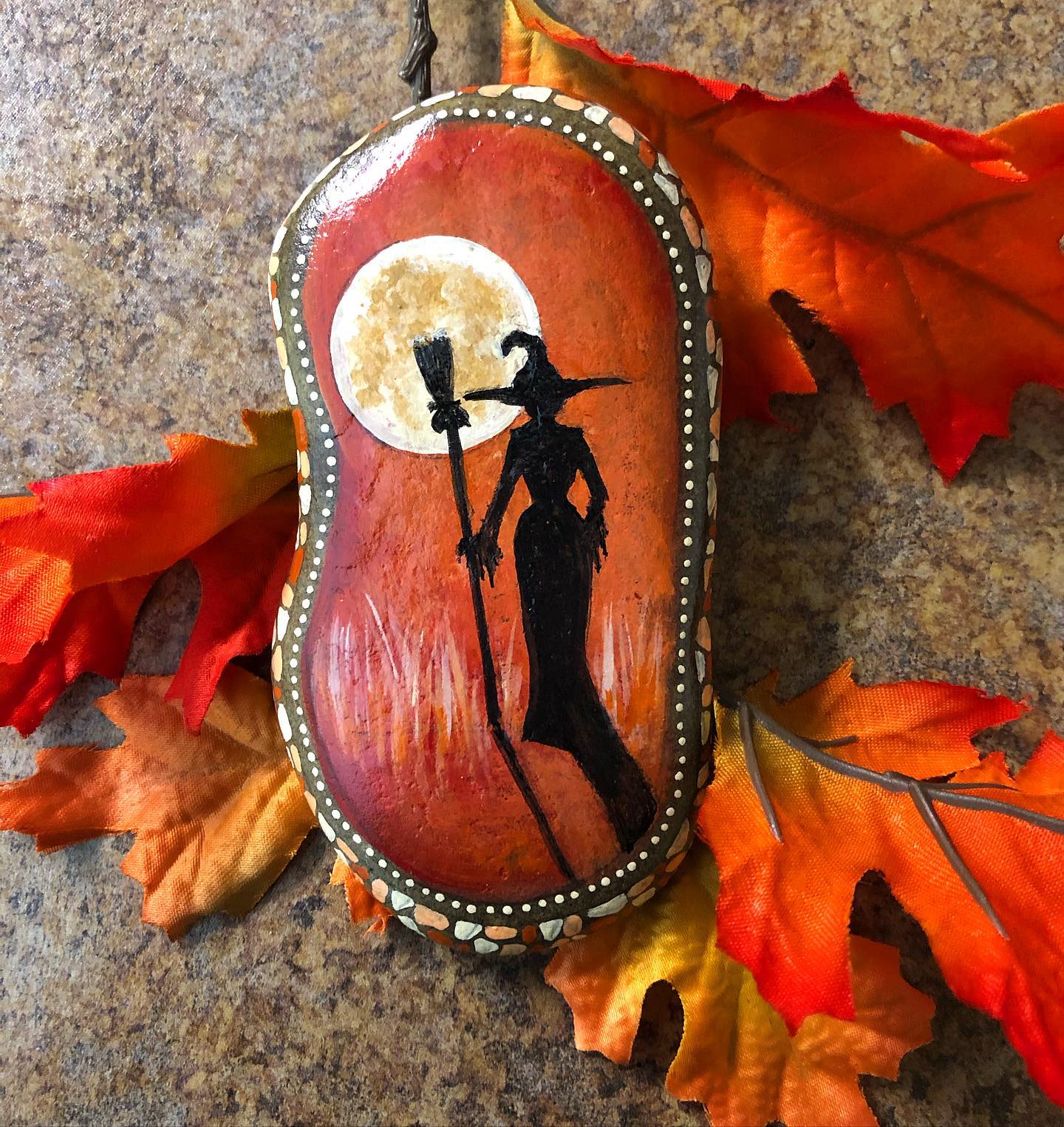 Show your spooky side and your love for Halloween through a common witch design. Add black color on top and paint away!
20. Spooky Pumpkins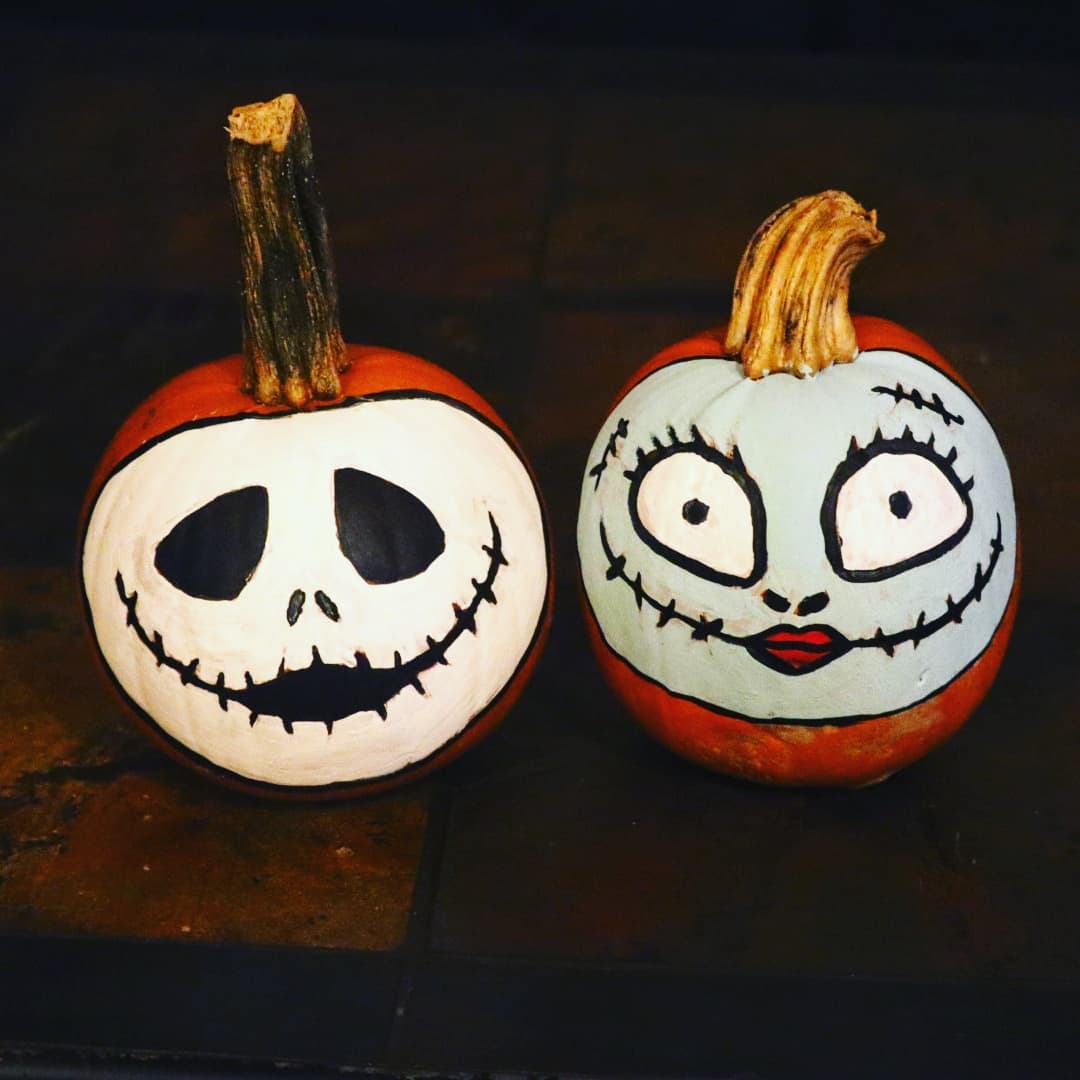 Spooky pumpkins are always a bulletproof option to go for. Go for a matching print to get this mesmerizing duo and paint away with someone you're close to.
21. Light Pink Pastel Pumpkin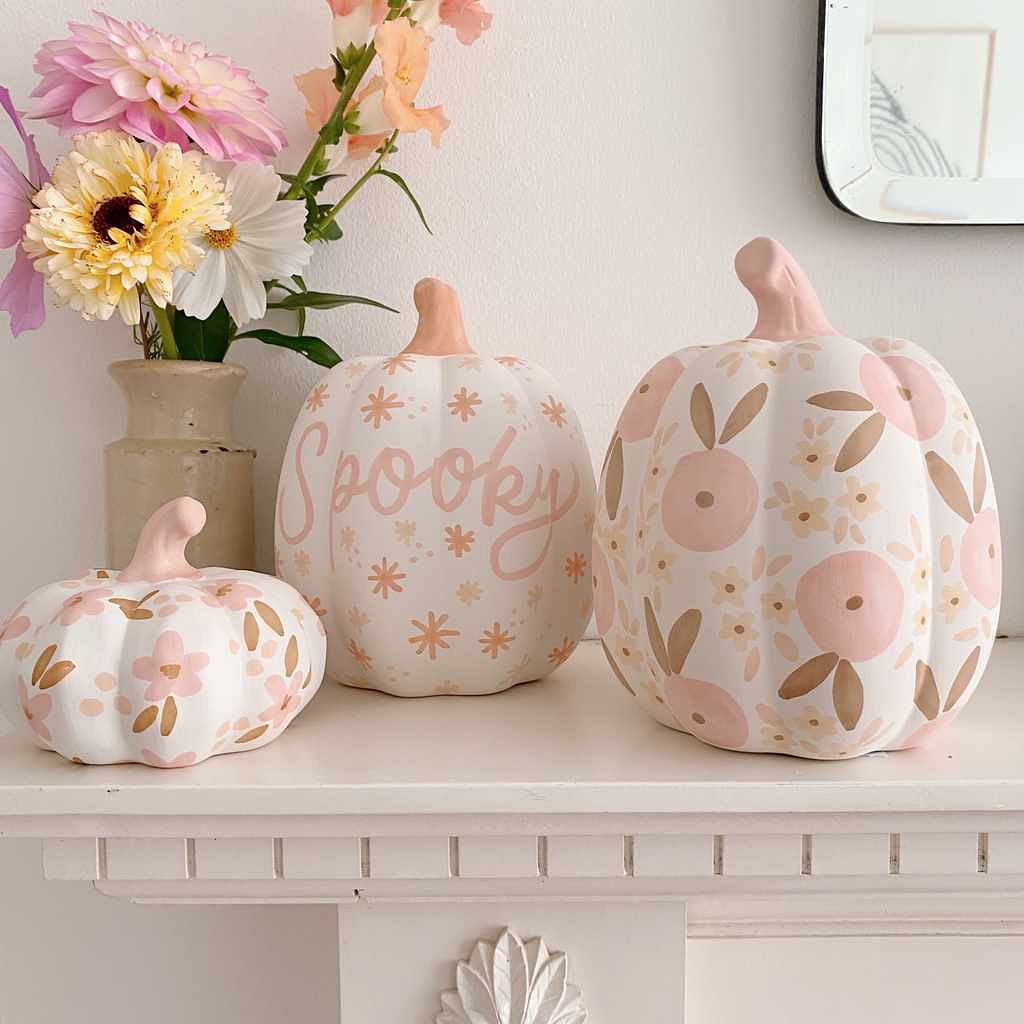 The light pastel pink shade is so girly and feminine! Who says that your pumpkin has to be so serious or wild-looking?!
22. Creative Yellow Pumpkin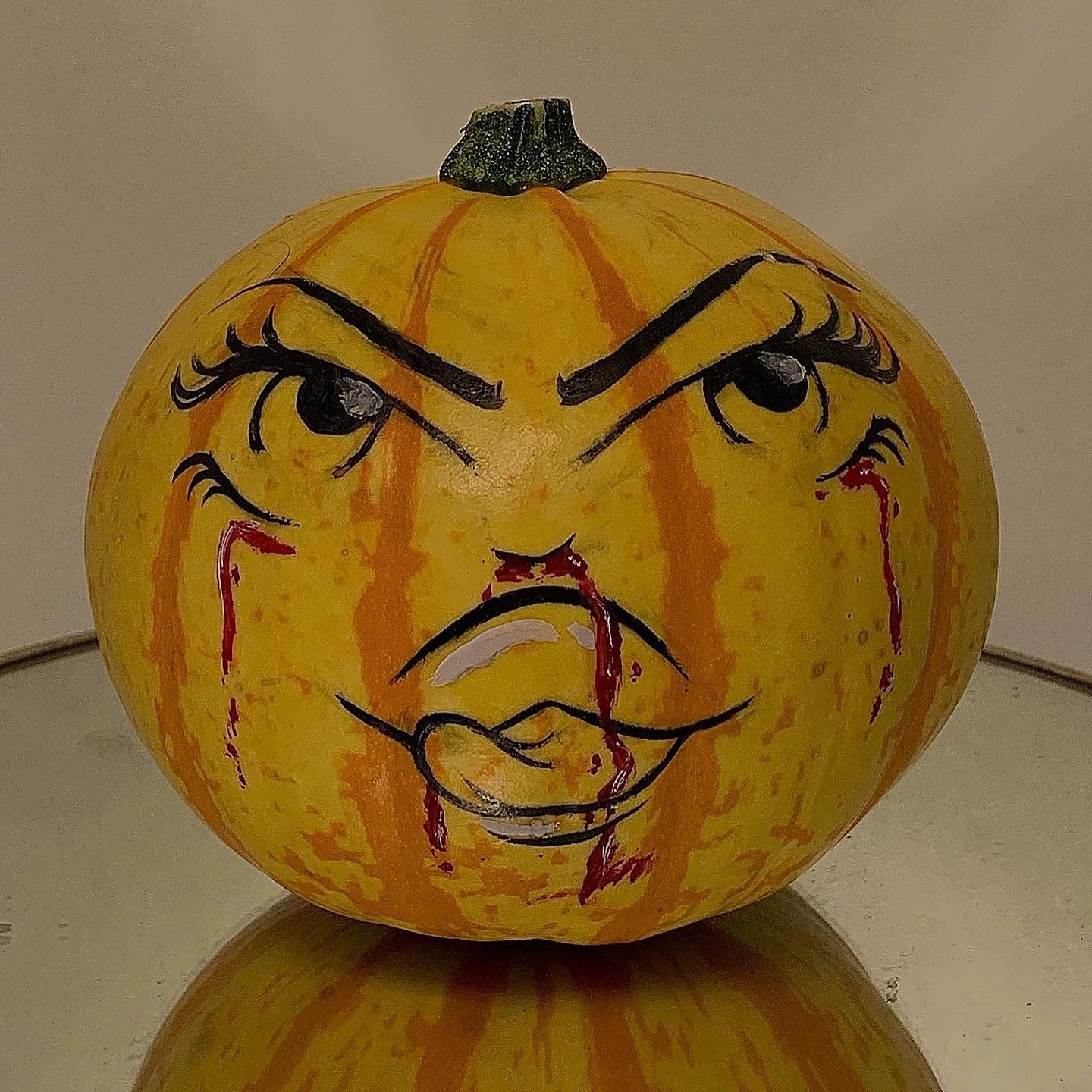 Yellow pumpkins are on a rarer side. Draw on top of them with black ink or black dye to achieve this cartoon-like retro print.
23. Cartoon Anime Pumpkin Painting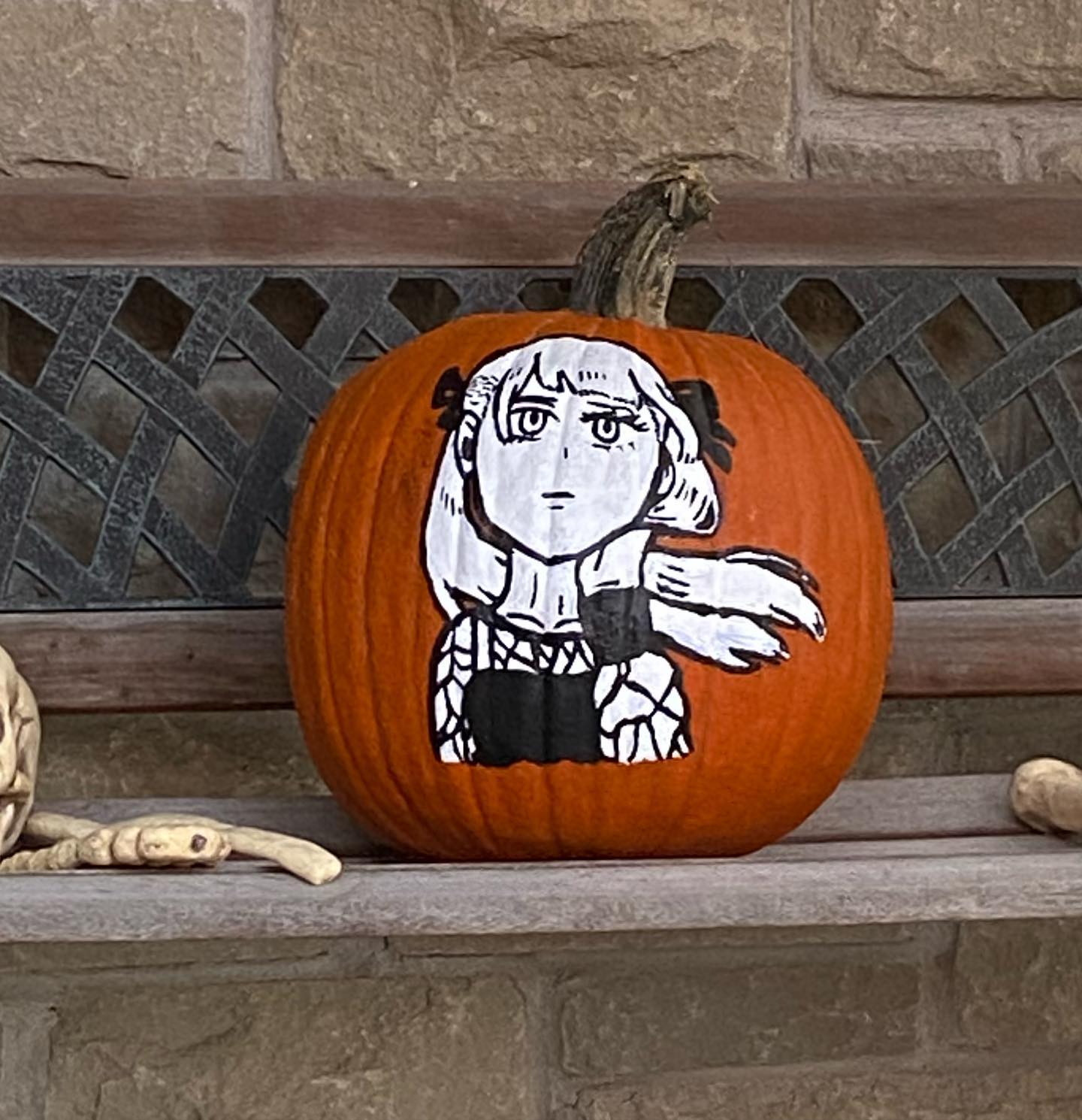 True fans and lovers of anime will adore this pumpkin. Go for your favorite character on top and embrace this silly design.
24. Funny Pumpkin Idea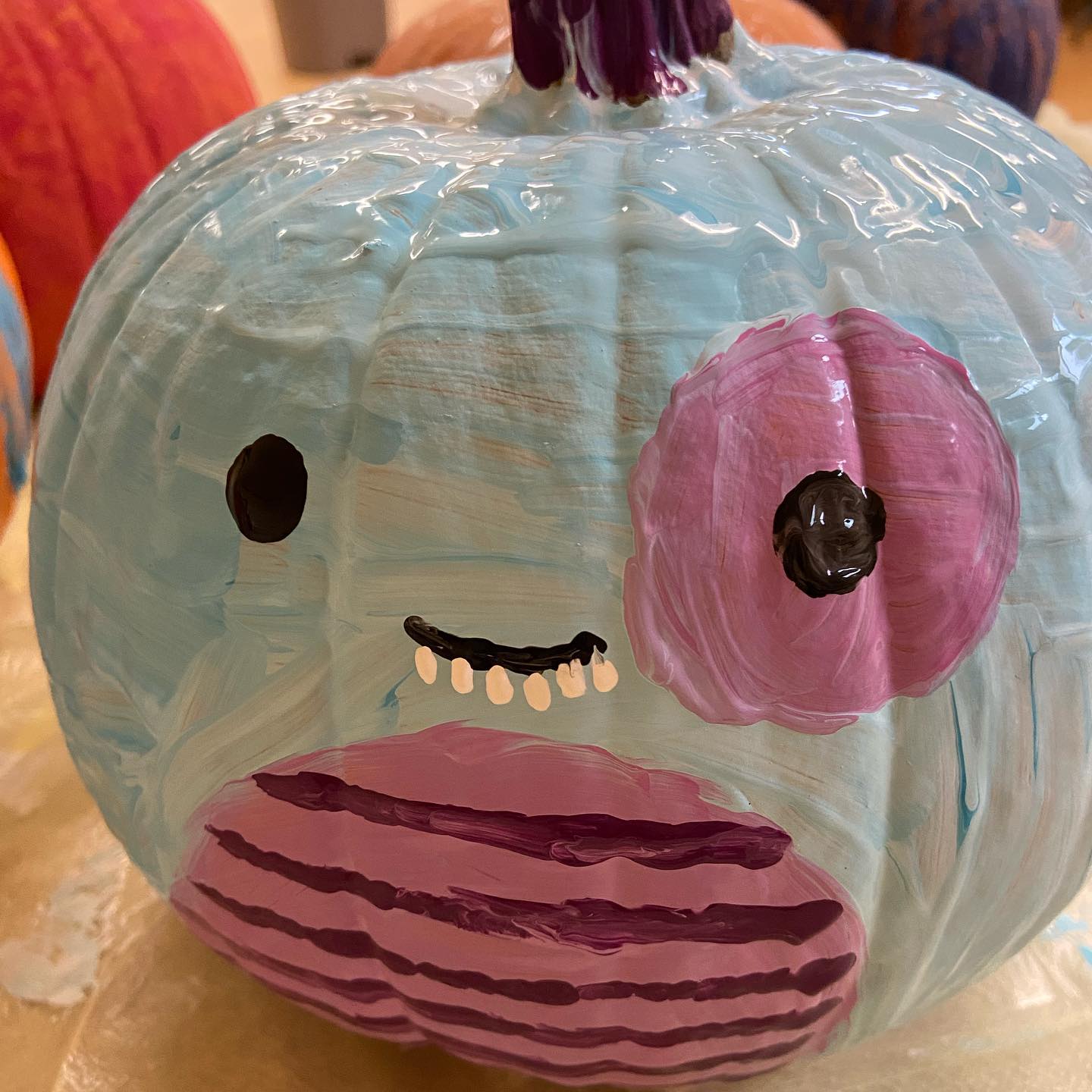 Go for a blue base and add some pink pop on top. If you like funny characters and cartoons this pumpkin is the right one for you.
25. Pokemon Pumpkin Painting
If you're a true Pokemon lover even to this day draw away with this Poke duo! Great to try if you fancy colorful pumpkins.
26. Pumpkin Painting Duo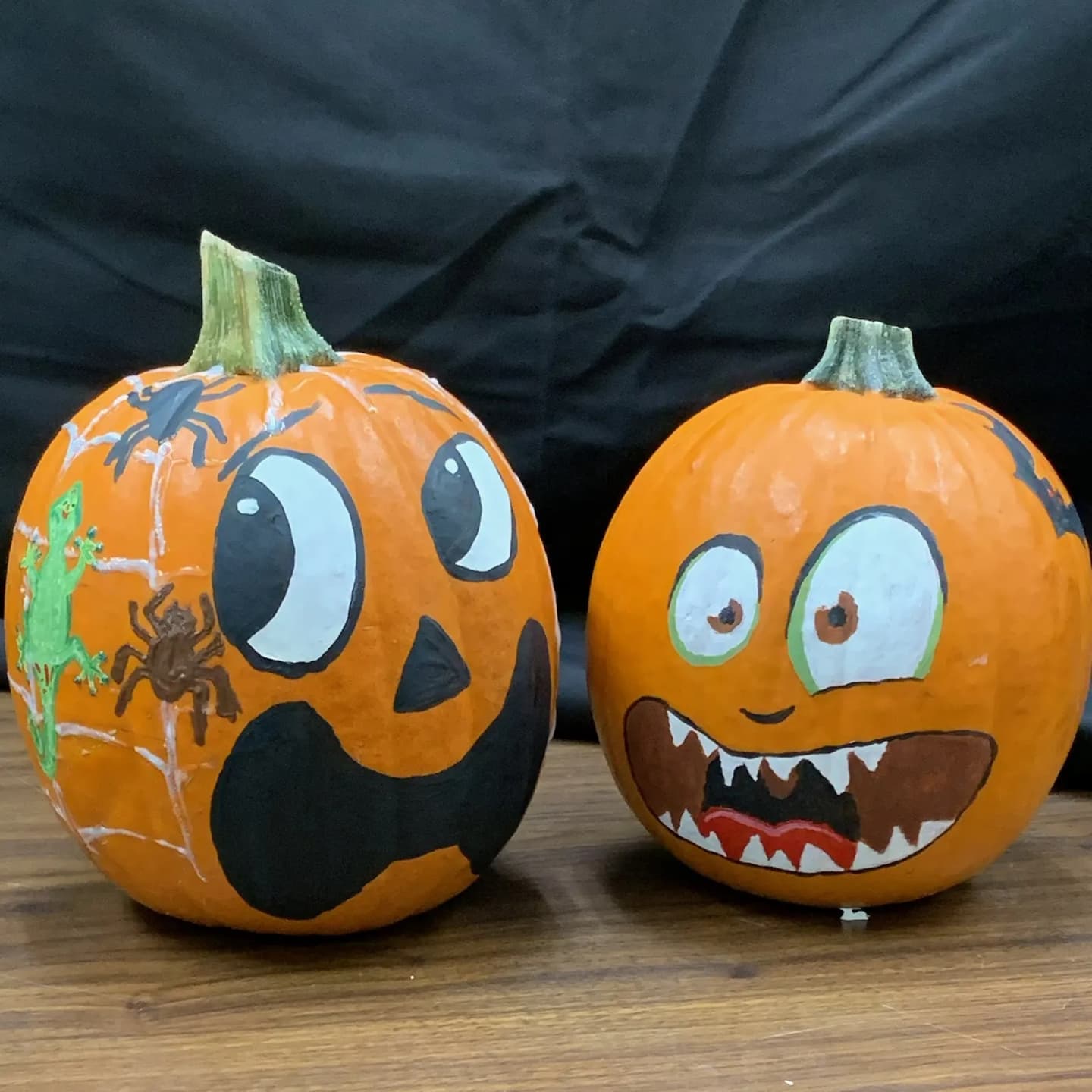 You and your other half can give it a go with this spooky duo. Make your pumpkins fun and creative, perfect for those who can't agree on just one design.
27. White Pumpkin Creation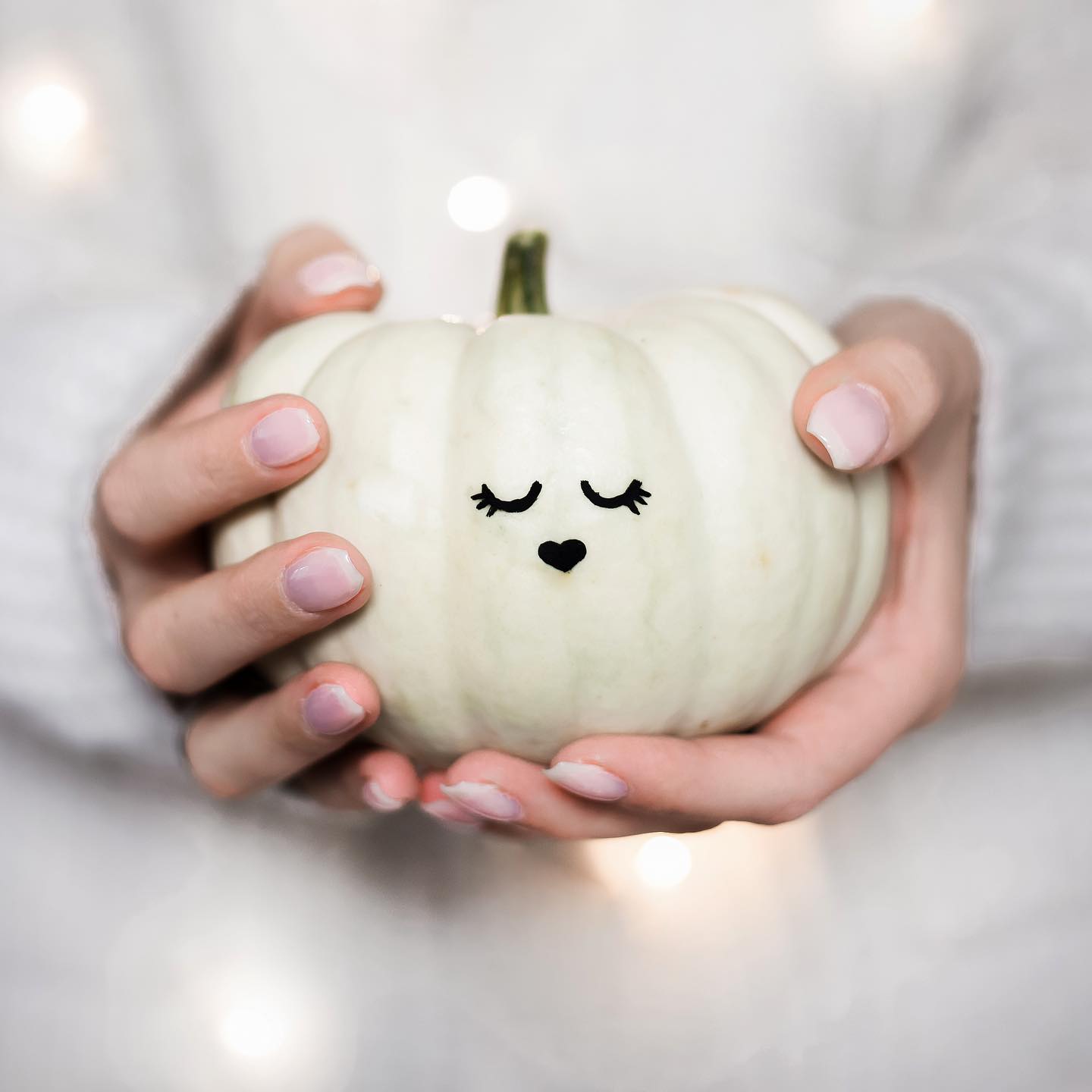 Simple and minimalistic, this white pumpkin is for those who enjoy low-key and basic art, which is more so on the girly side.
Want This Quirky Design?
If you want one of these quirky designs, make sure to let us know what it is! Pumpkin paintings and pumpkin drawings can be a fun solo or family activity. So, ready to paint and express your creativity?