Do you like green-colored furniture or green-colored rooms? Are you looking for a way how you can make your mint color concept room pop? If you're interested in styling your mint furniture, carpets, pillows, tables, and other items in one specific way that totally suits your style, you're exactly where you need to be! Here, we're going to talk about a ton of cool mint green ideas that will transform and hype up your interior designs. Keep on reading and find your new stylish looks down below!
Living Room
1. Mint Green & Pink Elements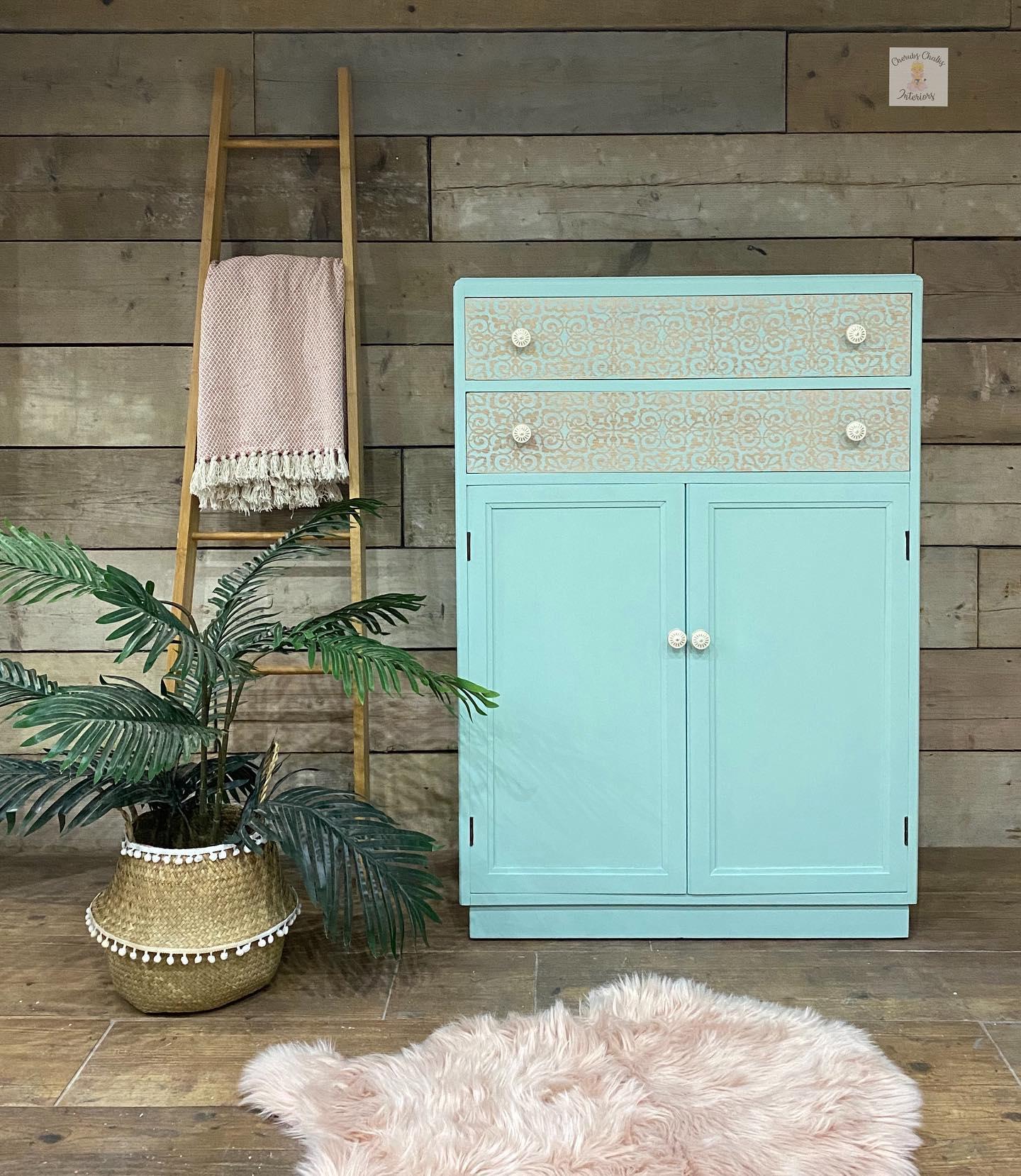 A living room with pops of pink, mint green, and nude will look so cohesive and calming. If you're a fan of lighter shades and especially if you're a girl this style will suit you so well. Dare to give it a try?
2. Trendy Mint Green And Coral Living Room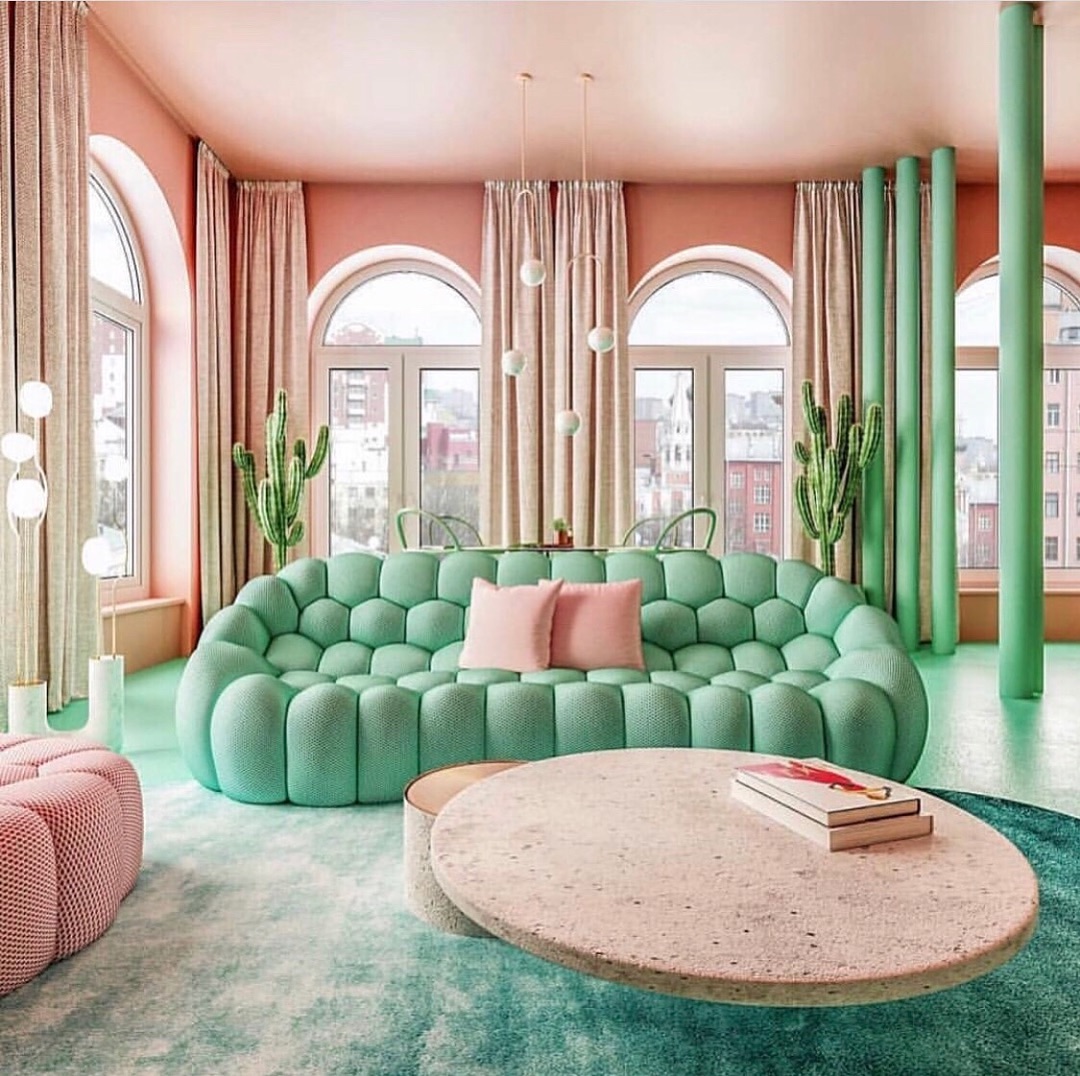 So trendy and so out of this world! This bright mint green and pink living room concept are for those who like to make a statement. Does this sound like you? Heads up since this type of living room can be hard to achieve + it is very pricey. In the end, it will be a bold choice for those who wish to stand out.
3. White And Mint Green Living Room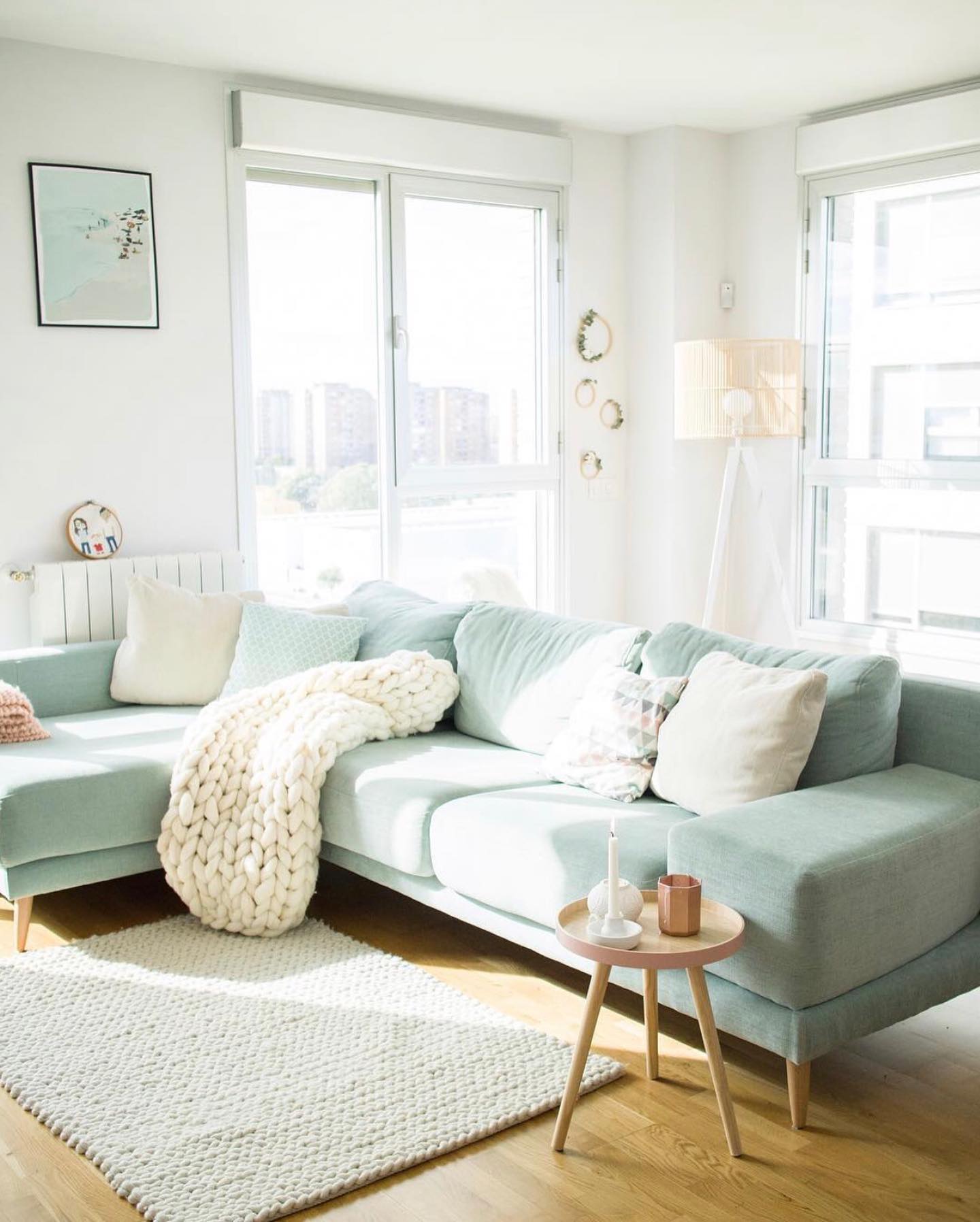 Mint green and white sounds like your color combo? It is a dream color combo that can look very elegant and traditional at the same time. People who enjoy white carpets, pillows, and simple accessories will easily achieve this design.
4. Grey And Mint Green Colors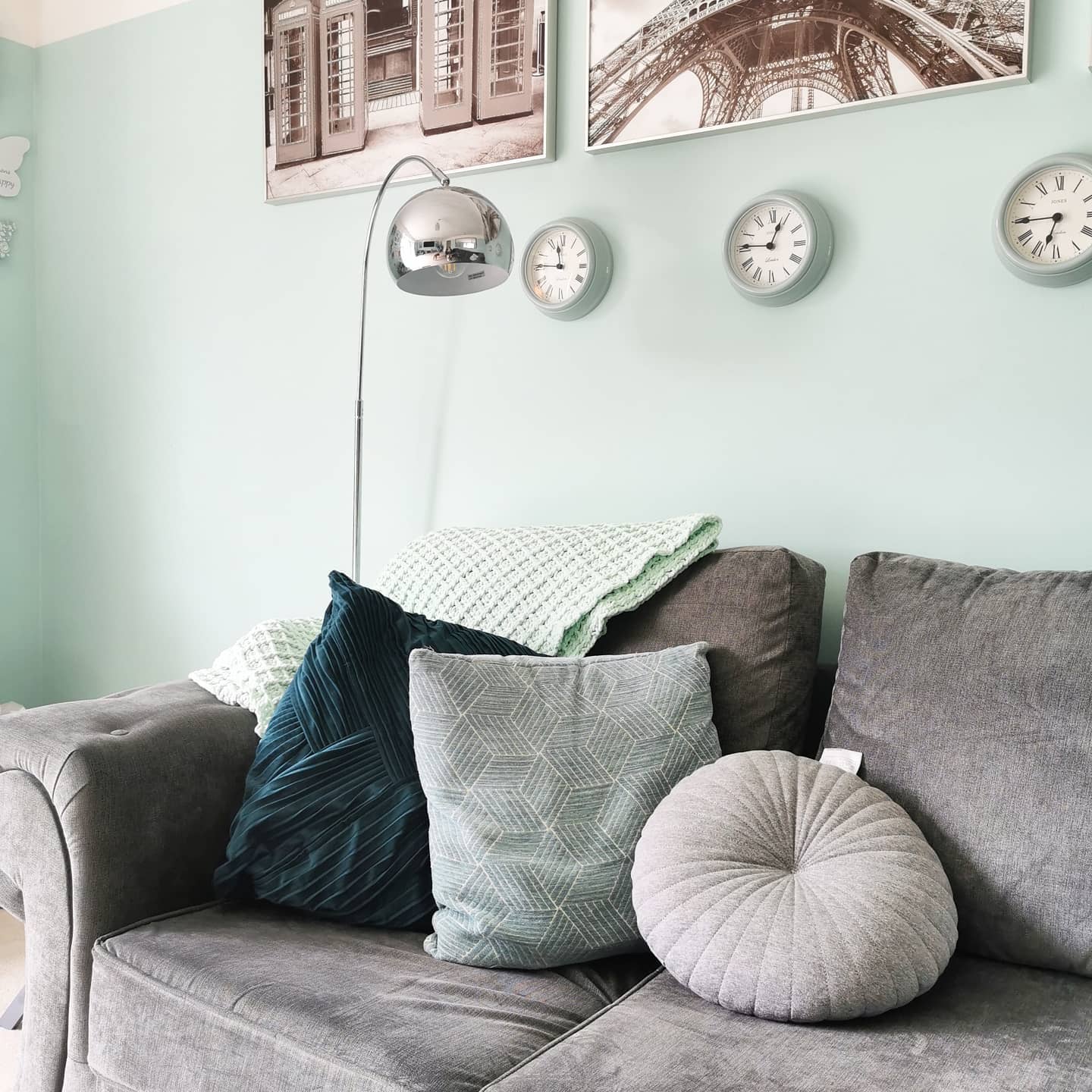 Go for mint green and grey colors. If you're a fan of neutral tones and you like the old-school traditional vibe, this living room is the one for you! In the end, anyone who is into practical yet low-maintenance rooms/corners will enjoy this interior design.
Bedroom
1. Mint Green And Coral Bedroom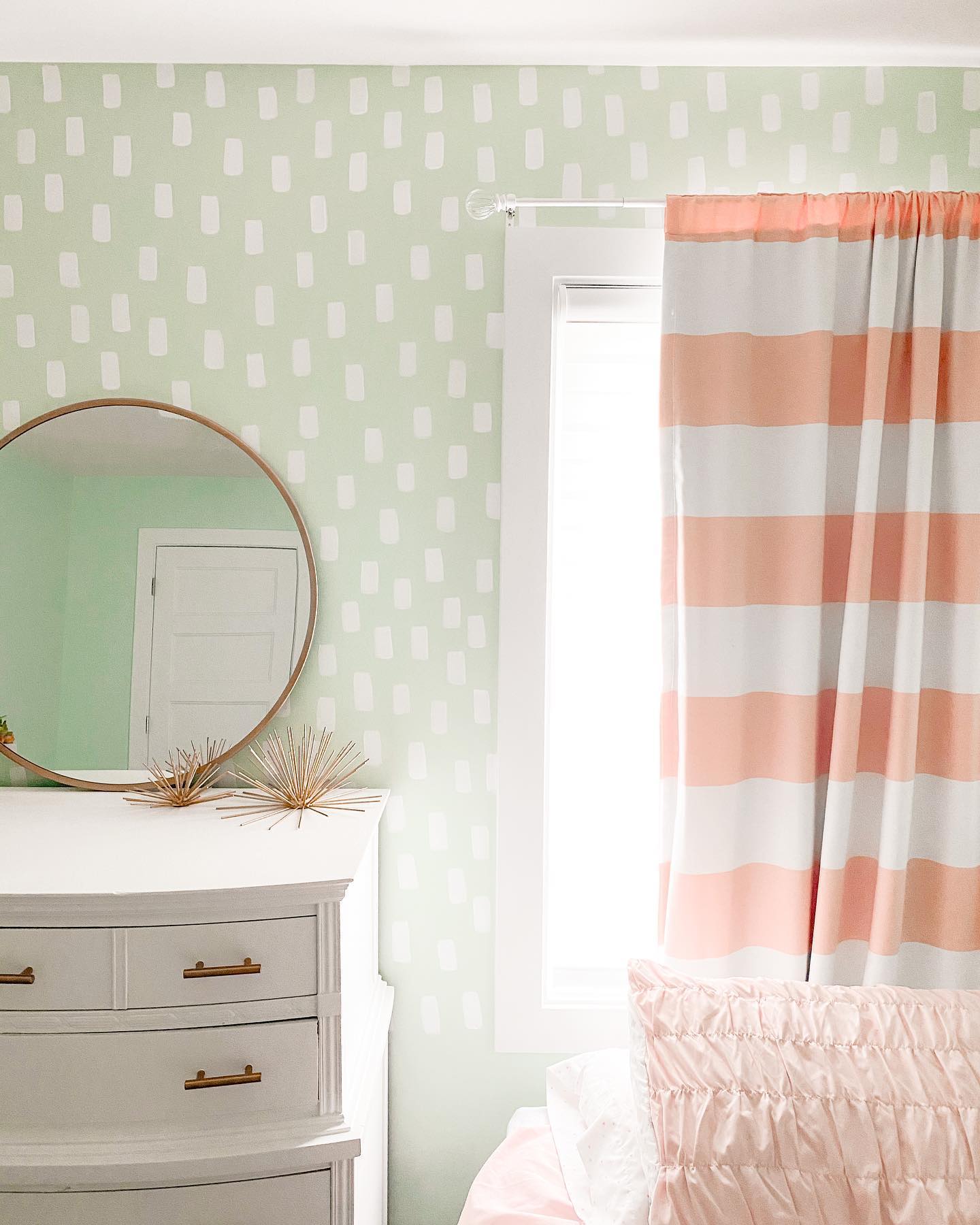 An open-spaced bedroom is easy to achieve. Just stick to neutral tones and subtle pop of orange color. This design has a Mediterranean feel to it, don't you want to try it out?
2. Modern Mint Green Bedroom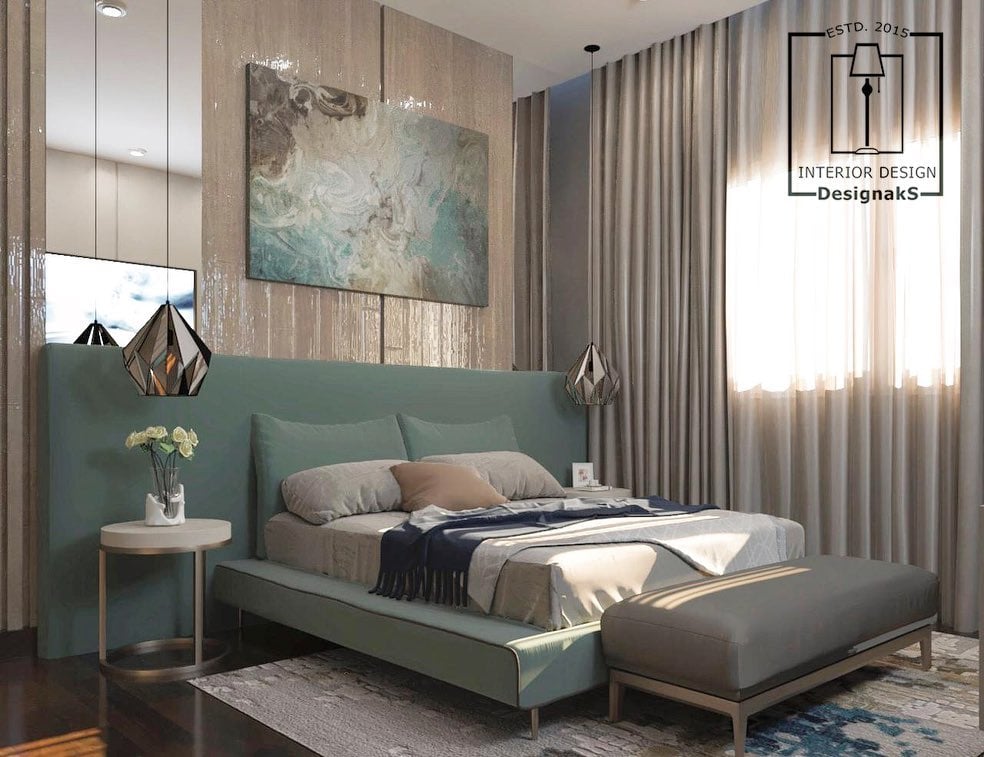 If you and your spouse want something chic and elegant, why not consider this bedroom? It is so cozy, elegant, and stylish with all the right tones. Pair your mint green fabrics along with some nude or grey shades to end up with this elegant and attractive outcome.
3. Calming Mint Green Room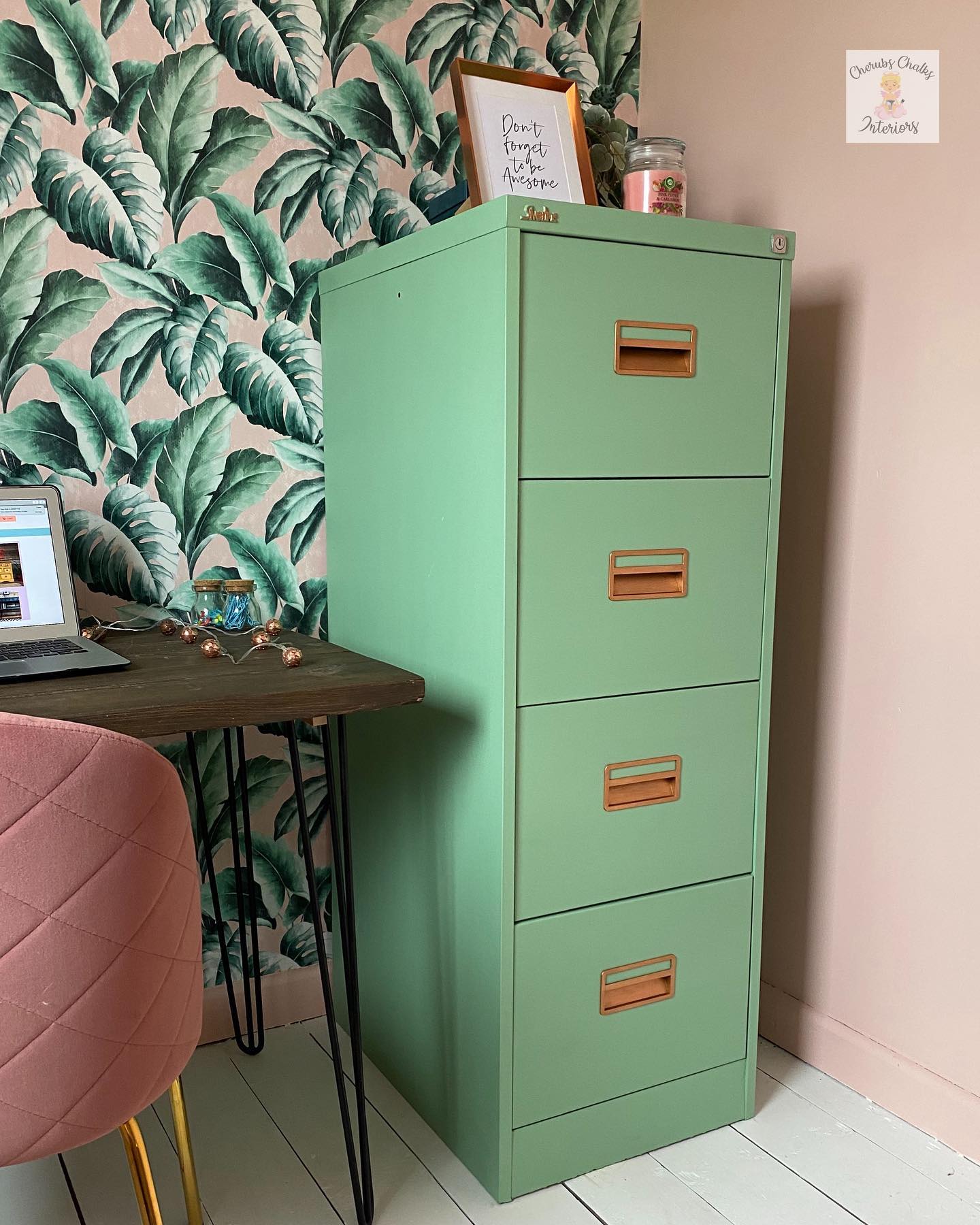 A cool mint green cabinet that will look gorgeous with some shades of pink. If you like cute and casual corners that are feminine, yet truly stylish, this will suit your style and your next bedroom creation.
4. Mint Green And White Combo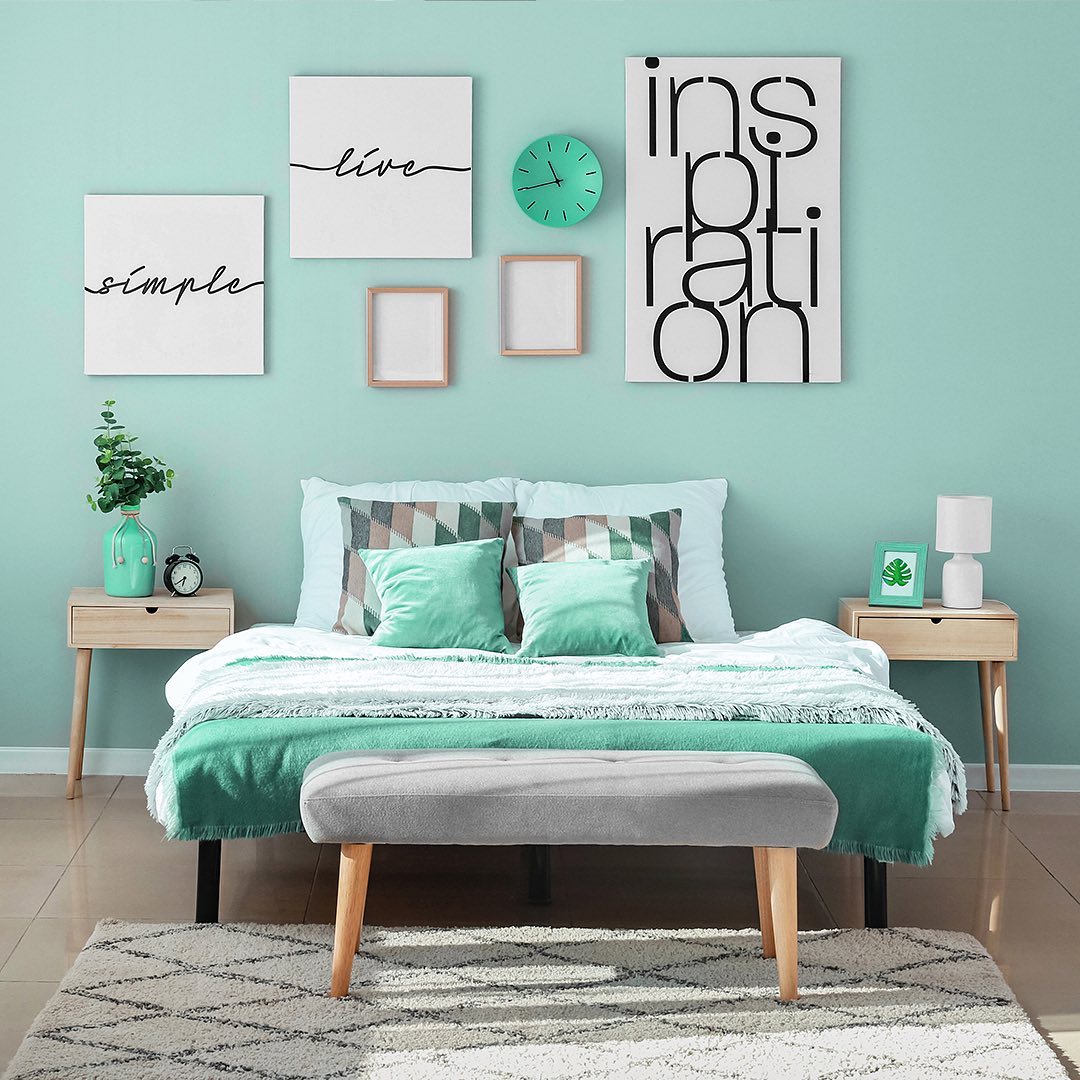 A light mint green shade such as this one will work so well when paired with white art and neutral accessories or furniture. Men and women who want a bedroom that suits their style and are looking for something that can suit both genders while combing the elements of both worlds should opt for this design.
5. Traditional Mint Green Bedroom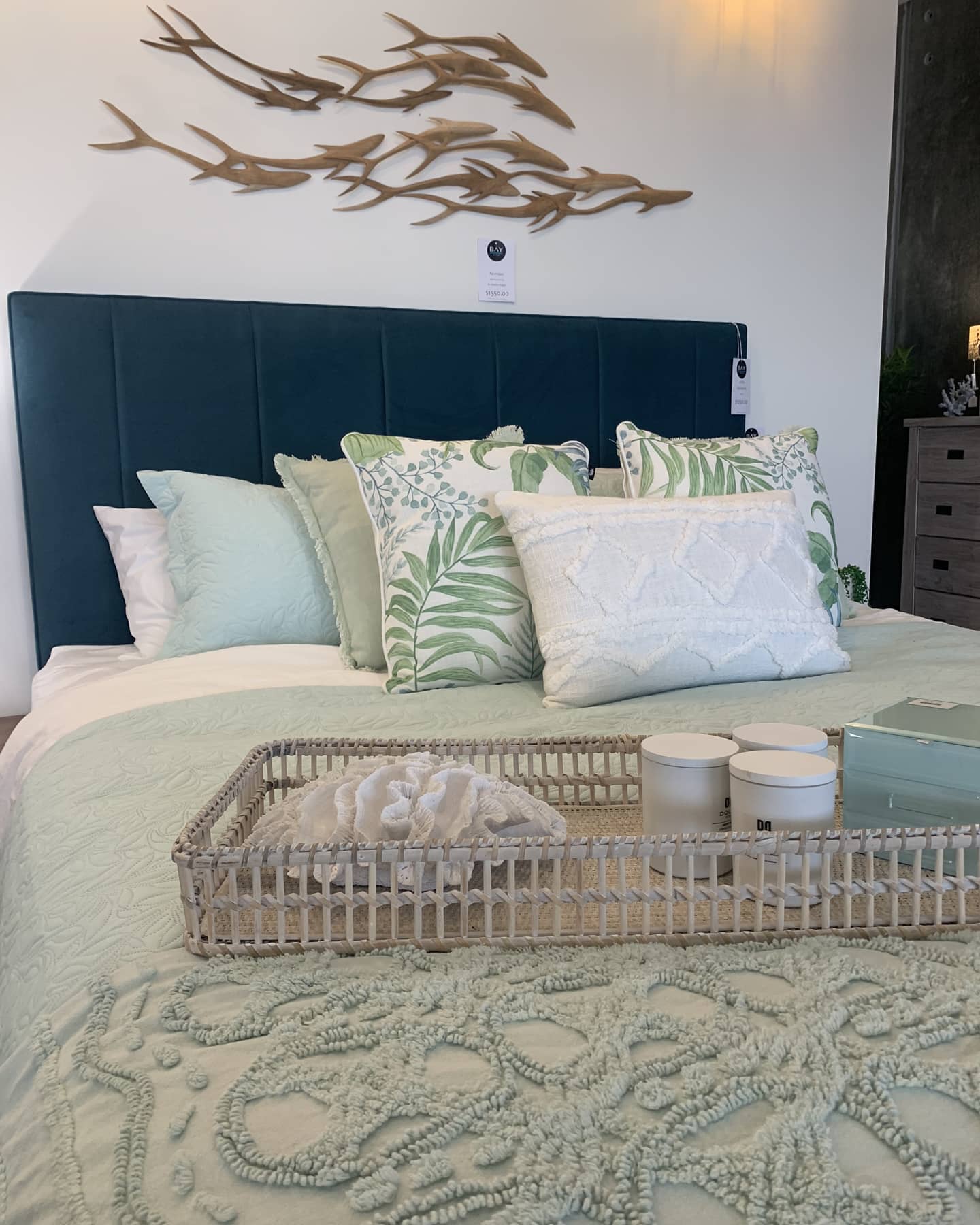 Those who live in coastal regions and those who fancy a stylish Mediterranean bedroom will enjoy this style. Pair along mint and nude elements to end up with this somewhat retro corner and stylish yet cute bedroom.
6. Trendy Mint Green Grey Bedroom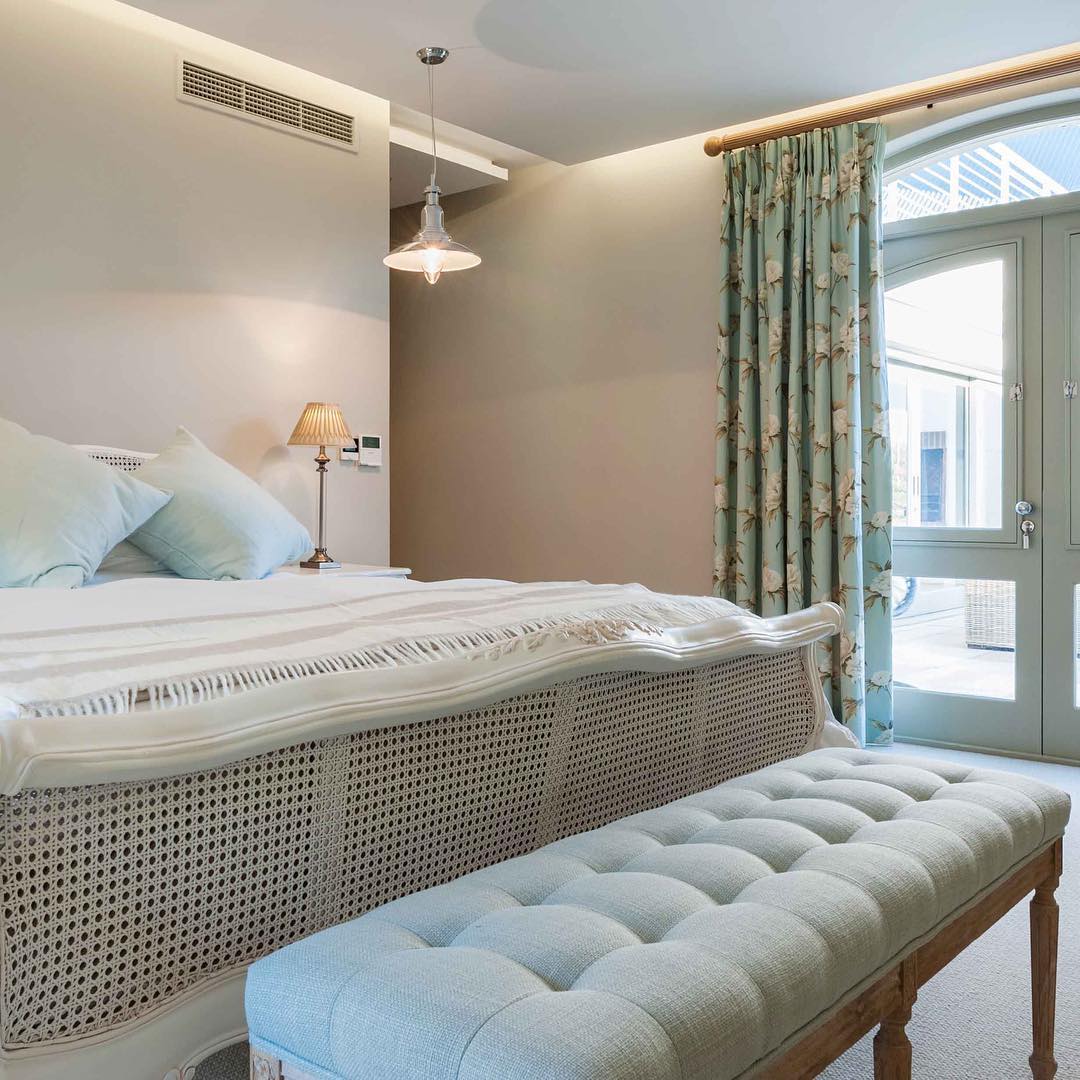 If you like to keep your bedroom neat and tidy this style and color combo is for you. Pair mint and nude elements to get this classy and stylish bedroom. Open the space up with the right shade of nude, green, and white and you'll enjoy your own little peaceful and personal oasis.
Bathroom
1. Mint Green Bathroom
This bathroom mint green creation will look flawless for those who wish to get an open-space concept. Add one cool mirror that will create an illusion of a bigger bathroom. White, mint green, and green flowers of any kind will have a fun story to tell and show!
2. White And Mint Green Bathroom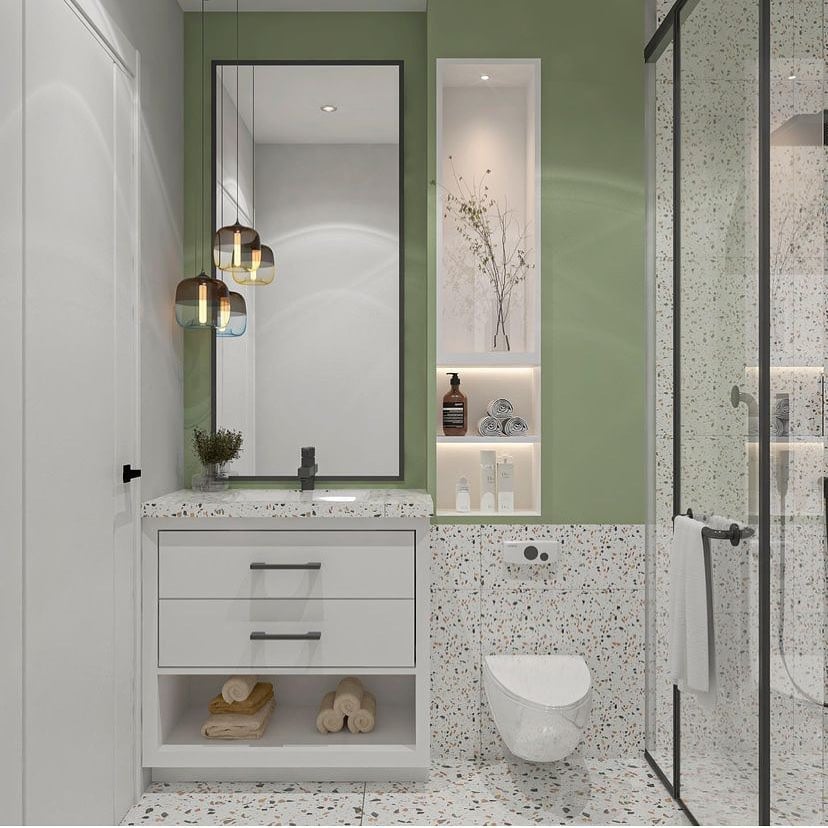 Such a well-executed bathroom, don't you agree? This stylish green shade with pops of white will look the best for serious couples who want something calming and trendy. Show off your style with this subtle creation, you're going to live for it!
3. Trendy Mint Green Bathroom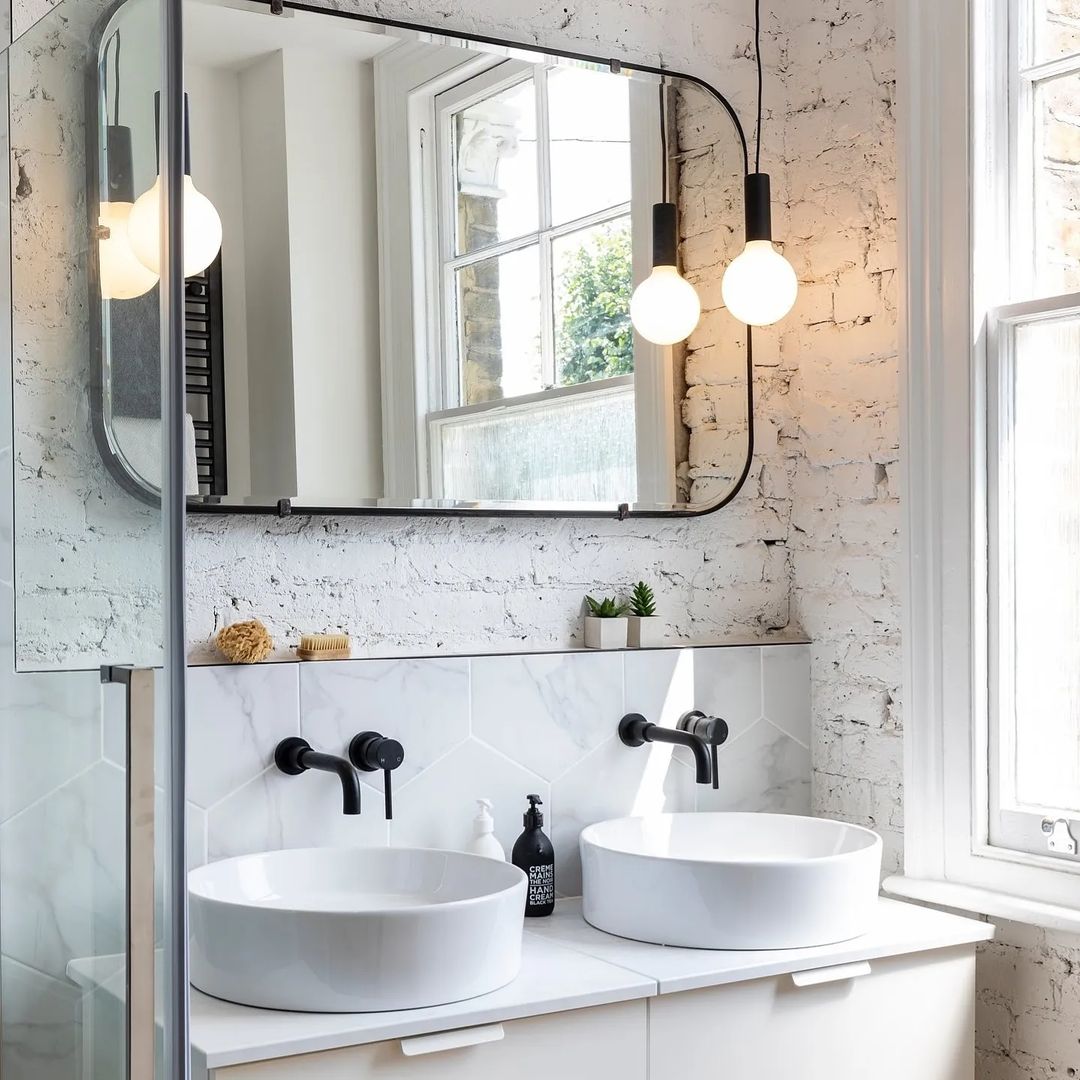 An icy white shade paired with a washed-out mint green shade can create a calming space. If you're looking for something cozy and calming, this toilet is the right one for you. Heads up since achieving the exact same style can take some time and money.
4. Beige And Mint Green Bathroom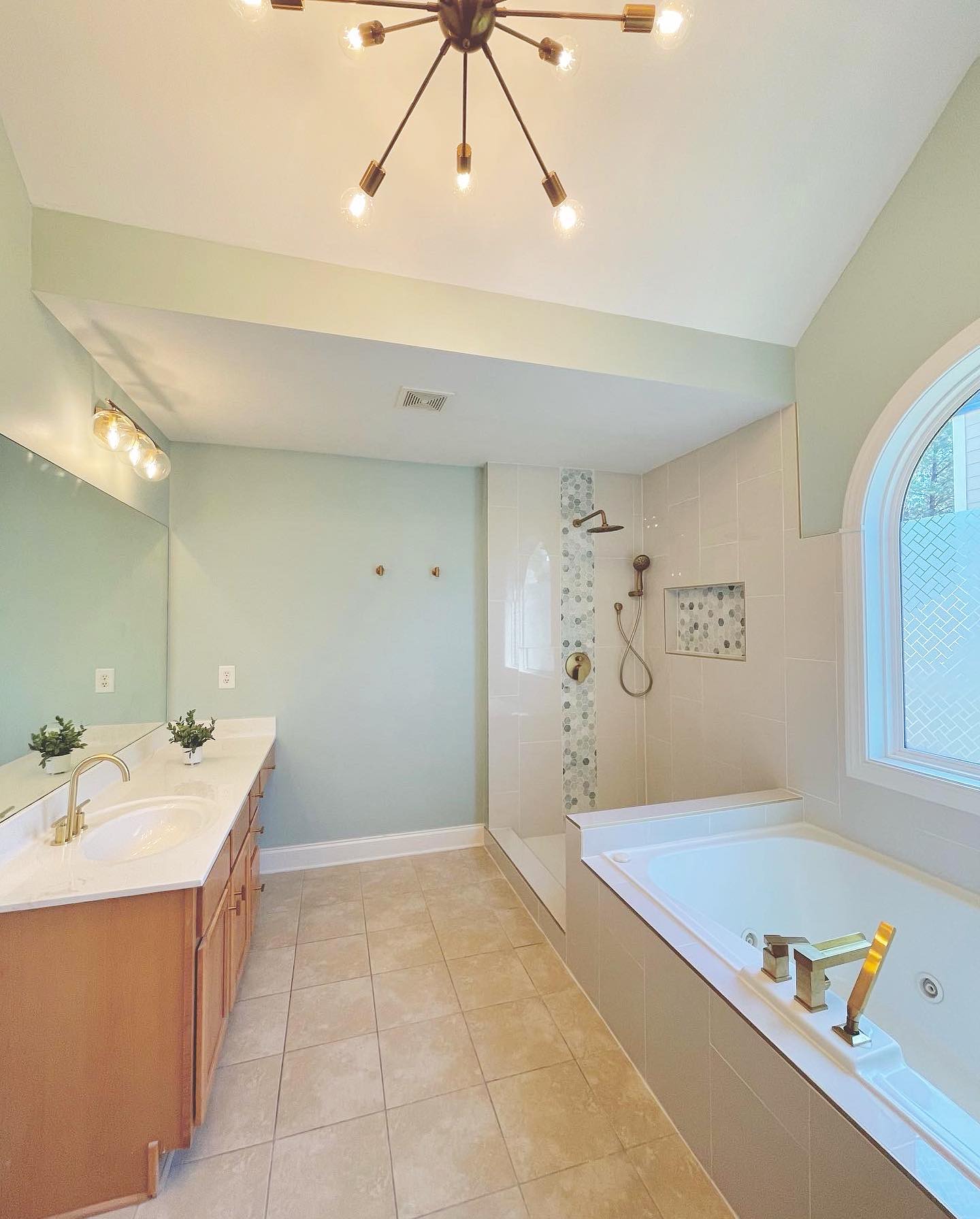 Lighter shades and almost washed-off kinds are for those who want to try out something new and elegant. This bathroom will easily blend in with the rest of your home: perfect for those who like the cohesive style.
Kitchen
1. Traditional Mint Kitchen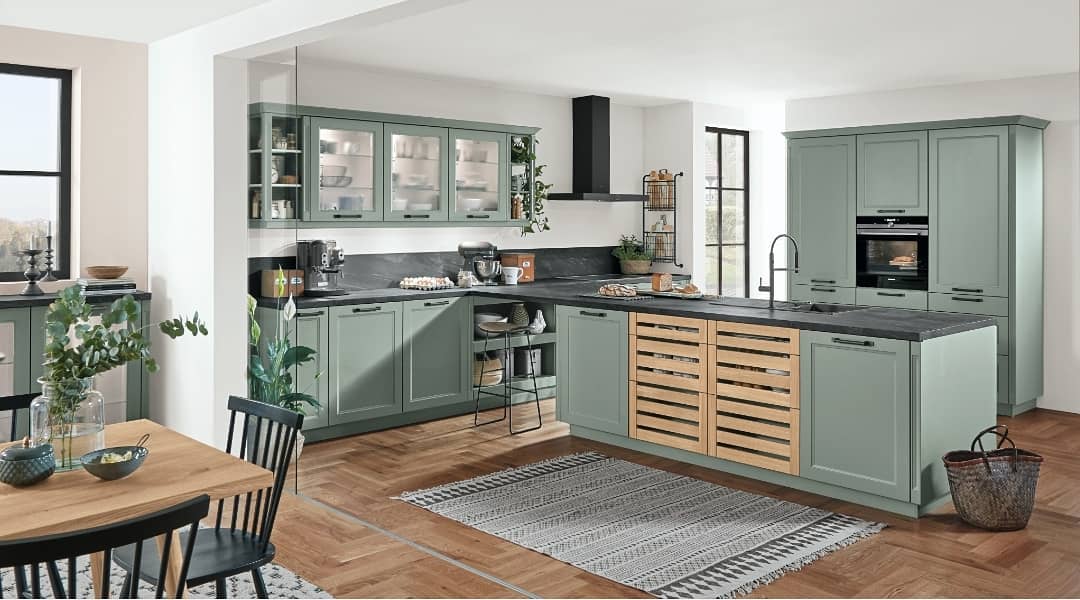 A cool traditional kitchen such as this one is for those couples who like calming neutral shades. If you want to show off your style through mint green colors and interior designs, this will suit you.
2. Mint Kitchen With Nude Elements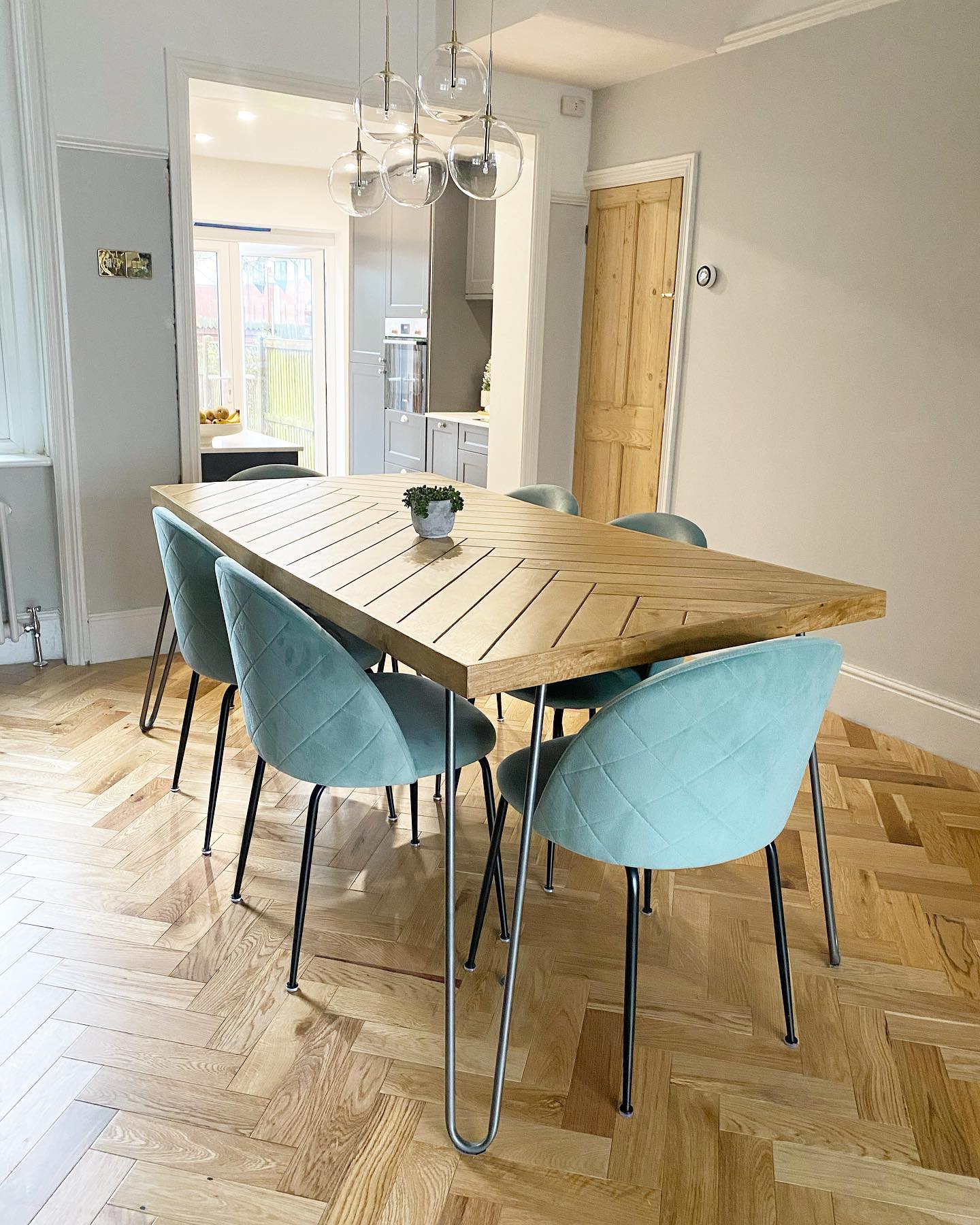 Stick to the all-nude or light brown elements and slightly and slowly add pops of color with your favorite mint green chairs. This color combo is for those who like merging elegance and tradition, all in one!
3. Mint Green And Brown Kitchen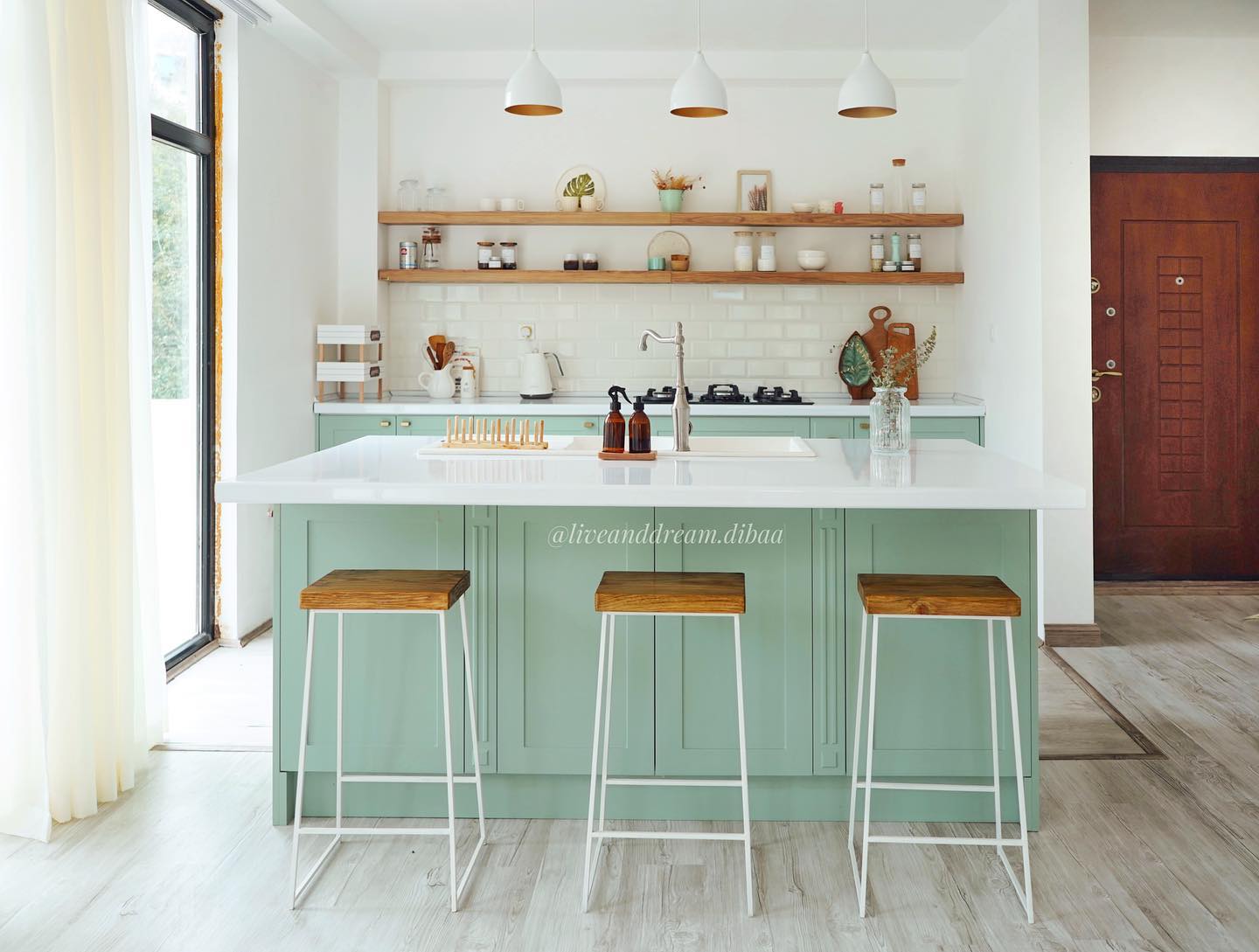 Open your kitchen up with this mint green island. Go for white and nude chairs or cabinets to tie the whole room together. This kitchen and dining room area leaves an impression of a traditional old-school kitchen, perfect for mature and older couples.
4. Futuristic Mint Green & Nude Kitchen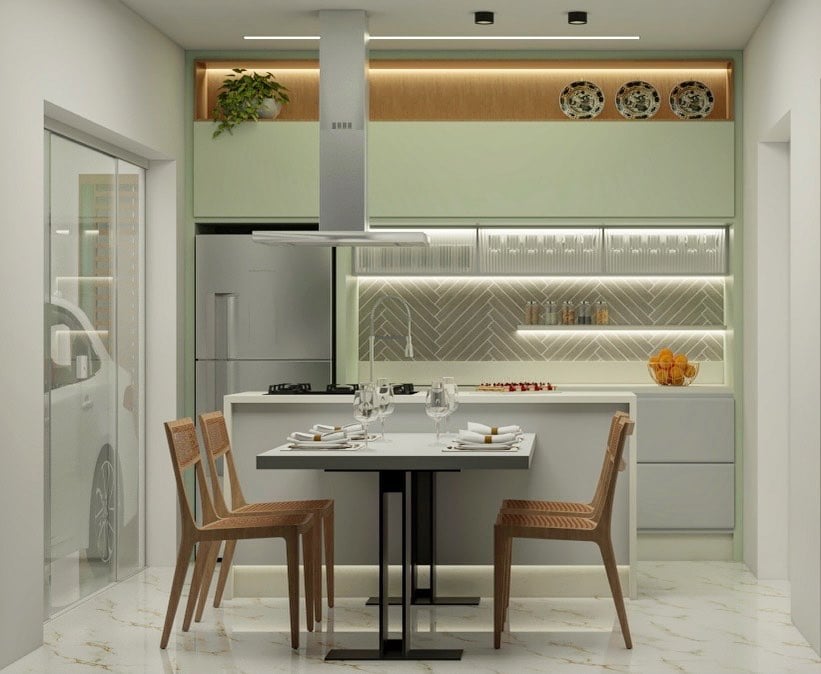 Lastly, you can give it a go with this futuristic approach! Mint green and grey can look so marvelous together. To get a cohesive look keep everything shiny and with a ton of high gloss, perfect for true yet picky perfectionists.
Want Something New & Trendy?
Are you ready for something fun, new, and different? Are you looking for cool pops of color? Give it a go with some of these purple options to show off your interior design skills. Which room is your top pick?